Delicious, hand-held, shareable cupcakes are the best party treat! Every guest gets their own perfect portion, and serving is a breeze.
Sure, you can find decent cupcakes in a pinch at the grocery store. But for truly special cupcakes that are sure to be the highlight of your special occasion, you should definitely have them shipped!
That's right…You can have the tastiest and most beautifully decorated cupcakes sent to your door from all corners of the country!
Easily order a dozen (or more) gourmet cupcakes online for quick delivery right before your next occasion. For a fun twist on classic cupcakes, you can even order cupcakes in a jar too.
If you're ready to shop right now, here's a quick look at our top 3 picks for the best cupcake companies that offer nationwide delivery.
If you'd like more information, keep on reading to find our recommendations for the 9 best cupcakes to order online.
If you looking for gluten-free options, be sure to check out 13 Best Gluten-Free Cakes Delivered and 5 Best Places For Gluten-Free Cookie Delivery.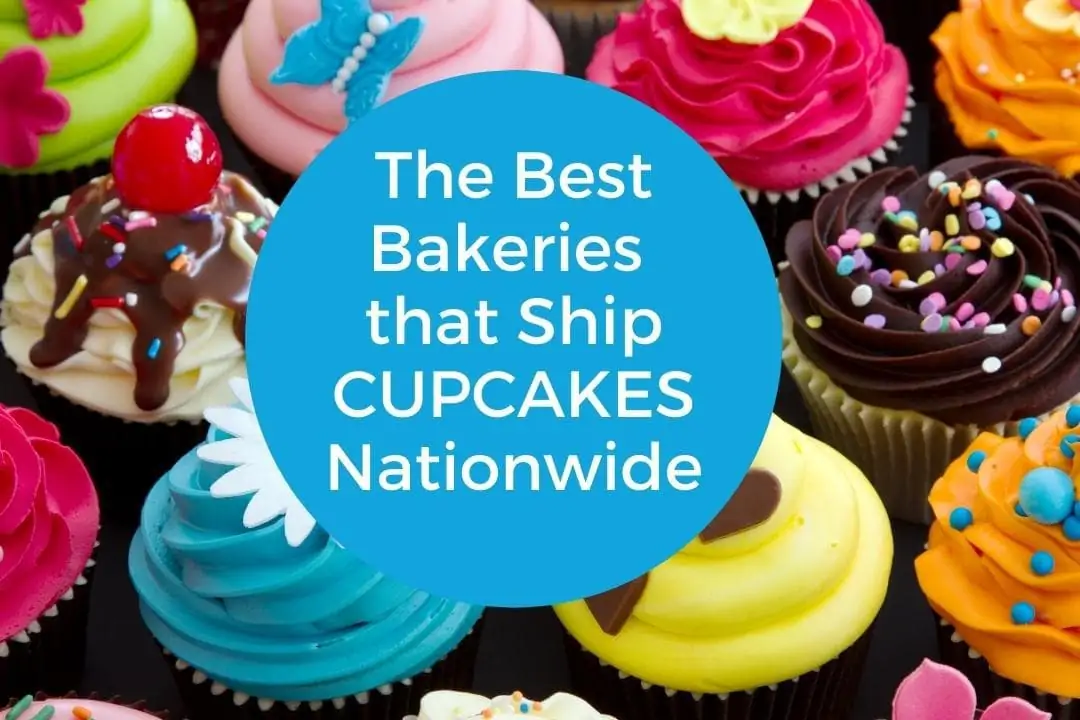 What Are The Best Cupcakes To Order Online For Nationwide Shipping?
Now that you know this feat of modern ingenuity is possible, you're likely wondering where to even start. There are indeed lots of awesome online bakeries to choose from for your cupcake delivery needs.
Not to worry, we've done the detective work for you! We researched dozens of cupcake companies and looked at customization options, price, shipping speed, and – of course – tastiness.
There are many options to keep in mind when choosing which cupcakes to order online.
Nearly all stores offer standard-sized cupcakes in traditional favorite cupcake flavors. But some places also mix things up with flavors you'd find in gourmet desserts. A few places also offer delivery of mini or jumbo versions. Some are even shipped in adorable jars!
With all of these choices, why not try something new and work your way down the list?
Keep reading for our insights and reviews to find the best cupcakes to order online for all of your parties.

If you're in the mood to bake, check out our list of 101+ Easy Cupcake Recipes: vanilla, chocolate, kid-friendly, unique, gourmet, fruity, boozy, vegan and everything in between!
The Top Bakeries For Cupcake Delivery Nationwide
The companies in the list below are some of the best in the country for cupcake delivery.
Home of the famous 'Carrie Cupcake' from Sex in the City.
That's right, these are those cupcakes from Sex and the City. Also known as the "Carrie Cupcake," these lovely little beauties helped to put Magnolia Bakery on the map.
They are a simple but oh-so-delicious vanilla cake with a signature light pink frosting and sweet daisy candy on top.
Magnolia Bakery Flavors
Although the Sex and the City version are what this NYC bakery is most known for, they have an amazing variety of other cupcakes available for shipping.
Other classics include chocolate and red velvet.
Also Available
World-famous banana pudding, layer cake, cookies and bars.
---
Each cupcake delivery includes a card you can personalize – a great gift for any occasion. They offer next day delivered and orders are guaranteed to arrive on time.
Bake Me A Wish Cupcake Flavors
Bake Me A Wish offers a wide variety of classic flavors including Chocolate Crumb, Chocolate Chip, Peanut Butter, Red Velvet, Carrot, Coconut Cream, Vanilla Cream, Strawberry Cream, and Chocolate Cream.
Other seasonal options and special themed cupcakes are available too.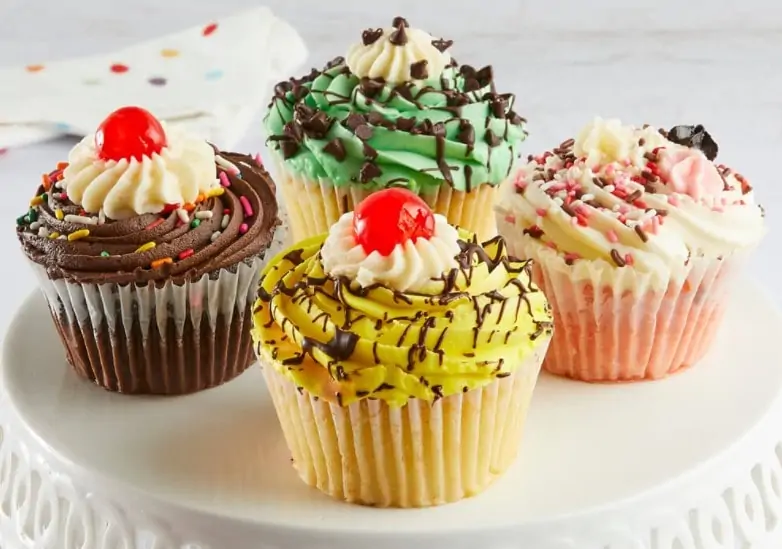 Also Available
Cake, cheesecakes, cookies, brownies, pies, gift baskets and personalized goodies. Business and military gifts are also available.
---
Hand-crafted, colorful mini cupcakes in a variety of gourmet and seasonal flavors.

Baked By Melissa Flavors
Baked By Melissa original flavors include favorites like cookie dough, red velvet, cookies & cream, chocolate chip pancake, peanut butter and jelly, and of course, their colorful tie-dye cupcake with sprinkles.
Their ever-changing menu includes tons of creative limited edition and special collection flavors.
Also Available
Macarons, birthday and event boxes, party packs for every occasion and corporate gifts. Local delivery in the Manhattan area.
** Use code ThreeSnackateers10 to get 10% off your order! **
---
As seen on Shark Tank, these delicious cupcakes in a jar are delivered nationwide
If you're looking for unique desserts to order online, why not try a cupcake in a jar?
Wicked Good Cupcakes have layers of delicious cake, frosting, fillings, toppings and sprinkles that are all carefully added to the jar and shipped to your doorstep.
Wicked Good Cupcake Flavors
Classics like vanilla birthday, chocolate cake and sea salt caramel. Also available are unique flavors like blueberry lemon, key lime and cookie butter. Gluten-free options are available as well.
Also Available
Party packs, birthday boxes, thinking of you boxes, corporate gifts, favors for weddings and events.
---
Washington DC's premier destination for cupcakes and star of the hit TLC show called DC Cupcakes.
Georgetown Cupcake bakes up classic cupcakes for every occasion. They use only the best ingredients like European sweet cream butter, Valrhona and Callebaut chocolate, Madagascar Bourbon vanilla extract, and fresh fruits and citrus.
Georgetown Cupcake Flavors
They offer a variety of sweet samplers to be shipped from Goldbelly with flavors like Coconut, Cookies & Creme, Peanut Butter Fudge, and Red Velvet.
---
These cupcakes are handcrafted in small batches and were voted "Houston's Best Cupcakes"
It's true: Everything is bigger in Texas. Look no further than Crave Cupcakes of Houston, which sells delicious cupcakes that have extra-large tops.
Think like a muffin with a floofy rise, nearly brimming over the side. Baked goods are made in small batches, and each treat is finished off with its "signature seal."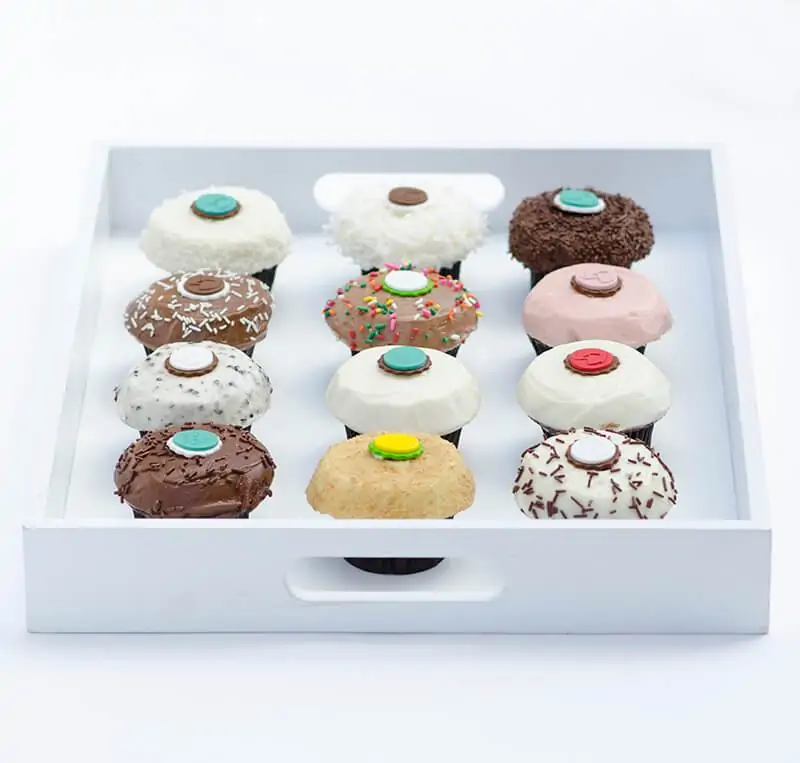 Crave Cupcakes Flavors
Their cupcakes are available in most traditional flavors like chocolate and vanilla, strawberry, dark chocolate, and birthday cake. Some varieties are coated with sprinkles for an extra fun treat.
All cupcakes feature a signature seal, which is a (partially) customizable decorative candy disc placed on the top of each baked good.
Also Available
They also offer a few select GIANT cupcakes to ship.
---
Winner of The Food Networks Cupcake Wars and Holiday Baking Championship
There are party snacks and then there are PAR-TY! snacks. Nadia Cakes makes super whimsical and fun cupcakes for kids of all ages.
If you're looking for cupcakes to order online that will really get the crowd going, these are your treats.
Nadia Cakes Flavors
You can purchase Nadia's signature Cupcake Wars-winning Cheesecake Cupcakes. They also sell Nadia's Favorite Dozen which includes chocolate, vanilla and strawberry. There are a few gluten-free and vegan options.
Then there are the famous Unicorn Poop Cupcakes (don't worry, it's actually vanilla), and even cereal-themed treats.
For the 21+ crowd, they have Boozy Cupcakes made with beer, wine, or other spirits. All have creative decorations that your party people will love!
Also Available
April Fools-themed silly treats, assorted cakes like a rainbow confetti cake and famous Vageod cake.
---
Known for creative flavors inspired by the Puerto Rican and Italian heritage of the owners
Brooklyn Cupcake makes layered jar cupcakes in an amazing variety of innovative flavors. And because they are packaged in cute and reusable jars, these treats look as fabulous as they taste!
For fans of classic paper-wrapped cupcakes fret not… Yes, they do also have traditional cupcake options.
Brooklyn Cupcake Flavors
The owners draw inspiration from both their Puerto Rican and Italian backgrounds to create unique cupcakes in flavors like flan, coquito, dulce de leche, tres leches, tiramisu, and more.
They're also famous for a rainbow cookie cupcake that's inspired by those iconic Italian-American rainbow cookies you typically find in New York.
Also Available
Banana pudding jars, best-selling assorted pudding jars, and vegan cupcake jars.
See more Cupcakes In A Jar to order online.
---
With 7 locations in Miami, they are baking up 10,000 rich, decadent cupcakes a day with wildly creative flavors and some secret ingredients
Misha's Cupcakes specializes in mini cupcakes with lots of WOW. Her tiny treats are available in dozens of varieties, and all are decorated to perfection.
Bite-sized are the best cupcakes to order online if you want your guests to sample several different flavors!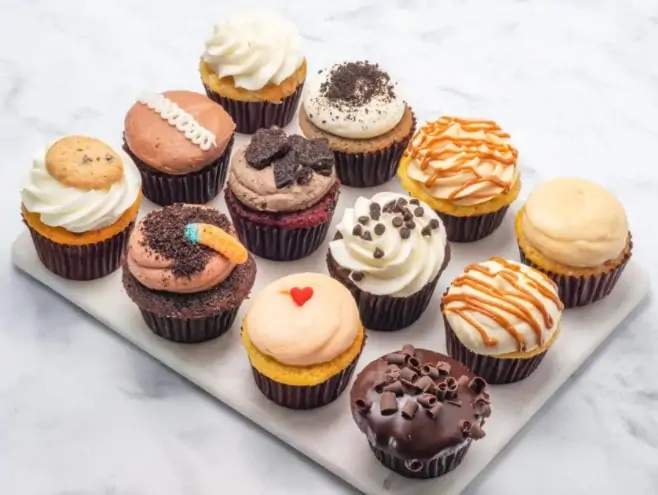 Misha's Cupcakes Flavors
The signature Miami Favorites selection includes coconut, four leches, a Hostess-inspired cupcake, cookie dough, and the much loved "dirt cake" with cookie crumbles and gummy worm.
There are also collections featuring nuttylicious goodness, classic cupcake flavors (think chocolate, vanilla, red velvet), and cupcakes for serious chocolate lovers.
Also Available
Cakes with feisty themes and big flavors like a bourbon candied bacon chocolate cake, the naughty cake made with layers of brownies and cookies, and the spank me cake which is loaded with candy bars, dulce de leche, and peanut butter cake.
Plus more "traditional" vanilla, s'mores, and funfetti cakes. Several goodies have gluten-free options.
FAQs About Ordering Cupcakes Online
Q. Can I Personalize A Cupcake Delivery Service Order?
A. When you order cupcakes online, most do not come with customization options.
What we found is that the majority of bakeries offer a variety of gourmet and specialty flavors, and there's not much room for changing things up.
However, a select few companies do offer small ways to personalize your orders. This can be, for example, a certain sprinkle color preference or special candy toppers.
Q. How Much Does It Cost To Order Cupcakes Online For Nationwide Shipping?
A. They can be a bit pricey to have delivered, but every crumb is worth the cost. Prices vary widely depending on the size and number of cupcakes you're ordering as well as your delivery location. Some places may have a minimum order requirement too.
Typically, one regular cupcake will cost around $4 to $5. Therefore you can expect a half dozen cupcakes to be at least $30 with tax.
The cupcake delivery cost is another factor to keep in mind. If you order well ahead of time you usually will pay $10 to $30 to ship. But there are some companies that offer free shipping on standard orders!
However, for faster cupcake delivery within a day or so of placing your order you likely will need to pay another $20 to $40 for expedited shipping.
At the end of the day, ordering cupcakes online will be more expensive than buying from a local shop. A nearby store might be a great option for birthday cupcakes for school parties, but online cupcake delivery companies are perfect for truly special orders and discovering new products.
Q. How Do Bakeries Ship Cupcakes?
A. Very carefully! Cupcakes are a sweet and thoughtful gift, but the idea of sending them might seem impossible.
However, some bakeries do ship gourmet cupcakes nationwide and give a lot of thought to how to ship them to make sure they arrive fresh and in good shape.
As you can imagine, special care must be taken in shipping cupcakes. Most companies will have information on their website about exactly how they will ship your order.
But in general, a sturdy box and special packaging will be used to ensure the cupcakes don't move around too much. Nobody wants squished frosting!
Some bakeries will use insulated packaging with dry ice or ice packs to help keep the baked goods fresh.
Also, be sure to look at the company's website for details on when they will be delivered. Some bakeries offer free shipping, expedited options and other special offers.
Sometimes you can even ship your order overnight as a last-minute gift to be delivered nationwide.
Q. Why Should I Order Cupcakes Online?
A. One of the big reasons people order cupcakes online is to try out sweet treats from the best bakeries in the country. As food delivery becomes more common, the number of bakeries that offer a delivery option continues to grow.
Cupcakes are a perfect way to celebrate a special moment and are great for dessert baby showers and birthday parties. They even make perfect birthday gifts to send to a loved one that isn't close by. Some people even forego a traditional wedding cake and opt for a buffet of perfect cupcakes or a more elaborate cupcake bouquet or arrangement.
Shop online for more treats that are delivered nationwide:
---
Save it for later on Pinterest, Instagram and Facebook. Also join our Facebook Group for more snack fun!