If you're vegan, or have a vegan friend or family member, you know how difficult it can be to find really great vegan desserts. However, enjoying a delicious vegan cake or dessert is now easier than ever, thanks to the wide selection of online bakeries that cater to this growing market.
Whether you're looking for a vegan birthday cake, a special sweet treat, delicious cookies, or even a jar of amazing vegan caramel, there's definitely a bakery out there to deliver the goods.
To help you find the perfect treat, we've rounded up 10 of the best online bakeries that offer vegan cakes, cupcakes, cookies, scones, pies and desserts of all kinds.
Not only do these companies offer a mouth-watering assortment of dairy-free treats, but they also ship them right to your door!
You may also like:
– 5 Best Places For Gluten-Free Cookie Delivery
– 13 Best Gluten-Free Cakes Delivered
The Best Vegan Cakes & Desserts Delivered
Vegan Options: Cakes, cupcakes, pies, cookies, donuts, cinnamon rolls and more
Every treat from this legendary New York City bakery is vegan! If you're looking for vegan cakes, this is the place to look.
The goodies from Erin McKenna's are also gluten-free, non-GMO and sweetened with agave nectar and vegan sugar. All ingredients are carefully and responsibly sourced.
And don't just take our word for it. Erin McKenna's bakery has been featured by Food Network, The Today Show, the New York Times, Vogue and Oprah just to name a few.
Order online at Goldbelly for nationwide shipping and delivery.
---
Vegan Options: Six flavors of vegan mini-cupcakes cupcakes
Baked By Melissa offers the cutest bite-size, 100% vegan cupcakes. Each handcrafted treat is made with dairy-free cake, icing, stuffing, and toppings. They make use of plant-based ingredients like oat milk, chia seeds, strawberry, spirulina and many more.
The company currently offers six different vegan cupcakes including strawberry, triple chocolate chip, peanut butter, chocolate vanilla chip, dark chocolate coconut and maple cinnamon bun!
Their best-selling assortments are perfect for birthday parties and corporate gifts and events. Or just surprise a loved one with vegan cupcakes delivered to their doorstep!
---
Vegan Options: Cakes, brownies and minikin cupcake jars
Daisy Cakes uses tried and true family recipes that have been handed down through the generations. Their cakes are so good that they got the backing of Barbara Corcoran on Shark Tank!
Be sure to check out their vegan carrot cake and vegan caramel brownies. You'll also love their "minikins" which are little, resealable jars featuring layers of vegan cake, frosting and fillings. Yum!
They also have a nice selection of traditional and gluten-free treats available for online ordering and nationwide delivery.
---
Vegan Options: Cupcake jars
Brooklyn Cupcake was named the Best Cupcake In New York by the Daily News! Their claim to fame is creating unique cupcakes that mix flavors from the Puerto Rican and Italian backgrounds of the owners – flan, dulce de leche, tres leches and lots more.
They offer vegan cupcake jars in amazing flavors like french toast, peanut butter and jelly and chocolate Oreo. Their bourbon vanilla flavor even has colorful vegan sprinkles on top.
Brooklyn Cupcake's vegan cake jars are available to order on Goldbelly for delivery.
---
Vegan Options: Vanilla cake jars
You won't be able to pass up these fun and eye-catching vegan treats from Jars By Dani. Real glass mason jars are layered with colorful rainbow cake, fluffy vanilla icing and lots of rainbow sprinkles.
Currently, their only vegan offer is the vanilla cake jar. But this company's treats are so delicious, we definitely feel they deserve a spot on the list.
They also offer a gluten-free cake jar as well as a wide variety of traditional cake jars in fun flavors like cake batter and cookies & cream.
You can order Jars By Dani online at Goldbelly and have your vegan cake jars delivered anywhere in the US.
---
Vegan Options: Full-size cakes and jars of vegan caramel
This Los Angeles bakery is known for its moist, flavorful Paleo sweet treats. They also offer a selection of vegan cakes and one of their most popular items – jars of delicious vegan caramel!
Sweet Laurel uses only the best organic, whole ingredients which helps them make the most delicious dairy-free, grain-free, and refined sugar-free baked goods.
---
Vegan Options: Cookies, cakes, brownies, pies and more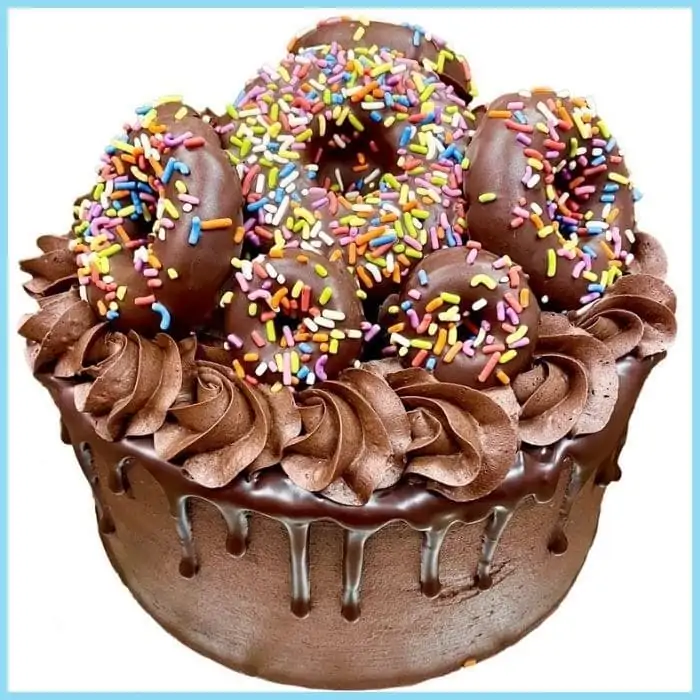 Karma Baker offers vegan and gluten-free treats that are packed with plant-based goodness. From cakes and cookies to seasonal treats and dessert boxes, Karma Baker is a one-stop-shop for vegan eats.
You can order on the Karma Baker website and they also have a nice selection of vegan treats for delivery on their Etsy page.
---
Vegan Options: Cakes In A Cup
Baked Cravings offers 100% nut-free baked treats. This includes peanuts, tree nuts and sesame too.
They currently offer vegan cupcakes in vanilla, chocolate, black forest and cinnamon flavors. Also be sure to check out their vegan "cake in a cup" options that can be shipped nationwide.
---
Vegan Options: Four new flavors of vegan, dairy-free cookies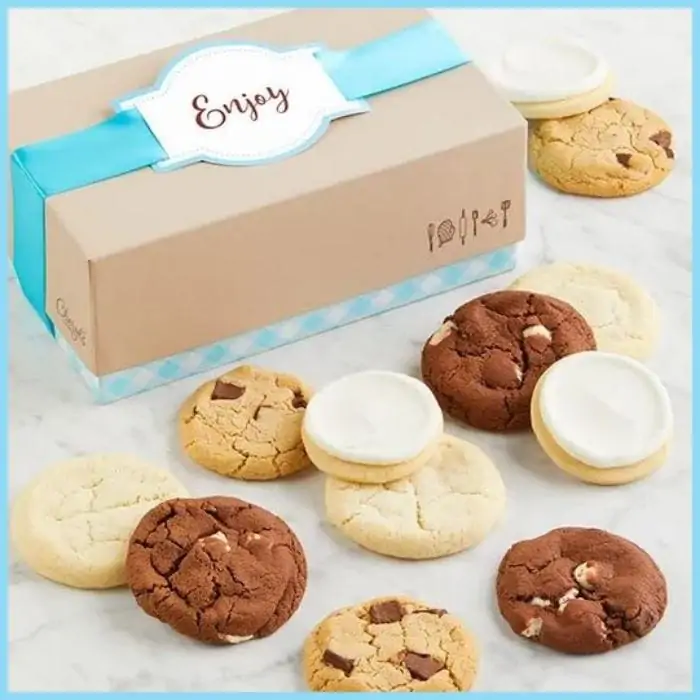 Cheryl's is best known for its famous sugar cookies topped with frosting. At the request of their customers, Cheryl's finally added some vegan cookies to their wide offering of handcrafted baked goods.
Choose from Vegan Sugar Cookie, Vegan Marshmallow & Chocolate Chunk, Vegan Chocolate Chip, and Vegan Frosted Cut-Out flavors.
Several different samplers and gift boxes are available to buy online for nationwide vegan cookie delivery.
---
Vegan Options: Wide variety of sweet and savory vegan scones, sampler boxes and subscription boxes
Scones usually aren't the first thing you think of when you are craving a sweet treat, but that's because you haven't tried Seven Sisters yet!
They offer an impressive flavor line-up of traditional, gluten-free and of course, vegan scones. Be sure to check out their vegan scone flavors like cinnamon roll, cranberry orange, banana chocolate chip and blueberry.
Another really cool thing about Seven Sisters is they are always coming out with fun new seasonal flavors. Many companies don't offer many new or seasonal flavors for their specialty vegan (and gluten-free) offerings, but Seven Sisters does. Their vegan (and gluten-free) maple pumpkin scones would be perfect for a fall brunch!
Since they are always changing up their flavor line-up, be sure to visit their website often and signup for emails to get the scoop on the newest flavors.
It's also good to know that Seven Sisters announces their holiday flavors early so you can plan ahead and even pre-order for your holiday meals and gifts!
---
We hope you are inspired to try some treats from these amazing bakeries that offer the best vegan cakes and other desserts. And don't forget, these bakeries offer online ordering and delivery, so you can enjoy their delicious treats from the comfort of your own home or send them as a gift. Enjoy!