We polled our readers and rounded up the best gourmet brownies to order online for delivery right to your home.
These brownies come in a ton of classic and creative flavors. Boxes of gourmet brownies (and blondies too) make excellent gifts too!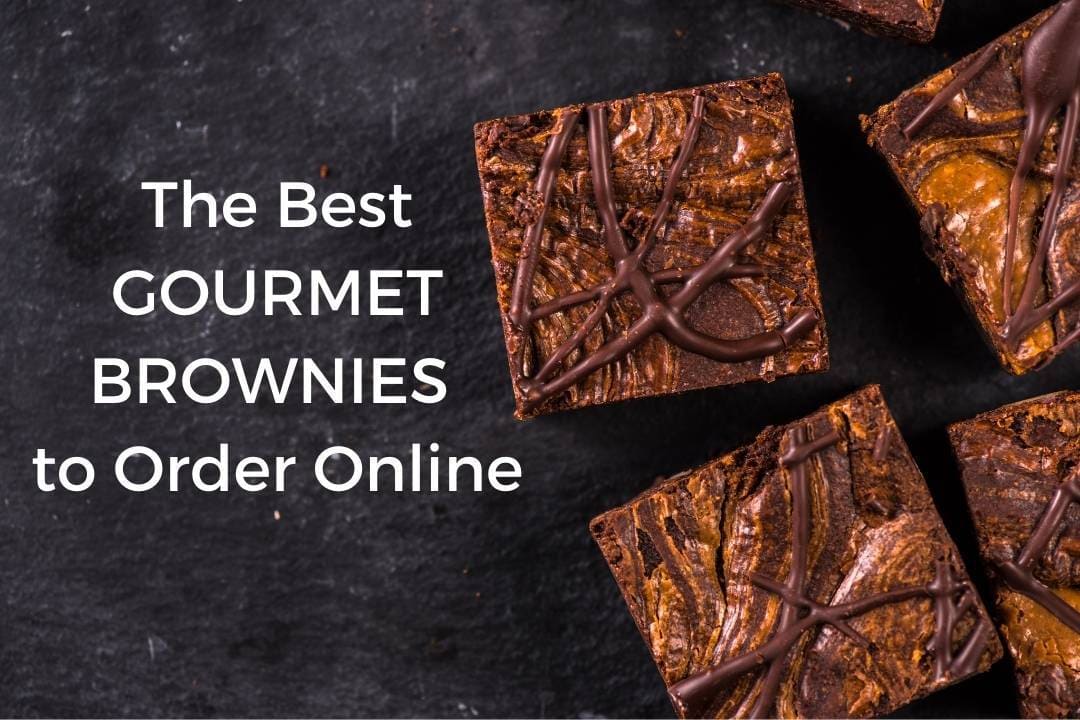 Samples were provided by companies in this article. As always, all opinions are our own.
The Best Brownies to Buy Online in 2021
1. West Coast Confection
Indulgent, Gourmet, MASSIVE Brownies, Blondies, and Cookies
West Coast Confection has personality! The company is owned by Chris Greene and Tanya Weaver, a couple of West Coast locals with a love for Hip-Hop and super indulgent treats.
According to their website, their goodies are "made with love, humor, hip-hop and high standards. We out here dream chasin', master bakin', and puttin' the hug in thug."
Noteworthy West Coast Confection Flavors:
All of the flavors have fun names like The O.G., Aint Nuttin' But A G-Thang, The California Love and S'more Money, S'more Problems!
Most of the treats have a super thick, rich fudgy brownie or buttery blondie base. The treats are layered, stuffed and topped with marshmallows, cookies, pretzels, caramel, peanut butter cups, chocolate chips, sprinkles, and more.
Our Review of West Coast Confection:
These brownies are insane! Seriously, they are gigantic. And really heavy. And super delicious.
We tried the West Coast Collection. It's described on the website as "They BIG. They SEXY. They GANGSTA. A 4-pack of our ride-or-die, fan favorites. 4 massive made from scratch gourmet brownies."
I decided to sample these like a sophisticated wine tasting. I started with the "lightest" flavor, the O.G., and worked my way up to the most decadent, Aint Nuttin' But a G-Thang.
You can't take a single bite of these and actually experience the true intention of the brownie. The treats are so big and packed with goodies, each bite is an adventure and delicious in a different way.
I HIGHLY recommend you give these a try!
Other Products Available from West Coast Confection:
Brownies and blondies are West Coast Confection's claim to fame, but they also offer some cookies that look pretty epic.
While they do not have specialty items on the regular menu, they can make vegan, gluten-free, protein-packed, dairy-free, and nut-free products upon request.
West Coast Confection Location and Ordering Information:
West Coast Confection offers products at Muscle Contest Events (San Diego, Las Vegas, Culver City and Los Angeles) and at Farmer's Markets in San Diego.
You can also order brownies, blondies and cookies online for shipping at the West Coast Confection website. 
---
2. Feed Your Soul
Individually wrapped brownies and bars (and cookies) crafted with simple ingredients and a mission to give back.
When you buy sweet treats from Feed Your Soul, you're also supporting a sweet mission. Each purchase helps feed those in need at the Coalition For the Homeless in NYC.
"I decided to create a business that would serve as a vehicle to give back. I chose cookies because they make people happy … they're a timeless treat and they're so easy to share."

Mya Zoracki, founder
Noteworthy Brownie, Blondie and Bar Flavors
Feed Your Soul bars have fun flavors with creative names like:
Unfudginbelievable (classic fudgy brownie)
One Toff' Blondies (blondies with toffee)
Pardon My French Almond (sponge cake, topped with marzipan almond paste, sliced almonds and sprinkled with cinnamon and confectioners sugar)
Plant One On Me Vegan Brownies (vegan fudge brownie, topped with pecans and semi sweet chocolate)
Boxes of assorted brownies and blondies are also available.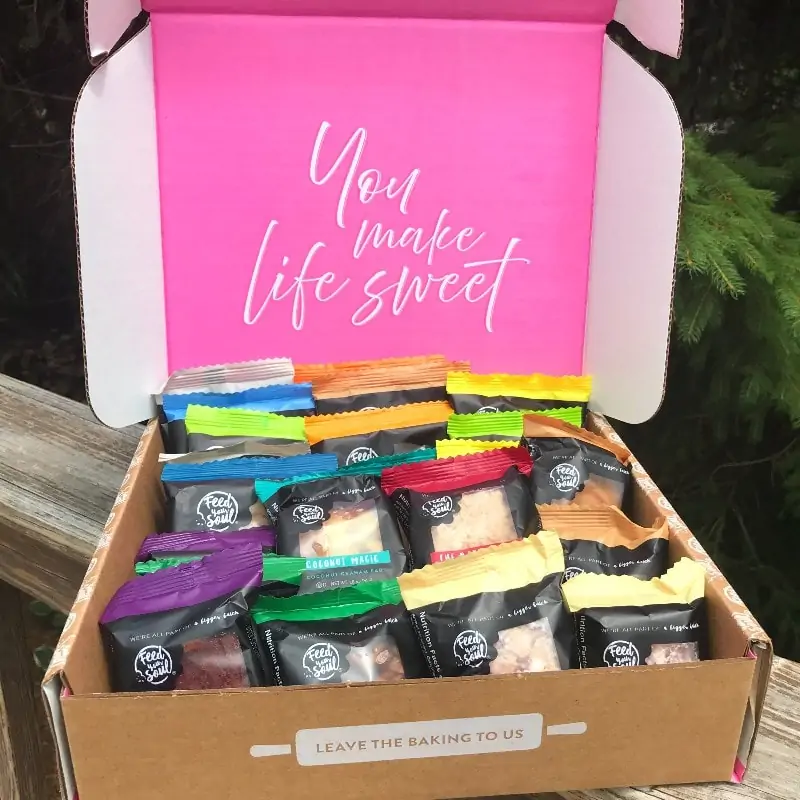 Other Products Available from Feed Your Soul:
The cookies from Feed Your Soul are equally fun and delicious. Some of the clever cookie names include Cocoa Loco, Nutty By Nature, Sassy Molassy, Show Me the Honey and Drivin' Me Coconuts.
---
3. David's Cookies
The Famous Red Tin of Cookies (and Brownies!)
David's Cookies is best known for their delicious cookies, but they offer a variety of other mail order treats including brownies.
The company started in Manhattan in 1979 with retail stores, but transitioned to a mail-order company in 1987. Over the years they expanded their product line to include more goodies including a new focus on gluten-free and better-for-you options.
Noteworthy David's Cookies Brownie Flavors:
Their brownie assortment includes the following flavors: Chocolate Chip, Pecan, Peanut Butter, Cheesecake Swirl, Rocky Road, Coconut Macaroon and Blondie Bombshell.
Our Review of Brownies from David's Cookies:
The brownies come individually wrapped in a sturdy tin. Each brownie held up well even after transport. The sealed wrapping helped keep the brownies fresh and moist.
Each flavor was delicious on its own and even better warmed up in the microwave for a few seconds.
Other Products Available from David's Cookies:
Cookies, ready-to-bake cookie dough, crumb cakes, cakes, birthday cakes, cheesecake, cookie cakes, specialty holiday treats. Cookie, brownie, cheesecake and dessert of the month clubs.
David's Cookies Ordering Information:
Order David's Cookies online for nationwide shipping.
---
4. Killer Brownies 
#1 Selling Gourmet Brownie in the Nation!
These triple-layer, 1/3 pound brownies come in over-the-top flavors and are the ultimate treat!
Noteworthy Killer Brownies Flavors:
Seriously, you just need to go to the Killer Brownie website and read the descriptions to get a full sense of how epic the flavors really are. Lots of words like "oozing caramel" and "chocolately fudge" and "oodles of colorful sprinkles".
But here's a quick rundown of the options: Confetti, Cookies & Cream, Peanut Butter, Raspberry, Cookie Dough, German Chocolate, Blonde Ambition, Salted Caramel, Original, With Love, and Not-a-nutter (no nuts).
Our Review of Killer Brownies:
Ooey. Gooey. Chewy. Sweet. Big. Rich. If you're looking for decadence and visual appeal, you're in the right place.
We tried Salted Caramel, Raspberry, Confetti and Cookie Dough flavors. Each flavor is just layer upon layer of yum.
The brownies are chewy and dense. The fillings are generous and decadent.
I dare you to eat a whole brownie in one sitting. I cut off little slices at a time and enjoyed these for days!
Killer Brownie Location and Ordering Information:
Use the "Find a Store" feature on the website to find a location offering Killer Brownie products.
Orders can also be placed online on the Killer Brownie website or on Goldbelly for nationwide shipping.
---
5. Fat Molly's Brownies
San Diego's Favorite Brownie!
Their vision is "a world where brownies look alluring, are moist, rich and taste like an affair with chocolate."
Not only do they sell fantastic brownies, but they are also committed to giving back to their community. They donate to a variety of programs like the San Diego Mission, counseling and house for women and children, and athletes with disabilities.
Fat Molly's Brownie Flavors:
No need to get fancy when you use the very best ingredients like Dutch Process Ghiradelli chocolate! Fat Molly's sticks to just three brownie flavors which are Five Chocolate, Peanut Butter and Pecan Caramel.
Their brownies are the offspring of a North American tradition that dates back to the 19th century. They take pride in that inheritance and blend the old with the new by using the very best and freshest ingredients available today.
Fat Molly's Ordering Information:
These delicious brownies are sold in select shops in Southern California. They can also be purchased for nationwide shipping on Goldbelly.
---
6. Brownie Points
Online Gourmet Brownie Gift Baskets and Home of the Famous Kitchen Sink Brownie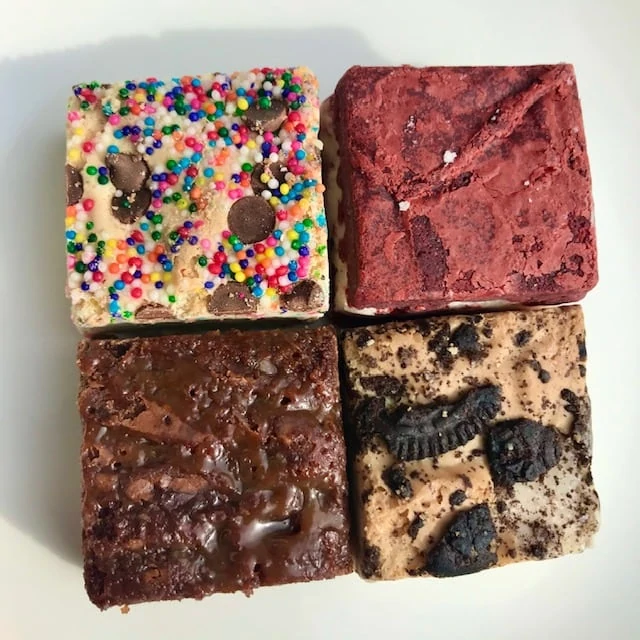 Brownie Points Flavors:
At the time of writing this article, the Brownie Points website showed more than 40 different brownie flavor options!
The flavors range from classic fudgy chocolate brownies to delicious butterscotch blondies. Some additional decadent flavors include birthday cake, caramel macchiato, cookies & cream, cinnamon streusel, creme de menthe, lemon blueberry and raspberry caramel.
They even offer a Boozy Brownie line with six cocktail-inspired brownies. All varieties contain less than .5% alcohol which bakes off during the baking process.
The Boozy Brownie flavors include key lime margarita, cabernet chocolate fudge, salted caramel bourbon, brown butter bourbon and bourbon pecan praline.
A variety of gluten-free brownies are also available.
Our Review of Brownie Points:
We tried more than 25 flavors of Brownie Points. Yes, you read that right – 25 flavors. It's a tough job, but someone had to do it!
Each flavor we tried really blew us away. Just fantastic. You can tell right away the brownies are made with high-quality, fresh ingredients. You can also tell each recipe was thoroughly tested because the flavors are spot on.
The brownies are small – just enough for 2-3 bites. With so many amazing flavors to try, the size is perfect to allow room to sample them all!
Each brownie is individually packaged for freshness. The brownies come thoughtfully packaged in a sturdy, gourmet box. You can also select from a variety of colored ribbons. Brownie Points would make an excellent gift.
Brownie Points Ordering Information:
These delicious treats are available to order online on the Brownie Points website or on the Goldbelly website for nationwide shipping.
---
7. Baked In Color
Best known for their bright, colorful rainbow chocolate chip cookies, Baked In Color also serves up some amazing colorful brownies and brookies.
Baked In Color Brookie and Brownie Flavors:
Giant Oreo Stuffed Brownies (thick layers of brownie, Oreo, and rainbow chocolate chip cookies)
Giant Stuffed Rainbow Brookie Cakes (9″ layer of rich, fudgy brownie followed by a layer of Oreo cookies, and finished with a thick rainbow chocolate chip cookie cake on top)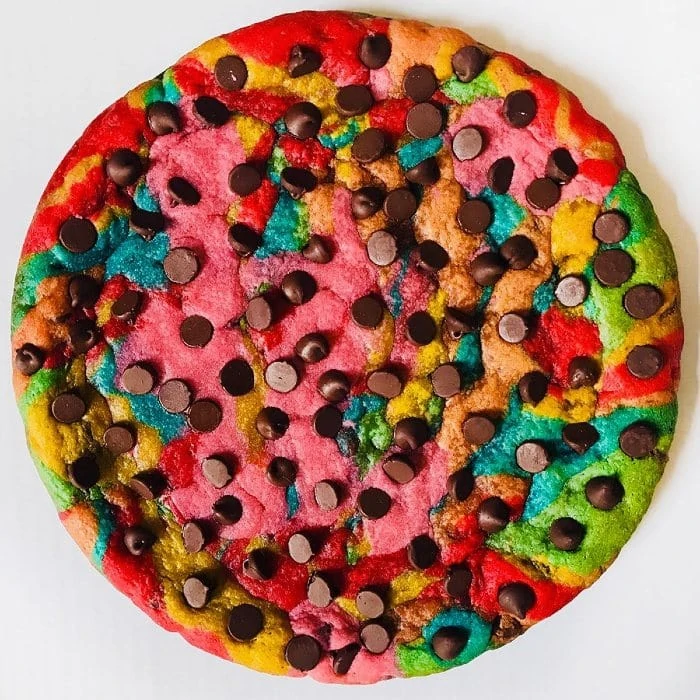 Also Available:
Rainbow cookies in multiple sizes (mini, regular, giant cookie cakes). Some come in cute little jars or gift tins. There are also several options to customize your colors. They even have college color options. New seasonal items are often available as well.
Baked In Color Ordering Information:
These delicious treats are available to order online on the Baked in Color website or on the Goldbelly website for nationwide shipping.
---
WANT EVEN MORE OPTIONS?

Check out the full selection of brownies available for nationwide delivery on Goldbelly. So many delicious options! Learn more.
8. FairyTale Brownies
12 Fudgy Flavors in 3 Sizes with FREE shipping
FairyTale Brownies serves up gourmet brownies using only the best all-natural ingredients like Callebut Belgian dark chocolate, creamery butter and fresh eggs.
You won't find any trans fats, preservatives or artificial colors in their products.
Noteworthy Fairytale Brownie Flavors:
Twelve flavors are available. Eight are nut-free and include caramel, chocolate chip, cream cheese, espresso nib, mint chocolate, original, raspberry swirl and white chocolate.
The four flavors that have nuts are pecan, walnut, toffee crunch and cinnamon cocoa.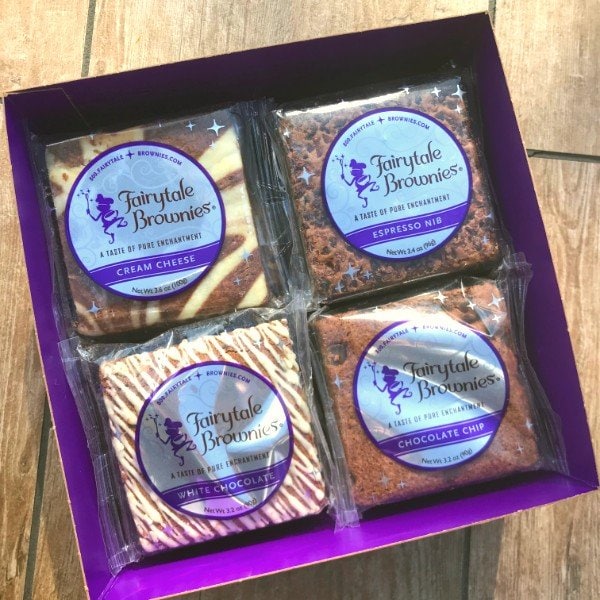 Our Review of Fairytale Brownies:
We sampled all 12 brownie flavors, plus several blondies! We honestly enjoyed each and every one.
The flavors are well-executed classics. The texture is very light and the brownie almost dissolves in your mouth.
We appreciated that the brownies come in 3 different sizes: full-size (about a 3″ x 3″ square), snack-size sprites and bite-size morsels (1.5″ x 1.5″).
We also really loved the fun, bright purple packaging. These would make an awesome gift.
Other Products Available from Fairytale Brownies:
In addition to brownies, the company also offers cookies, bars, sugar-free treats, gift packages including custom photo designs and corporate gifts.
Fairytale Brownies Location and Ordering Information:
A retail location is based in Phoenix, AZ and products are also sold at other retail locations in Arizona.
You can also visit the FairyTale Brownies website to place an order with FREE shipping!
---
9. Fat Witch Bakery
New York's Legendary Brownie
Known for delicious brownies and their fun name, Fat Witch Bakery has been featured in the New York Times, People Magazine, Today Show, Food Network and even on Oprah's "O" list!
Noteworthy Fat Witch Brownie Flavors:
The company has classic brownie flavors like caramel, walnut and double chocolate.
They also have fun flavors with equally fun names like Emerald City Witch (mint), Red Witch (dried cherries), Breakfast Witch (oatmeal, brown sugar, walnuts and coffee).
Their Japan Collection comes with flavors like Matcha, Citrus, Almond and Honey.
Our Review of Fat Witch Brownies:
We tried all 10 Witch Baby (1.5 oz) flavors! The size is just perfect. It's about 2-3 bites of pure goodness.
The texture of these brownies is slightly cakey. None of flavors are overly sweet which really allows the full flavors to come through.
The chocolate base flavor is pure and deep. The blondie base is mild and allows the other flavors to pop.
The Fat Witch branding is really well done. The logo is really fun and cute. The packaging is striking, high-quality and practical.
If you send these for a gift, I guarantee the recipient will have a huge smile on their face when they open up the package!
Other Products Available from Fat Witch:
In addition to brownies, Fat Witch also sells brownie mixes, bags of chocolate for hot cocoa, gift sets and favors.
Fat Witch Location and Ordering Information:
Fat Witch has a retail location in New York inside Chelsea Market.
Orders can also be placed online on the Fat Witch Bakery website.
---
10. Letz Dough It
A New Custom Menu Every Week!
This small business has a rotating menu of amazing, over-the-top sweet treats that are available for online ordering.
Noteworthy Letz Dough It Flavors:
Letz Dough It sells huge, multi-layer cookies, brownies and blondies. Each treat typically has a base layer, mix-ins, fillings and toppings.
They also take custom cookie orders made to your specifications!
Their online menu has so many options of flavor components, so we'll only list a few here. Here's a sample of choices: sugar cookie, cookie butter, cheesecake, Reese's, Nutella, cookie dough, icing, fluff, brownies, chocolate chips and any type of candy bar or cookie.
The options are endless – let your imagination run wild!
Our Review of Letz Dough It Brownies:
We tried four brownie and blondie flavors: Dunkaroo, Double Dutch Sweet 'N Salty, Cookie Monster and Easter Hunt.
In a nutshell, they are huge, delicious and the most inventive brownies that we've tried.
Each flavor has multiple layers of epic flavors, textures and colors. From crunchy potato chip toppings to cookie dough fillings to an easter egg Oreo cookie layer, every bite is an adventure!
Letz Dough It Ordering Information:
To order, visit the Letz Dough It Instagram page. We highly recommend you give these a try and support this amazing small business.
---
Want to make your own brownies? Give one of these recipes a try!
YOU MAY ALSO ENJOY:
Personalized Cookies To Order Online
The Best Gourmet Bakery Cookies Delivered To Your Door