Did you know some of the BEST mail order cookies in the country can be ordered online from gourmet bakeries and delivered right to your door?
The bakeries on this list are baking up gourmet cookies that will blow your mind. From classic chocolate chip cookies and sugar cookies that taste homemade to one-pound mega stuffed cookies, the perfect cookie is just a click away.
Find The Best Gourmet Cookies Online (more than just chocolate chip cookies!)
Who doesn't love cookies with a big glass of milk? Whether you're looking to order a dozen for yourself or a box to send as a gift to a cookie lover, you'll find some fresh, bakery treats here that can ship nationwide.
To come up with this list, we polled our readers to get suggestions on the very best mail order cookies from bakeries coast to coast. We also did extensive research of our own on cookie delivery companies- which included lots of taste testing!
---
---
---
---
---
---
---
---
---
---
---
---
Best Chocolate Chip Walnut Flavor
In 1995, Levain founders, Pam and Connie, created the ultimate chocolate chip walnut cookie to give them energy while training for a triathlon. Today, they have 8 stores locations and their world-famous cookies are shipped nationwide.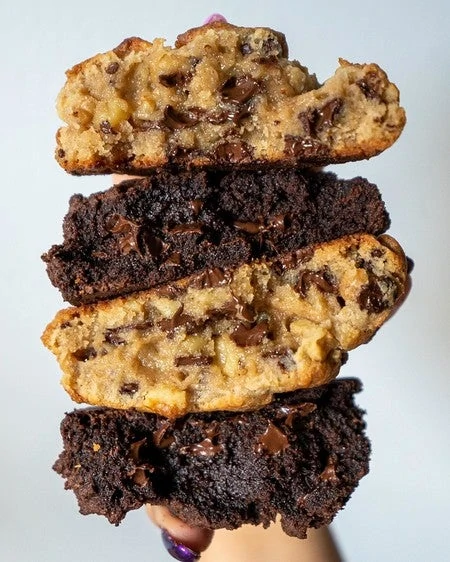 The cookie that started it all is Levain's signature Chocolate Chip Walnut Cookie. It's crispy on the outside The inside is thick and gooey center filled with semi-sweet chocolate chips and walnut chunks.
Levain Bakery also sells other flavors like classic chocolate chip, oatmeal raisin, dark chocolate and dark chocolate peanut butter cookies.
HOW TO ORDER
Place an order online on the Levain Bakery website for nationwide delivery of cookies by mail.
---
---
---
---
---
---
---
---
Best Macarons To Order Online
Premiere macaron delivery service offering Parisian macarons that are gluten-free and guilt-free.
These gourmet macarons are specifically designed to use less sugar but still taste amazing. They are also made with almond flour and are 100% gluten-free.
Every macaron filling AND shell is packed with flavor and gorgeous color. Strawberry cheesecake, creme brulee, oreo, almond croissant, thin mint, champagne, blueberry citrus and passion fruit white chocolate are just a few of the amazing flavors.
They even have macarons for dogs! And for the humans in your life, they have tons of options for gift boxes and special occasions.
HOW TO ORDER
Place an order online at the Macaron Queen website for delivery right to your door.
---
Best CBD Cookies
Satisfy your sweet tooth, load up on protein, and get your daily CBD at the same time
These CBD cookies have the added benefit of being vegan and packed with protein! Each delicious cookie has 20mg of broad spectrum CBD and 13 grams of pure protein. Choose from three different flavors—Chocolate Chip, Peanut Butter, and Oatmeal Raisin.
They are also soy-free and made in the USA with all-natural ingredients. They come with a 60-day guarantee. Third-party lab test results are available online.
HOW TO ORDER
Order these CBD cookies online at the CBDfx website.
---
---
Decorate Your Own Gourmet Cookie Kits
Looking to add a little more excitement to your baking? Check out Color My Cookie! They sell cookie decorating kits with unique designs for every occasion, from birthday parties to holidays. They'd also make a perfect gift to celebrate a milestone or welcome a new baby.
Each kit comes with everything you need to get started, including pre-baked cookies, icing, and sprinkles. Plus, the easy-to-follow instructions make decorating a breeze.
HOW TO ORDER COOKIES ONLINE
Order these gourmet cookie decorating kits on the Color My Cookie website for nationwide delivery.
**Use code TAKETEN for 10% off your order.**
---
Gourmet cookies with a splash of real moonshine!
These gourmet cookies are made with a splash of moonshine, which gives them a unique flavor that has been praised by food critics and cookie lovers alike. If you're looking for an extra special treat, a memorable gift or even a corporate gift, take a look at Moonshine Mountain.
COOKIE DELIVERY INFORMATION
Order cookies online at the Moonshine Mountain website to get these gourmet cookies delivered.
---
No Premixes, No Trans-Fats, No Preservatives – Just Great Cookies!
Wunderkeks is known for its delicious chocolate chip cookies. But don't overlook their other flavors like red velvet white chip, life-changing snickerdoodles, toffee and bright pink birthday cookie with sprinkles.
ORDER COOKIES ONLINE FOR DELIVERY
To place an order for these delicious bakery cookies, head to the Wunderkeks website.
---
A Pioneer In Mail Order Cookies
Blue Chip Cookies has been in business for 40 years, making them one of the longest-running online cookie companies around. They were one of the first mail order cookie companies and have built a reputation for fresh, delicious cookies.
Blue Chip Cookies offers a wide variety of cookies, including classic chocolate chip and oatmeal raisin, as well as more unique flavors like lemon delight and berries & cream cookie. With so many delicious options to choose from, it's no wonder that Blue Chip Cookies has been a favorite among cookie lovers for decades.
ORDER COOKIES ONLINE FOR DELIVERY
Visit the Blue Chip website to place an order online for gourmet cookie delivery.
---
---
Giant, soft-baked luxury cookies using only organic and natural ingredients.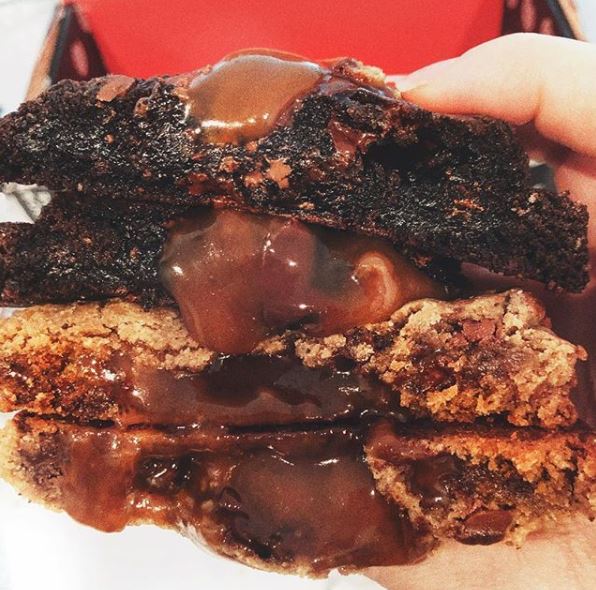 If you're looking for a cookie assortment, check out Bang Cookies. Just a few of their traditional flavors include Sea Salt Chocolate Chunk, Macadamia White Chocolate Chunk, Peanut Butter Chocolate Chunk, Walnut Chocolate Chunk, Oatmeal Raisin and Triple Chocolate Chunk.
Other specialty flavors include Cinnamon Whiskey Crackle, S'mores, Rocky Road Peanut Chip and Pumpkin Spice Bourbon Crackle.
Bang Cookies Ordering Information
Order cookies online for shipping across the United States, local pickup and on-demand local delivery.
**Use code SNACK10 for 10% off your Bang Cookies order.**
---
31. Baked Cravings
100% Nut-Free, Peanut-Free & Tree-Nut Free
These cookies are perfect for those with a sweet treat and nut allergy! All products from Baked Cravings, including cupcakes, cakes, muffins, popcorn and more, are totally nut-free.
If sesame is a concern, you'll be happy to know that Baked Cravings products are totally sesame-free as well. Some dairy-free and vegan treats are available too.
---
---
If you love these GOURMET COOKIES TO ORDER ONLINE,
please consider sharing to Pinterest, Instagram and Facebook!
You may also enjoy:
Best Gourmet Food Gifts To Order Online
Best Custom Cookies To Order Online
Best Gourmet Brownies To Order Online
Best Cookie Cakes To Order Online
Best Birthday Cakes To Order Online
Best Cupcakes To Order Online
Best Cakes In A Jar To Order Online
Best Cookie Dough To Order Online