Many of us have family and friends that live in other parts of the country. Birthdays and special occasions can be challenging when you can't visit in person, but still want to show you care.
That's why it's great that Bake Me A Wish has made it possible for you to send delicious goodies anywhere in the country. All of those distant family members and friends can enjoy high-quality treats like brownies, cookies, cakes, pies, and more!
In this review of Bake Me A Wish, we'll provide an overview of the company and the products they sell to help you find the best dessert for your occasion.
About Bake Me A Wish
Bake Me A Wish is an online shop that ships gourmet food gifts nationwide. They have become the go-to source for people who need high-quality baked goods shipped to friends, family and colleagues.
The company was founded in 2005 with a mission to ship birthday cakes to anyone across the United States. Since that time, they have greatly expanded their lineup to include a wide variety of other baked goods, gift baskets, and lots more.
On their well-organized website, you'll find gift ideas for every occasion. For birthdays, anniversaries, graduations, holidays, business deals and more, Bake Me A Wish has you covered.
You'll also find gluten-free treats, personalized cakes, and gift baskets. Also available is Operation: Birthday Cake which allows you to send treats to deployed military service members.
---
Type of Products Available from Bake Me A Wish
CAKES
These unforgettable cakes come in an elegant gift box with a greeting card to match your occasion.
They have a great assortment of classic cake flavors like chocolate, vanilla bean and red velvet.
If you're feeling more adventurous, you may want to check out the limoncello, coconut cream, or butterscotch pudding cakes. Or maybe try the fun and colorful rainbow cake or strawberry funfetti.
If coffee cake is more your style, you can pick from cinnamon, chocolate, granny apple, pumpkin and more.
Cake prices start at $39, plus shipping.
---
CUPCAKES
Bake Me A Wish cupcakes are specially created from shipping across the country.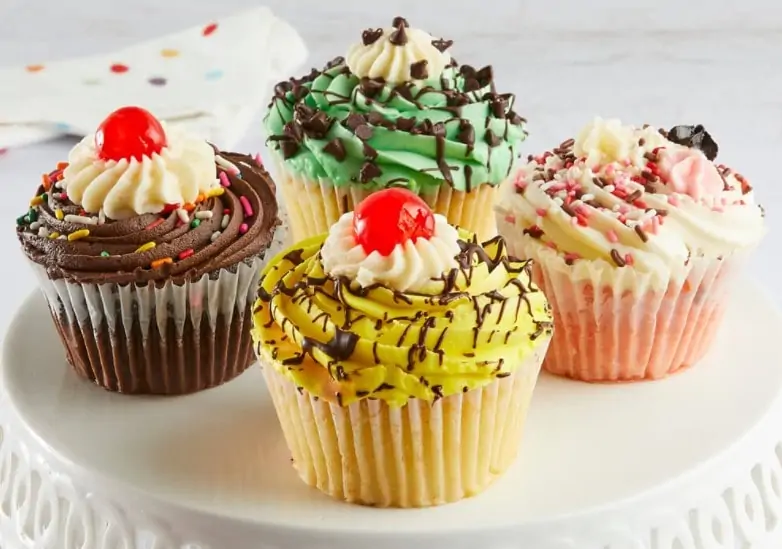 You can select from mini, regular or jumbo-sized cupcakes in a variety of flavor packs. Chocolate lovers, happy birthday, diva and bouquet of roses are just a few of the themes you can select from.
Cupcake prices start at $45, plus shipping.
---
CHEESECAKES
Who doesn't love a good cheesecake? Bake Me A Wish cheesecakes are creamy, handmade and delicious.
Keep it simple with a classic New York cheesecake or a strawberry swirl. Kick it up a notch with with a cookies and cream, brownie, peanut butter cup or vesuvius cake cheesecake!
Cheesecake prices start at $48, plus shipping.
---
COOKIES
Cookies from Bake Me A Wish can be ordered online and delivered overnight, nationwide.
Select from a gourmet assortment, black and white cookies, deluxe sandwich cookies, gluten-free chocolate chip and more.
Cookie prices start at $27, plus shipping.
---
BROWNIES
Each brownie order comes in a classy gift box with a greeting card and your personal message.
You can order an assortment of brownie flavors in the sampler box. Or you can get your brownie fix in the form of a triple chocolate brownie cake, cookies and cream brownie cake or even brownie cheesecake.
Brownie prices start at $45, plus shipping.
---
PIES
An apple pie a day keeps the doctor away, right? Order up a country apple or dutch apple pie!
There are plenty of other options too. Check out the sour cherry, strawberry rhubarb or key lime fruit pies.
If you're more into creamy pies, the coconut, banana and chocolate cream are excellent choices.
Pie prices start at $45, plus shipping.
---
Bake Me A Wish Reviews

Strawberry Funfetti Cake
If you're looking for a fun cake to send as a surprise gift, you can't go wrong with the Strawberry Funfetti cake. The pretty pink frosting and sprinkles will bring a smile to anyone's face.
It has two layers of confetti cake with strawberry filling and frosting. The outside edge of the cake is packed with more confetti sprinkles.
It also comes with an optional little topper to highlight the occasion (such as Happy Birthday, Congratulations or Thank You).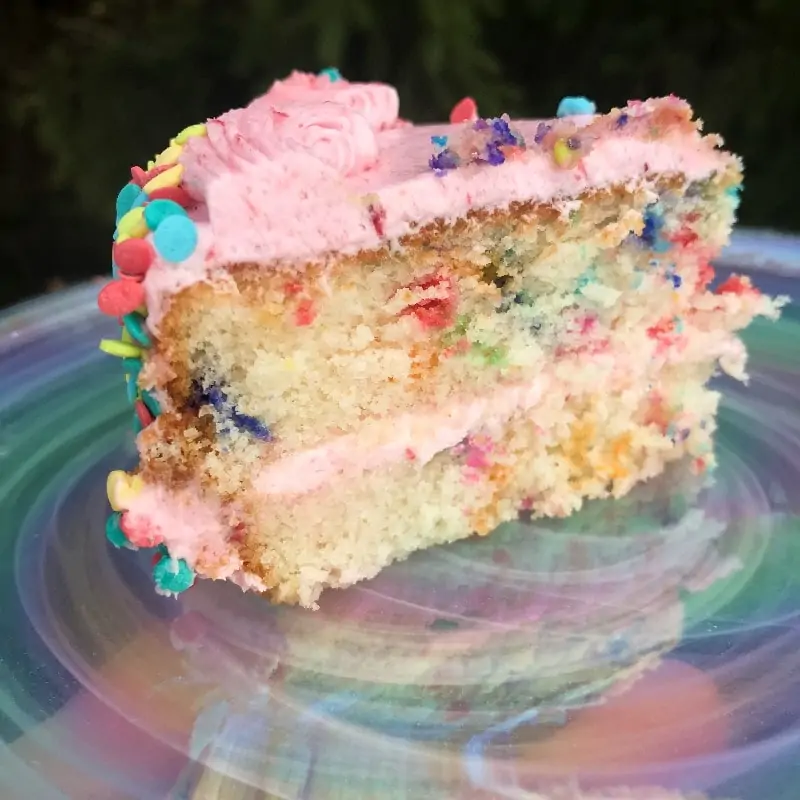 The cake comes in a colorful box along with a card you can personalize.
When you're shipping cakes across the country, the packaging is definitely important. Bake Me A Wish does not skimp when it comes to using the right materials for the job.
In fact, peeling through the multiple layers of protective packaging really kind of feels like opening a birthday present.
Gourmet Cupcake Delivery
Bake Me A Wish also has cupcake delivery down to a science. My order of jumbo cupcakes arrived in perfect condition after traveling across the country to my doorstep.
I tried out the 4-pack of seasonal jumbo football-themed cupcakes. The cupcakes were moist and delicous. The pack included 4 flavors: vanilla with vanilla filling, chocolate with vanilla filling, chocolate with chocolate filling and red velvet.
---

CUSTOMER REVIEWS
Bake Me A Wish has over 8,500 customer reviews on Trustpilot with an average score of 4.2 out of 5 stars. Over 80% of reviewers scored their experience as excellent or great.
The vast majority of customers rave about the excellent product quality and on-time arrival. Here are a few comments from satisfied customers:
"Always great product. I've used this company for about 8 years now and everyone enjoys the goodies sent."
"Great quality, delicious and great service … would definitely recommend this company!! Thank you!! You made his birthday and my wish come true."
"The cake was perfectly packed and delivered on time and was still fresh and delicious."
Some of the less satisfactory reviews mention products not arriving on time or disappointment in the product quality for the price paid. However, in most cases, the Bake Me A Wish customer service team responded directly to the customer with steps to address their concerns.
---
Bake Me A Wish Promotions and Discounts
Bake Me A Wish has a Coupon and Promo Codes page on their website. Be sure to check it out frequently as offers are updated often.
---
Bake Me A Wish Shipping Policy
Bake Me A Wish specializes in overnight, nationwide shipping. They also guaranteed your order will arrive on time.
They will deliver to Hawaii and Alaska for an extra fee and with limited delivery days.
They are also able to ship a selection of goodies to US Military personnel across the seas stationed at US military bases (FPO, APO, APE, DPO).
Be sure to check out their frequently asked questions page. It covers a ton of shipping-related questions.
---
---
How To Contact Bake Me A Wish
You can contact the company through their online form or by calling 1-888-987-9474.
---
The Bottom Line
While the prices are on the high side, you get what you pay for. The product quality and packaging are excellent. Your order also comes with a guarantee to arrive on time … even if you waited until the last minute to order.
Bake Me A Wish is an excellent choice when you're looking to send a thoughtful and delicious gift. With the vast assortment of gourmet goodies, you will definitely find a gift that your friends, family or even colleagues will enjoy.
Looking for more desserts to order online? Check out these handy guides:
– The Best Cookies to Order Online
– The Best Brownies to Order Online
– The Best Birthday Cakes to Order Online
– The Best Cookie Cakes to Order Online
– The Best Cupcakes to Order Online
– The Best Cupcakes In A Jar to Order Online
– The Best Edible Cookie Dough To Order Online