With so many people diagnosed with gluten sensitivities or Celiac Disease, it's no wonder that the demand for gluten-free baked goods has skyrocketed in recent years.
There are now many companies that specialize in making delicious gluten-free cakes, and it's easier than ever to have one delivered right to your door.
Whether you're looking for a birthday cake, a special occasion cake, or just a special treat, we've put together a list of 13 of the best gluten-free cakes that you can have delivered.
If you're ready to jump right in, here's a quick list of our top 3 recommendations for gluten-free cakes to order online.
If you'd prefer to browse the entire list of delicious options, keep on reading below!
If you're looking for the best gluten-free cupcakes or macarons, we suggest checking out Baked By Melissa.
If you're looking for gluten-free scones, cookies and macaroons, be sure to check out Seven Sisters Scones.
Also, be sure to check our suggestions for the 5 Best Places For Gluten-Free Cookie Delivery.
You may also like: Does Crumbl Have Gluten-Free Cookies?
Does Goldbelly Have Gluten-Free Options?
Yes! Goldbelly is a food delivery service that specializes in sending gourmet food from across the country straight to your door. And while they have a wide variety of options to choose from, you may be wondering if they have any gluten-free options.
The good news is that Goldbelly does indeed have many gluten-free options available. Their selection includes both savory and sweet options (including gluten-free cake!), so there's something for everyone.
Which Is The Best Site To Order Cake Online?
There are many sites that allow you to order gluten-free cake online, but which one is the best? That depends on what you're looking for!
We recommend taking a look at the gluten-free cake options available from Goldbelly. They have a wide selection of cakes that will appeal to everyone.
You'll find cakes to fit your budget, flavor preferences and even design options. It's really easy to place your order online and schedule delivery to your home or have your gluten-free cake shipped nationwide.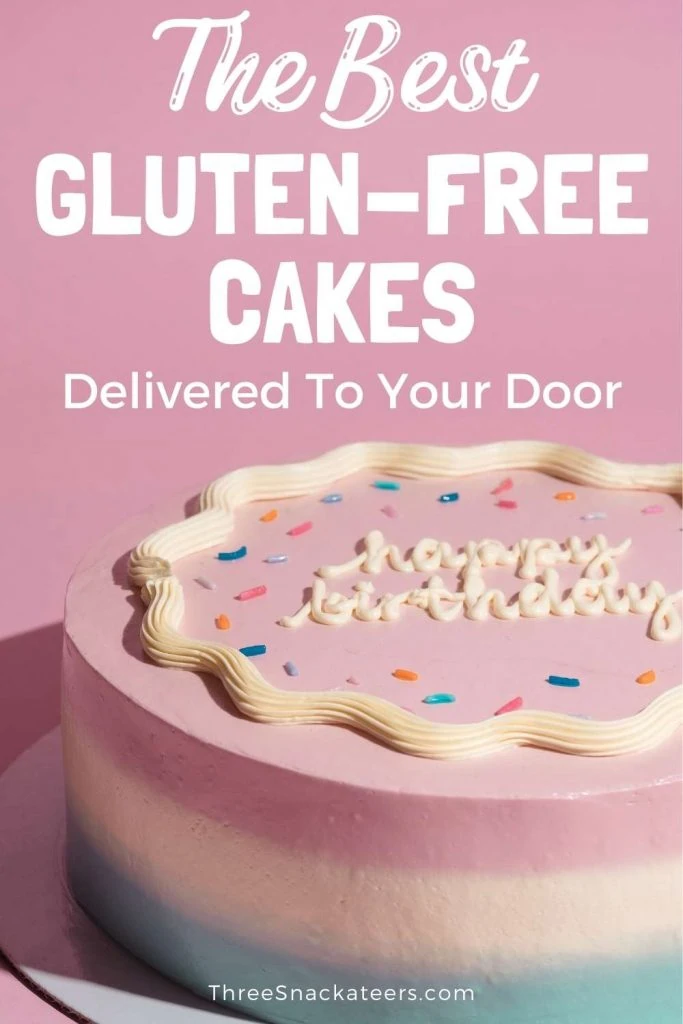 13 Best Gluten-Free Cakes Delivered
Without further ado, lets jump into some delicious, gluten-free cake options! In the list below, you'll find a wide variety of tasty options that are perfect for anyone with gluten sensitivities or celiac disease.
NYC's Legendary Vegan & Gluten-Free Bakery
This bakery opened in New York in 2005. All cakes, pies, cupcakes and other sweets are totally gluten-free and vegan. Ingredients are responsibly and carefully sourced so you can have your cake and feel good about it too!
Some of the gluten-free cake options include a confetti cake that explodes sprinkles, brownie chocolate cake, carrot cake, lemon tea cake, chocolate crumb cake, chocolate chip cookie cakes and lots more.
Erin McKenna's gluten-free cakes are available for online ordering and nationwide delivery via Goldbelly.
Artisanal Paleo and Gluten-Free Sweets
Sweet Laurel Bakery is based in Los Angeles. Laurel (founder) turned her own dietary restrictions into an amazing gluten-free bakery! The company creates moist, flavorful cakes made with the best organic, whole ingredients.
Their treats are grain-free, dairy-free and refined sugar-free. Many of the baked goods are made with less than 5 ingredients.
Some of the gluten-free cake flavors include chocolate, chocolate caramel, carrot cake and mocha.
Order online from Goldbelly for gluten-free cake delivery!
Made From Scratch Cakes On Oprah's Favorite Things List
This bakery has been featured not only on Oprah's Favorite Things and O List, but also on Food Network's Unwrapped and Road Tasted, Good Morning America, InStyle, and Entrepreneur Magazine!
Their claim to fame is delicious homemade cakes made with fresh ingredients. You'll never get a cake mix or canned frosting and you can taste the difference.
We Take The Cake offers a wide variety of cakes, flavors and designs with both traditional and gluten-free options. Gluten-free cake flavors include 4-layer golden butter and chocolate "Happy Birthday" cakes, red velvet, coconut and more.
Click on the link below to order your gluten-free cake online for delivery from Goldbelly.
Shark Tank Winner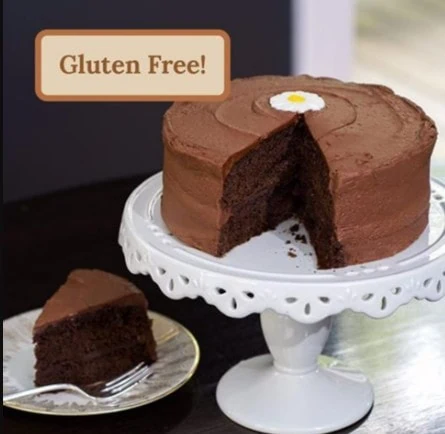 Daisy Cakes was founded in South Carolina by Kim Nelson. Their cakes are packed with southern pride and rooted in childhood memories. The recipes used have been handed down through the generations in Kim's family.
Daisy Cakes offers a decadent gluten-free chocolate cake and traditional southern carrot cake. They also offer gluten-free brownies and a wide selection of cute vegan Minikins (jars layered with frosting and cake.)
Daisy Cakes gluten-free cakes are available for online ordering and delivery via Goldbelly.
You may also like: 15 Coolest Shark Tank Foods You Can Order Online
Home Of The World's Best Caramel Cake (and it's gluten-free!)
Caroline's Cakes is "Home of the World's Best Caramel Cake"! Their southern-style 7-layer caramel cake is made from an old family recipe. It has SEVEN layers of moist yellow cake and is then topped and filled with creamy caramel icing.
The famous caramel cake comes in both traditional and gluten-free varieties. Other gluten-free options include their gluten-free coconut cloud cake and their gluten-free Happy Birthday southern chocolate cake.
Order online from Golbelly to get Caroline's famous caramel cake delivered to your doorstep!
Build Your Own Gluten-Free Buttercream Torte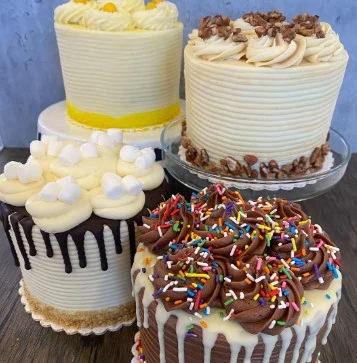 Nadia Cakes hit star status after winning The Food Network's Cupcake Wars and Holiday Baking Championship. Their whimsical and creative cakes and cupcakes are a sight to behold!
You can also get creative with your gluten-free cake from Nadia's because you get to design your own! Just select your favorite combinations of cake flavor, filling, frosting and toppings.
With options like confetti cake, marshmallow cream filling, lemon buttercream and Reese's Pieces toppings, you'll have a blast designing your own cake.
Design the gluten-free cake of your dreams online, then have it shipped anywhere in the US. Click below to order online from Goldbelly for delivery.
One Of The Best Small Town Bakeries in America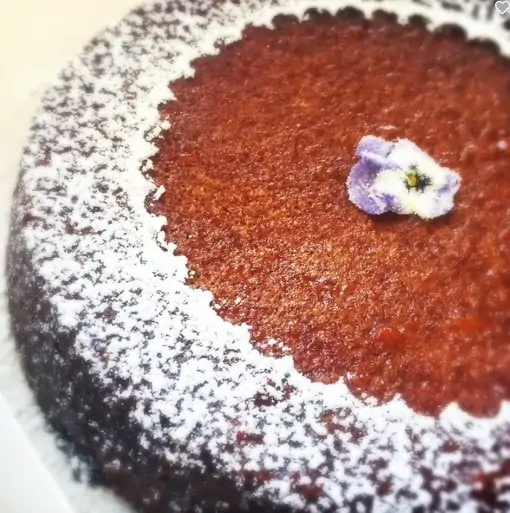 For a bakery that started out of the back of a red 1954 Ford farm truck, this company is really making waves.
They've been named one of the New York Times' 15 favorite food purveyors, one of the "Best Small Town Bakeries in America" by Travel + Leisure & "America's 13 Sweetest Bakery Destinations" by Conde Nast Traveler.
Unlike some of the other bakeries on our list, Red Truck offers more sophisticated gluten-free cake options. Check out their gluten-free flourless chocolate truffle cake and almond cake with amaretto.
Red Truck Bakery gluten-free cakes can be ordered online with shipping and delivery from Goldbelly.
Miami's Most Decadent Cakes
Misha started out in her home kitchen making cakes for family and friends. Today her company is cranking out more than 10,000 cupcakes a day!
They offer a completely gluten-free chocolate cake with chocolate buttercream and vanilla cake with vanilla buttercream. If you want to try their famous cupcakes, you're in luck. You can also order gluten-free cupcakes in chocolate and vanilla flavors.
Order online from Goldbelly to have Misha's gluten-free cakes shipped to your home or delivered nationwide.
Gluten-Free Cupcakes & Mini Desserts Delivered
Baked By Melissa is famous for their bite-sized cupcakes and macarons that come in a dizzying array for fun flavors. Baked By Melissa gluten-free cupcakes are all of the sweet with none of the wheat!
Each cake is made with a rice flour recipe, so you can enjoy gluten-free desserts that are safe for celiac. Even better, all of their gluten-free cupcakes and macarons are made in a separate facility.
Gluten-free cupcake flavors include Triple Chocolate Crunch (made with quinoa chocolate brittle), Birthday Cake, Caramel (with gooey dulce de leche stuffing), Red Velvet, Cinnamon and their famous, brightly colored Tie-Dye!
If you're in NYC, you can get same-day delivery or in-store pickup. For everyone else, click on the link below to place your order online and have gluten-free cupcakes delivered nationwide.
Award-winning Bakery Known For Familiar Yet Unexpected Desserts
Milk Bar is known for delicious, creative treats like their Compost Cookies, Milk Bar Pie and Birthday Truffles.
Their over-the-top birthday cake is a legend and it's now available gluten-free! The Milk Bar gluten-free cake features three tiers of rainbow-flecked, gluten-free vanilla cake layered with creamy frosting and crunchy gluten-free crumbs, plus birthday truffles on top!
Get Milk Bar gluten-free cake delivered to your home or shipped nationwide. Just click on the link below to place your online order.
World Famous Gluten Free Bakery Treats Shipped Nationwide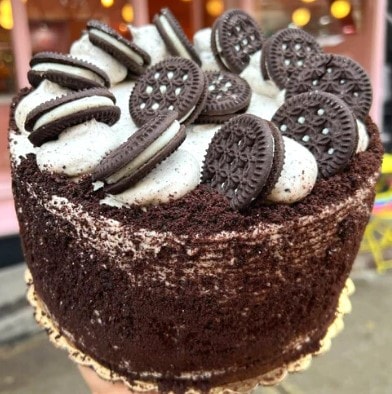 Posh is a New-York based bakery that sells all gluten-free treats. Choose from cakes, cheesecake, cookie pies, donuts, brownies, bars, pies, cookies, cinnamon rolls and more.
They offer a variety of gluten-free cakes for delivery including fun flavors like Oreo, funfetti, red velvet and carrot cake.
Posh delivers their gluten-free cakes, cookies and other treats nationwide. Just click on the link below to order online for shipping across the US.
Vegan and Gluten-Free Cakes For Nationwide Delivery
Karma Bakery is one of the best vegan, gluten-free bakeries online to deliver dairy-free and gluten-free cakes, pastries, donuts, cupcakes and more. Their mission is to change the consciousness of dessert eaters everywhere.
Gluten-free cake flavors include cookies and cream, pineapple coconut, rainbow pride, red velvet, banana nutella, vanilla raspberry and more.
If you're in Los Angeles, you can pick up your treats from their bakery. Or get their gluten-free specialty treats shipped right to you by clicking on the link below.
Dedicated Gluten-Free, Nut-Free Bakery That Ships Cakes Nationwide
Sensitive Sweets specializes in delicious cakes and other treats for people with food sensitivities and dietary restrictions. Their goodies are free of the top 10 allergens including gluten, dairy, eggs, soy, peanuts, tree nuts, legume, coconut and sesame.
Each of their gluten-free cakes comes with a custom fondant topper on top of a fondant-covered 2-layer cake. You get to pick your cake, filling, colors and theme!
If you're near their store in Fountain Valley, CA you can set up a tasting appointment. For nationwide delivery of their gluten-free cake, click on the link below to order online.
Gluten-Free Scones, Cookies & Macaroons
Looking for a different type of delicious, gluten-free treat? Check out the gluten-free scones, cookies and macaroons from Seven Sisters! They're just as delicious as traditional treats, so you'll never feel like you're missing out.
They offer all kinds of sweet and savory scone flavors like blueberry, cranberry orange, garlic herb, sweet potato & cardamom, banana chocolate chip and lots more!
Kid-friendly flavors like cotton candy and cinnamon roll are great for back-to-school lunches and breakfasts, and after-school snacks too!
Also, be sure to take a look at their vegan options too.
---
With this list of the best gluten-free cakes delivered, you'll definitely find a delicious cake to enjoy. Whether you're craving something chocolatey, fruity, or classic, there's a cake on this list that will satisfy your sweet tooth.
It's so simple to place your cake order online … the hard part is waiting for your gluten-free cake to get delivered to your doorstep!
You may also enjoy:
Best Gourmet Food Gifts To Order Online
Best Custom Cookies To Order Online
Best Gourmet Brownies To Order Online
Best Cookie Cakes To Order Online
Best Gourmet Cookies To Order Online
Best Cupcakes To Order Online
Best Cakes In A Jar To Order Online
Best Cookie Dough To Order Online