If you're wondering where to order birthday cake online, you've come to the right place. In the list below, you'll find some of the best cake delivery services.
Get delicious birthday cake delivered right to your door or send a cake to be shipped nationwide to friends and family for the best birthday surprise!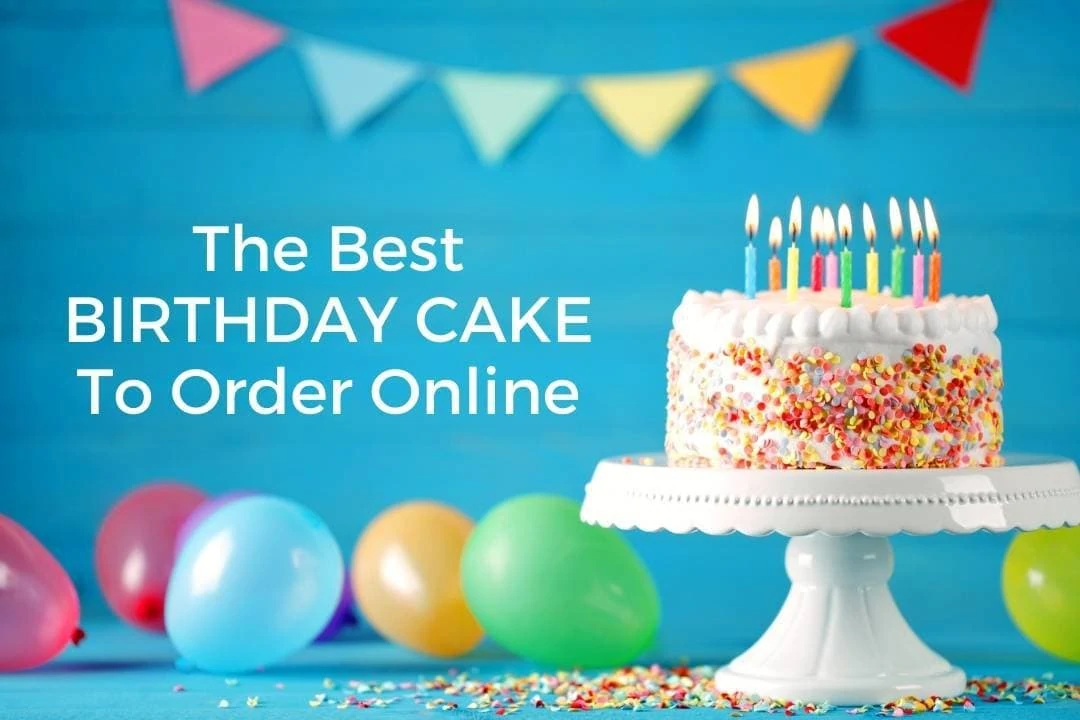 How Can I Send A Birthday Cake?
Not much of a baker or don't have the time? Don't worry – the best gourmet cakes can be delivered by mail for a birthday, party, holiday or other special occassion.
In this article, we reveal the best birthday cakes by mail that are sure to deliver smiles and satisfaction in one pretty package. Just browse the list below of some of the best bakeries in the world and with a few clicks, you can send a cake to yourself, friends or family.
The Best Cake Delivery Services – Where to Order the Best Cake Online
Birthday cake delivery services offer all the flavor and flair you could wish for, without the fuss of baking it yourself.
---
BEST VARIETY OF CAKE FLAVORS
Bake Me A Wish
Claim To Fame:
Gourmet cakes and bakery gifts are delivered overnight, nationwide. Each mail order cake is delivered in an elegant gift box with a greeting card.
About Bake Me A Wish Cakes:
Bake Me A Wish doesn't stop at traditional vanilla and chocolate birthday cake flavors. This is the place to go if you're looking for a wide variety of flavor options.
Here are just a few that may strike your fancy: Tiramisu Classico, Salted Caramel, Tres Leches, Vesuvius (an Italian cake classic), Butterscotch Pudding, Limoncello, Boston Cream and Coconut Cream. Yum!
Also Available from Bake Me A Wish:
Cupcakes, cheesecakes, cookies, brownies, pies, gift towers and baskets filled with treats
---
MOST DECADENT CAKE
David's Cookies
Claim To Fame:
This company is best-known for cookies to order online for nationwide shipping.
But they offer lots more including cheesecakes, specialty desserts and delicious birthday cakes … all delivered nationwide.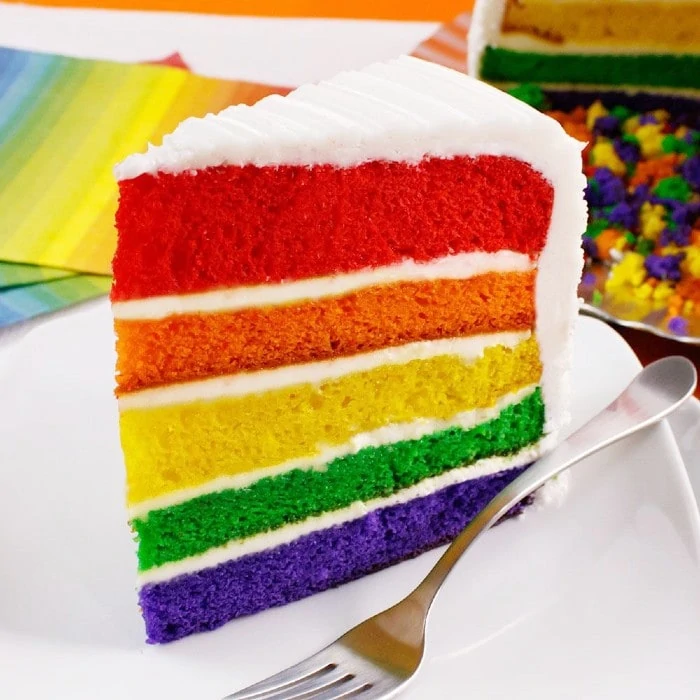 About David's Cookies Cakes:
You can't go wrong with ordering a birthday cake from David's. The cakes are so fresh, moist and delicious, you'd never guess they were shipped to your doorstep.
And check out some of these flavors: Mile High Peanut Butter Explosion, Chocolate Overload, Milky Caramel Galaxy, Premier Pumpkin Spice and Chocolate Chip Deep Dish Cookie Cake!
The Rainbow Cake is a real show-stopper. It looks like a vanilla layer cake until you cut the first slice and reveal the colorful red, orange, yellow, green and purple cake layers. Gorgeous!
Also Available from David's Cookies:
Order cookies, brownies, cookie dough, cheesecakes, tarts, gluten-free and sugar-free treats and much more.
---
BEST CLASSIC BIRTHDAY CAKE
Magnolia Bakery
Claim to Fame:
A World-Renowned Bakery Famous for Classic American Baked Goods and Desserts. The bakery captivated a worldwide audience after being featured on the hit TV show Sex and the City.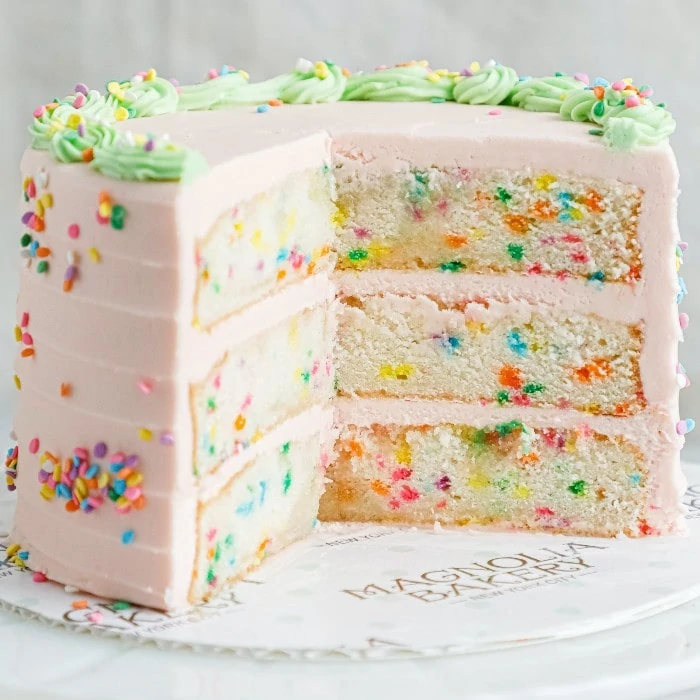 About Magnolia Bakery Cakes:
The company is based in New York City and also has bakeries in Los Angeles, Chicago, Boston, Washington, D.C., Dubai, Riyadh, Amman, Abu Dhabi, Manila and Doha. However, with nationwide shipping, you can order online and get your cake in the mail.
If you enjoy chocolate cake, you'll definitely want to check out the double chocolate and hazelnut chocolate. The confetti cake (shown above) is a gourmet layer cake perfect for a party.
Each comes with an optional inscription (such as Happy Birthday!) as well as the convenient option to add on candles or a Magnolia Bakery knife to complete your birthday celebration.
Also Available From Magnolia Bakery:
Order world-famous banana pudding, the famous Carrie Cupcakes, brownies, cookies, seasonal sweet treats and more.
---
CAN'T DECIDE WHICH CAKE TO TRY?

Why not try a Cake Subscription! With this subscription, you'll receive hand-selected cakes delivered each month from the nation's best bakeries. –> LEARN MORE
BEST 2-TIER CAKE FOR DELIVERY
Carlo's Bakery
Claim to Fame:
Carlo's Bakery, as featured on TLC's Cake Boss, is known for over-the-top designer cakes as well as decadent pastries and desserts.
Current owner and celebrity, Buddy Valastro, is a fourth-generation baker who connects with his Italian family history by creating amazing cakes.
About Carlo's Bakery Cakes:
With a wide variety of cake flavors, you're sure to find the perfect birthday cake from Carlo's. Just a few noteworthy flavors include colorful Rainbow Cake, Chocolate Mousse Cake, Black & White Cake, Carrot Cake and Cookie & Cream.
Can't decide? They also offer a Best Sellers Cake Slice Sampler that comes with 8 different flavors to try.
You can even order a two-tier cake for a super special birthday delivery!
Also Available From Carlo's Bakery:
Order cakes online, plus black & white cookies, cannoli chips & dip, rainbow cookies, cupcakes and pastries.
---
BEST RED (AND BLUE!) VELVET CAKES
Carousel Cakes
Claim to Fame:
Home of Oprah's Favorite Red Velvet Cake! Oprah also called their Blue Velvet Cake "stupid good" and raves about the filling in their mousse cakes.
About Carousel Cakes:
You'll have fun selecting a birthday cake here. If red velvet and mousse cakes aren't your thing, there are plenty of other choices.
There are several options of chocolate cakes including a giggle cake that's covered in sprinkles and filled with colorful buttercream.
Looking for something lighter? You may enjoy a Funnyfetti Cake (tons of sprinkles!), the Strawberry Crunch Parfait Cake, Baileys Cream Cake or Coconut Snowball Cake.
Also Available From Carousel Cakes:
Cheesecakes, homestyle pies, cupcakes and seasonal/holiday dessert options.
---
MOST FUN BIRTHDAY CAKES
Duff Goldman
Claim To Fame:
Jaw-dropping cakes by celebrity and fun-loving baker Duff Goldman from the hit show "Ace of Cakes". His playful personality definitely shines through in his cake designs.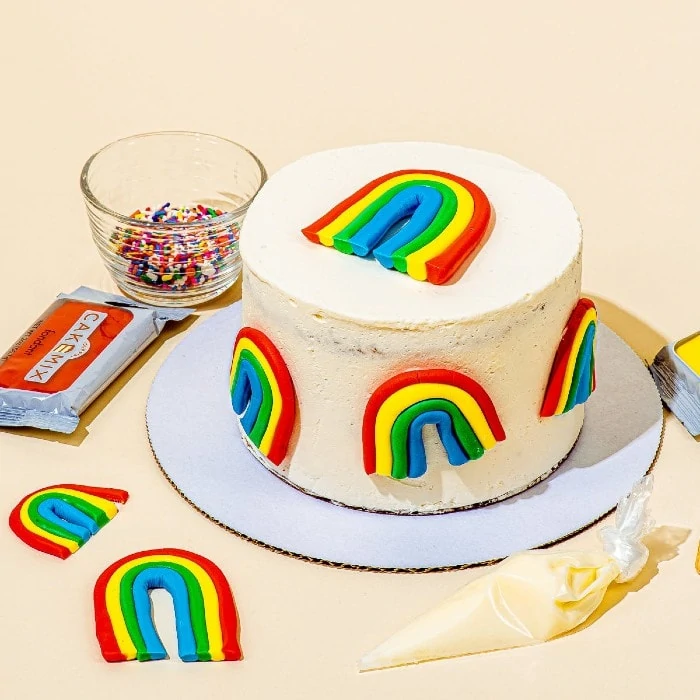 About Duff Goldman Cakes:
You won't be able to order Duff's dazzling custom cakes online (I mean, this guy is known for creating the world's largest cupcake and cheesecake!) But you can still get a taste of his delicious creations with a selection of fun cakes available on Goldbelly.
Take a look at the classic birthday cake as well as the red and blue velvet cakes. If you're feeling creative, you may also want to check out the DIY cake kits which would be super fun for a kid's birthday.
You can order cakes by mail for nationwide shipping with Goldbelly.
---
MOST UNIQUE CAKES
PieCaken Bakeshop
Claim To Fame:
Home of the legendary PieCaken: a delicious pie and cake mashup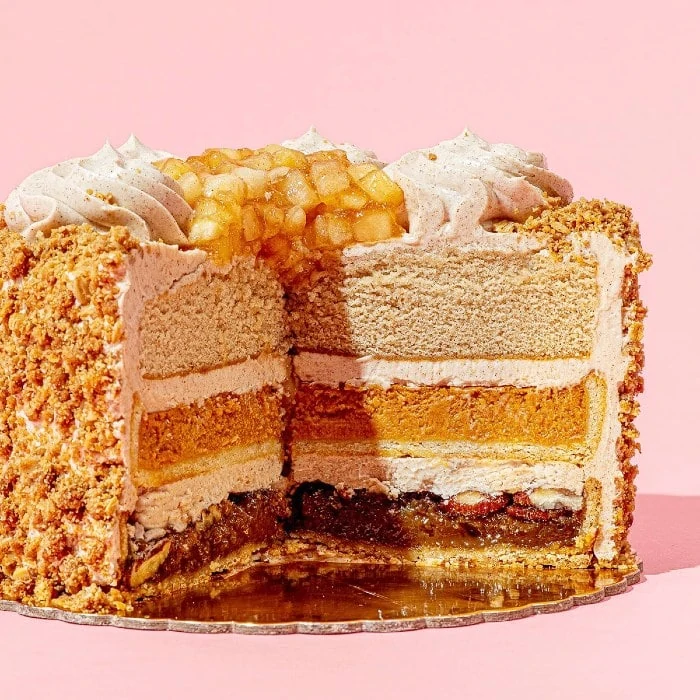 About PieCaken Cakes:
The PieCaken is a sight to behold. It is a crazy 4-in-1 layer dessert that you can order on Goldbelly. Can you imagine getting this in the mail?!
It includes Pecan Pie, Pumpkin Pie, Spice Cake, and Apple Pie all layered together with cinnamon buttercream. This is the perfect birthday cake for the dessert lover in your life.
Besides the original PieCaken mentioned above, there are also seasonal, limited-edition desserts.
For example, in December the Christmas PieCaken is offered. This 6-pound show-stopper layer dessert includes pecan pie, eggnog cheesecake, red velvet cake and cherry pie.
Check back on Goldbelly often to see the latest seasonal offerings for nationwide shipping.
---
BEST ATTENTION TO DETAIL
We Take The Cake
Claim To Fame:
Fort Lauderdale's most legendary custom-cake shop. We Take The Cake is visited often by celebrities and luxury caterers. Their famous key lime bundt cake is one of Oprah's Favorite Things.
About We Take The Cake Cakes:
Quality and attention to detail are what sets this cake shop apart from the competition.
They use ingredients like whole buttermilk, fresh eggs and real butter – just like grandma used to make. Experienced bakers mix every batter and frosting by hand.
This bakery knows that shipping a birthday cake is all about presentation. They go the extra mile with hand-decorated cakes and custom-designed packaging to make sure your cake delivery is perfect.
They offer a variety of layer cakes as well as bundt cakes (full-size and mini) in classic flavors like vanilla, chocolate, lemon, strawberry and raspberry. Gluten-free and vegan cake options are available.
---
BEST COOKIE CAKES
Mrs. Fields
Claim To Fame:
The iconic American company that offers gourmet cookie tins, baskets and gifts for shipping nationwide.
About Mrs. Fields' Cakes:
Not everyone is a cake fan. We can respect that! That's why we included Mrs. Field's Giant Cookie Cakes in our list.
Each giant chocolate chip cookie cake measures 12 inches in diameter. These colossal cookie cakes are moist, chewy and made with real butter, whole eggs, and pure vanilla.
For ease of ordering, there are a variety of pre-set Happy Birthday designs. However, you can also customize your message and frosting colors.
Also Available from Mrs. Fields:
Brownies, chocolate-covered berries, decorated rice krispie treats, coffee cakes, nut-free sweets and more
---
MOST COLORFUL CAKES & FESTIVE CAKES
Baked in Color
Claim To Fame:
The original rainbow chocolate chip cookie and the "Happiest Cookies on Earth"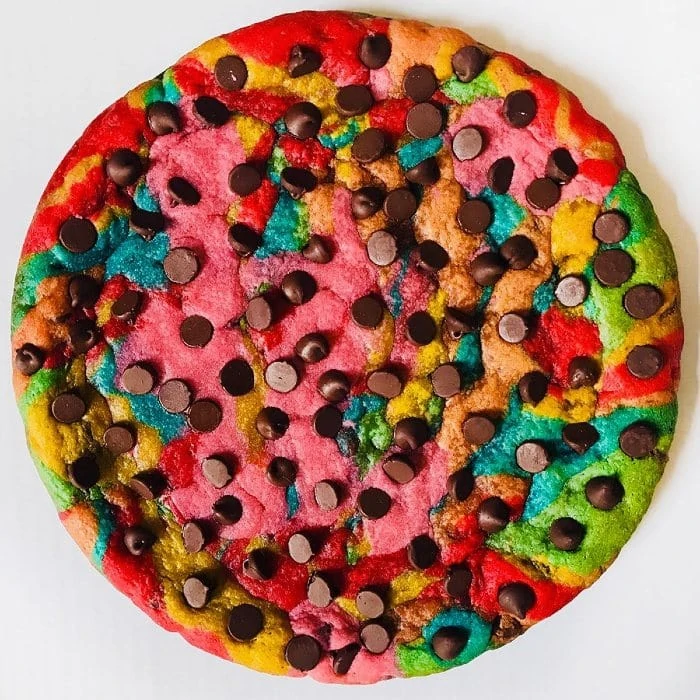 About Baked In Color Cookie Cakes:
As their name suggests, COLOR is the name of the game at this fun bakery.
Made with super colorful dough, these huge rainbow cookie cakes are rolled and twisted to create a unique sweet treat. No two cookie cakes are the same!
In addition to the classic Rainbow Chocolate Chip Cake, other flavors include Brownie Oreo, Funfetti Cookie and Cookies N' Cream. There is even an option to choose your own colors.
Also Available from Baked In Color:
Choose Your Own Color Cookie Gift Tins, College Colors Cookie Gifts, Giant Rainbow Oreo Brownies and Seasonal Treats
---
Who do you think has the best cakes online? Have you ever used cake delivery services?
Head over to our Facebook group to share your thoughts and connect with other foodies who love sweets and treats!