Cupcakes are a classic dessert that everyone loves. But let's face it, sometimes they can also be a little boring. These days people want to try new flavors and have fun with their desserts!
Baked by Melissa is changing the way people think about cupcakes with their bite-size treats that come in unique flavors. They certainly are a company that knows how to do cupcakes right.

All of their handcrafted mini cupcakes are baked fresh, so they always taste amazing.
You can easily order online for nationwide shipping. Or pick them up at one of many locations around the NYC and NJ area.
If we've got your attention, keep reading for everything you need to know – including our personal review – about ordering sweet treats from this bakery.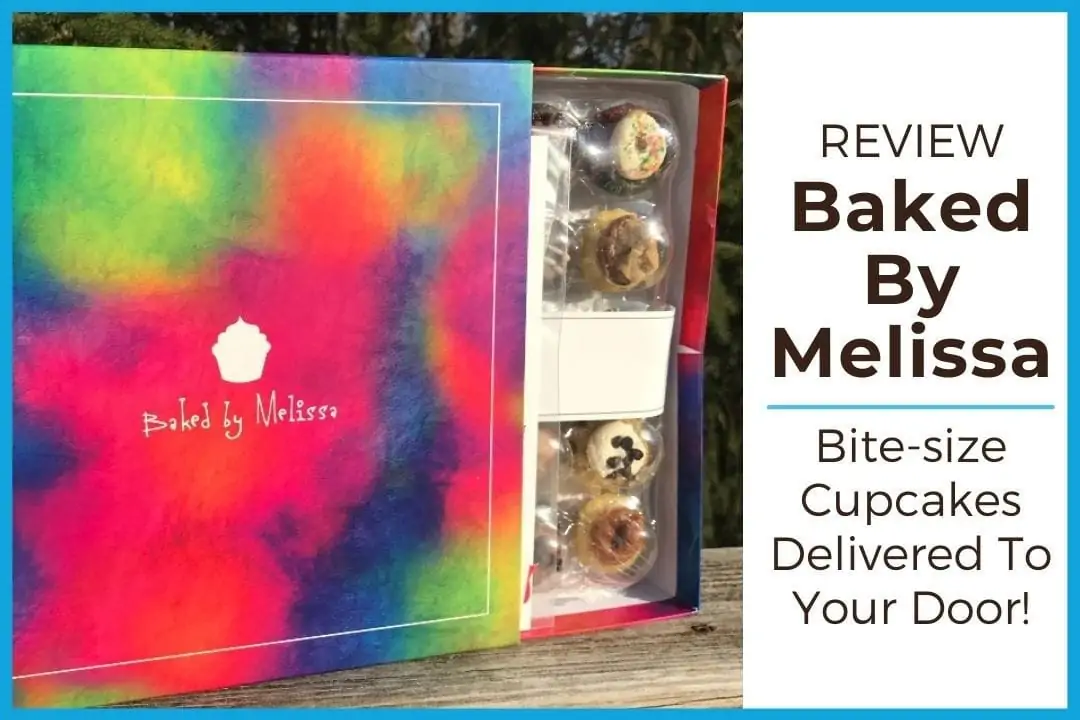 Samples were provided by Baked By Melissa. As always, all opinions are our own.
---
Baked By Melissa Cupcake Flavors
So many flavors, so little time!
Each tiny treat has its own unique personality, from playful to sophisticated, there's something for every taste bud out there.
Unique and Creative Flavors To Satisfy Your Sweet Tooth
Baked By Melissa offers some popular customer favorite flavors year-round. Their most famous sweet treats are their signature tie-dye cupcake.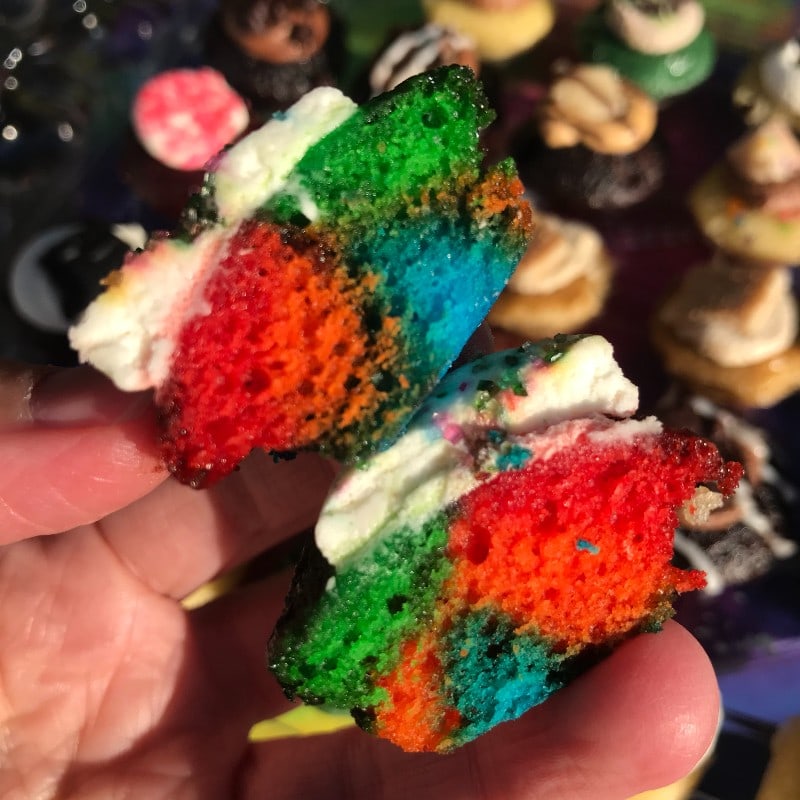 Some other popular flavors are peanut butter & jelly, chocolate chip pancake, mint cookie, cookie dough, red velvet, triple chocolate fudge and cookies & cream.
They also offer plenty of special dietary options like bite-size cupcakes that are gluten-free and vegan. Most of their flavors do not contain tree nuts, but it's important to note that they are processed in a kitchen where nuts are used.
New Flavors, Seasonal Flavors and Mini Of The Month
The real magic happens with the ever-changing rotation of seasonal and holiday flavors. Plus new flavors are coming out all the time with their "mini of the month".
Their holiday boxes are exceptionally thoughtful. They are packed with flavors designed especially for the season.
Their Holiday Packs featured goodies like Christmas cookie and caramel hot chocolate.
The Give Thanks box had warm cozy flavors like caramel apple pie and toasted cinnamon.
The festive Valentine's box includes everyone's favorite flavors: luscious strawberry and decadent dark chocolate.
There is even a marshmallow cupcake that has vanilla cake, is stuffed with marshmallow and then topped with icing, a mini marshmallow with pink and red drizzle.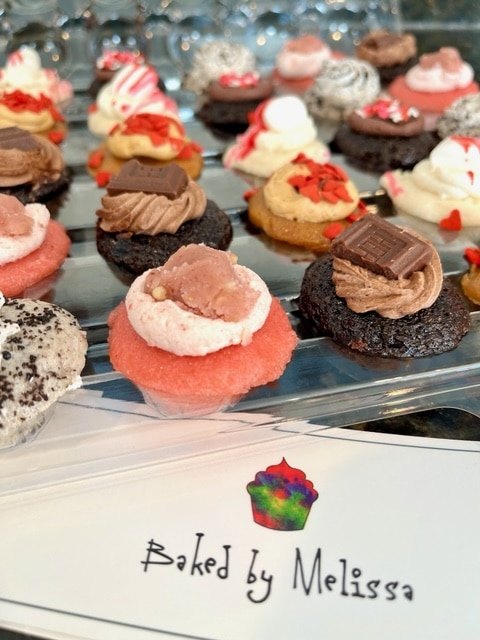 You can even talk a walk down the "Flavor Hall Of Fame" to see past flavors like cake batter crumble, tie-dye s'mores, Lucky Charm, cornbread crumble, cotton candy and Oscar the Grouch! If you're looking to place an order of 300 or more cupcakes, you can request any of these past flavors.
That's the beauty of Baked By Melissa. There are always new and unique flavors of delicious mini cupcakes to keep you coming back for more.
Check out the current list of Baked By Melissa Flavors.
YOU MAY ALSO LIKE:
– Wicked Good Cupcakes Review
– Best Cupcakes To Order Online
– Best Cupcakes in a Jar We've Tried
Customize Your Order Or Choose A Party Pack Of Mini Cupcakes
The old saying goes, if you want to make people happy, give them what they like! This definitely holds true for cupcakes.
Baked By Melissa offers "Pick Your Own Flavors" packs. They come in 3 different sizes: 25, 50 and 100 mini cupcakes. With this mix and match option, you can get all of your favorites and try a few new flavors too.
You can also get a curated flavor assortment for special celebrations like birthdays, bridal and baby showers, weddings and engagements, graduation, and thank yous.
These party packs are available in a variety of sizes and flavors options.
**Use code ThreeSnackateers10 to get 10% off your Baked By Melissa order!**
---
Cupcake Delivery: On Your Schedule & Guaranteed Fresh
Nationwide cupcake delivery makes giving a gift easy as pie, or in this case, cupcakes!
With a guarantee that they will arrive in perfect condition no matter how far away your loved one is from receiving their gift; these delicious mini cakes make it easy to surprise them without having to worry about what's inside.
Ordering cupcakes online with Baked by Melissa is simple. Just select which mini cupcakes and other treats you would like to send.
Then pick your preferred arrival date. That's right … You can choose an arrival date that works for your schedule!
They guarantee your order will arrive fresh because their special custom packaging ensures that they stay safe during their travels.
Need to find a perfect birthday present? Send cupcakes! Browse the Birthday Party Packs.
---
Baked By Melissa Locations
While having cupcakes delivered to your doorstep is a convenient option, you might want to visit a cupcake shop in person.
All of their sweet treats are baked at one central location and delivered fresh to their stores on a daily basis.
How many Baked by Melissa locations are there?
The company has 14 store locations in the New York City and New Jersey areas.
Be sure to check the store locations map on the company website for up-to-date details.
---
Baked By Melissa Review
We had the opportunity to try an assortment of Baked By Melissa cupcakes. What a treat!
I got excited when I saw the bright red box get delivered to our door. I can only imagine what an awesome treat it would be to send these to someone as a surprise gift.
My excitement grew as I open the packaged and pulled out the bright tie-dye box inside. The tie-dye box is very sturdy and you just slide the cupcakes right out from the side opening. Very handy.
The company specializes in shipping cupcakes across the company and it shows. The packaging design not only keeps the treats in good shape, it also helps ensure freshness.
You can see in the picture below that even after getting jostled around during transit and flipped around for my photos, the treats arrived in really good shape.
Even those little guys in the middle that turned sideways still had their fluffy frosting intact!
We enjoyed a 25-pack that contained all the tried and true favorites like tie-dye, red velvet, peanut butter and jelly, cookie dough, mint cookies, cookies and cream, chocolate chip pancake and triple chocolate fudge.
This flavor assortment provides a great mix of classic vanilla and chocolate cake, plus other fun tastes like mint, pancake and red velvet.
For frosting, some had chocolate or vanilla icing, while a fair amount had other specialty flavors like peanut butter and maple.
The toppings ranged from rainbow sugar crystals to chocolate drizzle to chunks of cookie dough. Some of them were even stuffed with filling like cookie butter and grape jelly!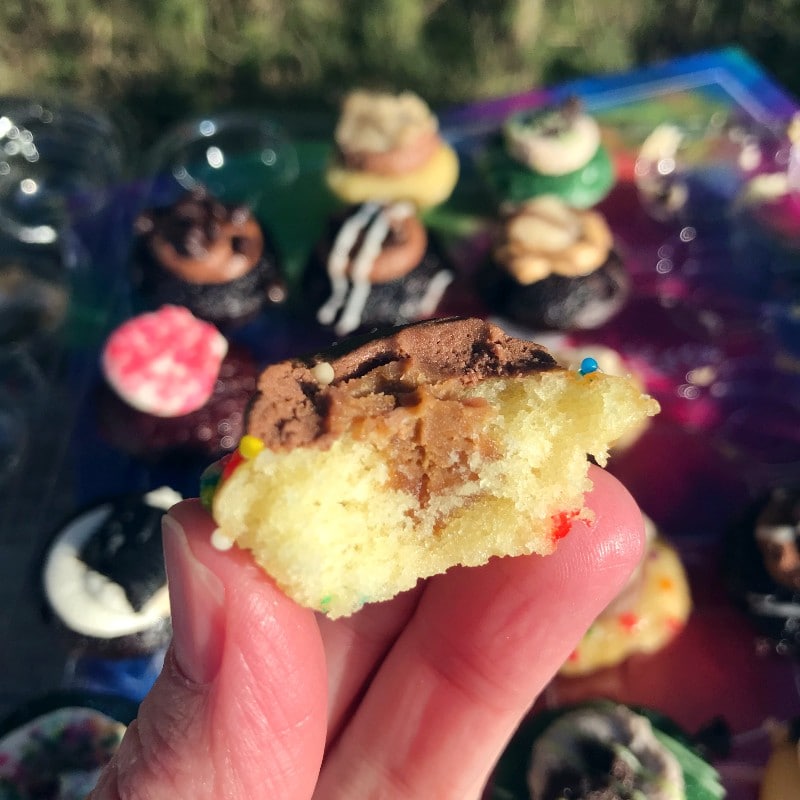 Our pack also contained the mini of the month, Toasted Cinnamon.
We loved that the cupcakes are really tiny bites. Each treat is easy to eat in a single bite. If you're serving these at a party and offering a variety of flavors, you should reasonably expect that each person is going to eat at least 4 or 5.
All the cupcakes were downright delicious. If you've never tried Baked by Melissa before then we highly recommend it!
**Use code ThreeSnackateers10 to get 10% off your Baked By Melissa order!**
---
Baked By Melissa Promo Codes
The company offers occasional sales, promotions and discount codes. They also offer a rewards program to earn points that can be used toward more cupcakes and other fun goodies.
You can also use code ThreeSnackateers10 to get 10% off your Baked By Melissa order at any time.
---
RELATED READING:
– How To Make Sex And The Cupcakes
– Best Birthday Cakes To Order Online
– Levain Bakery Cookie Review
– Best Gourmet Mail Order Cookies To Buy Online
Baked By Melissa FAQs
Do you have to refrigerate Baked by Melissa cupcakes? How long do they last in the fridge?
No, you should not refrigerate Baked By Melissa cupcakes. Eat them within 48 hours at room temperature. Or freeze them for up to 2 weeks. Take them out 20-30 minutes prior to serving or try them frozen!
Who is the owner of Baked by Melissa?
Melissa Ben-Ishay is the founder of Baked by Melissa, the New York City-based brand famous for its signature, bite-size cupcakes and treats. She currently serves as the company's President and CEO.
When was Baked by Melissa started?
Baked By Melissa was started in 2008 by Melissa Ben-Ishay.
Can you ship Baked by Melissa?
Yes, the company specializes in shipping their tiny treats. They ship nationwide to all states, including Hawaii and Alaska.
How far in advance should I order Baked by Melissa?
That depends if you're picking up from a store location, having the cupcakes delivered locally or getting them shipped to you. But no matter your situation, the company makes every effort to get your order to you quickly. For the most current information, check out their company website.
Does Baked By Melissa offer regular size cupcakes?
No, the company only sells bite-size cupcakes. They have also added a line of bite-size mini macarons too.
We hope you found this review helpful! If you're looking for a unique dessert for a party, awesome gifts for loved ones or just as a special treat for yourself, then Baked by Melissa is the place to go. We give it two thumbs up!
**Use code ThreeSnackateers10 to get 10% off your Baked By Melissa order!**
Save it for later on Pinterest, Instagram and Facebook. Also join our Facebook Group for more snack fun!