Bring something really special to the party with a decadent cookie cake! These oversized baked treats are great to feed a crowd, and many are available to customize for your occasion.
Best of all, they can be shipped directly to you or to someone else as a gift. From chocolate chip classics to rainbow brownie cakes, here you'll find our rundown of the BEST cookie cakes for delivery.
What is a cookie cake?
Let's first state the obvious: Cookies are delicious. Cakes are delicious. If you told me I had to choose my favorite I would likely have a small panic attack. How can you compare such completely different but equally amazing baked goods?!
Luckily, we live in a world where Cookie Cakes exist. If you're not familiar with these awesome treats, allow me to introduce you to the BEST creation in the baking world. They are part cookie, part cake, and wholly decadent…
Cookie cakes tend to fall into one of two categories. They're either a) giant round cookies that are made to feed a crowd or b) made with thick layers of cookie dough to form a large cake-sized cookie. Which is better? You decide!
These massive, magical desserts are perfect for celebrating holidays and milestones. Usually one cookie cake is big enough to feed anywhere from 8 – 12 people, so it's great for a good sized gathering.
Try a custom cookie cake as something a bit different than party cake (no hate!) for your next celebration!
Can you ship a cookie cake?
Absolutely! Cookie cakes are perfect gifts for shipping to family and friends for any occasion.
Cookies cakes for delivery are super easy or order and many companies specialize in shipping cookies. They make it easy to shop for and purchase a cookie cake on their websites. These bakeries use special packaging to ship your order, so you can be assured your order will arrive fresh and delicious.
What are the best mail order cookies?
In the list below, you'll find some really delicious options for giant cookie cakes that you order online and are delivered to your door. These fresh baked cookies come in a variety of flavors, some are decorated and some even have custom options.
If you're looking for other types of sweet treats and gifts to purchase online for delivery, check out these ideas:
---
Get A Cookie Cake Delivered
The companies in the list below are some of the best in the country from shipping delicious cookie cakes.
David's Cookies
David's Cookies offers a wide variety of baked treats to ship, from brownies to tarts and cheesecakes, and everything in between. But THE must-have treat for your next celebration is their extra thick and yummy Chocolate Chip Deep Dish Cookie Cake.
This giant cookie cake weighs in at an impressive 4 pounds and offers 14 generous servings.
The "cake" itself is filled with chocolate chips, and the entire thing is topped with chunks of chocolate, Hershey's Mini Kisses, and a chocolate ganache drizzle.
So if you're partying with true chocoholics, this dessert is definitely for you!
And not only are the goodies sold by David's Cookies super tasty, but they're also made with all fresh, wholesome and natural ingredients.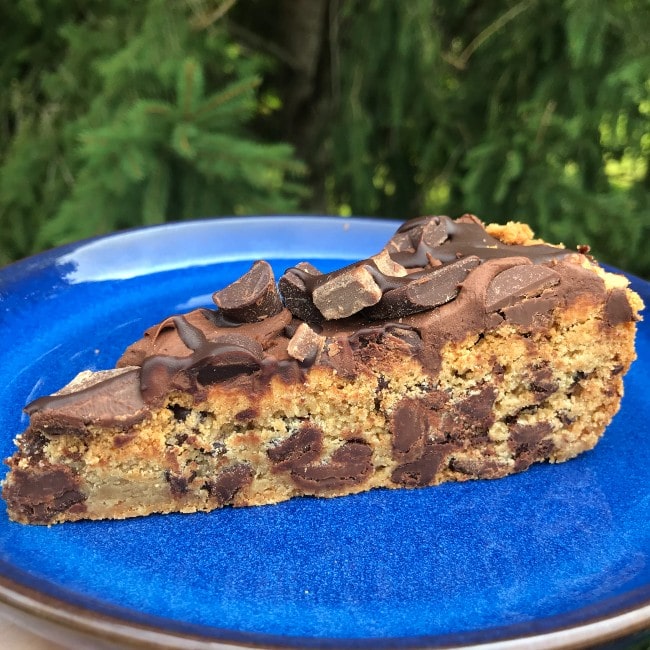 And as you can see in my photo above, this cookie cake arrives in perfect condition after shipping.
---
Cookies By Design
The name says it all! Cookies By Design sells personalized gourmet cookie cakes that are custom-made with your favorite colors and special message.
There are adorable designs for just about every celebration and holiday, including Birthdays, Congrats Grads, Happy Anniversary, Halloween, Mardis Gras, Mother's Day, and MANY more!
Need a sugar rush in a rush? They also have a few select same-day delivery options available. These can't be customized, but they are ready to ship with fun and colorful Happy Birthday designs.
Cookies By Design's cakes are more like a traditional chocolate chip cookie – buttery, thin and crispy on the outside and slightly chewy on the inside. But the vibrant colors are created with sweet piped icing.
---
Mrs. Fields
Mrs. Fields is a classic cookie company that everyone knows and loves. If you remember the mall heydays, you probably remember a Mrs. Fields store near the food court.
I always loved walking past the display case filled with massive and beautifully decorated cookie cakes – and now you can have them sent directly to you!
They have over a dozen fun cookie cake designs to choose from to celebrate nearly any special occasion or holiday. There are even a couple of heart-shaped cakes for an extra sweet presentation. And many of the options allow for a bit of customization!
Cookie cakes from Mrs. Fields can be shipped within a day of your order being placed, and arrives within another day or so for a tasty last-minute treat.
Also, be sure to check out Mrs. Fields brand new MEGA COOKIES. Each cookie is over 1/3 pound and they come in 3 flavors: Chocolate Chip, M&M Chocolate Chip and my personal favorite, Salted Caramel. Can't stop eating them!
---
Baked In Color
If you want a cookie cake with some serious flair, Baked In Color is exactly what you're looking for.
This independently-owned company sells goodies through Goldbelly, which is a great online platform that helps small food-based businesses reach foodies around the country.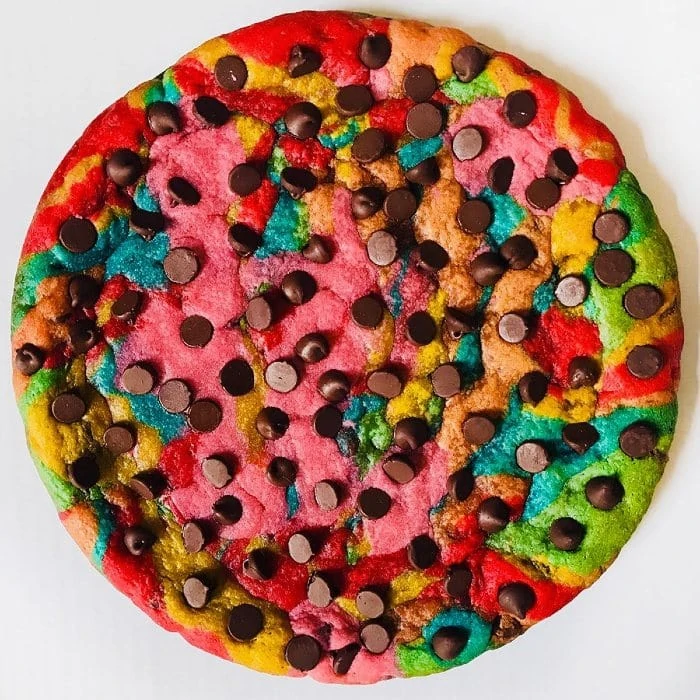 Baked In Color specializes in brightly colored desserts, and offers several ahh-mazing cookie cake treats.
Not only are many of their cookie cakes made with, well, cookie dough…They also sell BROWNIE and BROOKIE cookie cakes in a variety of whimsical colors.
Choose from their classic Rainbow Chocolate Chip Cookie or Giant Brownie Rainbow Cookie Cake, available in either traditional round or sweet heart shapes.
Or try Baked In Color's other fun flavors, like Cookies N' Cream and Funfetti (it's pink!) cookie cakes. They even have choose your own color combo options, too!
---
If you're looking for a cookie cake made with organic, natural ingredients, then Bang Cookies is a perfect choice. Choose from round or heart shape cookie cakes in a variety of flavors like triple chocolate, s'mores, sea salt chocolate chunk and more.
The only catch with Bang Cookies is they don't ship nationwide. However, if you live near one of their bakeries in New Jersey, you can order your cookie cake for delivery.
---
Carlo's Bakery
While Carlo's Bakery isn't exactly a small company (maybe you remember Buddy Jr. from TLC's "Cake Boss" show), it remains a family-owned company that also offers its baked treats on Goldbelly.
Alongside their fabulous layered cakes, cannolis, and cookies, they sell a Jumbo Chocolate Chip Cookie Cake that is ready to ship for your next party.
This 7″ cookie cake is actually TWO giant chocolate chips cookies sandwiched together with a thick layer of chocolate ganache in the middle. It's then (heavily) dusted with powdered sugar for the full chocolate chip cookie effect.
On the website it says that this cookie cake from Carlo's Bakery serves 8-10, buuut…
---
Etsy
Believe it or not, Etsy is a great resource to shop for cookie cakes and other sweet treats. Not only are you getting quality baked goodies that are made to order, often times you are supporting a small business.
A quick search for "cookie cakes" on Etsy will yield thousands of results, so narrow down your options by choosing filters for your needs.
You can select specific shipping rates and dates, price range, even certain colors you're looking for. There's also a checkbox for finding cookie cakes that have personalization options.
On Etsy you'll find massive cookie cakes filled with chocolate chips, Nutella, M&Ms, funfetti sprinkles, and much more.
You're also likely to find bakers that offer treats that are suitable for a variety of dietary preferences, like gluten-free and vegan cookie cakes. Make your search as specific as possible to discover the right cookie cake for your special celebration!
Shop online for more treats that are delivered nationwide:
If you enjoyed this article, save it for later on Pinterest, Instagram and Facebook. Also join our Facebook Group for more snack fun!