Everyone loves cupcakes. Wicked Good Cupcakes takes our beloved cupcakes and kicks them up a notch by stuffing them in a jar and shipping them across the country right to your door. That's right, it's a cupcake in a jar!
About Wicked Good Cupcakes
Each cupcake in a jar from Wicked Good Cupcakes is hand-packed and has layers of moist cake, delicious frosting, and other fillings. But pace yourself, because each jar is the equivalent of about 2 cupcakes.
Another really cool feature of Wicked Good Cupcakes is that they last up to 10 days WITHOUT refrigeration. If you don't gobble them up by then, you can freeze them right in the jar for up to 6 months.
Because these treats come in durable glass jars, they are a great product to ship. In fact, the company does ship anywhere in the United States.
Related Reviews:
– Moonshine Mountain Cookies – Cookies made with moonshine!
– Ecreamery Ice Cream – Create your own custom pints!
– Bake Me A Wish – Birthday cakes shipped nationwide
– Baked By Melissa – Mini bite-sized cupcakes
Who owns Wicked Good Cupcakes?
Mother-daughter duo Tracey Noonan and Danielle Vilagie started Wicked Good Cupcakes in 2010 as a way to spend more time together. Fueled by their passion for sweets the business grew quickly. In 2011, they opened their first store in Cohasset, Massachusetts.
But that was just the beginning…
Wicked Good Cupcakes On Shark Tank
As news spread nationwide of their innovative cupcake in a jar idea, another twist of fate skyrocketed their business. In 2013, they showed their product to millions of people when they were featured on season 4 of the ABC hit TV show, Shark Tank.
Shark Tank investor, Kevin O'Leary (also known as Mr. Wonderful) was smitten with their product. They received a $75,000 investment and the rest is history. For good reason, sales boomed after their appearance on the show.
Since then they've moved into a larger facility, opened new locations, and sold millions of jars filled with cake to happy customers across the country. They even named a flavor after O'Leary called Mr. Wonderful's Cookie Butter.
In 2021, Wicked Good Cupcakes was acquired by Hickory Farms.
---
Wicked Good Cupcake Flavors
Wicked Good offers both traditional and gluten-free flavors. At the time of writing, the available flavors were as shown in the list below.
However, please keep in mind, there is no guarantee these same flavors will be available for you. The company changes up its offerings frequently including fun seasonal flavors like the lemon flavor you'll see in my review below.
Traditional Cupcake Flavors
Chocolate Birthday (chocolate cake and frosting)
Marble Mutt (chocolate and vanilla cakes and frostings)
Reverse Chocolate Birthday (chocolate cake with vanilla frosting)
Chocolate Lab (chocolate cake, ganache and frosting)
Mr. Wonderful's Cookie Butter (cinnamon cake, caramel and cookie butter frosting)
Reverse Vanilla Birthday (vanilla cake, chocolate frosting, sprinkles)
Chocolate Salted Caramel (chocolate cake, caramel sauce and frosting)
Sea Salted Caramel (vanilla cake, caramel sauce and frosting)
Cookies & Cream (vanilla cake and buttercream with Oreo cookies)
Wicked Good ("cookie-like" peanut butter & chocolate chip layers with PB frosting and ganache)
Gimme S'more (chocolate cake, graham crackers, ganache and marshmallow)
National (Security) Velvet (red velvet cake, cream cream frosting)
Peanut Butter Surprise (chocolate cake, peanut butter frosting, fudge icing)
Vanilla Birthday (vanilla cake and frosting with sprinkles)
Gluten-Free Cupcake Flavors
You can see the most current Wicked Good Cupcake flavor list here.
MORE GLUTEN-FREE TREATS
– 5 Best Places For Gluten-Free Cookie Delivery
– 13 Best Gluten-Free Cakes Delivered
---
Wicked Good Cupcakes Review
I sampled six Wicked Good Cupcakes flavors. Check out the details below for my thoughts on each flavor.
VANILLA BIRTHDAY
Let's start with the classic Vanilla Birthday flavor. This is everything you love about birthday cake in one perfect bite.
Delicious, moist vanilla cake paired with vanilla buttercream and tons of colorful sprinkles.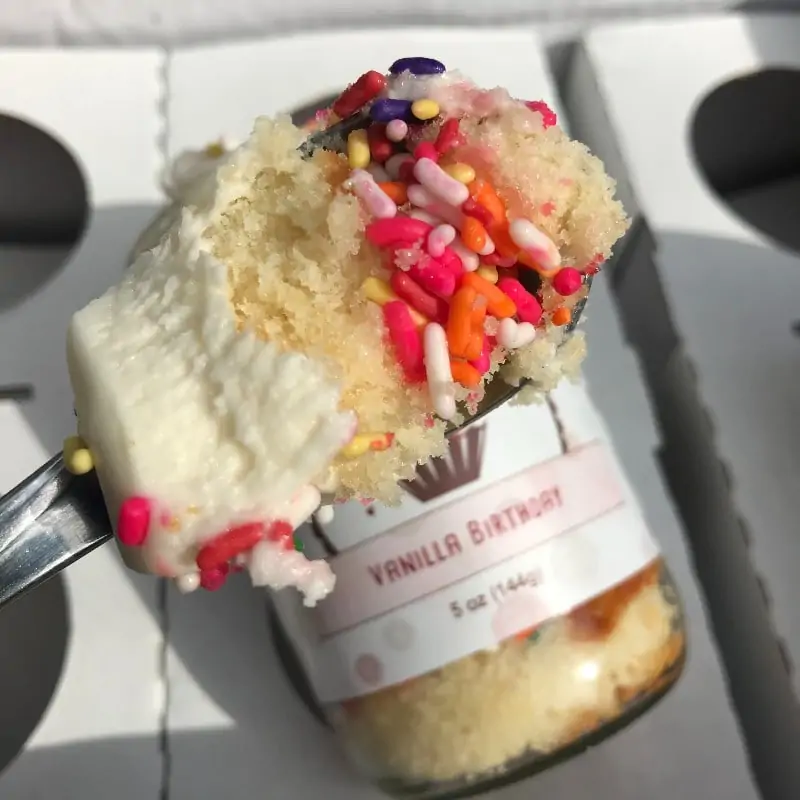 ---
REVERSE CHOCOLATE BIRTHDAY
If you prefer chocolate birthday cake, this one is for you. It's just like the Vanilla Birthday flavor, except with chocolate cake instead of vanilla.
The cake is a rich chocolate flavor and is a great complement to the sweet vanilla frosting.
---
MR. WONDERFUL'S COOKIE BUTTER
Named after Shark Tank's Mr. Wonderful (Kevin O'Leary), this flavor packs a punch! With cinnamon cake, a layer of caramel plus cookie butter frosting, it has a lot going on.
It's fun to try each layer separately and then as one big bite. Each flavor is a star on its own, but also comes together as a really harmonious bite.
I took my time sampling this one. The flavors are strong, so just a couple of bites at a time was enough to satisfy my sweet tooth.
---
SEA SALTED CARAMEL
I'm pretty picky when it comes to my salted caramel. Wicked Good's salted caramel flavor passed my test with flying colors.
The caramel is thick, buttery and bold with just the perfect undercurrent of saltiness.
I kept going back for more and more of this flavor.
---
COOKIES N CREAM
The cookies and cream vibe in this flavor is epic. I was super impressed with the sheer amount of cookie in this flavor.
There are big chunks of Oreo cookie as well as a fair amount of finer crumbles for great texture contrast.
The vanilla cake and buttercream pair perfectly with the Oreo. I was a big fan of this flavor.
---
WHOLE LOTTA LEMON
This seasonal jar was a nice light flavor perfect for summer. It was well-balanced – not too sweet, not too tart.
While tasty, I felt the other flavors I tried had more visual appeal. Digging through to find the sprinkles, thick caramel swirls or cookie chunks is part of the fun. This jar was more simple with just layers of cake and frosting.
---
Frequently Asked Questions about Wicked Good Cupcakes
How long do Wicked Good Cupcakes last?
Wicked Good Cupcakes last up to 10 days without refrigeration. The company recommends enjoying the treats within 7 days of receiving them.
Refrigeration does not extend the shelf life. They should be kept in a cool, dry place.
Pie jars can be refrigerated for up to 2 weeks.
Does Wicked Good Cupcakes have a promo code or coupon code?
The company occasionally offers special events or promotions. At the time of this writing, no promo codes were available.
However, you can create a Wicked Good account to earn "Wicked Good Dollars" to use toward purchases.
How much do Wicked Good Cupcakes cost?
At the time of writing this article, a custom 6-pack of cupcakes in a jar was around $60.00. This included ground shipping. Each jar is equivalent to about 2 standard cupcakes making a 6-pack approximately the same as a dozen cupcakes.
Who owns Wicked Good Cupcakes?
Wicked Good Cupcakes was founded by mother-daughter duo Tracey Noonan and Danielle Vilagie.
What episode is Wicked Good Cupcakes on Shark Tank?
Wicked Good Cupcakes was featured on season 4 of Shark Tank (2013). See more of the best foods featured on Shark Tank.
Who invested in Wicked Good Cupcakes?
Shark Tank investor, Kevin O'Leary (also known as Mr. Wonderful) invested in Wicked Good Cupcakes.
Where did Wicked Good Cupcakes start?
The first store was in Cohasset, Massachusetts.
Can you freeze Wicked Good Cupcakes?
Yes, Wicked Good Cupcakes can be frozen for up to 6 months.
---
Final Thoughts
Wicked Good Cupcakes are a really fun way to get your cupcake fix. Of course, there are always lots of considerations before making a decision to buy. Here are our final thoughts.
PROS
– Unique product
– Can ship nationwide
– Excellent flavor selection
– High-quality product
– Makes a great gift
– Corporate, wedding & event options
– Gluten-free options
CONSIDERATIONS
– Price & shipping costs
– Frostings contain cream cheese
– Made in a facility with nuts
Bottom line: I definitely recommend giving Wicked Good Cupcakes a try for a special treat for yourself or as a gift. I don't think you'll be disappointed!
If you enjoyed this article, save it for later on Pinterest, Instagram and Facebook. Also join our Facebook Group for more snack fun!
---
Shop online for more treats that are delivered nationwide: