Sweet, creamy and chunky unbaked cookie dough is just about the best indulgent treat.
But, of course, I'm sure you've heard that it's not safe to eat the baking stuff with raw eggs and uncooked flour. Thankfully we live in the era of safe-to-eat cookie dough AND speedy home delivery!
But where do you begin? There are dozens of dough-riffic companies out there, so we've done extensive research into the hottest websites offering delicious edible cookie dough online that can be shipped right to your door.
And we're not just talking about regular old edible chocolate chip cookie dough (although that's delicious too and you can get a recipe for it here). These days you can get flavors including everything from birthday cake to monster cookie to s'mores!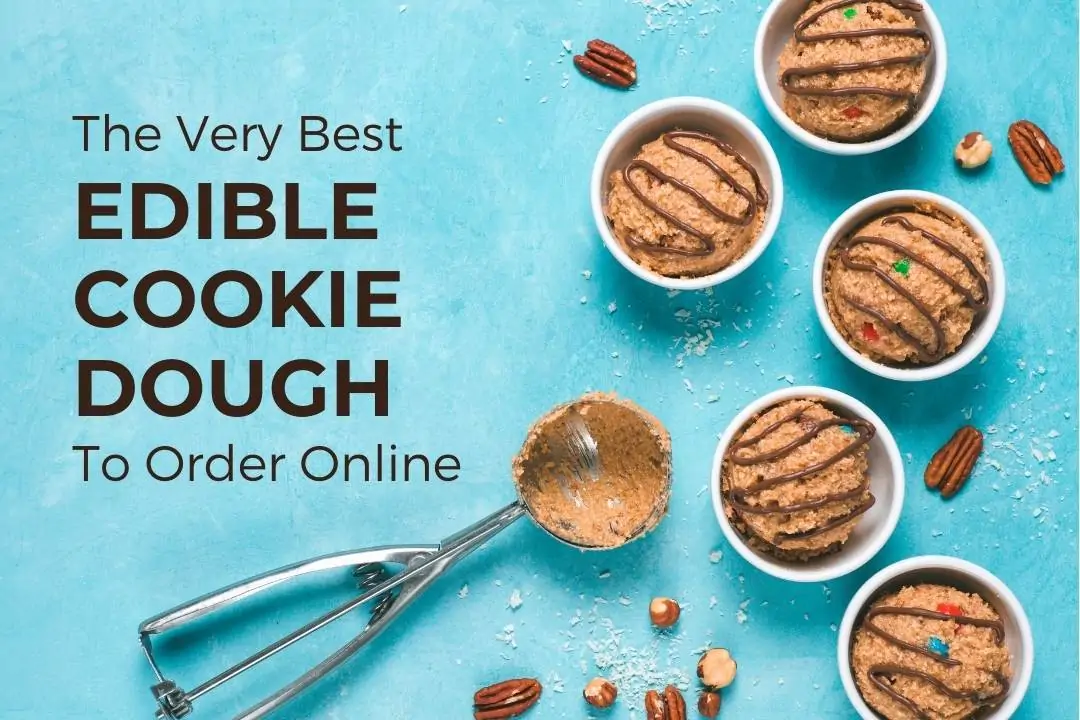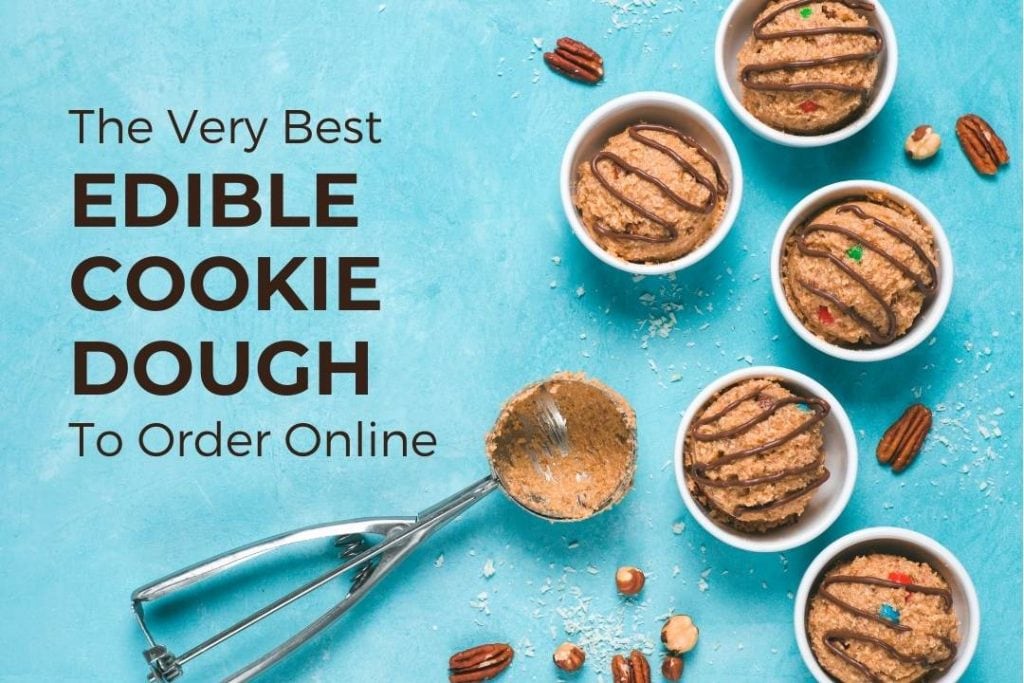 5 BEST Places Buy Edible Cookie Dough Online
We have narrowed the many options down to the top 5 BEST edible cookie doughs to buy online and ship nationwide. So grab a spoon and let's dig in!
1. DoughP
2. Cookie DO
3. Edoughble
4. Kingline Nutrition
5. B Sweet
The company's founder made a big splash on Shark Tank, and Doughp has been a hit ever since!
Build your own pack with up to 4 different dough flavors in small cups (5oz) or large pints (16oz). You can also shop for individual cookie dough.
Doughp's treats are eggless and made with simple, wholesome ingredients.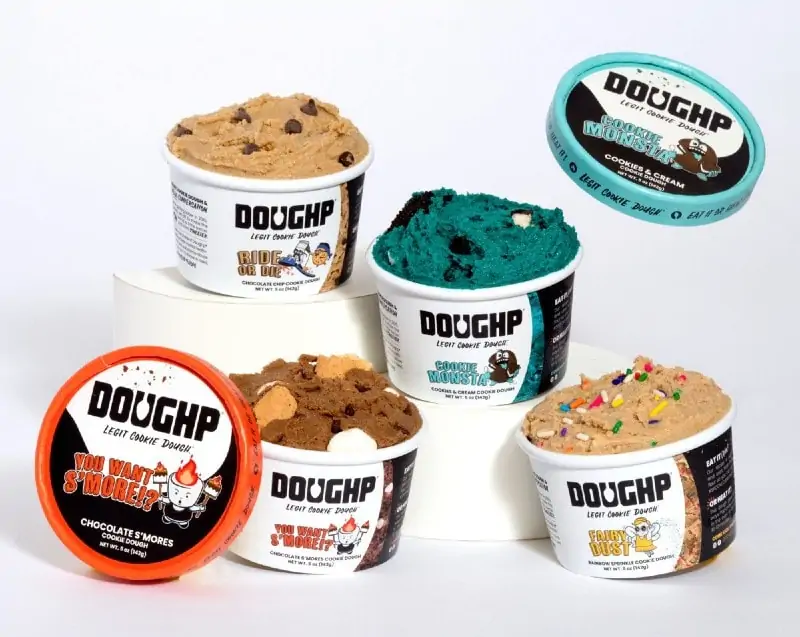 Another really cool feature of this dough is that you can eat it raw or bake it at 350 degrees.
They also have specialty gift boxes that would be perfect for a birthday, anniversary or other occasions. They come with dough, stickers, confetti and a personal handwritten note.
And, um, there is a secret cookie dough club – and you know you want to be part of that!
Plus, a portion of each purchase is donated to the She Recovers Foundation, which supports women in recovery.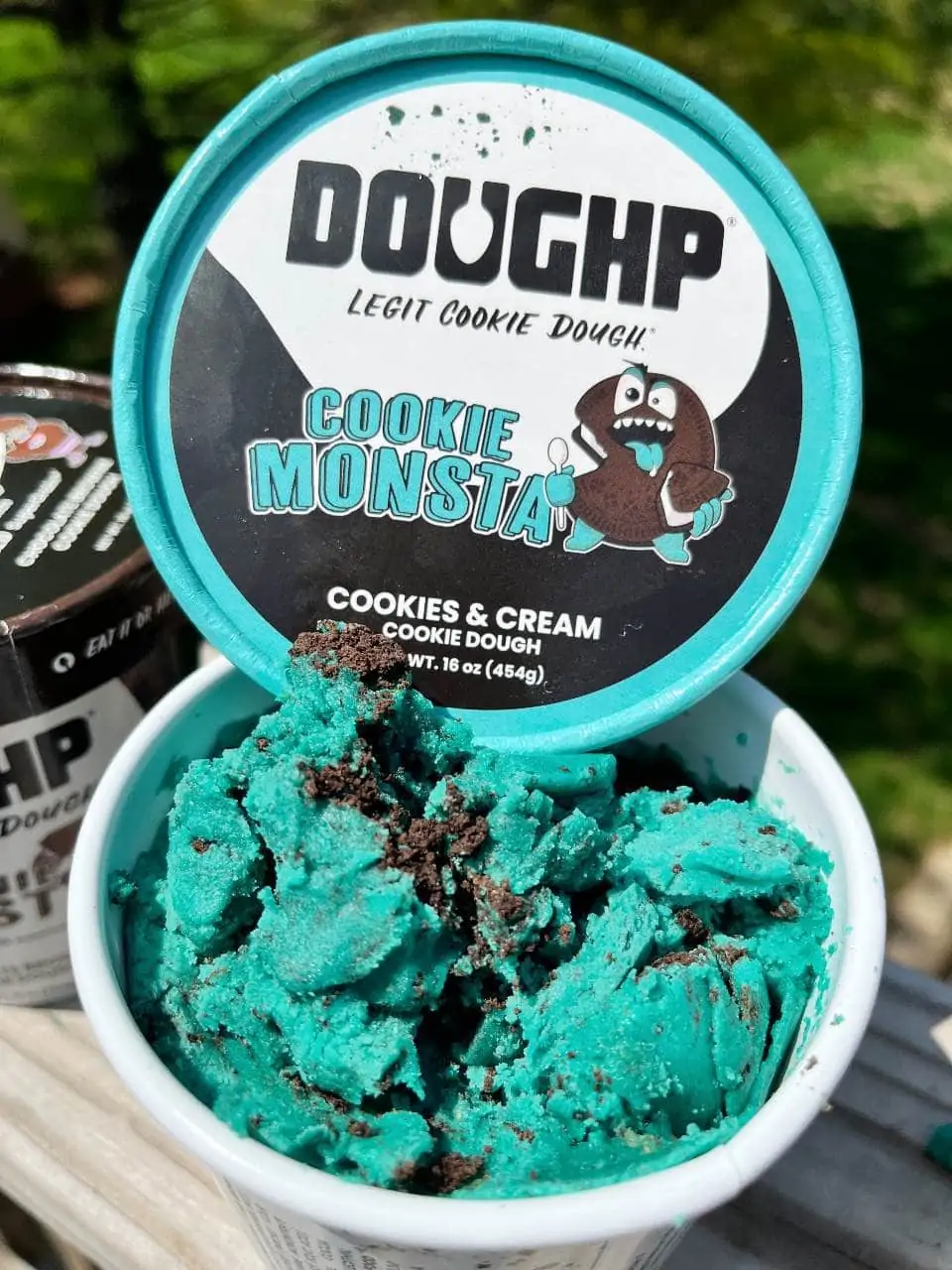 Drool-worthy Doughp Cookie Dough Flavors
Cookie Monsta – cookies and cream
Fairy Dust – with rainbow sprinkles
Obligatory Fall Favorite – pumpkin spice
Peanut Butter Kiss – pb and Hershey kisses
Avocadough Brownie – vegan brownie batter
Lots of seasonal and limited edition options too
Doughp Cookie Dough Review
We tried several Doughp flavors including the bright blue Cookie Monsta and Brownie Beast flavors. The flavor and texture are spot on.
It tastes just like you're taking a forbidden swipe from the cookie dough (or brownie batter) bowl. But of course, the treats from Doughp are totally safe to eat because they don't contain any eggs.
Related Reading:
– The Coolest Shark Tank Foods (like Doughp) You Can Order Online
– The Original Cookie Monster Cookie Dough Recipe From 1975
– Easy Cookie Monster Ice Cream Recipe
---
This company focuses on what it DOes best: make fantastically flavorful, addictively scoopable edible cookie dough.
But not just cookie dough, they also make edible cake batter "dough" in your favorite unbaked cake flavors.
Their doughs are sold on Goldbelly in sets of 4 or 6 packs. You can either choose to build your own selection of flavors or buy a curated set – like the Birthday Gift Cookie Dough, Bridesmaid Proposal, or seasonal holiday packs.
The treats come packed in brightly colored containers with little wood spoons that add a festive touch. And the special event lids are super cute!
Drool-worthy Cookie DO Flavors
Cake Batter – white and chocolate chips with sprinkles
Sweet & Salty – salted caramel dark chocolate chips and sea salt
Nuts for Nuts – peanut butter with Reese's cups and Reese's pieces
DunkaDOo – vanilla icing and graham cookies
Brookie Dough – brownie batter swirled with chocolate chip cookie
Vegan and gluten-free options are available
---
Here is your one-stop-shop for all things cookie dough!
Edoughble offers a variety of edible cookie doughs that can be purchased in sets of four, with any mix and match of flavors you like.
Or order a Dough It Yourself (DIY 🙂 kit so you can add in your choice and quantities of goodies.
In addition to the cookie dough, they also have fun dough cookies which are basically the gooey not-quite-baked cookies we love but probably (definitely) shouldn't eat if made with raw eggs.
And with their subscription box option, you don't ever worry about running out of dough! The subscriptions include classics, plus first access to cool new seasonal flavors and exclusive members-only limited batch flavors.
And Edoughble sells gift boxes and bulk packages for events. That sounds like reason enough to plan a celebration!
Drool-worthy Edoughble Cookie Dough Flavors
S'mores Please – graham crackers, chocolate chunks and marshmallows
Snicker-Dude – cinnamon sugar and spice
Plain Jane – sugar cookie
Peanut Butta Cup – dark chocolate peanut butter
Cookies n' Dream – dark chocolate cookie
Vegan and gluten-free flavors
**Use code SNACK10 for 10% off your order.**
---
That's right, you DOUGH not need to blow your diet to enjoy sweet edible cookie dough. Kingline Nutrition offers a variety of unbaked treats that are specially created for healthy eaters.
Their cookie doughs are available in gluten-free and keto-friendly versions, and can be eaten "raw" or baked. These little jars of healthy(ish) happiness are available in single servings, 4 packs, or in a 10 pack bundle.
But they don't stop there! There are SO many goodies that you can buy online from Kingline Nutrition! They also sell cookie butter, pancakes, mug cakes, oats, and much more.
Drool-worthy KINGLINE Cookie Dough Flavors
Monster Cookie – peanut butter oatmeal with mini candies
Circus Animal – frosted animal crackers and pearl ball sprinkles
Frosted Sugar Cookie – sugar cookie with sprinkles
Samoa Cookie – caramel graham cookie with chocolate chips and coconut
Strawberry Poptart – strawberry graham with sprinkles
Cap'n Crunch – vanilla dough with real Cap'n Crunch
**Use code GETDOUGH for 15% off your order.**
---
B Sweet sells a beautiful treasure trove of baked (and unbaked!) goodies on Goldbelly.
This LA-based shop specializes in treats made with Filipino-inspired flavors and bold colors, including bright purple ube cheesecake and bread pudding with a neon green ube glaze.
But hands-down one of their best sellers is the safe-to eat-Chocolate Chip Cookie Dough Jar. It's made with only a handful of wholesome ingredients and is available in a handy 3 pack.
But while you're there you might as well try a few other sweet snacks – all nationwide shipping is free! (We also hear B Sweet's Sweet Flavored Butters are crazy good, too!)
---
We know it's hard to choose just one, right? So go ahead and give a few different edible cookie doughs you can buy online a try, and find the one (or two, or three) you love the most.
Because there are no risky raw ingredients included, eggless cookie dough is great to keep in the fridge for up to 2 months – or can even typically be frozen for up to 6 months.
Stock up on several jars at once and keep 'em ready in the fridge or freezer for when you need a spoonful of sweetness!
If you're feeling motivated, you can make your own edible sugar cookie dough, chocolate chip cookie dough or even cookie dough ice cream!
Shop online for more treats that are delivered nationwide: