Part cupcake, part trifle, completely adorable cupcakes in a jar are the latest dessert craze to hit the bakery scene. And it's no surprise why!
These sweet treats include ready to eat decadent layers of cake and rich frosting, plus other goodies like sprinkles and chocolate chips. Each comes in its own little jar, so they are great to ship and look super cute right out of the box.
Here you'll find our expert reviews and tips for how to choose the best cupcakes in a jar to order online!
What is a cupcake in a jar?
Think of a classic cupcake, with a tender cakey main body and topped with icing. Now take two of those treats, stack them on top of each other, and stick 'em in a jar. That's it basically it!
Cupcakes in jars are layered with cake, frosting, and sometimes other cupcake garnishes like chocolate shavings, nuts, and sprinkles. They're best eaten with a fork or spoon straight from their individual containers.
How do you ship cupcakes in a jar?
They are usually shipped expedited to ensure a fresh, moist and delicious treat. Some companies allow you to choose from different shipping options too. Insulated packages are often used and will usually contain dry ice or ice packs as well.
How long do cupcakes in a jar last?
Your order will arrive ready to eat, but you may wish to save some for later. Each bakery is different but cakes in jars typically last up to 3 weeks in the fridge, and about 3 months in the freezer.
What cupcake company was on Shark Tank?
Wicked Good Cupcake! They are #1 in our list below.
Shop online for more treats that are delivered nationwide: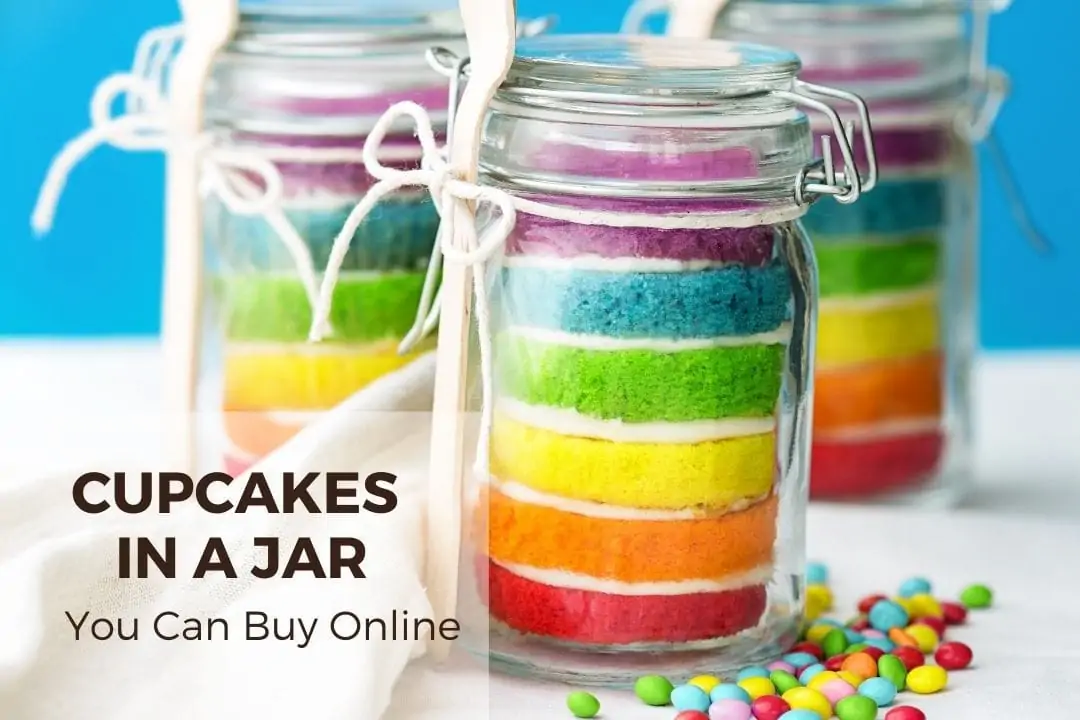 Cupcake Jars: The Top Bakeries to Place an Online Order for Nationwide Delivery
The companies in the list below are some of the best in the country for shipping delicious cupcakes in a jar.
Wicked Good Cupcakes
These wickedly tasty jarred cupcakes became popular after being featured on Shark Tank. The company was started by a mother-daughter team, and has been growing rapidly since appearing on several TV shows.
Their layered cupcakes are packaged in lovely mason jars, and have all kinds of yummy and cute toppings like sprinkles, confetti, and more.
Wicked Good Cupcakes Flavors
Decadent versions of your favorite cupcake classics, including chocolate and vanilla birthday cupcake, red velvet, and salted caramel.
Plus bright and fruity flavors like blueberry lemon, key lime, strawberry lemon – and wicked indulgent flavors like s'mores, peanut butter surprise, cookies and cream, and marble mutt made with chocolate and vanilla cake.
There's also the signature Wicked Good Cupcake, with peanut butter and chocolate chips baked into cookie-like cake dough and layered with peanut butter frosting and chocolate ganache.
Also Available from Wicked Good Cupcakes
Party packs, birthday boxes, thinking of you boxes, corporate gifts, favors for weddings and events.
---
Baked Cravings
This Best of Manhattan Award-Winning bakery in New York City is known for its great selection of treats specially made for those with allergies and specific dietary needs.
Their bakeries are 100% nut-free and peanut-free, and they offer gluten-free and vegan cake in a jar options.
Baked Cravings Jar Flavors
Choose from their standard selections like vanilla and chocolate, or check out the specialty line of Cravers cupcakes. These include decadent flavors like cookies and cream, red velvet, and vegan apple cinnamon.
Take it to the next level with the Infused line of cupcakes, which includes boozy treats like Tiramisu Patron, Cognac Cupcakes, Caramel Vodka Cupcakes and more.
Baked Cravings has 6 jar gift packages of the Cravers and Infused selections. They come in a lovely box that even includes a spoon!
Also Available From Baked Cravings Cupcakes
Want to have your (cup)cake and decorate it, too? Baked Cravings sells "bald cupcakes," which are just the cake part of the, well, cupcake. Have them delivered and then decorate however you please!
They also sell a large selection of yummy cookies and gourmet popcorn that can be shipped anywhere in the country.
---
Jars By Dani
These ultra-hip dessert jars are packed with brightly colored layers of moist cake, frosting, and extra sweet goodies like sprinkles and chocolate chips.
Originally a social media sensation in New York, you can now purchase Dani's cupcakes in a jar via Goldbelly and have shipped nationally. Available in mini 4 oz. and regular 8 oz. sizes.
Jars By Dani Cupcake In A Jar Flavors
The colors are bold and the options are classic. Flavors include white chocolate, fudge brownie, cake batter, cookie dough, and strawberry shortcake.
But check back on the site often because they also have seasonal specialties! There are also vegan and gluten-free options of most flavors.

Also Available From Jars By Dani
Cupcakes in jars are this bakery's specialty, and they don't currently have other dessert options.
---
Brooklyn Cupcake
The founders of Brooklyn Cupcake have combined inspiration from their Puerto Rican and Italian backgrounds to create amazingly inventive and scrumptious desserts.
They've been named "Best Cupcake in New York" and featured by several media outlets, and now have their award-winning goodies available to be shipped nationally from Goldbelly.
While they sell a variety of baked goods, the adorable (and functional!) cupcake jars are just right for shipping.
Brooklyn Cupcake Jar Flavors
There's, of course, chocolate and vanilla. But Brooklyn Cupcake also offers fun-tastic flavors like banana pudding, Samoa (yup, like the GirlScout cookie), French toast, and Bacardi Coquito. A few of the varieties are also available as vegan.
Also Available From Brooklyn Cupcake
For those wanting the old-fashioned cupcake experience, Brooklyn Cupcake does sell paper-lined versions of their treats.
These are sold in sets of a dozen, with different flavor themes like chocolate and Latino cupcake assortments. They also have chocolate-covered (DIPPED!) and playful "rainbow cookie" cupcakes.
---
Angel Food Bakery
Called the "coolest urban bakery in the country" by Thrillist, Angel Food Bakery is known as the home of the donut cake and custom donut messages. Now available to purchase and ship from Goldbelly!
Their vibrant treats are creative and whimsical, and perfect for celebrating nearly any occasion.
Their Lazy Cake Jars are made with layers of crumbled cake, frosting, and fruit compote or chocolate ganache. Each jar is prepared as two servings, so they are great to share or save a bit for later to enjoy (mhm, sure).
Angel Food Bakery Cupcake In A Jar Flavors
Angel Food Bakery has Lazy Cake Jars available in half a dozen different flavors. They include traditional treats like confetti sprinkle birthday cake, death by chocolate, peanut butter, and salted caramel.
Plus a couple of more unique flavors, including strawberry birthday cake and raspberry chocolate chip.
Also Available From Angel Food Bakery
Made famous for the Big Ass Jumbo Donut, Angel Food Bakery has perfected the art of making treats that are as fun as they are delicious.
In addition to Lazy Cake Jars on Goldbelly you can purchase their giant donuts, donut cakes, croissant donuts, and even customizable donut messages. Who wouldn't want to be told "I Love You" in donuts??
---
4 Rivers Smokehouse
A smokehouse might not be what you think of when reviewing the best cupcakes in a jar to order online. But hear us out, because 4 Rivers Smokehouse is changing up the cupcake world with their perfectly layered pudding jars.
Some include cake, others have sections of graham cracker, and all include rich pudding and whipped cream on top. These decadent desserts are prepared to serve 6 per jar, so each is like its own little party. Order from anywhere in the country on Goldbelly.
4 Rivers Smokehouse Cupcake In A Jar Flavors
There are a half dozen different pudding jar flavors to choose from, including chocolate awesome, smores, tres leches, and Reese's peanut butter.
And of course they have classic pudding flavors as well, like banana dream and key lime pie.
Also Available From 4 Rivers Smokehouse
There are plenty of savory offerings from 4 Rivers Smokehouse on Goldbelly. But we're not here to talk about those.
For other desserts check out their crispy creme bread pudding, bananas foster bread pudding, and bourbon salted caramel bombs available to ship.
---
Etsy
Not only can you find custom and handmade gifts on Etsy, it's also a great site to shop for some of the best cupcakes in a jar to order online. And many times, you're supporting a small business too!
You can browse by keyword (like vegan and gluten-free), choose a specific delivery area, and add a price range to find exactly what you need.
And there are also lots of customization options, like sprinkles to match your occasion's theme colors or personalized stickers on the jars.
Etsy Cupcakes Flavors
There is no limit to the different jarred cupcake varieties that are available from bakeries around the world. From birthday cake and chocolate to cherry and strawberry and lemon, caramel and coconut, and everything in between – you're sure to find an amazing sweet treat in whatever flavor(s) you're craving.
Also Available From Etsy
Don't just think cake + frosting for cupcake jars. Sellers have gotten creative and have available other similar-yet-different desserts.
Think tiramisu in a jar, strawberry shortcake, key lime pie, and more. Many bakeries that offer cupcakes in a jar also sell classic paper-lined cupcakes, full-sized layered cake, cookies and more.
MORE CUPCAKE FUN
– Where to Order The Best Cupcakes Online
– Sex In The City Cupcakes (The Carrie Cupcake)