Birthdays, baby and bridal showers, Mother's Day, graduations, and holidays will all be a little sweeter with hand-crafted cookies made just for you.
In this article, you'll discover some amazing bakeries that take online orders and ship or deliver decorated cookies right to your door.
Custom, personalized cookies that you can order online are a perfect treat for any event or occasion.
Decorated Sugar Cookies Personalized For Your Occasion
Sugarica Cookies are delicious, thick, buttery, cake-like cookies. They are made with the highest quality ingredients including 100% real butter. No other shortening, high-fructose corn syrup, vegetable oil, or preservatives, ever!
Sugarica has a variety of beautiful cookies in their "everyday products" collection that can be ordered and shipped within 1-2 days of order.
They also specialize in custom orders for bridal showers, baby showers, and birthday parties. In addition, they offer logo cookies and Iconic Face Cookies which are taking over as the custom cookie gourmet gift of choice!
Their artists are experienced pastry designers that will work with you to design the perfect cookie for your occasion. A two-week notice is requested for custom orders.
Our Thoughts:
We were lucky enough to try some Sugarica Cookies. They are drop-dead gorgeous. The attention to detail on the royal icing is amazing. The designs are intricate and the colors are so vibrant.
We can also attest that they taste as good as they look! The cookies are thick and buttery, with just the right amount of sweetness.
Location and Ordering Information:
Sugarica is located in San Luis Obispo, CA. They offer free local delivery within a 50-mile radius.
Cookies can also be shipped within the US. All cookies are made fresh the week of shipping or delivery. Cookies are packaged in heat-sealed bags for freshness. They will stay fresh for 2-3 weeks unopened.
To order online or for more information, visit the Sugarica website.
A Delicious Little Cookie Studio
At Sugarworks Cookies, every thick and buttery cookie is baked-to-order from scratch, handmade, and hand-decorated.
The sugar cookie ingredients are simple: flour, cane sugar, fresh butter, farm fresh eggs, pure vanilla extract and sea salt. You can't beat fresh and simple!
Available Designs and Options:
Sugarworks Cookies offers custom cookie favors for occasions like weddings and baby showers. They also offer cookie platters for an event or can even be shipped to a client.
Cookie favors are individually wrapped in a clear cellophane bag and tied for a festive presentation. You can also send labels, ribbons, or stickers that Sugarworks will attach at no extra cost.
Cookie platters include a variety of whimsical cookies. A clear platter is included for pick up orders only. If cookies are being shipped, they are individually bagged and heat-sealed to ensure safe shipping.
Location and Ordering Information:
The cookies are made in a licensed New Jersey commercial bakery (not a retail store).
Cookies have an edible shelf life of 30-45 days when kept in original packaging. They also keep indefinitely as a keepsake!
Orders can be placed online or by phone.
A Premier Decorated Cookie Company
Southern Sugar Bakery is a premier custom cookie decorator. They specialize in detailed designs for weddings, birthdays, holidays, and corporate events.
Available Designs and Options:
The bakery features dozens of gorgeous designs for every occasion. Some of their design categories include sports, teacher appreciation, graduation, new home, get well and sympathy, Communion and Baptism, and school events.
They also offer a corporate event set that features a custom logo of your choosing.
Location and Ordering Information:
Southern Sugar Bakery is located in Raleigh, North Carolina. Cookie orders can be picked up from the bakery, or shipped anywhere in the United States.
Visit the Southern Sugar website to place an order.
Thousands of Delicious Options Delivered To Your Door
Etsy is a global marketplace for unique and creative goods from independent sellers around the world. Many people think of Etsy as a place to find items like handmade crafts or vintage clothing.
But Etsy is also an excellent place to find custom cookie makers from around the globe.
You may also like: Food-scented Candles From Etsy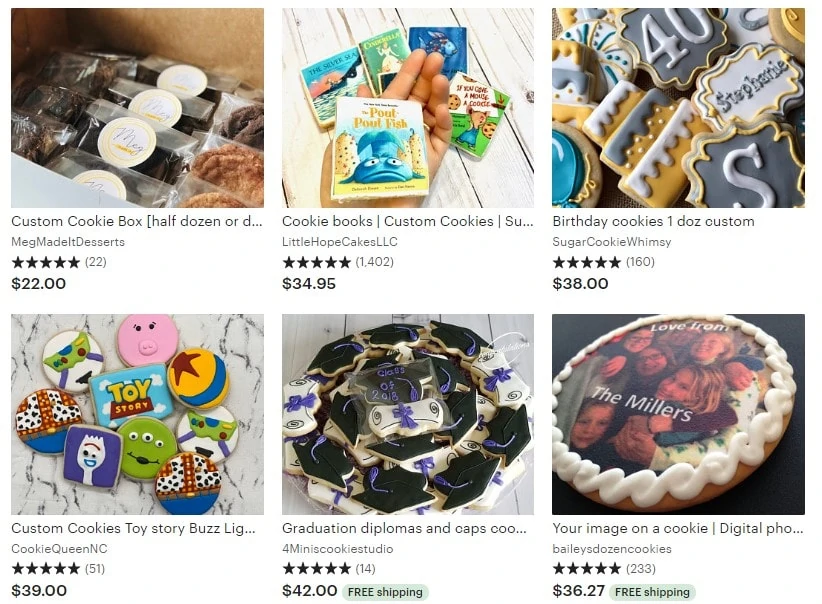 Available Designs and Options:
A search for "custom cookies" on Etsy generates over 34,000 results!
There are convenient subcategories like custom cookies for graduation, birthday, baby shower, wedding, engagement, bridal showers, and bridesmaid. These categories make it super easy to find the perfect cookie for any occasion.
With such a variety of vendors to choose from, the design options are endless. You can design cookies with a logo or with a picture. Or maybe you're looking for cookies with a photo, photo collage, or even with your face!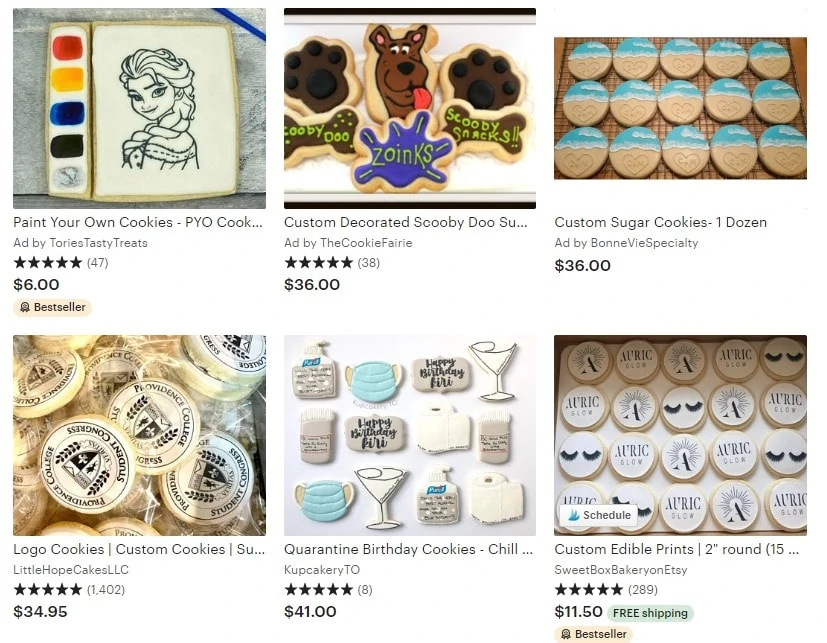 Location and Ordering Information:
Etsy vendors are located around the world. You can also easily filter by prices, shipping options, and top customer reviews.
To order cookies from Etsy, first browse for keywords like custom cookies or personalized cookies. Next, narrow your options with filters or subcategories.
Make sure to pin this to your favorite board on Pinterest!

You may also be interested in: