If you are looking for a sweet new way to serve dessert that will get your party started, then look no further. Edible cookie shots are a popular dessert trend that you need to check out.
Dirty Cookie is a California-based company that specializes in making delicious (and totally edible) cookie shot glasses.
Not only do their cookies taste amazing, but they come in different flavors like chocolate chip, churro and red velvet.
They offer a wide variety of cookie kits that are perfect for parties, gifts and all sorts of special occasions.
If we've got your attention, then keep on reading to learn all about these fun treats and the 5 big reasons why Dirty Cookie is one of our favorite desserts we discovered this year!
**Use coupon code SNACKATEERS15 for 15% off your Dirty Cookie order. **
You may also like:
– Best Gourmet Cookies To Order Online
– Best Custom Cookies To Order Online
– Best Birthday Cakes To Order Online
So, What Is A Cookie Shot Anyway?
People have been dunking cookies in milk since the beginning of time. Well, maybe not that long, but definitely since the invention of milk and cookies!
It was only a matter of time before someone thought "Why not put the milk IN the cookie?!" And so cookie shots were born.
They use a special mold that forms the cookie into a shot glass. The result is a 100% edible shot glass-shaped cookie.
The inside of the glass is coated with a thin layer of chocolate to prevent it from getting soggy.
The rim and outside of the cookie can be decorated with sprinkles or other edible decorations.
5 Reasons Why You'll Love Dirty Cookies
We were blown away when we tried Dirty Cookies for the first time. There really is a lot to love about these unique treats.
Here are just a few of the reasons we think that you'll love them too.
1. Perfect For A Party … For Kids and Adults
You can order your Dirty Cookie 3 ways: pre-decorated, DIY decorating kit or plain (no decorations)
The DIY kits are especially fun for a kid's party. The kit comes ready to go with the cookies and decorations, you just supply the milk.
For adults, you might opt for the pre-decorated kits or plain cookies so you can prepare a dessert in advance or have them ready to go to quickly add some liquor!
2. Cookie Kit Options For Every Occasion
Dirty Cookie Kits are available for all the major holidays – Christmas, Thanksgiving, New Years, Hannukah, Halloween, Easter and more.
There are also cookies for all the big moments like birthdays, back to school, graduations, weddings, anniversaries and baby showers to name a few.
If you've got a special interest, there is a Dirty Cookie for that too. Everything from football and jungle animals to mermaids to unicorns, you're sure to find a fun cookie shot glass kit.
Dirty Cookie is a perfect gift option that your friends and family will love. With nationwide shipping, you can ship it right to their home or office.
The company is based in California, so if you're in Los Angeles, Orange County, Irvine, Newport Beach, you can call or email Dirty Cookie for the possibility of delivery or pickup.
3. Creative Ways To Enjoy: Filled With Milk, Coffee, Ice Cream and More
These delectable little cookie creations are delicious on their own, but you can enjoy a cookie shot in so many different ways.
You can fill it with ice-cold milk, cold brew coffee, egg nog or sweet liquor.
But don't stop there! The sky is the limit if you get a little creative.
You could pour in a milkshake or fill it up with ice cream.
If you're got a real sweet tooth, maybe you'd like it filled with buttercream? If that's too intense, try filling it with whipped cream.
Or try one of the recipes they have online like coffee mousse, Nutella crunch ice cream, blueberry cheesecake, frozen banana split pie or dirt cups for the kids.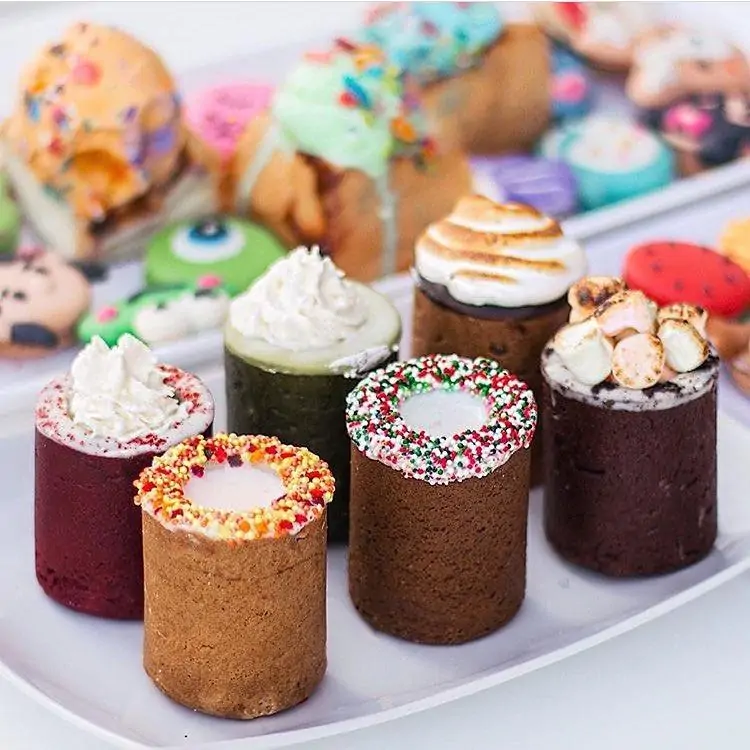 4. Options For Dietary Restrictions: Vegan, Gluten-Free and Nut-Free
Dirty Cookie currently has one vegan, gluten-free double chocolate cookie shot. Their website mentions they are looking to expand on this selection in the future.
The cookies do not contain nuts. It's important to note that Dirty Cookie produces in a shared kitchen facility that uses nuts, but NO equipment is shared.
5. A Company That Cares
A portion of every purchase is donated directly to one of the company's non-profit partners that support higher learning. How cool is that?
**Use coupon code SNACKATEERS15 for 15% off your Dirty Cookie order. **
---
How Do You Enjoy Dirty Cookie Shots?
When you receive your order, it comes with a little booklet with all sorts of helpful information that will help you enjoy your cookies.
For maximum enjoyment, Dirty Cookie recommends the following tips.
How To Enjoy Your Cookie Shots
Warm up your cookie in the microwave for 7-10 seconds.
Fill up your cookie with milk or any other goodies you love.
Take a site. Take a bite. Repeat. Enjoy!
How To Decorate Your Cookie Shots
If you ordered a DIY decorating kit, there are just a few things you'll need to know.
Follow these easy steps and you'll be enjoying a cute decorated cookie shot in no time.
Step 1:
Melt the chocolate (included with the kit) and 1 TB oil (not included) in the microwave.
Step 2:
Dip the cookie rim in the melted chocolate.
Use the back of a spoon to add a dab of melted chocolate to the side of the cookie where you want to place your decorations.
Step 3:
Roll the rim in sprinkles and lightly press the decorations onto the side.
Step 4:
Freeze shots for 5 minutes to allow the chocolate to set.
Dirty Cookie Shelf Life
Cookies are baked fresh daily. They will stay fresh for up to 30 days after you get your order as long as you keep them in an airtight container.
If you can't eat them right away, you can pop them in the freezer for up to three months.
---
So as you can see, Dirty Cookie shots are a delicious treat that the whole family can enjoy.
Whether you want to make them for yourself or give them as a gift, they're perfect for any occasion and will always be welcome with milk, ice cream, whipped cream, frosting – whatever your heart desires!
**Use coupon code SNACKATEERS15 for 15% off your Dirty Cookie order. **
You may also like:
Cookie Shots: Over 30 Exciting Edible Shot Recipes