Forget regular marshmallows. Try Stuffed Puffs chocolate-filled marshmallows instead! 
What are Stuffed Puffs?
Stuffed Puffs are marshmallows with chocolate inside. The creamy filling melts from the inside out, so so you get all of that delicious filling without any mess. Make s'mores with them or roast some as a crispy snack for your family and friends. They are also perfect for baking and snacking straight from the package!
They are currently available in three permanent flavors.
Classic vanilla: Fluffy vanilla marshmallows filled with real milk chocolate
Chocolate-on-chocolate: Chocolate marshmallows with chocolate filling

NEW in 2021

Cookies N' Creme: Vanilla fluff

stuffed

with smooth white creme and chocolate cookie crunch
The company has also been releasing new limited-edition flavors. In 2020, a seasonal Chocolate Peppermint Bark flavor was available for a limited time. In early 2021 and just in time for Easter, a special package of pastel marshmallows hit the shelves. The package consisted of Sunflower Yellow, Bubble Gum Pink and Daydream Blue chocolate stuffed marshmallows.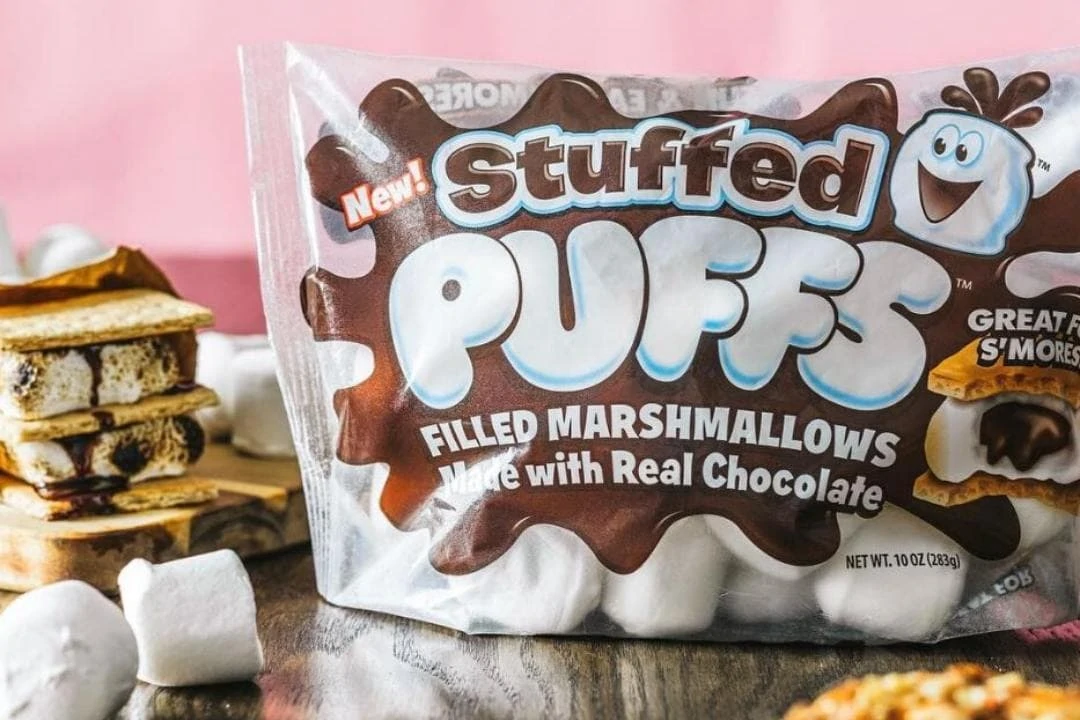 View this post on Instagram
Who makes Stuffed Puffs Marshmallows?
Who doesn't enjoy a warm, gooey marshmallow? Stuffed Puffs founder Mike Tierney wondered why the milk chocolate never made it inside of the marshmallow.
He was surprised to find out how hard and precise that task is. After 10 years of relentless work and perseverance, Mike's vision finally came to life and Stuffed Puffs were born in Bethlehem, PA.
Where to buy chocolate stuffed marshmallows?
These marshmallows can be purchased directly from the Stuffed Puffs website. They have a handy store locator tool to find a retail location near you.  I have personally found them at Walmart.
All three stuffed marshmallow flavors can be purchased from Amazon as well.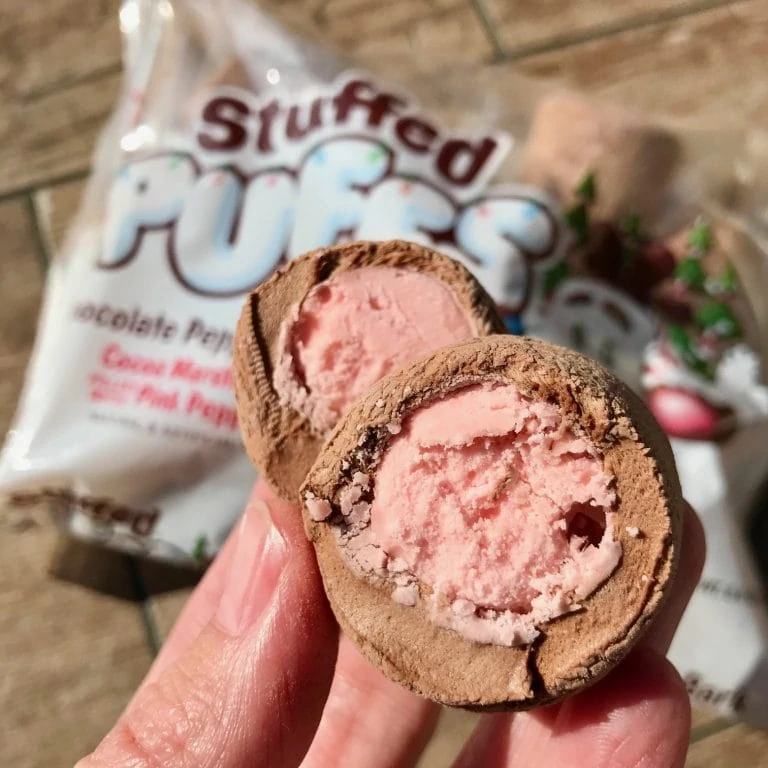 Are Stuffed Puffs gluten-free or nut-free?
Yes, Stuffed Puffs are gluten-free. However, they are not a certified gluten-free product.
Yes, they are also nut-free. The manufacturing facility has not yet been certified as a nut-free facility, but they do not make any products containing nuts there.
Are Stuffed Puffs Marshmallow Good?
Absolutely! I've personally tried each flavor that Stuffed Puffs has released: vanilla, chocolate, Halloween (seasonal) peppermint bark (seasonal), pastels (seasonal) and the newest permanent addition of cookie 'n creme. I enjoyed each of them for a different reason.
Stuffed Puff Marshmallow Review
Classic Vanilla: This flavor is the best for making s'mores. The classic combo of vanilla marshmallow and gooey chocolate smooshed between graham crackers is pure bliss.
Chocolate-on-Chocolate: Because sometimes you just need chocolate. You can each these straight from the bag to satisfy a chocolate craving. They are also fantastic melted on top of a pan of warm brownies.
Halloween: These seasonal treats were a super fun alternative to candy for trick or treaters. Each individually wrapped marshmallow featured a spooky (but cute) character on the wrapper.
Peppermint Bark: This flavor came out around the end of the year. Perfect timing for all the holiday peppermint vibes. These were a perfect addition to a hot cup of cocoa.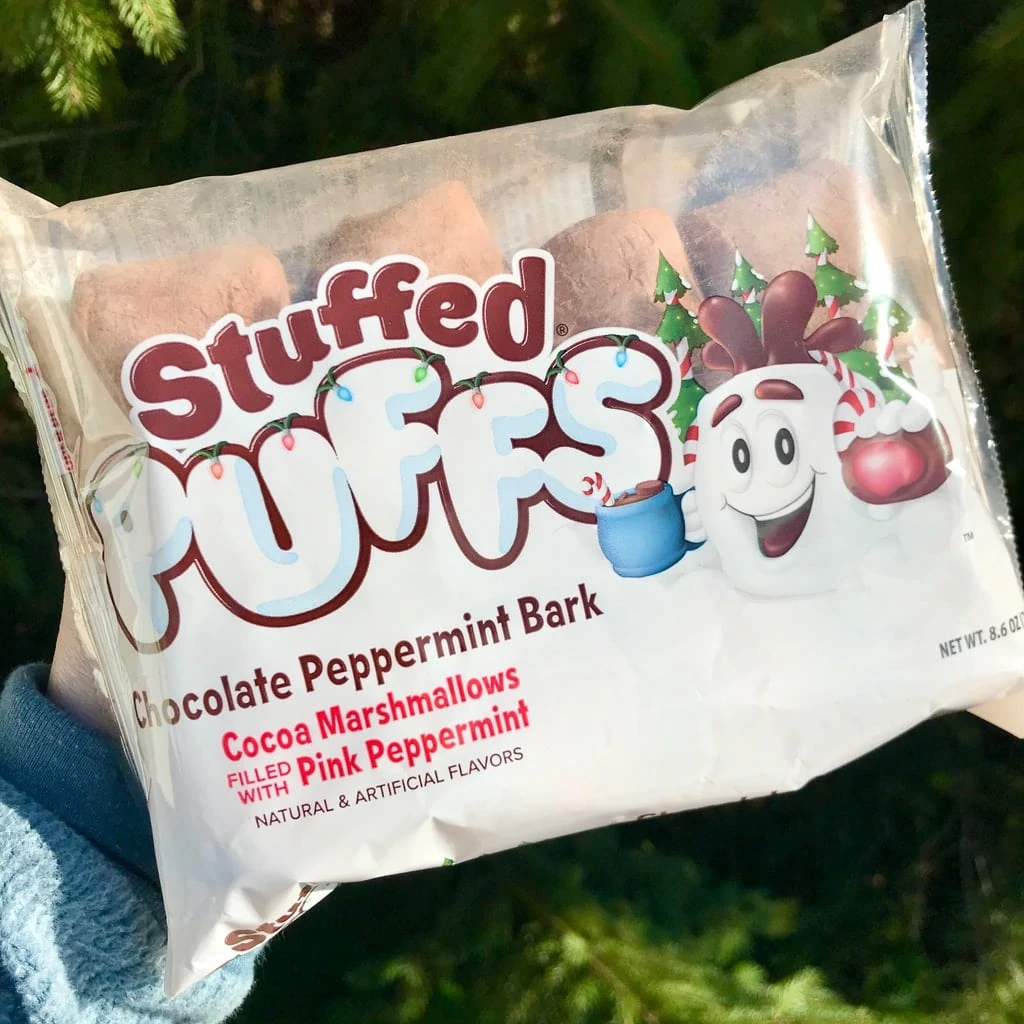 Pastel: The pastel marshmallows were released in the spring. They featured the classic vanilla marshmallow with chocolate center. The pretty pastel hues made these a no-brainer to add to Easter recipes. The also came individually wrapped so they were perfect for Easter baskets too.
Cookies n' Creme: My favorite flavor so far! The marshmallow is vanilla and the filling is a smooth white creme with chocolate cookie crunch. You can definitely use these in recipes, but I can't stop eating them straight from the bag.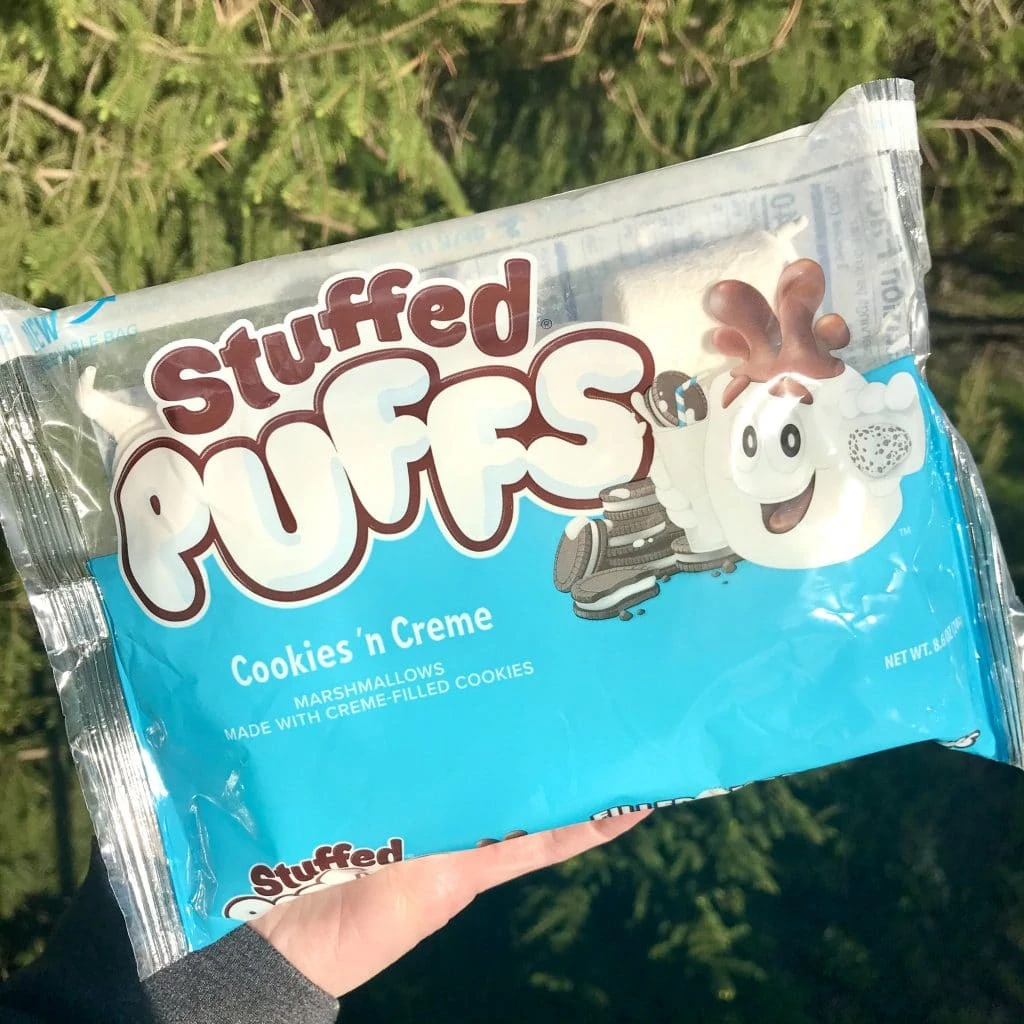 What are some good recipes to make with Stuffed Puffs?
So many great recipes call for marshmallows. Many of them can easily substitute Stuffed Puffs for regular marshmallows.
For example, a classic s'mores is so easy to make with a Stuffed Puff instead of plain marshmallows with chocolate. Drop a Stuffed Puff into your next cup of hot chocolate. Or melt them up in a batch of rice krispie treats.
If you're looking for even more creative ways to use these chocolate stuffed marshmallows, check out this list of 7 Stuffed Puffs Marshalllows recipes that are quick and easy to make, and of course, delicious. 
Stuffed Puffs Recipes
Any recipes that use regular marshmallows can be kicked up a notch with Stuffed Puffs. Check out these fun recipes that are quick and easy to make, and of course, delicious!
You may also like: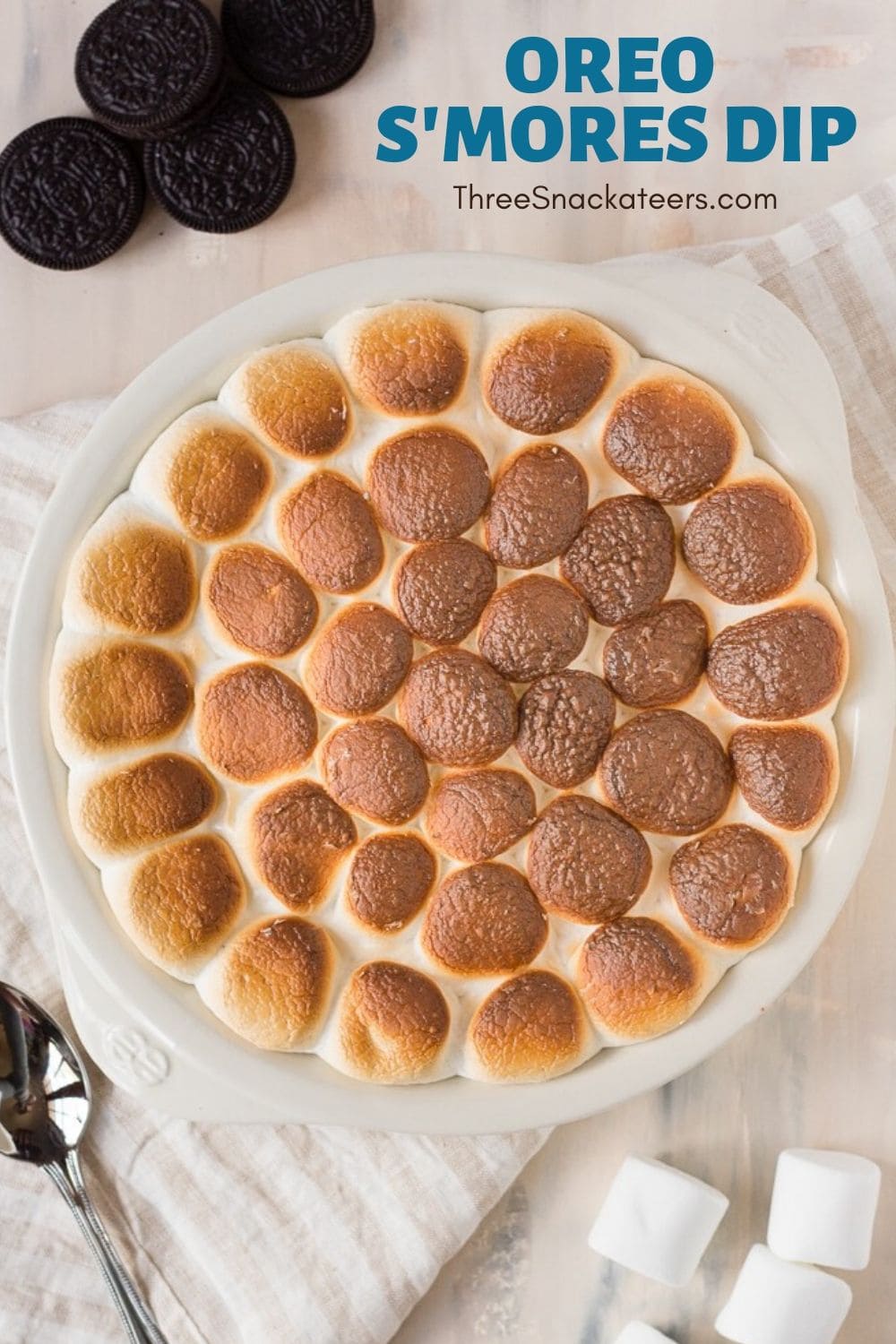 Micky Reed, a two-decade veteran in the food and baking industry, leverages her influential Three Snackateers food blog and Instagram presence to collaborate with industry giants like Ben & Jerry's and Crumbl Cookies. Her work has been featured on Delish, PopSugar and more. Her expertise as a product curator for one of the world's largest international snack subscription box companies solidifies her status as a key player in the field.