This classic Cookie Monster Ice Cream recipe makes the BEST signature blue ice cream you know and love!
This "C Is For Cookie" ice cream is loaded with both Oreos and chocolate chip cookies. Plus it's homemade with an easy no-churn method that doesn't require any cooking.
I promise all of your little monsters will love this nom-nom-nom-a-licious sweet treat!
You may also like:
– 75+ Best Cookie Monster Quotes
– Original Cookie Monster Cookie Recipe
What is Cookie Monster Ice Cream Flavor?
Because of its bright blue color, the first question often asked about Cookie Monster ice cream is What does it taste like?
Well, the ice cream base itself is a simple and delicious vanilla flavor. That's it!
Blue food coloring is used to create the fun, bold hue of the beloved Cookie Monster from Sesame Street. Then chunks of cookies are folded into the vanilla ice cream base to add crunchy textures and lots of yummy, chocolatey goodness.
Ingredients for Homemade Cookie Monster Ice Cream
This recipe uses a great combo of both homemade and store-bought ingredients. Together they make a perfectly creamy and rich vanilla ice cream that is bursting with gigantic bites of your favorite cookies.
For this Cookie Monster ice cream recipe you need:
Vanilla Extract vs Vanilla Paste: What's the Difference?
Vanilla extract is good for adding a hint of vanilla essence to a dish. However, for a vanilla-based recipe such as this one I highly recommend using vanilla paste. It is concentrated and therefore has a much stronger flavor that is delicious in ice cream.
Try these Vanilla Paste from Nielson-Massey or Cambie Confection for two versions that I personally love!
How to Make No-Churn Cookie Monster Ice Cream
Homemade Cookie Monster ice cream might seem difficult because of the color and abundance of goodies inside. But really this is a super easy vanilla ice cream recipe that just includes a few simple extra steps.
First, in the bowl of a standing mixer or in a large bowl with a hand mixer, beat together the whipping cream, vanilla, and blue food coloring until stiff peaks form.
Next, gently stir in the sweetened condensed milk using a large spoon or rubber spatula.
Fold in about 3/4 of the crushed cookies, making sure to not over-mix. The best ice cream has a bit of air into it, so mixing too much will make it lose that crave-able creamy texture.
Then pour the ice cream mixture into a freezer-safe pan, and top with the rest of the cookie pieces.
Cover with the container lid or plastic wrap and freeze for at least 6 hours, or overnight. The ice cream will keep well in the freezer for up to 2 months.
Enjoy the Cookie Monster ice cream in big bowls, in homemade Chocolate Dipped Ice Cream Cones… or, set aside a few cookies before you start and use them to make fantastic little mini ice cream sandwiches. You seriously will want to eat these just like Cookie Monster!
You may also like:
– The Original Cookie Monster Cookie Dough Recipe From 1975
– eCreamery Ice Cream Review: Personalized Pints!
– Nick's Swedish Ice Cream Review: Healthy AND Delicious?
Other Possible Mix-Ins and Toppings
This basic Cookie Monster ice cream recipe is perfect for customizing with your favorite sweets. Here are a few ideas for other fun versions to try:
Instead of doing a 50/50 mix as we've done here, feel free to include only Oreos or just chocolate chip cookies – or whatever cookies you want.
You can even substitute or add to the cookie madness but including chunks of homemade raw Edible Chocolate Chip Cookie Dough!
Nuts about nuts? Swap the vanilla for almond extract, and add chopped nuts to the ice cream.
For a real party treat try adding colorful sprinkles on top, too!
Cookie Monster Edible Cookie Dough
And in case you were wondering, ice cream isn't the only fun Cookie Monster food to try. This bright blue Cookie Monsta Edible Cookie dough from Doughp is another fun and delicious option!
It is a bright blue cookie dough packed with Oreo cookie chunks. It's totally safe to eat raw, but you can also bake regular cookies with it too!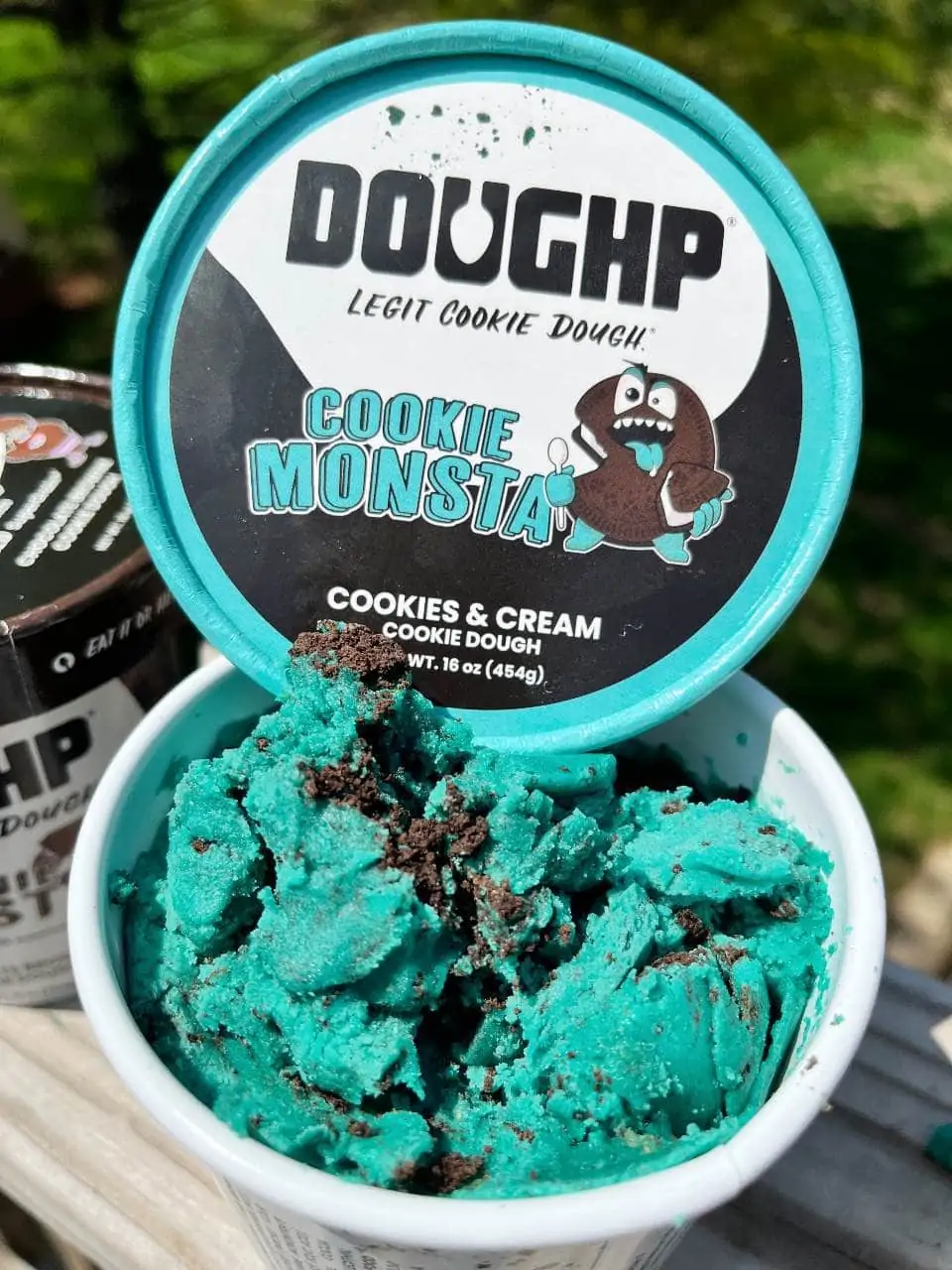 You May Also Enjoy:
Yield: 10 servings
Cookie Monster Ice Cream Recipe
This easy Cookie Monster Ice Cream recipe makes the BEST signature blue no-churn vanilla ice cream, loaded with both Oreos and chocolate chip cookies.
Total Time
6 hours
10 minutes
Ingredients
1 pint (2 cups) heavy whipping cream
1 14 ounce can sweetened condensed milk
3 TB vanilla paste or extract
½ package of Double Stuf Oreos (about 15-20), chopped
½ package of store-bought chocolate chip cookies such as Chips Ahoy (about 15-20), chopped
Blue food coloring, 5-10 drops as desired
½ tsp salt (optional)
Instructions
Using a stand mixer or hand mixer, beat the whipping cream, vanilla and food coloring until stiff peaks form.
Add the sweetened condensed milk and stir gently until well-combined.
Carefully fold in the chopped cookies, saving enough to garnish the top.
Pour the ice cream mixture into a bread pan or other similar freezer-safe container. Top with the remaining chopped cookies.
Place in the freezer for at least 6 hours or overnight.
Notes
Feel free to make this recipe with either just Oreos or chocolate chip cookies, or any of your favorite cookies. You can also add chopped nuts and/or sprinkles on top.
Nutrition Information:
Yield:
10
Serving Size:
1
Amount Per Serving:
Calories:

239
Total Fat:

8g
Saturated Fat:

4g
Trans Fat:

0g
Unsaturated Fat:

3g
Cholesterol:

22mg
Sodium:

219mg
Carbohydrates:

36g
Fiber:

0g
Sugar:

33g
Protein:

5g