Edible Sugar Cookie Dough is a perfectly sweet treat to enjoy anytime – no baking needed! Follow our quick and easy recipe to make "raw" funfetti cookie dough that tastes JUST like your favorite cookies with sprinkles.
Or you can totally customize this snack or dessert with nearly any extra goodies you like. Here you'll find simple instructions and fun ideas for how to make edible sugar cookie dough from scratch in just 15 minutes!
You may also like: Edible Chocolate Chip Cookie Dough
The Best, Easiest Edible Sugar Cookie Dough Recipe
You know you want to, but you absolutely should not eat raw cookie dough with eggs. You could get seriously ill, and no sweet treat is worth all that.
You could certainly buy some edible cookie dough. Or instead, whip up your own batch of this fantastic edible funfetti cookie dough! It's got that perfectly rich and creamy cookie dough texture you crave, but is completely eggless and safe to eat "raw."
Load with colorful sprinkles and/or your other favorite goodies for a no-bake dessert (or snack) that everyone will love.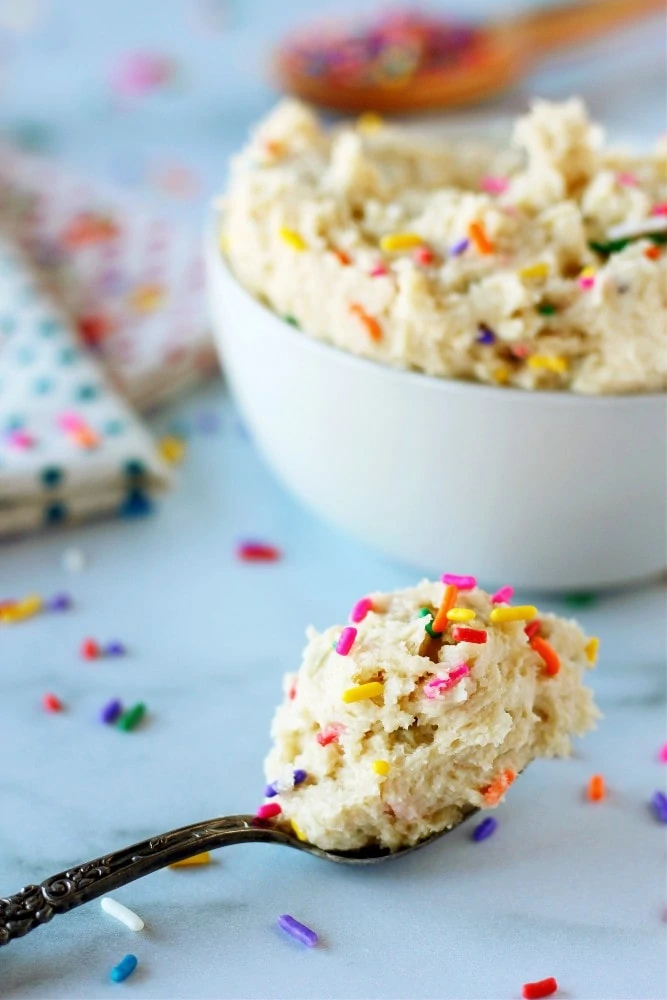 Ingredients to Make Eggless Edible Sugar Cookie Dough
Our classic edible cookie dough recipe only includes 5 simple ingredients:
Flour
Softened butter
Sugar
Vanilla extract
Milk
We love to add sprinkles to this edible cookie dough recipe – it's fun to match your sprinkle color to your party theme or mix and match your favorite colors.
Variations of This Edible Funfetti Cookie Dough Recipe
Feel free to get super creative with your sugar cookie dough. Here are just a few suggestions for how to make edible sugar cookie dough extra special with add-ins:
Chocolate chips, peanut butter chips (or chopped peanut butter cups!), dark chocolate chunks, or white chocolate chips
Crushed Oreos, Golden Oreos, or other crushed cookies
Mini M&M candies, toffee crumbles, or chopped candy bar pieces
Crushed peppermint – perfect for the holidays
Chai spices for an extra earthy and wonderfully spicy flavor
Other extracts like hazelnut, almond, or citrus – check out all of the great options available on Amazon
Fresh lemon or lime zest
Make a s'mores themed edible cookie dough with mini marshmallows, crushed graham crackers, and mini chocolate chips.
Or, for an edible snickerdoodle cookie dough add cinnamon to the dough plus a sprinkle of cinnamon on the prepared treat.
You can also add a few drops of food coloring to create an even more vibrant and, well, fun edible funfetti cookie dough!
How to Make Edible Sugar Cookie Dough with Sprinkles
This easy recipe yields approximately 2.5 cups of edible funfetti cookie dough, and only takes about 15 minutes to make.
Heat treat the flour.
Not only can raw eggs make you sick, raw flour can also make you ill. So it's important to "cook" the flour a bit before using to make this eggless edible sugar cookie dough recipe.
– In the oven: Spread the flour on a baking sheet, and bake in a preheated 350 degree oven for 5-7 minutes. Sift out any clumps.
– In the microwave: Place the flour in a microwave safe bowl and cook on high for 1 minute.

Cream the butter.
In a standing mixer or with a hand mixer, combine the butter and sugar until fluffy. Mix in the vanilla.

Add the heat treated flour.
Mix in slowly, bit by bit, until a soft dough forms.

Add milk.
Continue to mix, add a bit more milk if needed, until it reaches just the right consistency.

Stir in sprinkles or extra add-ins.
Use a spatula to fold the goodies into the edible funfetti cookie dough evenly.
Edible Sugar Cookie Dough FAQ
How long does homemade cookie dough keep well?
Stored in an airtight container in the refrigerator the edible sugar cookie dough will stay fresh for up to one week.
Can you freeze edible sugar cookie dough?
Yes you can! Store in a freezer safe sealed container for up to 3 months. Defrost the cookie dough overnight in the fridge before enjoying.
Can this eggless cookie dough be baked?
Yes and no. You can scoop and bake them like cookies, but because there are no eggs or other rising agent they'll likely stay flat and spread. It's really not worth the effort, so I suggest you just eat this edible funfetti cookie dough as-is. If you're craving cookies, give these Fruity Pebble Cake Mix Cookies a try!
You May Also Enjoy:
Yield: 2.5 cups
Edible Sugar Cookie Dough
An easy recipe for how to make edible sugar cookie dough with sprinkles or your favorite goodies. Try eggless edible funfetti cookie dough for a sweet fun treat!
Ingredients
1 cup flour
1/2 cup salted butter, softened
3/4 cup sugar
2 tsp vanilla extract
3-4 TB milk
Sprinkles or other mix-ins
Instructions
Heat treat the flour to 160 degrees F. Microwave: Place flour in a microwave-safe bowl and cook on high for about 1 minute. Oven: Spread the flour on a baking sheet and bake at 350 degrees F for about 5-7 minutes. Sift if any clumping occurs.
Using a hand or stand mixer, cream together softened butter and sugar. Mix in vanilla until well combined.
Slowly mix in flour. Mix until dough forms.
Add milk until it reaches your desired consistency.
Stir in colorful sprinkles or other mix-ins.
Notes
Mix-ins/Variations: Feel free to add any type of sprinkles, chocolate, butterscotch or white chips; extracts, candy bar pieces, m&ms, cookie pieces, food coloring, toffee, citrus zest, for snickerdoodle vibe add cinnamon to the dough and sprinkle cinnamon sugar over the top; chai spices, crushed peppermint for the holidays, classic or golden Oreos - just to name a few suggestions!