If you've ever made sugar cookies, you might have been tempted to snitch a little bit of the delicious raw sugar cookie dough.
And although it tastes amazing you might have felt a little guilty knowing that it's not a good idea because of the raw flour and eggs – both of which could potentially make you sick from harmful bacteria.
Now all of you cookie dough lovers can satisfy your cravings with this easy and totally safe-to-eat edible sugar cookie dough recipe!
The Best Edible Sugar Cookie Dough
This quick and easy sugar cookie dough recipe tastes just like regular cookie dough. It also has the same traditional cookie dough consistency that you love.
You can also customize this easy dessert recipe with different mix-ins like rainbow sprinkles or flavored extracts. We've included lots of customization ideas below.
If you're craving cookie dough, read on for the simple instructions on how to make delicious edible cookie dough from scratch in just 15 minutes.
More Cookie Dough Recipes:
– Edible Chocolate Chip Cookie Dough
– The Best Edible Cookie Dough To Order Online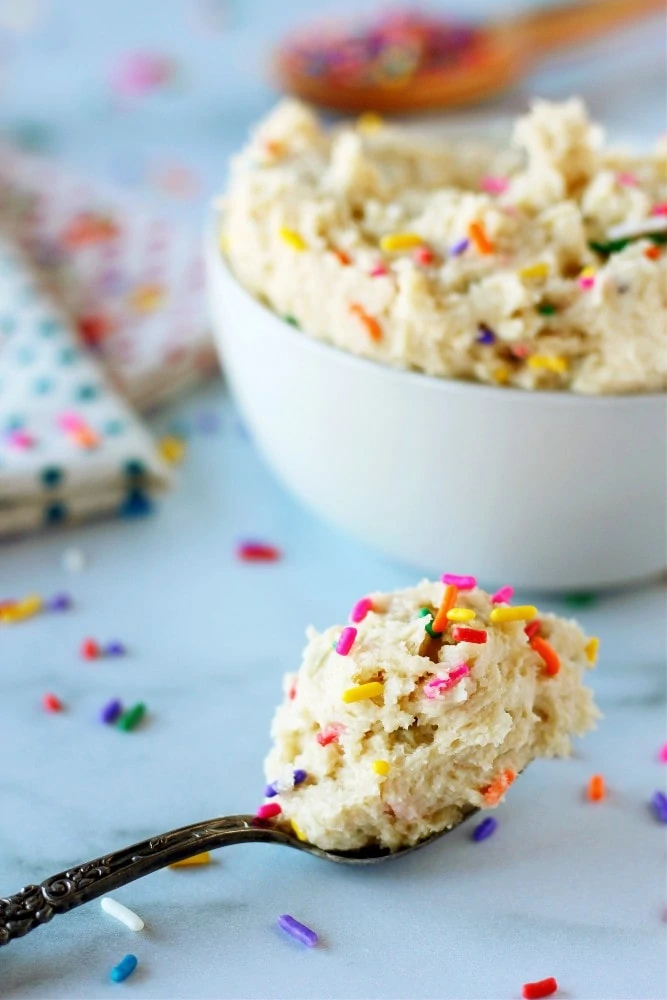 Ingredients to Make Sugar Cookie Dough You Can Eat Raw
Our classic edible raw cookie dough recipe only includes 5 simple ingredients:
All-Purpose Flour

Flour must be heat-treated. Step-by-step instructions to bake the flour are listed below.

Salted Butter

If you're using unsalted butter, add ¼ teaspoon salt.

Granulated Sugar

Brown sugar can be substituted.

Vanilla Extract
Milk or Cream
Sprinkles (optional)
We love to add sprinkles to this edible cookie dough recipe. It's fun to match your sprinkle color to your party theme or mix and match your favorite colors.
Variations of This Edible Cookie Dough Recipe
Feel free to get super creative with this recipe. Here are just a few suggestions for how to make edible sugar cookie dough extra special with your favorite mix-ins:
Chocolate chips, peanut butter chips (or chopped peanut butter cups!), dark chocolate chunks, or white chocolate chips
Crushed Oreos, Golden Oreos, or other crushed cookies
Mini M&M candies, toffee crumbles, or chopped candy bar pieces
Crushed peppermint or peppermint extract – perfect for the holiday season
Chai spices for an extra earthy and wonderfully spicy flavor
Almond extract
Fresh lemon or lime zest
Make a s'mores-themed edible cookie dough with mini marshmallows, crushed graham crackers, and mini chocolate chips.
Or, for an edible snickerdoodle cookie dough add cinnamon to the dough plus a sprinkle of cinnamon on the prepared treat.
You can also add a few drops of food coloring to create an even more vibrant and, well, fun edible funfetti cookie dough.
Serving Suggestions
The easiest way to enjoy this recipe is to eat it directly from the bowl with a spoon!
However, if you're having guests over or serving at a party, you have a few other serving options.
You could add the cookie dough to a small bowl, add some extra sprinkles to the top and serve with a side of pretzels or graham crackers You could also use traditional sugar cookies or chocolate sugar cookies with black cocoa to scoop up the dip.
Another idea is to make cookie dough balls. Just use your hands or a cookie scoop to roll the cookie dough into balls. Place on a baking sheet or airtight container to refrigerate before serving.
A clever idea for serving at a party would be to add a scoop of cookie dough to a chocolate sprinkle ice cream cone.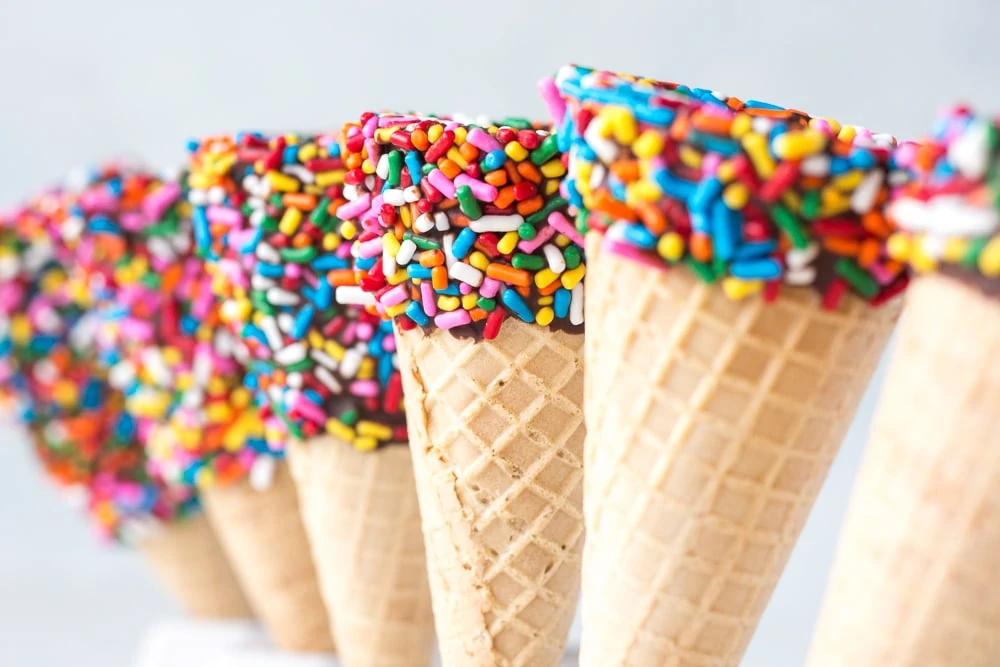 How to Make Edible Sugar Cookie Dough
This easy recipe yields approximately 2.5 cups of edible sugar cookie dough. The prep time is only about 15 minutes.
Step 1: Heat Treat The Flour
There are no raw eggs in this recipe due to possible bacteria.
Uncooked flour can also contain bacteria so it should also not be eaten raw. So baking the flour to remove potentially dangerous bacteria is an important step.
When the temperature of the flour reaches 160 degrees F, it is safe to use.
Two Ways To Heat Treat Flour
In the oven: Preheat the oven to 350 degrees. Spread flour on a rimmed baking sheet. Bake the flour for 5-7 minutes. Sift out any clumps that may form.
In the microwave: Place the flour on a microwave-safe plate and cook on high for 1 minute.
After baking, allow the flour to cool completely.
Step 2: Add Butter and Sugar
Using a stand mixer (or an electric mixer with a large mixing bowl), combine the softened butter and sugar until fluffy.
Step 3: Add Vanilla Extract
Mix in the vanilla extract. If you're adding a different or additional liquid flavoring such as almond extract, it can also be added at this step.
For an amazing vanilla taste, also consider using pure vanilla bean paste. It's often used in gourmet pastries and desserts.
It has the consistency of thick syrup and has tiny flecks of real vanilla bean. Nielsen-Massey makes great vanilla that is available in baking stores and also on Amazon.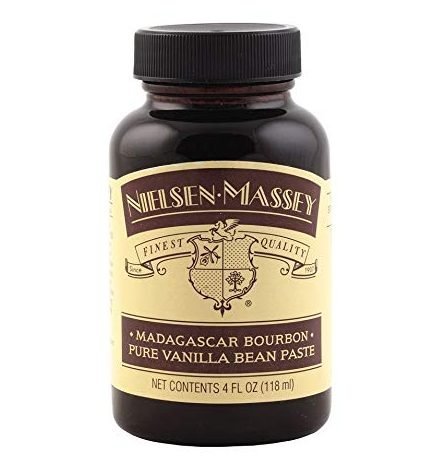 Step 4: Add The Heat-Treated Flour
Slowly add the cooled flour to the room temperature butter and sugar mixture. Mix on low speed, bit by bit, until a soft dough forms.
Step 5: Add Milk
Add in the mix (or cream) and continue to mix. If needed, add a bit more milk if needed until it reaches just the right consistency.
PRO TIP: Always add a small amount of milk at a time. It's easy to add more, but you can't take it away!
Step 6: Add Mix-ins
If desired, add mix-ins to your dough. Use a spatula or wooden spoon to fold in sprinkles any other goodies that sound good.
Edible Sugar Cookie Dough FAQ
You May Also Enjoy The Recipes
Yield: 2.5 cups
Edible Sugar Cookie Dough
An easy recipe for how to make edible sugar cookie dough with sprinkles or your favorite goodies. Try eggless edible funfetti cookie dough for a sweet fun treat!
Ingredients
1 cup flour
1/2 cup salted butter, softened
3/4 cup sugar
2 tsp vanilla extract
3-4 TB milk
Sprinkles or other mix-ins
Instructions
Heat treat the flour to 160 degrees F. Microwave: Place flour in a microwave-safe bowl and cook on high for about 1 minute. Oven: Spread the flour on a baking sheet and bake at 350 degrees F for about 5-7 minutes. Sift if any clumping occurs.
Using a hand or stand mixer, cream together softened butter and sugar. Mix in vanilla until well combined.
Slowly mix in flour. Mix until dough forms.
Add milk until it reaches your desired consistency.
Stir in colorful sprinkles or other mix-ins.
Notes
Mix-ins/Variations: Feel free to add any type of sprinkles, chocolate, butterscotch or white chips; extracts, candy bar pieces, m&ms, cookie pieces, food coloring, toffee, citrus zest, for snickerdoodle vibe add cinnamon to the dough and sprinkle cinnamon sugar over the top; chai spices, crushed peppermint for the holidays, classic or golden Oreos - just to name a few suggestions!
Micky Reed, a two-decade veteran in the food and baking industry, leverages her influential Three Snackateers food blog and Instagram presence to collaborate with industry giants like Ben & Jerry's and Crumbl Cookies. Her work has been featured on Delish, PopSugar and more. Her expertise as a product curator for one of the world's largest international snack subscription box companies solidifies her status as a key player in the field.