If you've ever watched Shark Tank, then you know they feature some really cool and innovative products. Have you ever wondered what some of the most popular Shark Tank food products are?
Well, we did some digging and found 15 delicious foods that have been included in the show over the years. Regardless of whether or not they scored a deal on the show, the companies we showcase here are definitely winners.
And the best part? You can order every single one of these cool Shark Tank foods online and have them shipped right to your house.
From sweet treats to savory snacks and even a wine made from honey, you are going to want to sink your teeth into all of these goodies featured on Shark Tank!
15 Food Products On Shark Tank That You Can Buy Online
1. eCreamery
Featured on Shark Tank Season 4, Episode 2
eCreamery offers a deliciously dizzying variety of ice cream – over 20 flavors! – all made in small batches and packed by the pint with love.
Each pint can be personalized with photos, artwork, and a special message for the lucky recipient.
---
2. Wicked Good Cupcakes
Featured on Shark Tank Season 4, Episode 22
What's better than a cupcake? Why, a jar filled with cupcake goodness of course!
Wicked Good Cupcakes packages layers of cake, rich frosting, and fun "toppings" into adorable mason jars. Simply ship and scoop!
Related Reading:
– Best Cupcakes In A Jar To Order Online
– Best Cupcakes To Order Online
---
3. Daisy Cakes
Featured on Shark Tank Season 2, Episode 6
Daisy Cakes offers the sweet flavors of the south in their decadent cakes.
From traditional four-layer cakes in flavors like Carrot Cake and Red Velvet, to "Cake in a Jar" Minikins, all of the treats are made with farm-fresh ingredients and baked with love.
Related Reading: Best Birthday Cakes To Order Online
---
4. Doughp
Featured on Shark Tank Season 10, Episode 22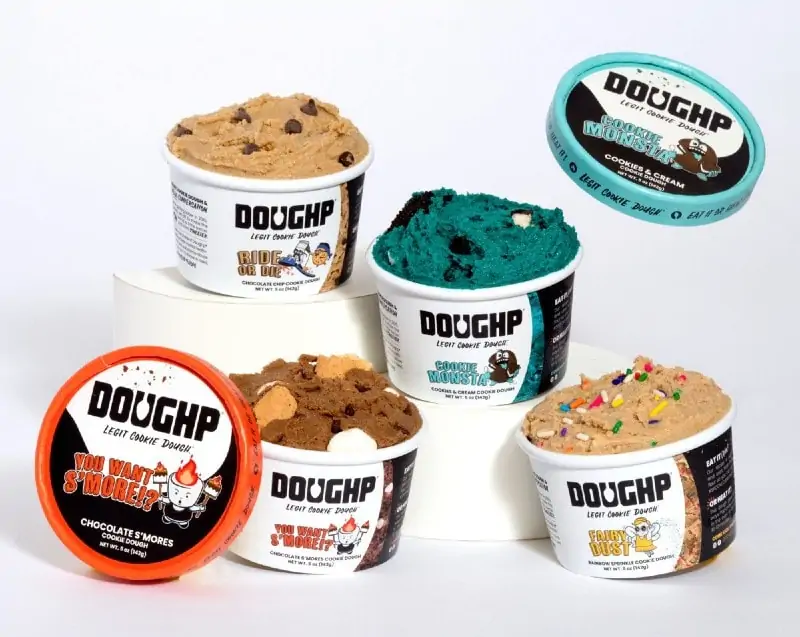 Go ahead, eat this raw cookie dough with a spoon straight from the container!
Doughp's edible dough is available in classic and fun cookie flavors like chocolate chip, peanut butter, and s'mores. Bonus: The dough can be scooped and baked, too.
Related Reading:
– Best Cookie Dough To Order Online
– Best Gourmet Cookies To Order Online
---
EDIBLE COOKIE DOUGH RECIPES
– Edible Cookie Dough: Chocolate Chip or Sugar Cookie
– No-churn Cookie Dough Ice Cream
5. BEE D'VINE
Featured on Shark Tank Season 12 Episode 5
Bee d'Vine is a one-of-a-kind taste experience! This unique wine is made from only two simple ingredients: premium raw honey and pure spring water.
It has quickly become one of the most sought-after drinks around thanks to its ultra-smooth and fragrant flavor without the bitter aftertaste found in regular grape wines.
And with an award-winning reputation, Bee d'Vine is lower in calories than expected, has no naturally occurring sulfites, and is gluten-free while still maintaining less than 12.5% alcohol.
---
6. Gotta Have S'more
Featured on Shark Tank Season 4, Episode 16
Part cupcake, part candy confection… The treats from Gotta Have S'more are entirely delicious!
They feature a graham cracker crust that's been dipped in chocolate, toasty marshmallow topping, and a slice of chocolatey goodness. Each is individually wrapped and customizable, so they're perfect for gifts and special occasions.
---
7. P-nuff Crunch
Featured on Shark Tank Season 12, Episode 2
Nutritious and delicious? Totally possible! These plant-based snacks are packed with protein, healthy carbs, and all kinds of gotta-have nutrients.
P-nuff snacks have a crispy crunchy texture, and are available in three flavors: savory roasted peanut, sweet cinnamon, and cocoa.
---
8. Nuts 'N More
Featured on Shark Tank Season 4, Episode 18
Nuts 'n More packs protein-rich nuts butters with – wait for it – more protein! Their super-charged spreads and dips are made with peanuts, almonds, and hazelnuts.
And there are lots of yummy flavors to choose from… Apple crisp, salted caramel, mint chocolate chip, and many more.
---
9. Snacklins
Featured on Shark Tank Season 11, Episode 4
Snacklins have that super crispy, crunchy and light texture typically found in pork cracklins – but are entirely vegan and gluten-free.
These plant snacks are made with yuca, mushrooms and onions, and are offered in your favorite chip flavors like barbecue and teriyaki. Or try the cinnamon churro for something on the sweet side.
---
10. Pipcorn
Featured on Shark Tank Season 6, Episode 9
Pipcorn prides itself on making the classic snacks you love, but "better for you!" Their savory snacks are made with heirloom (tiny) corn kernels for a more sustainable product that helps to reduce food waste.
What started as a popcorn company now has several flavors of different goodies, like cheese balls, corn dippers, and snack crackers.
---
11. Three Jerks Jerky
Featured on Shark Tank Season 7, Episode 5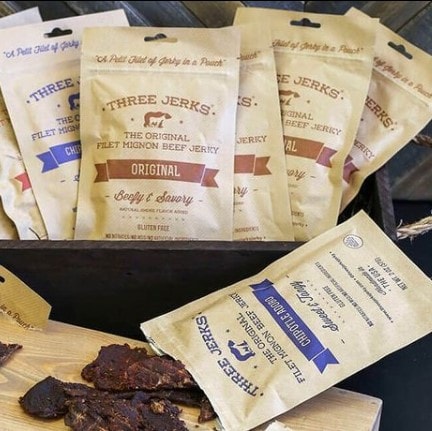 Elevated jerky? You bet! This is not the stuff from gas stations that you're used to… Three Jerks Jerky uses grass-fed beef and high-quality spices to create a crave-able smoky, savory snack.
They have a robust lineup of classic jerky flavors like teriyaki, Memphis BBQ, bourbon maple, and chipotle adobo.
---
12. Ka-Pop
Featured on Shark Tank Season 11, Episode 12
By the power of sorghum, Ka-Pop offers crunchy snacks that are gluten-free, non-GMO, vegan-friendly and made with sustainably-sourced ingredients. And they are densely nutritious and considered allergen-free!
With options from dairy-free cheddar to cinnamon churro, you are sure to find a flavor (or two or three!) that you love.
---
13. Kodiak Cakes
Featured on Shark Tank Season 5, Episode 22
Made with whole grains and packed with protein, Kodiak Cakes products are as nourishing as they are delicious.
They now offer an impressive lineup of (mostly) breakfast goodies, like flapjack and waffle mixes, oatmeal packets, snack bars and frozen waffles – all in a variety of sweet flavors.
---
14. Pizza Cupcake
Featured on Shark Tank Season 12, Episode 13
Flaky on the outside, cheesy on the inside, flavorful throughout, and totally handheld… The Pizza Cupcake is basically a perfect savory snack.
This gourmet take on a classic pizza is ideal for serving as fun, tasty treats at parties and special occasions! Or simply stock your freezer for whenever a 'za craving hits.
---
15. Deux Vegan Cookie Dough
Featured on Shark Tank Season 13, Episode 6
The "good for you cookie dough". Deux is the perfect way to fulfill your cookie dough cravings (raw or baked), without any of the guilt.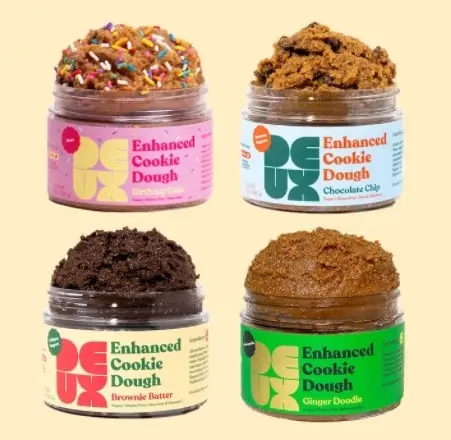 With no artificial ingredients or preservatives, Deux cookies are a healthy alternative to raw cookie dough.
But what really sets it apart from other cookie doughs is that it also contains functional ingredients. That's a fancy way to say it contains different ingredients, such as amino acids, pea protein, mushrooms, vitamin D or elderberry to support your mind and body.
---
The only question now is, which are you going to try first?
Work your way through this list of the BEST Shark Tank snacks and see which goodies you love, and which you really REALLY love.
Save it for later on Pinterest, Instagram and Facebook. Also join our Facebook Group for more snack fun!