The best way to guarantee delicious cookies month after month is to join a cookie of the month club or subscription box. Whether you're buying for yourself or looking for a unique gift, a cookie subscription box is a great way to satisfy any sweet tooth.
To help you find the best cookies, we've compiled a list of some great companies that sell the best cookies of the month clubs and subscription boxes. From classic chocolate chip cookies to more adventurous options like macarons and edible cookie dough, there's definitely to be a cookie club that's perfect for you.
If you're ready to dig right in, here's a quick list of our recommendations for the top picks for the best cookies of the month clubs and subscriptions.
To learn more about more delicious options, keep on browsing the full list below.
What Is A Cookie Subscription Box?
A cookie subscription box is a monthly service that delivers fresh-baked cookies to your door. Each monthly box contains a different selection of cookies, making it a fun and easy way to try new flavors.
There are many companies that offer cookie subscription boxes. Each company offers different cookie flavors and options like the number of cookies in each box and subscription terms. You'll often see options for 3, 6, and 12-month subscriptions.
What Is A Cookies Of The Month Club?
While the terms are sometimes used interchangeably, a cookie of the month club is usually a little different than a regular cookie subscription box. A cookie of the month club is offered by some companies that feature a special, limited-edition "cookie of the month" flavor. A few companies also offer secret flavors that are shipped only to subscription box subscribers.
How To Choose A Cookie Of The Month Club
When it comes to choosing the best cookies of the month club, there are a few things to consider. By taking the time to research your options, you can be sure to find a cookie of the month club that's perfect for you.
First, what type of cookies do you like? Do you prefer chocolate chip, oatmeal raisin, sugar cookies or frosted cookies? Do you like unusual flavors or new flavors? Do you enjoy gourmet cookies or good old-fashioned handmade cookies? Do you need gluten-free or vegan treats? Once you've decided on the type of cookies you like, the next step is to choose a club that specializes in that type of cookie.
Another thing to consider is how often you want to receive cookies. Most cookie clubs send a monthly delivery of cookies, but some do offer options besides a monthly shipment.
Decide on your budget for your cookie subscription. With so many cookie of the month clubs to choose from, you can definitely find one for your budget. From a simple cookie subscription box to a gourmet cookie club, there are plenty of options. Check for discount or promo codes before placing your order. Also note, that many cookie clubs offer discounts for a longer subscription duration.
Consider your options for gift options. It's no secret cookie clubs make a great gift. What cookie lover wouldn't want freshly baked cookies delivered to their house? When giving a gift, check for options like the ability to include a gift note or special packaging.
Finally, be sure to read the fine print before signing up for a club. Some clubs require a commitment for an ongoing subscription for several months, while others allow you to cancel at any time.
You may also like these other cookie treats you can order online:
Best Cookies Of The Month Clubs & Subscription Boxes
Without further ado, let's jump into the list of some amazing clubs that will ship a variety pack of gourmet cookies right to your doorstep.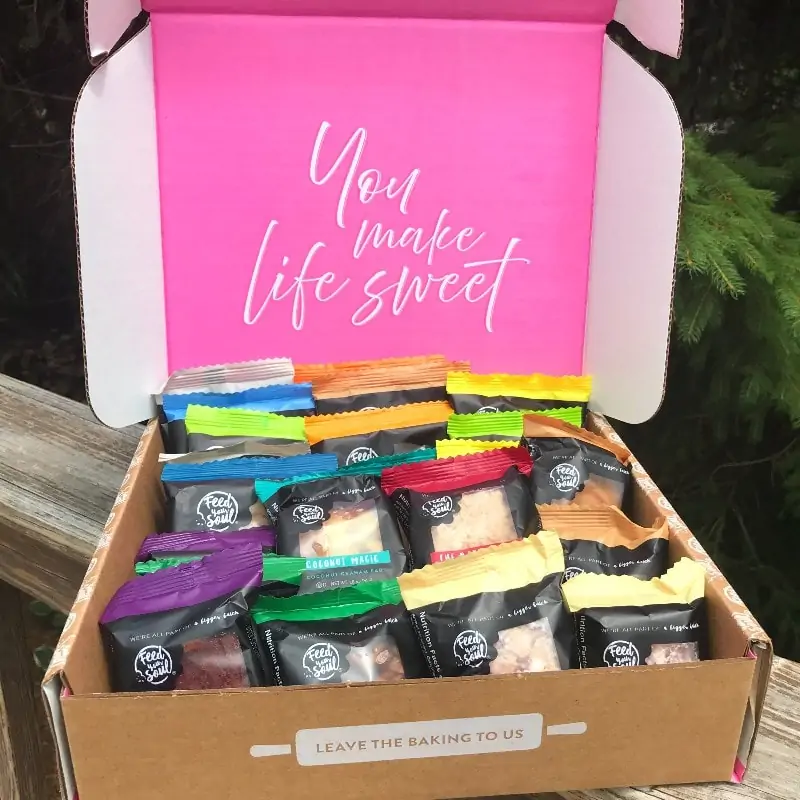 With Feed Your Soul, you can enjoy your cookies and feel extra good about it too. This company's mission is to give back. They donate tons of cookies, meals and money each year.
With their Cookie Of The Month Club, you can choose to receive for 3, 6, or 12 months. Each shipment contains 12 individually wrapped cookies. Flavors include soft chocolate chunk, snickerdoodle, the current seasonal flavor and many more in each box.
If you don't know exactly which type of cookie subscription you'll looking for, Cratejoy is a great place to browse hundreds of options. You'll find everything from hand-decorated cutout cookie subscriptions to cookie decorating kits and vegan cookies.
Here are a couple of our favorite monthly cookie box options from Cratejoy: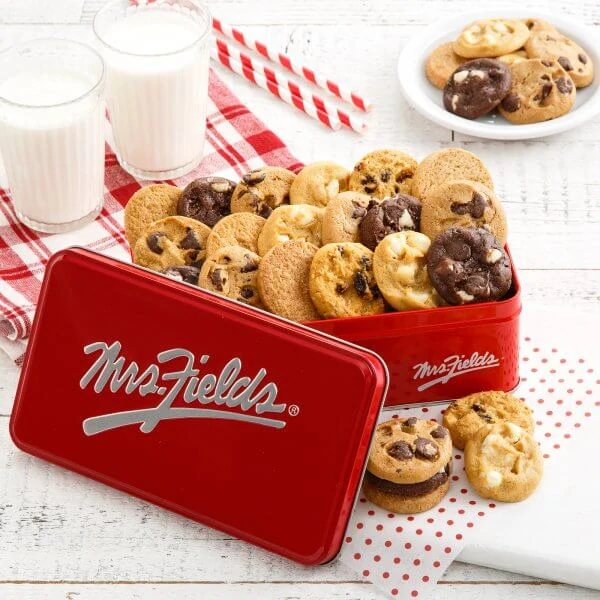 Each Treat Of The Month Club box from Mrs. Fields includes a variety of their most popular seasonal cookies. Boxes will include classic cookies like chocolate chip and also iced sugar cookies with seasonal designs like pumpkins, stars and Easter eggs.
And as if cookies delivered to your door weren't good enough, each monthly cookie delivery from Mrs. Fields has free shipping on each box.
Also, be sure to check out Mrs. Fields brand new MEGA COOKIES. Each cookie is over 1/3 pound and they come in 3 flavors: Chocolate Chip, M&M Chocolate Chip and my personal favorite, Salted Caramel. Can't stop eating them!
David's Cookies doesn't mess around with their Cookies Of the Month Club options – they ship by the pound! Each shipment features a different cookie of the month. The schedule is listed on their website. Cookies come in David's signature red tin.
Be sure to check out their other monthly clubs including cookie dough of the month, brownie of the month, cheesecake of the month and dessert of the month. Click on the button below to see all the options.
Goldbelly is known for offering the best gourmet food, food gifts and mail-order foods shipped nationwide. They offer a variety of food subscriptions including a monthly cookie subscription box that they have dubbed the "greatest cookie subscription ever"!
With this monthly cookie subscription box that you can order for yourself or as a gift, you can pick from 3, 6, 9 or 12-month subscription options. With each delivery, you'll get an assortment of the best cookies from around the country. Each box will have enough gourmet cookies for 6-8 people to enjoy.
Monthly Cookie Dough Subscriptions
If you're a fan of eating cookie dough right from the bowl, then a cookie dough subscription box is perfect for you. With these subscriptions, you get edible cookie dough that is totally safe to eat straight from the container. And as an extra bonus, you can bake it too!
Here are a few of our favorite cookie dough subscription boxes:
Kingline Nutrition: You choose your own flavors each month, plus you can add on a SECRET edible cookie dough flavor of the month that's not available anywhere else. Use code GETDOUGH for 15% off.
Edoughble Cookie Dough Subscription Box: A specially curated box is delivered every 3 months. Each box contains classic favorites, first access to new seasonal flavors and exclusive members-only small-batch flavors. Use code SNACK10 for 10% off.
Doughp Secret Cookie Dough Club: Each month you'll get pints of unique rotating flavors of edible and bakeable cookie dough … and maybe a little secret something else!
Even More Cookie Subscription Options
Be sure to check out these other sweets and treats you can order online:
Cookie subscription boxes and cookie of the month clubs are a great way to enjoy fresh, delicious cookies all year long. Each month, you'll receive a different variety of cookies, baked fresh and delivered right to your door.
Whether you choose a club that delivers monthly or one that ships quarterly, you'll always have a delicious treat on hand. And with so many different flavors to choose from, you're sure to find a favorite (or two).
Whether you're looking for a gift for someone special or simply want to treat yourself, a cookie of the month club is the perfect way to have your cookie and eat it too.