It's not easy to find the perfect corporate gift for your clients, colleagues, employees or even your boss. But when you do, they'll remember it forever.
Cookies are always a great option. Below you'll find a helpful list to help you decide on the best cookies for corporate gifts.
We put together this list of some of our favorite gourmet cookie companies and their signature flavors and options that would make excellent choices as business gifts.
We've included links to purchase, so you can get them delivered straight to where they need to go.
Cookies Make Great Business Gifts
There are many reasons to give your team, colleagues and clients cookies as a business gift.
Gourmet cookies (and chocolates) make a great gift because they are thoughtful and familiar … and people love them! They are the perfect little token of appreciation.
The best part is that with the companies on this list you can customize them to fit the person you're giving them to. They're available in many different flavors and packaging options and can be personalized with names or logos.
There are a wide variety of companies that offer treats that can be ordered online and delivered directly to you or right to the people on your list. But you'll find the best of the best in the list below.
You may also like:
– Best Cupcakes To Order Online
– Best Gourmet Brownies To Order Online
– Best Cookie Cakes For Delivery
1. Best Gourmet Cookies To Leave A Lasting Impression
Our Pick: Sugarica Cookies

When only the best will do, call on Sugarica to create stunning designs that will wow your clients, customers and employees.
With Sugarica, the difference is in the details.
These luxury iced sugar cookies not only look good but taste great too. The cookies are thick, buttery and cake-like … not hard and tasteless like some of the lesser quality cookies you may have had in the past. You can also get chocolate brownie cookies too.
The logo cookies are delicious butter shortbreads directly imprinted with your design. No edible paper or transfers are used which means no peeling logos or strange tastes and textures.
Every batch is baked fresh for your order. They use the highest quality ingredients like 100% real butter, pure Madagascar vanilla, and specialty flavorings like double-reduction raspberry and lemon curd.
No preservatives are used, so cookies are delivered in heat-sealed bags for ultra freshness. They will stay fresh for weeks unopened and much longer when they are frozen.
Need something extra special and totally customized for a VIP? The Sugarica decorators are not only skilled pastry designers but also artists.
Just take a look at some of these totally unique and intricate designs. This exquisite level of detail with techniques such as hand-painted watercolor (shown below) can be applied to any custom design that you desire.
And you don't have to just take our word for it. Sugarica has a proven track record of creating gorgeous logo cookies for businesses like BMW, Universal Pictures, Denver Art Museum, and many more.
If you're in the market for show-stopper, look no further than Sugarica.
---
2. Best Cookies In A Custom Logo Tin
Our Pick: Christie Cookies

Delicious, gourmet cookies sent in a custom tin are the gift that keeps on giving. Imagine the look on your VIP's face when they see a personal message printed right on their gift.
You have the ability to upload your own artwork, so the sky is the limit when it comes to design.
The option to create your own customized design makes it a breeze to send a sweet cookie gift for a holiday, birthday, thank you or other special occasion.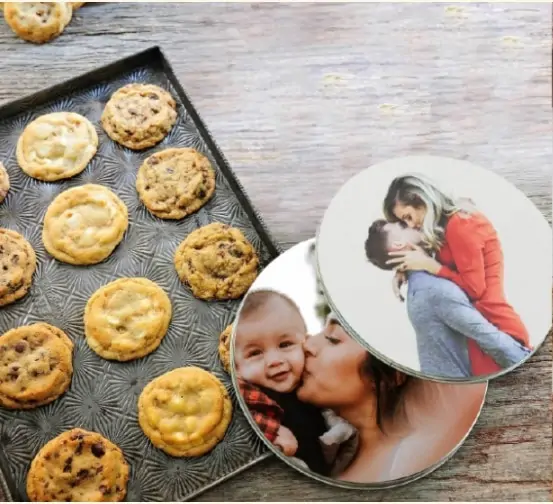 Your tin will be filled with award-winning cookies baked fresh in Nashville, TN. When it comes to flavors, they keep it simple and delicious by sticking to the classic, homemade flavors we all know and love.
The gourmet cookie selection includes chocolate chip, white chocolate-macadamia nut, and oatmeal raisin.
---
3. Best Cookie Bouquets & Baskets
Our Pick: Cookies By Design

Say it with cookies! Whether you're congratulating an employee for a job well done or saying thank you to your customers, a cookie bouquet or basket is a unique way to send your message.
This company has clearly been doing something right. They've been creating unique cookie bouquets and gifts since 1983.
Variety is the name of the game at Cookies By Design. They have hundreds of options on their website for any special occasion or event you can think of.
One of their signature cookie bouquets would make a memorable corporate gift. But there are also plenty of other boxes, baskets, tins, and more to pick from. You'll also find convenient options to buy individually wrapped cookies.
You can also add your own personal touch with cookie gifts that can be customized with a logo, message, image, mascot or icon.
The level of customization makes these great gifts for all sorts of events and occasions like employee appreciation, thank you, tradeshows and conferences, and holidays.
---
4. Most Convenient Cookies To Order For Corporate Gifts
Our Pick: David's Cookies

If it's your job to send the company gifts, but you're feeling crunched on time, you might want to check out David's.
They make it super easy to find the perfect gift online by browsing their catalog of business gifts.
You'll find a wide selection of cookies (and brownies) including holiday selections, customer favorites and custom options for personalized tins, sticker and gift cards.
If you still need some help, you can also give them a call to have a David's expert walk you through it. They'll help make it easy for your recipient to enjoy their sweet treat with any special touch that fits them best.
You can even provide them with your recipient list. They'll handle all the shipping details and keep you updated on order status. Most orders arrive within 2 days or less to guarantee freshness.
---
5. Best Corporate Cookie Gifts On A Budget
Our Pick: Mrs. Fields
Don't let a tight budget stand between you and cookie greatness! Mrs. Fields has a massive selection of cookie gifts and several ways to make sure you stay within your budget.
First, you can sort any of the product pages by price. Check out the lower-cost gift ideas first to see if there are any options that will work.
Another option is to check out their Specials page. From here, you'll get a quick snapshot of treats that are on sale.
If you have quite a few gifts to buy, it's good to know that the more you buy, the more you can save. Take a look at their Bulk Cookies and Discounts page to see if you can rack up some savings for your company. Be sure to look for the convenient individually wrapped cookie options too.
You can also contact a customer representative to help you out with cookie suggestions within your price range. They can also help put together a quote for exactly what you need.
---
Related Reading: Gourmet Cookies To Order Online For Any Occassion
If you enjoyed this article, save it for later on Pinterest, Instagram and Facebook. Also join our Facebook Group for more snack fun!
Micky Reed, a two-decade veteran in the food and baking industry, leverages her influential Three Snackateers food blog and Instagram presence to collaborate with industry giants like Ben & Jerry's and Crumbl Cookies. Her work has been featured on Delish, PopSugar and more. Her expertise as a product curator for one of the world's largest international snack subscription box companies solidifies her status as a key player in the field.