There are few things as satisfying as a perfectly baked cupcake. Moist, fluffy, and with just the right amount of sweetness, they make an ideal treat for any occasion.
With so many easy cupcake recipes to choose from, it can be hard to narrow down your options. With this helpful guide, you'll be able to quickly find the best cupcake recipe for your next party or event.
From classic vanilla and chocolate cupcakes to fun and festive flavor combinations like s'mores, cinnamon, strawberry shortcake, and coconut lime, there is something here that everyone will love!
So go ahead and indulge your sweet tooth with one (or all!) of these 101 easy cupcake recipes and ideas.
Related Cupcake Recipes:
– Best Cupcakes To Order Online
– Best Cupcakes In A Jar To Order Online
Best Classic Vanilla Cupcakes
There are few things as satisfying as a perfectly baked cupcake. Moist, fluffy, and with just the right amount of sweetness, they make an ideal treat for any occasion. And while cupcakes can be made in a variety of flavors, there is something special about the classic vanilla cupcake. Whether you're looking for a simple recipe to make with your kids or something a bit more indulgent, we've got you covered with our roundup of the best easy vanilla cupcake recipes.
Sex And The City Cupcake from Magnolia Bakery
The Carrie Cupcake from the hit HBO show, Sex and The City, helped put Magnolia Bakery on the map. Now you can make this famous vanilla cupcake at home! Oh, and it's topped with perfectly pink vanilla buttercream.
Easy Vanilla Cupcake Recipe
These easy vanilla cupcakes use melted butter in the batter, making them super quick and easy to make.
Vanilla Bean Cupcakes
This classic vanilla cupcake is loaded with flavor. The cupcake is infused with vanilla bean cream. The cupcake is topped with homemade vanilla bean frosting.
Low Sugar Healthy Vanilla Cupcakes
These Healthy Vanilla Cupcakes are moist, light and fluffy. They are also lower in sugar thanks to maple syrup and are topped with healthier buttercream frosting!
Vanilla Funfetti Cupcakes
These homemade vanilla Funfetti Cupcakes are so easy to make! This from-scratch recipe is gluten-free, vegan, allergy-free, and healthier than the boxed mix! A simple vanilla and sprinkle-filled cake topped with the best dairy-free buttercream frosting and extra sprinkles!
You may also like:
– 50 Tips To Make Canned Chocolate Frosting Taste Homemade
– 50 Easy Ways To Make Canned Frosting Taste Better
– 10 Tricks To Thicken Frosting
Easy Chocolate Cupcake Recipes
Whether you're looking for a classic chocolate cupcake recipe or something more adventurous, we've got you covered. These are the best chocolate cupcake recipes that range from easy to bake to super indulgent, and each one is more delicious than the last.
Easy Chocolate Cupcakes
These super moist easy chocolate cupcakes with whipped ganache frosting are a perfect dessert for chocolate lovers. The cupcakes have a melt in your mouth, little-bit-fudgy texture, with a rich chocolate flavor.
Oreo Crunch Cupcakes
These Oreo crunch cupcakes are so delicious. They are chocolate cupcakes, topped with chocolate frosting, and an Oreo crunch topping. They are the perfect cupcake for anyone who loves chocolate.
Homemade Devil's Food Cupcakes
These homemade chocolate cupcakes are so easy, you'll never go back to a box mix again!
Chocolate Orange Cupcakes
Easy decadent chocolate orange cupcakes with ganache frosting. The perfect cupcake for the chocolate orange lover in your life.
Chocolate Cupcakes with Chocolate Ganache Frosting & Pistachios
Double the pleasure when you make chocolate cupcakes with chocolate ganache frosting. Top with tasty crushed pistachios for texture, color and taste.
Dark Chocolate Cupcakes
This quick and easy chocolate cupcake recipe uses dark cocoa powder in the cake and frosting for a deep, rich dark chocolate flavor.
S'mores Cupcakes
These S'mores Cupcakes are rich chocolate cupcakes with a graham cracker bottom and topped with the creamiest marshmallow frosting!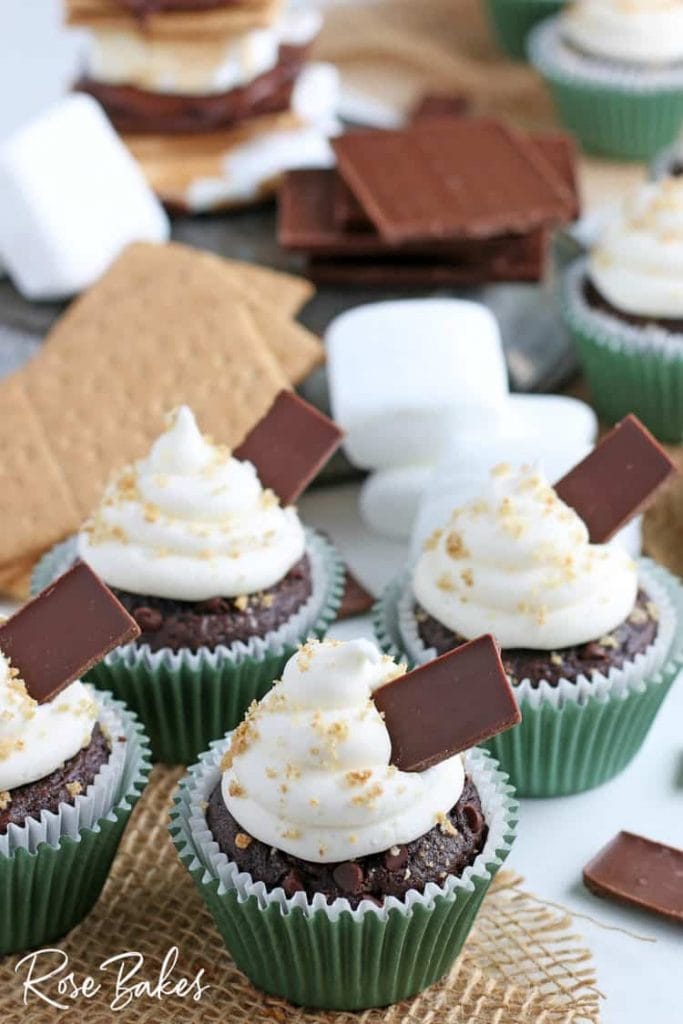 Death By Chocolate Cupcakes With Chocolate Ganache Buttercream
The ultimate chocolate lovers cupcake. Dark chocolate cupcakes, swirled with chocolate ganache buttercream and topped with dark chocolate pieces, a dark chocolate truffle and a chocolate sprinkles.
Salted Dark Chocolate Cupcakes
These dark chocolate buttermilk cupcakes are topped with a simple dark chocolate ganache and finished with a sprinkling of sea salt.
Nutella Cupcakes
Rich chocolate cupcakes topped with a creamy dreamy Nutella buttercream. If you like Nutella you'll love these cupcakes!
Chocolate Caramel Cupcakes
Chocolate Caramel cupcakes consist of crazy moist chocolate cupcakes filled with sticky and buttery homemade caramel sauce and covered with a light caramel whipped mascarpone cream frosting.
Double Chocolate Peanut Butter Filled Cupcakes
These moist chocolate cupcakes also have chocolate chips, are topped with chocolate buttercream, and then filled with peanut buttercream.
Texas Sheet Cake Cupcakes
Texas Sheet Cake Cupcakes are light and fluffy chocolate cupcakes topped with a rich fudge frosting. This is the easiest way to make Texas sheet cake!
Gluten Free Chocolate Cupcakes
Chocolate cupcakes with chocolate ganache frosting are so easy to make and look and taste delicious.
One-Bowl Eggless Chocolate Cupcakes
No fuss, no muss with this super easy chocolate cupcakes recipe. No eggs are needed!
Easy Cupcake Recipes For Kids
When it comes to easy cupcake recipes for kids, you can go wrong with sweet, colorful and fun! If you're looking for some inspiration, check out these easy cupcake recipes that are perfect for a kid's party or school treat. From chocolate to vanilla, we've got you covered.
Spaghetti and Meatball (April Fools) Cupcake
This easy April Fools Day Spaghetti & Meatball Cupcake recipe will have your kids, friends and family laughing!
Twinkie Cupcakes
These fun Twinkie Cupcakes are a spot-on copycat of the childhood favorite! Sweet yellow cupcakes with a creamy filling, just like the original!

If you're a Twinkie fan, also check out these Easy Twinkie Truffles (perfect for kids to make!)
Cookie Monster Cupcakes
Everyone's favorite loveable character comes alive in these cute Cookie Monster cupcakes. They are so easy to make and perfect for a boy or girl's birthday party.

Cake and ice cream are a perfect pair. Check out this Easy No-Churn Cookie Monster Ice Cream to go with your cupcakes.
Sweet Churro Cupcakes
Who doesn't love the dusting of cinnamon and sugar on a hot churro? These cupcakes will take you back to enjoying a hot Churro from an amusement park on summer days. Easy recipe to make with the family.
Watermelon Cupcakes
Check out this fun and easy recipe for bright, summery cupcakes that are also delicious!
Cute Narwhal Cupcakes
A super cute animal cupcake for kids, these Narwhal Cupcakes pay homage to the unicorn of the sea!
Polar Bear Cupcakes
It's easy to decorate polar bear cupcakes. Chocolate cupcakes, vanilla icing, peppermint patties, and coconut help you make adorable polar bear paw cupcakes.
Dr Pepper Cupcakes
These Dr Pepper cupcakes are so delicious and will knock the socks off all Dr. Pepper soda fans! They are so simple since they start from a chocolate cake mix and can even be made gluten-free.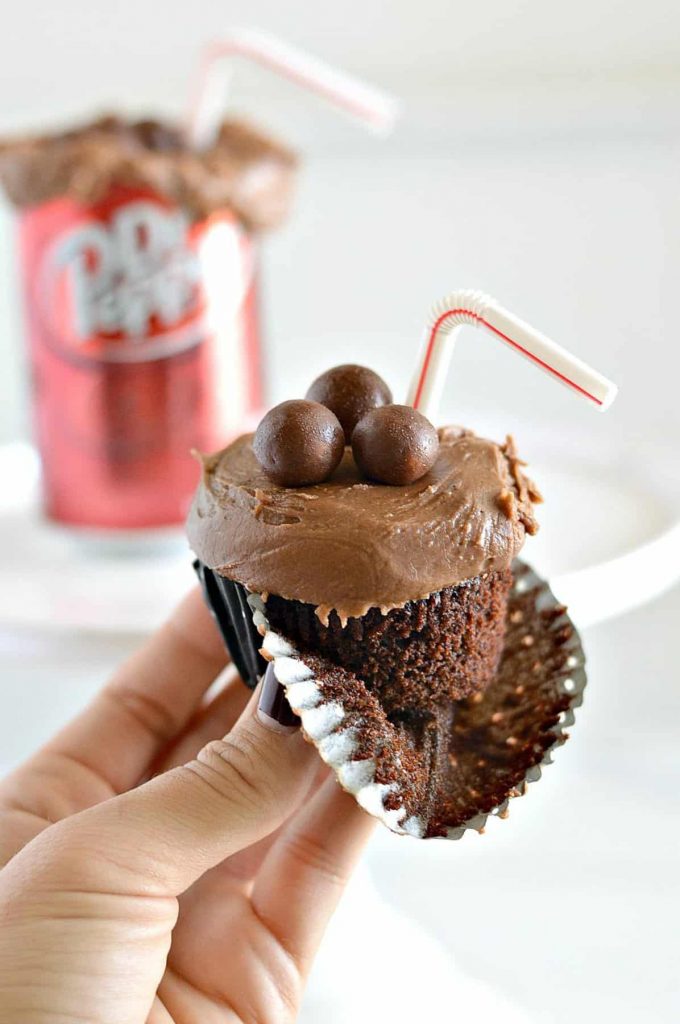 Oreo Owl Cupcakes
Two Golden Oreo Cookies made the huge eyes on these adorable kid-friendly owl cupcakes.
Sorting Hat Cupcakes
These Harry Potter-themed cupcakes use an Oreo and Hershey Kiss to form the sorting hat.
Be sure to also check out these Harry Potter cookie and cake ideas!
Pink Cupcakes With Sprinkles
These pink cupcakes with sprinkles are so cute, easy, and delicious! Perfect for a party, valentines day, or if you just want a tasty treat, you will love these cupcakes! These cupcakes are absolutely so cute! Despite being so easy to make, they look like they are professional!
Easy Panda Cupcakes Recipe
These panda cupcakes are not only absolutely adorable, but so easy to make, and simply delicious! These panda cupcakes are a super fun craft, and a great recipe for a child's birthday party, or any fun event. They can be made at any skill level, and are such a fun, cute, tasty dessert!
Tie Dye Cupcakes
These groovy cupcakes are swirled with color making them perfect for a kid's birthday party.
Kid-Friendly Birthday Cupcakes
With this super easy recipe, kids can make their own birthday cupcakes.
Ice Cream Cone Cupcakes
Forget the cupcake liner! With this recipe, you pour the batter right into the ice cream cone. And don't forget the cherry on top.

Also check out these fun chocolate-dipped, sprinkle ice cream cones!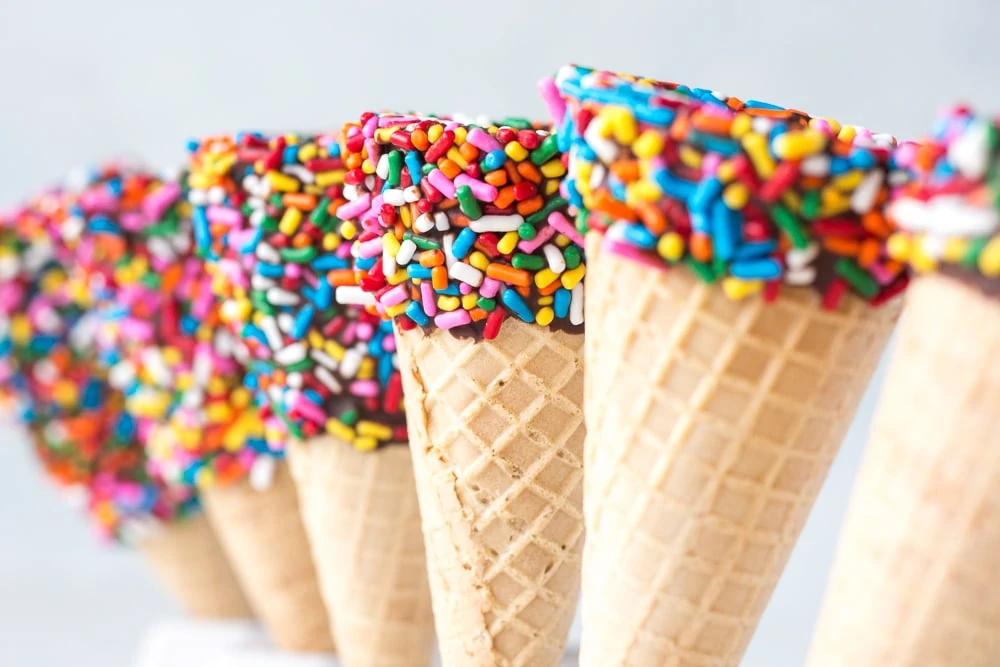 Unique Cupcake Recipes
When it comes to cupcakes, there are endless possibilities. But if you're looking for something truly special, these unique cupcake recipes are sure to stand out. From classic flavors with a twist to completely unexpected combinations, these cupcakes are sure to impress. So whether you're looking for a show-stopping dessert for a special occasion or just want to mix things up in your baking repertoire, give one of these recipes a try. You won't be disappointed.
Boston Cream Cupcakes
These Boston Cream Cupcakes are totally irresistible. From the moist vanilla cake, to the rich pastry cream filling, to the homemade buttercream frosting and smooth chocolate ganache drizzle, this cupcake is like a slice of Boston cream pie in every bite.
Red, White & Blue Layered Cupcakes
Bring out the red, white and blue with these cute Patriotic Cupcakes! The cake batter is multi-colored vanilla and the buttercream frosting swirls together for a final patriotic touch.
Tiramisu Cupcakes
These unique cupcakes are packed with tiramisu flavor and then topped with a light and fluffy raspberry mascarpone whipped cream frosting.
Coconut Chocolate Chip Cupcakes
This light and fluffy cupcake is made with chocolate chips, topped with a decadent chocolate ganache and sprinkled with toasted coconut.
Fun Fruity Pebble Cupcakes
In this recipe, both the melt-in-your-mouth buttercream and vanilla cupcake are packed with the color and taste of Fruity Pebbles.
Circus Animal Cookie Cupcakes
What's pink and white and filled with cookies? It's this dreamy Circus Animal Cupcake recipe!
Banana Split Cupcakes
These super cute Banana Split Cupcakes look like the real deal, but won't melt on a warm summer day. Dripping with chocolate syrup and topped with a cherry and sprinkles, these easy cupcakes are a winner.
Chocolate Peanut Butter Pretzel Cupcakes
Chocolate cupcakes, peanut butter buttercream, chocolate ganache and pretzel peanut topping – wow!
Neapolitan Cupcakes
Milk chocolate and vanilla bean cupcakes plus strawberry buttercream are the perfect flavor combo!
Brown Butter Vanilla Bean Popcorn Chocolate Cupcakes
Try to say that cupcake name 3 times fast! It's a mouthful to say, but it's also a mouthful of deliciousness.
Cannoli Cupcakes
A vanilla cupcake base pairs with ricotta cannoli filling and chocolate whipped cream in this delicious recipe.
Red Velvet Beet Cupcakes (No Food Coloring!)
If you love red velvet cupcakes, but don't love all the food coloring and dyes, then this au natural recipe is for you.
Blue Velvet Cupcakes
You've tried red velvet cake, but how about blue? Learn how to get the perfect blue hue with this recipe.
Gluten-Free Cookie Dough Stuffed Cupcakes
This creative recipe is so easy to make because it's made with gluten-free cookie and cake mixes!
Whole-Wheat Chocolate Cupcakes With Raspberry Whipped Cream
These healthy cupcakes use ingredients like whole wheat flour, applesauce, honey and coconut oil to pack a flavor and nutrition punch!
Boozy (Alcohol Infused) Cupcake Recipes
There's nothing quite like a boozy cupcake to add a bit of excitement to your party menu. Whether you're looking for a classic champagne cupcake or something with a little more punch, these recipes are sure to please. And since they're all made with alcohol, they're sure to put a smile on your guests' faces (21 and older please!!) So go ahead and give one of these boozy cupcakes a try – your party will thank you for it!
Perfect Pink Champagne Cupcakes
Light and Fluffy Pink Champagne Cupcakes with a Smooth Champagne Buttercream Frosting and a fizzy pop of pink champagne.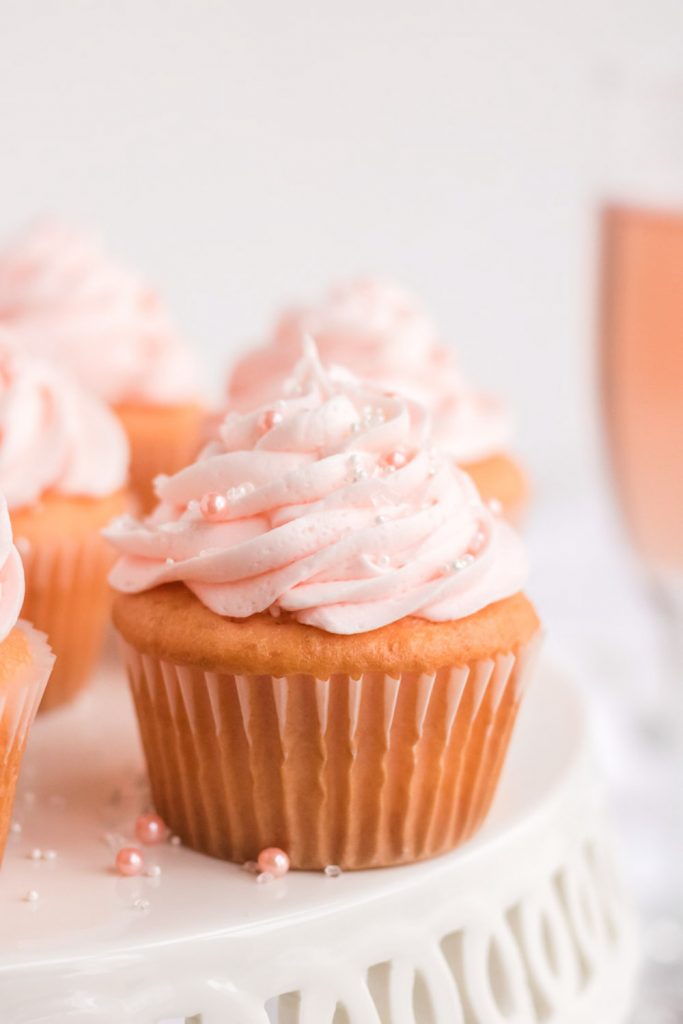 Bailey's Red Velvet Cupcakes
Adults only for this red velvet cupcake with a twist.
White Russian Cupcakes With Vodka Buttercream Icing
You'll love this boozy cupcake inspired by the delicious White Russian cocktail!
Blackberry Bourbon Smash Cupcakes
These gourmet cupcakes have vanilla cake and are filled with a blackberry mint filling, then topped with vanilla bean buttercream.
Rose Wine Cupcakes
These vanilla cupcakes and fluffy buttercream are spiked with your favorite pink wine, rosé!
Spiked Raspberry Lemonade Cupcakes
Your favorite summer drink is transformed into a cupcake AND spiked with Chambord.
Bailey's Irish Cream Cupcakes
These boozy cupcakes are perfect for St. Patrick's Day.
Pina Colada Cupcakes
Coconut rum, pineapple and coconut extract transport these cupcakes to a tropical island getaway!
Jack and Coke Cupcakes
This chocolate cupcake recipe and the "jacked" chocolate ganache are both spiked with cola and Jack Daniels.
Margarita Cupcakes
In this inventive recipe, the cake and buttercream are both flavored with tequila and lime.
Fruity Cupcake Recipes
From light and refreshing citrus cupcakes to rich and decadent pineapple upside-down cupcakes, these fruity cupcake recipes are perfect for spring and summer. So roll up your sleeves, dust off your mixer, and get ready to bake up a storm. These cupcakes are sure to be the hit of any summer party. Enjoy!
Strawberry Shortcake Cupcakes
Cupcakes that taste just like a shortcake! A simple vanilla cake filled with strawberries and frosted with sweet whipped cream.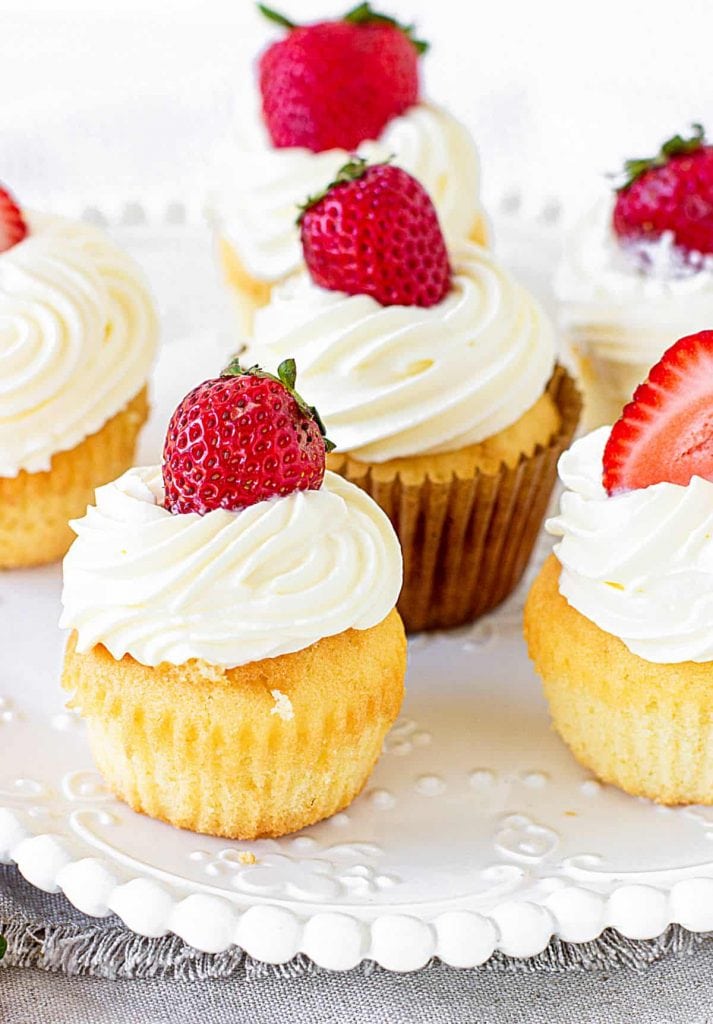 Pina Colada Cupcakes
These Pina Colada Cupcakes are a super moist cupcake bursting with coconut and pineapple flavors. They are topped with a slice of fresh pineapple and the perfect, fluffy homemade frosting. Sit back and relax with this cocktail-inspired treat that's great for any age!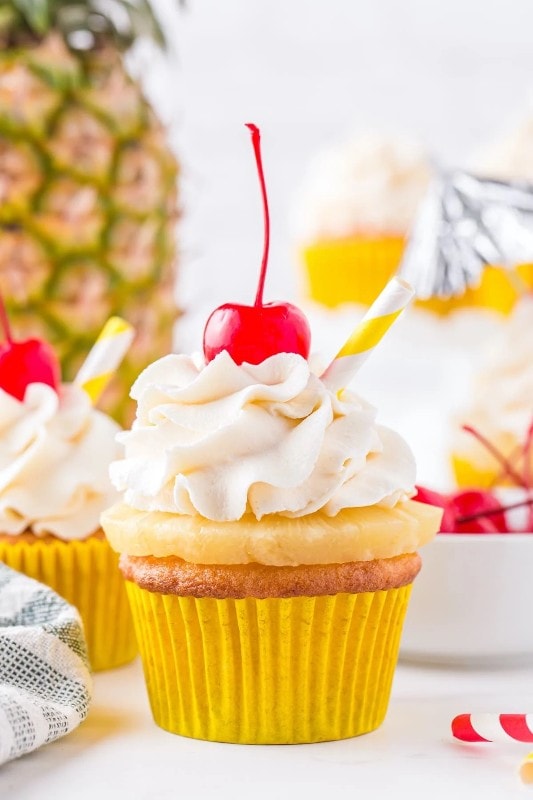 Coconut Lime Cupcakes
These coconut lime cupcakes are the perfect mix of sweet coconut flavor and zesty lime. If you're ready for summer, or just want to bring the taste of summer to your home, this is just the tropical treat you need!
Key Lime Pie Cupcakes
Show-stopping Key Lime Cupcakes are packed with sweet citrus flavor! They're stuffed with a creamy key lime pie filling and topped with lime cream cheese frosting.
Strawberry Crunch Cupcakes
These Strawberry Crunch Cupcakes are a take on the classic strawberry crunch ice cream bars we all ate as kids. They are vanilla and strawberry Jell-O cupcakes, topped with vanilla buttercream, and a delicious strawberry crunch layer.
Lemon Poppy Seed Cupcakes
Scrumptiously soft Lemon Poppy Seed Cupcakes topped with a gorgeous American-style Lavender Buttercream frosting are a perfect floral and bright pairing! They're a lovely light treat during the winter citrus season.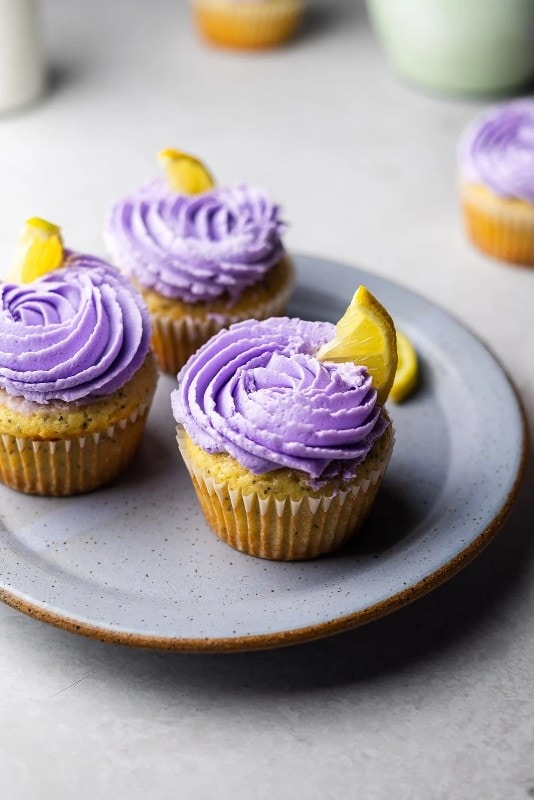 Strawberry Lemon Cupcakes
These Strawberry Lemon Cupcakes are easy to make from scratch using fresh lemon and strawberries! These light, fluffy strawberry lemon cupcakes are topped with a delicious strawberry buttercream for a treat everyone will love!
Lemon Meringue Cupcakes
The classic lemon meringue pie gets the (cup)cake treatment: fluffy cupcakes topped with sweet and tangy lemon curd and a light-as-air toasted meringue frosting!
Classic Strawberry Cupcakes
A cupcake that's pretty in pink! Strawberry Cupcakes pack the juicy taste of berries into every bite. A dollop of beautiful strawberry buttercream on top makes these treats even better!
Orange Creamsicle Cupcakes
These orange creamsicle cupcakes have sweet citrus flavor and are topped with a simple vanilla frosting.
Blackberry Lime Cupcakes
This is the perfect blackberry cupcake! The cupcakes are made with whole blackberries, lime juice and zest. The soft, fluffy buttercream is kissed with blackberry puree and lime zest.
Lemon Blackberry Cupcakes
These light lemon cupcakes are topped with gorgeous blackberry frosting. Perfect for summer!
Fruit Tart Cupcakes
These light and fruity vanilla cupcakes are filled with pastry cream, then topped with a swirl of whipped cream and fresh fruit. A perfect spring and summer dessert!
Berries and Cream Cupcake
This vanilla cupcake is packed with fresh juicy berries. Add a swirl of light whipped cream cheese frosting and more fresh berries for a perfect summer cupcake.
Tropical Mango Vanilla Cupcake
A fresh mango reduction in the buttercream pairs perfectly with the rich vanilla cupcake that's kissed with a hint of coconut.
Easy Apple Pie Cupcakes
This quick and easy cupcake recipe is made with cinnamon roll dough, spiced apples, crumble topping and topped off with caramel sauce.
Cherry Pie Cupcakes
These gorgeous cupcakes get their flavor from cherries, almond extract, buttermilk and a delicious graham cracker buttercream.
Brown Butter Peach Cupcakes
Nothing beats the unique combination of browned butter paired with fresh, juicy peaches!
Pineapple Upside Down Cupcakes
All the elements of a delicious pineapple upside-down cake are here in this mini version: butter, brown sugar, pineapple and a cherry on top.
Kiwi Cupcakes
The summery cupcakes have pureed kiwi and a real slice of kiwi nestled in the buttercream.
Gourmet Cupcake Recipes
Cupcakes are the perfect indulgence – small, sweet, and endlessly customizable. With the right easy cupcake recipe, you can turn even the simplest cupcake into a work of art. If you're looking for inspiration, look no further than this list of gourmet cupcake recipes with adventurous flavor combinations.
Cinnamon Cupcakes with Maple Cream Cheese Frosting
These spiced cinnamon cupcakes are so moist, light, and fluffy and full of cinnamon flavor! They're topped with a heavenly maple cream cheese frosting. These cupcakes are guaranteed to be a hit!
Peanut Butter Cupcakes with Chocolate Buttercream
Peanut Butter Cupcakes with Chocolate Buttercream are a must make for peanut butter chocolate lovers! Moist cupcakes topped with rich frosting.
Carrot Cake Cupcakes with Cream Cheese Frosting
The most delicious Carrot Cake Cupcakes! They are soft and fluffy and topped with homemade cream cheese frosting.
Super Moist Pumpkin Cupcakes
These easy, pumpkin cupcakes start with a regular vanilla box mix. The added pumpkin puree and pumpkin buttercream makes them super moist and delicious!
Persian Love Cupcakes with Lemon, Rose & Saffron
These simple yet elegant cupcakes are bursting with flavors of rosewater, orange blossom, lemon and almond. They are topped with lemon icing and a lemon saffron drizzle.
Hummingbird Cupcakes With Coconut Cream Cheese Buttercream
These nut-free cupcakes are bursting with tropical flavor! Banana, pineapple and allspice cupcakes are topped with a melt in your mouth coconut cream cheese frosting.
Drizzled Lemon Curd Cupcakes
These sophisticated lemon cupcakes are topped with drizzles of lemon curd, sugar crystal sprinkles and candied peel.
Blueberry Pancake Cupcakes
These cupcakes use cinnamon, nutmeg and blueberries to recreate your favorite breakfast food. And of course, it's all finished off with sweet maple buttercream.
Cinnamon Pancake Cupcakes
Believe it or not, these cute cupcakes are made with a scoop of pancake mix and have real mini pancakes right on top of the maple cream cheese frosting.
Banana Cream Pie Cupcakes
Fresh bananas and a Nilla wafer crust give these easy cupcakes a delicious banana cream pie vibe!
Easy Vegan Cupcakes
Vegan cupcakes are all the rage and for good reason. With the right recipe, they're easy to make, and they taste delicious for vegan and non-vegan dessert lovers alike!
Here are some of our favorite vegan cupcake recipes that use ingredients that are easy to find.
Also be sure to check out 8 Ways To Make Frosting Without Butter.
Vegan Vanilla Cupcakes
Shhh! The secret ingredients in these fluffy, moist vegan cupcakes is cake flour, soy milk and vegan butter.
Vegan Chocolate Cupcakes
These easy vegan chocolate cupcakes use soy or rice milk and vegetable oil.
Vegan Dark Chocolate Cupcakes
Rich, dark, fudgy and totally vegan!
Vegan White Chocolate Cupcakes
Vegan white chocolate cake topped with perfect vegan buttercream.
Vegan Funfetti Cupcakes
Grab your almond milk, avocado oil and vegan butter for these colorful vegan funfetti cupcakes.
Vegan Strawberry Cupcakes
These gorgeous cupcakes are bursting with real, fresh strawberry flavor. They are easy to make and don't use any weird or uncommon ingredients.
Vegan Snickerdoodle Cupcakes
No eggs or dairy in these spiced cupcakes with creamy cinnamon buttercream.
Vegan Banana Cupcakes With Cinnamon Frosting
Mashed banana, cinnamon and brown sugar combine in this delicious vegan recipe.
Vegan Salted Caramel Cupcakes
The delicious salted caramel sauce in this recipe uses coconut milk and vegan butter.
Vegan Apple Crumble Cupcakes
These vegan cupcakes are a perfect taste of fall.
---
These 101+ easy cupcake recipes are the perfect way to make delicious homemade cupcakes that look amazing without spending the entire day in the kitchen. We hope you enjoy working your way through this list of delicious (and easy!) cupcakes.
If you enjoyed this article, save it for later on Pinterest, Instagram and Facebook. Also join our Facebook Group for more foodie fun!
Yield: 18 cupcakes
The Perfect Easy Vanilla Cupcake Recipe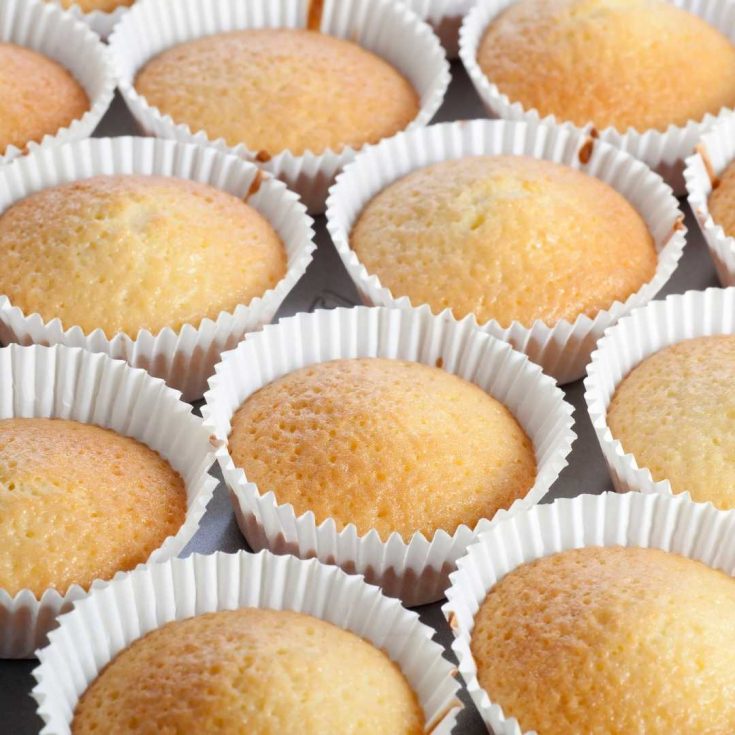 Every baker needs the perfect, easy vanilla cupcake recipe. This simple recipe is classic and delicious.
Ingredients
2 cups all-purpose flour
3 tsp baking powder
1/2 tsp salt
1/2 cup butter, softened
1 1/2 cups sugar
4 eggs, separated
1 cup milk
2 tsp vanilla extract
Instructions
Preheat the oven to 350 degrees.
In a medium bowl, combine the flour, baking powder and salt.
In a separate large bowl, beat together the softened butter, 1 cup of sugar, egg yolks, milk and vanilla.
Next, add the dry ingredients to the large bowl and mix until combined, about 2 minutes. Be sure to scrape down the sides of the bowl.
In a third bowl, whip together the remaining 1/2 cup of sugar and the egg whites. Beat at high speed until the mixture is light, fluffy and smooth.
Carefully fold the mixture into the large bowl of batter.
Add cupcake liners to your cupcake pan. Fill each line to about 1/2 full. Be careful not to overfill.
Bake the cupcakes for 20-25. When ready, the tops will spring back if touched gently and a toothpick inserted in the center will come out clean.
Remove the cupcakes from the oven and allow them to cool in the pan for 5-10 minutes before removing and placing them on a cooling rack.
When completely cooled, top with your favorite buttercream frosting.
Nutrition Information:
Yield:
18
Serving Size:
1
Amount Per Serving:
Calories:

185
Total Fat:

7g
Saturated Fat:

4g
Trans Fat:

0g
Unsaturated Fat:

2g
Cholesterol:

56mg
Sodium:

209mg
Carbohydrates:

28g
Fiber:

0g
Sugar:

17g
Protein:

3g