No food warms you up and makes you think of childhood quite like a batch of freshly baked cookies. From chocolate chip to snickerdoodle, monster to oatmeal raisins, cookies provide something for everyone!
In celebration of the many wonders of cookies, we've made a list of the funniest, cutest, and most delicious cookie quotes and captions about this great dessert.
Best Cookie Quotes
These quotes summarize the best part about cookies: comfort and time with family. Savor these observations about how encouraging a plate of cookies can be!
"Baking cookies is comforting, and cookies are the sweetest little bit of comfort food. They are very bite-sized and personal." – Sandra Lee
"The pleasure lies not in the cookies, but in the pattern the crumbs make when the cookies crumble." – Michael Korda
"I don't care what the question is. Cookies are the answer."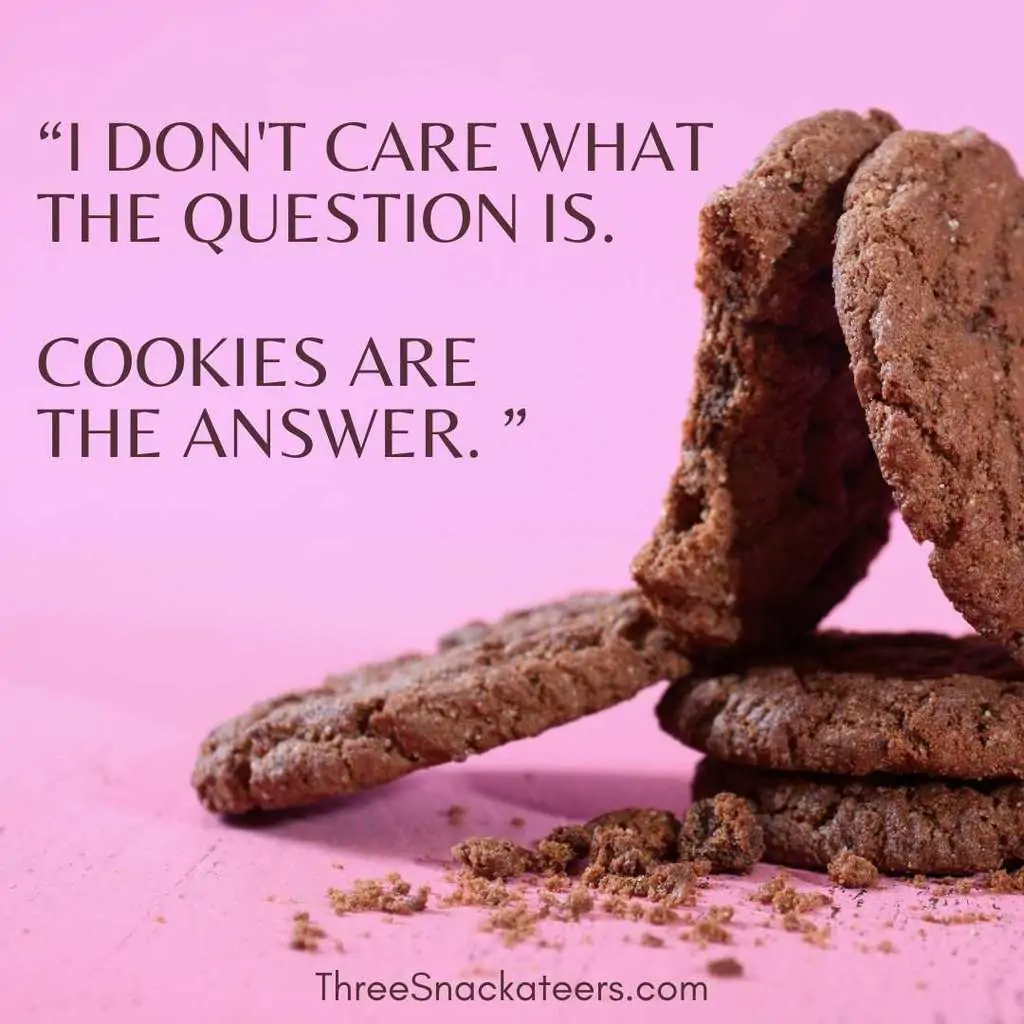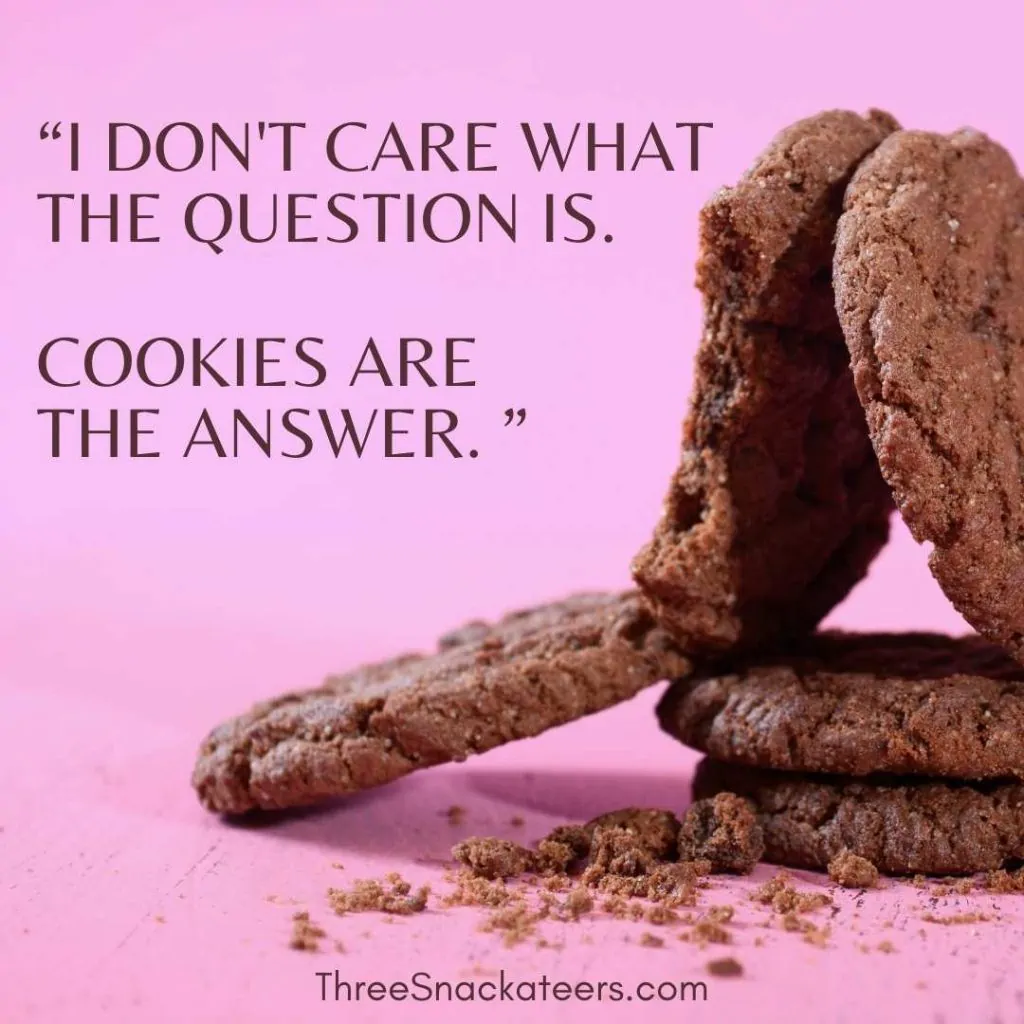 "I really miss being away from home, being in my own bed, seeing my animals and siblings, having my mom's cookies." – Michelle Branch
"Christmas cookies can't help but be retro – they are memory first, sugar-flour-egg-redhot-gumdrop-sparkle reality second." – Dana Goodyear
"I asked myself, 'What could you do every day and never get sick of?' My answer was really simple: Make cookies." – Christina Tosi
"Home is getting a glass of milk and fresh baked cookies after hours of studying."
"Life is short. Surround yourself with good people, and only eat good cookies." – Carol's Cookies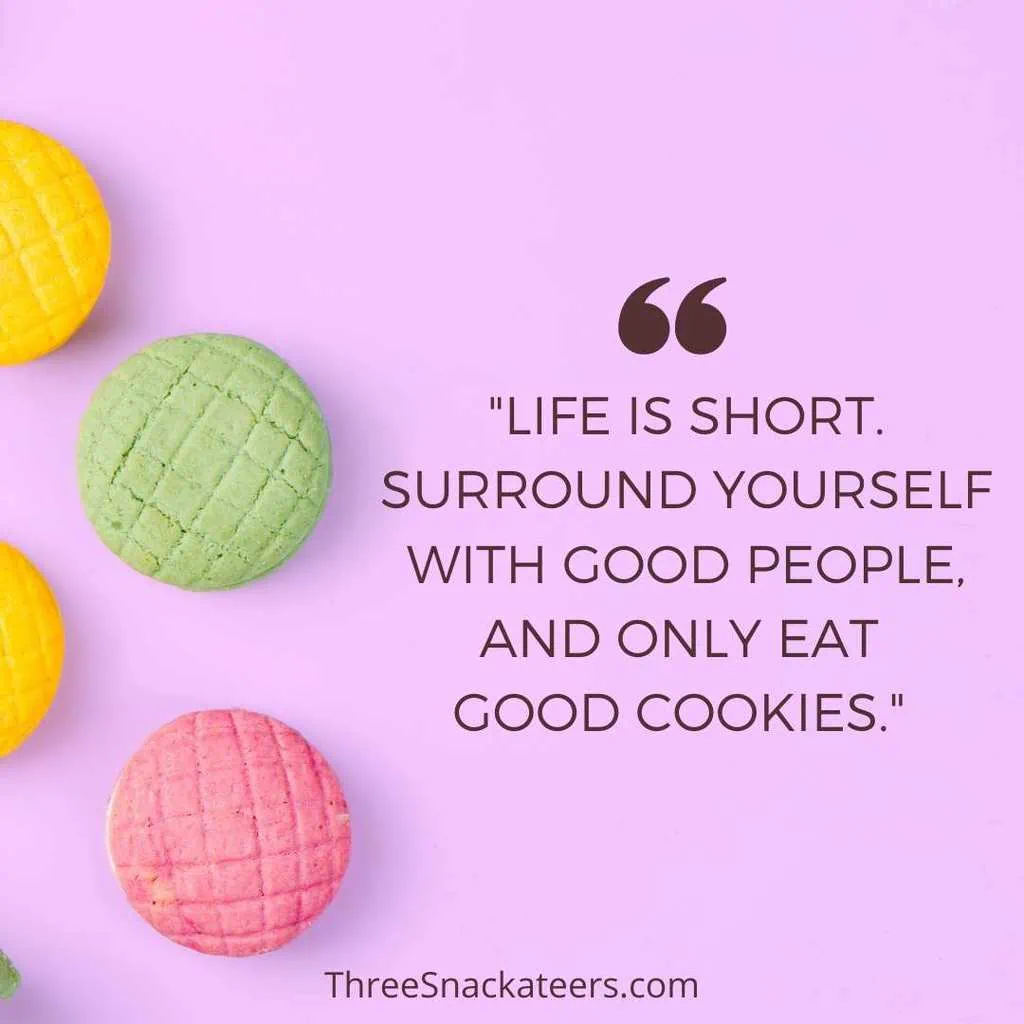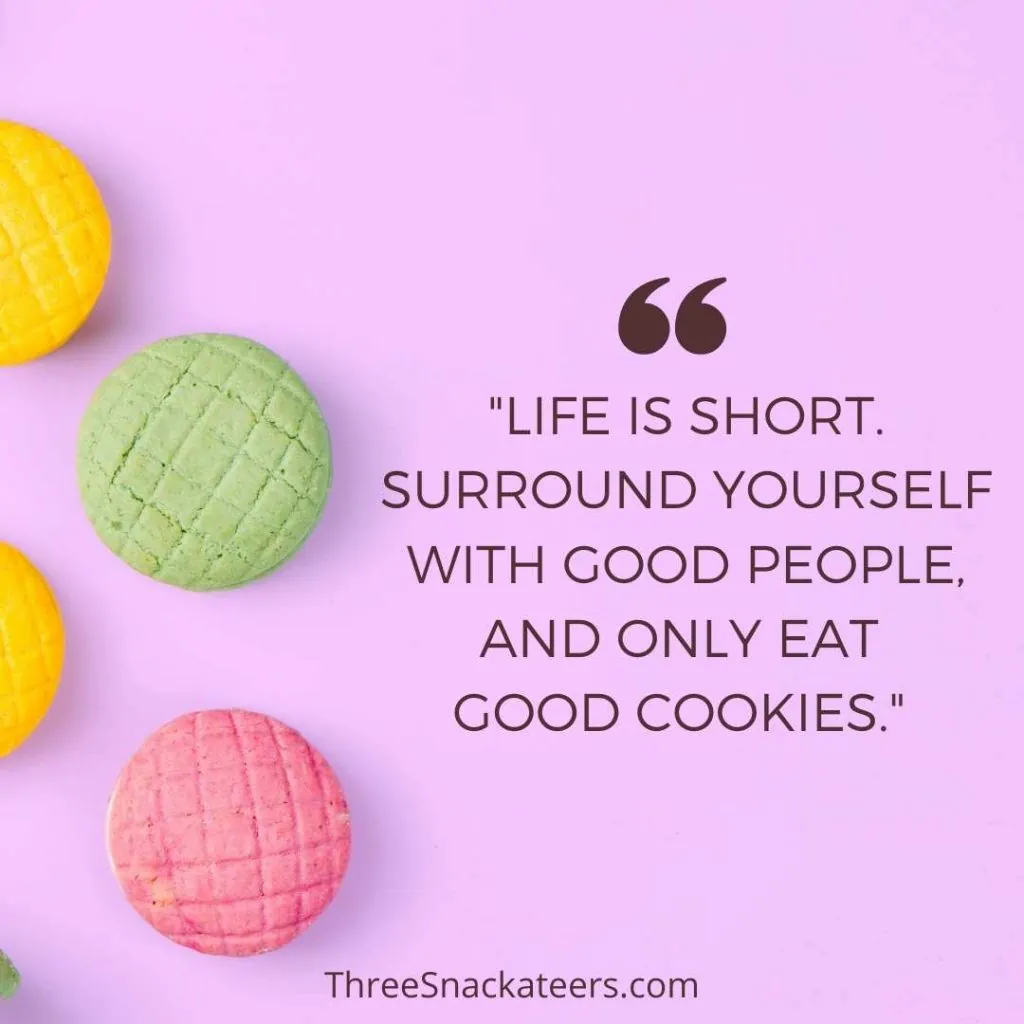 Cute Cookie Quotes
Cookies can bring a sweet smile to anyone's face, and you can expect the same from these sentimental cookie quotes and captions about this heartwarming dessert!
"'C is for cookie, that's good enough for me!" – Cookie Monster
"Number one, I absolutely love making chocolate chip cookies. . . Beyond the fact that I love making them, I love eating them." – Debbi Fields
"The perfect date for me would be staying at home, making a big picnic in bed, eating Wotsits and cookies while watching cable TV." – Kim Kardashian
"In the cookies of life, sisters are the chocolate chips."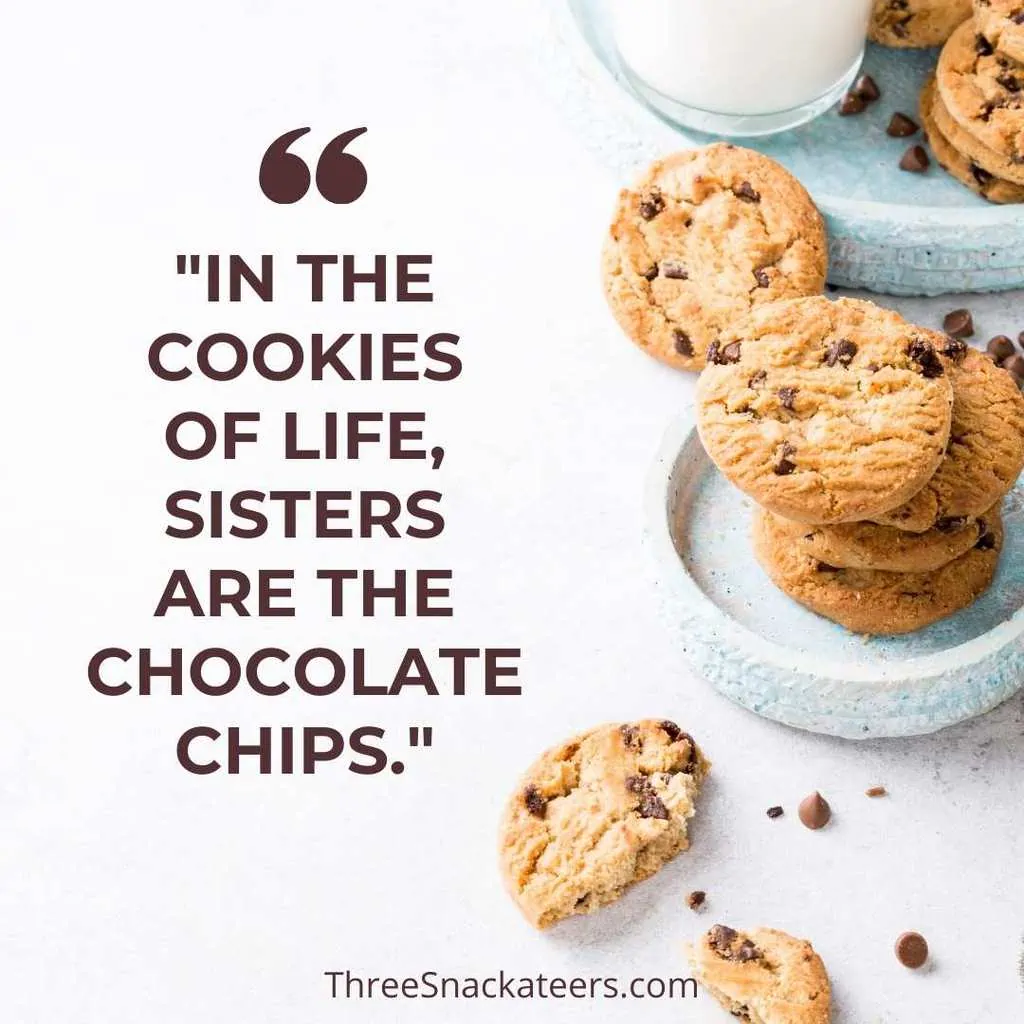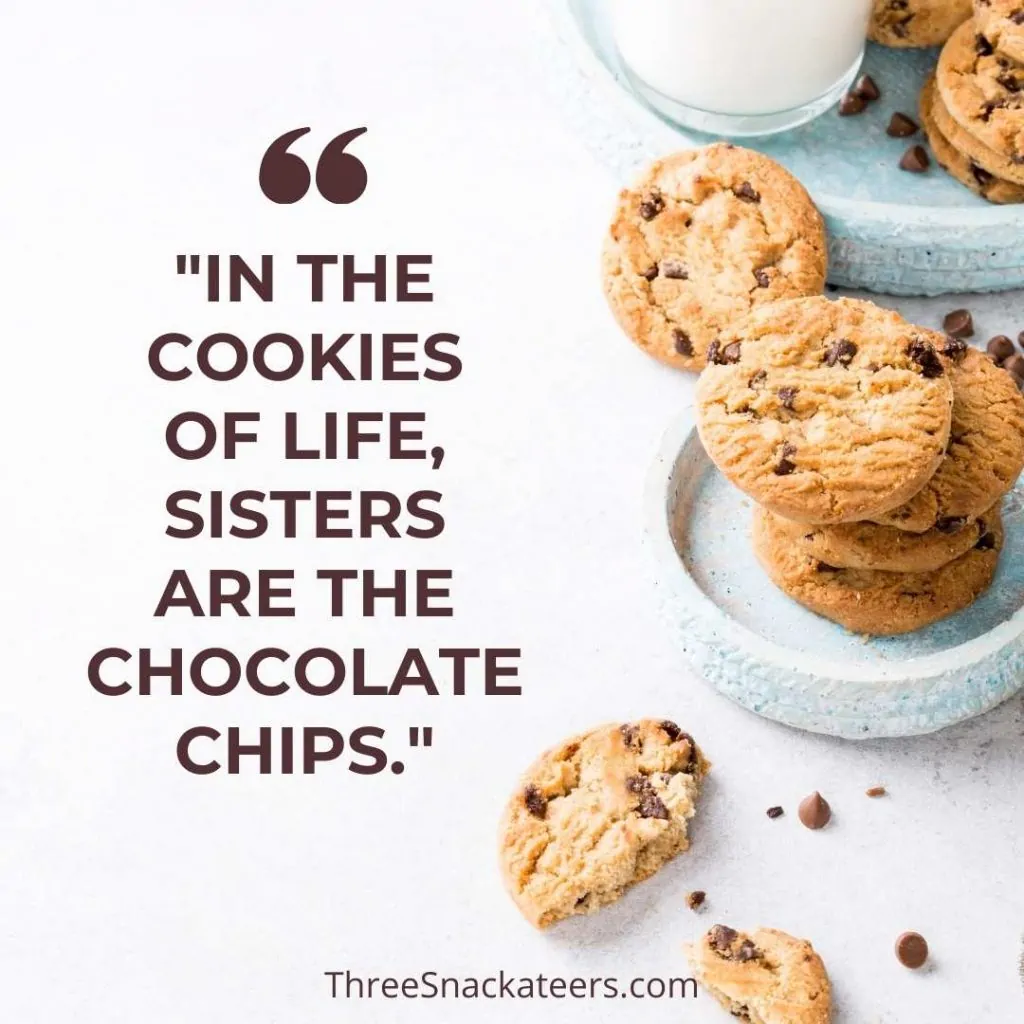 "Mostly I just want to keep doing a play every now and then, watch kids grow and eat cookies and drink tea." – Robert Sean Leonard
"The best cookies of all in the world are the ones my daughter Sally makes. They come out all uniform with nice little air holes." – Willard Scott
"I was raised with cookies on the plate, brownies in a Tupperware container, and so on." – Christina Tosi
"If we had just one cookie, I'd give you the bigger half."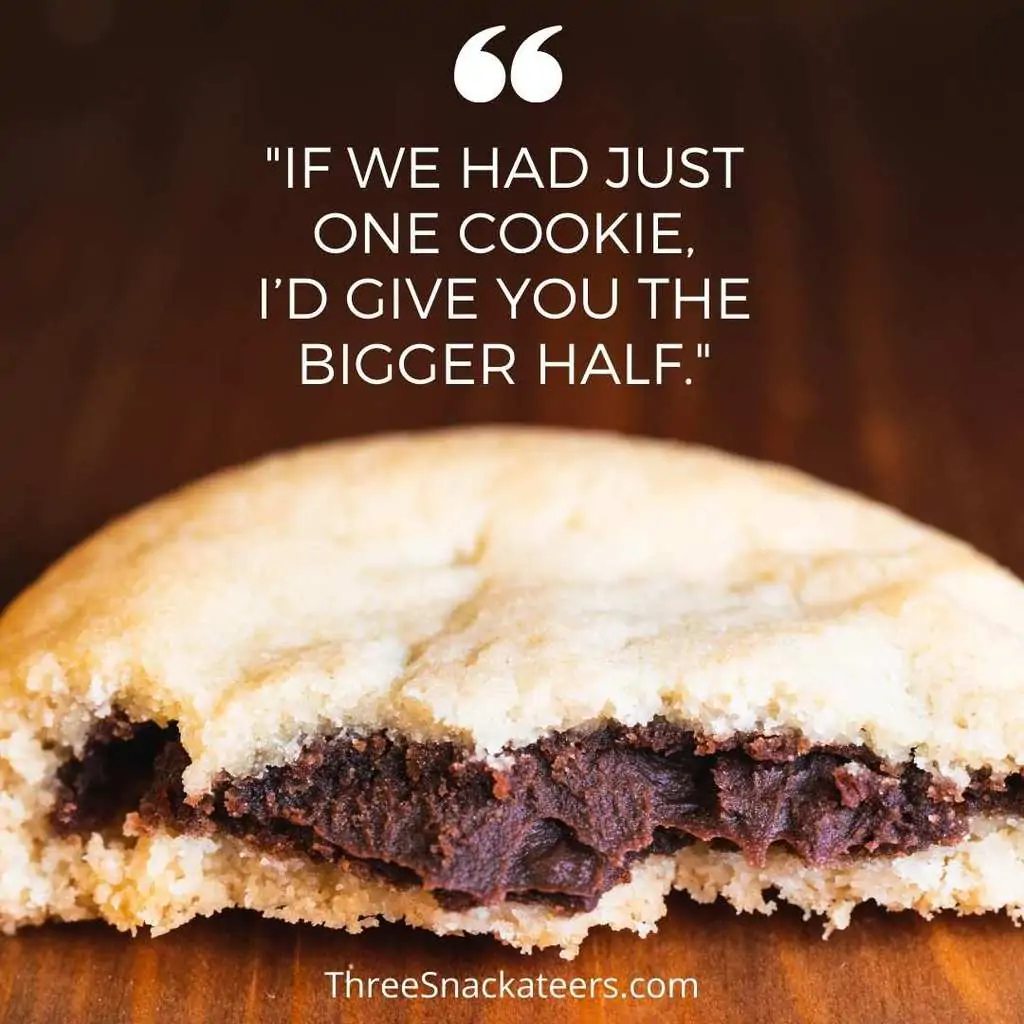 "Baking is how you start kids at cooking in the kitchen." – Sandra Lee
Short Cookie Quotes
Even though cookies take ten minutes to bake, you can say a lot about them in a very short time. These quotes and sayings about cookies are short and sweet (pun very much intended)!
"I think baking cookies is equal to Queen Victoria running an empire." – Martha Stewart
"Cheesecake and cookies is something I can't stay away from." – Paige
"In some areas I am more noted for reading than I am for cookies!" – Wally Amos
"I love chocolate chip cookies; really, anything with chocolate will do!" – Laura Wilkinson
"I have days when I say, 'I'm going to have five chocolate chip cookies today.'" – Melissa Etheridge
"If there are fresh-baked chocolate chip cookies on the table, I won't say no to those." – Misty May-Treanor
"I like to have cookies in the morning before I go swimming." – Brunello Cucinelli
"The big cheat meal will be a cookies and cream milkshake." – Laurie Hernandez
"I have a major weakness for Oreo cookies and David Yurman jewelry." – Frankie Grande
"I don't get sent anything strange like underwear. I get sent cookies." – Jennifer Aniston
"There are days when I just watch a show and eat a packet of cookies." – Rosalia
"My grandmother, Erminia 'Minnie' Morocco, treated cookies like a form of currency." – Chris Morocco
"I like cookies, any cookie you put in front of me: animal cookies, sugar cookies, anything crunchy." – Maria Shriver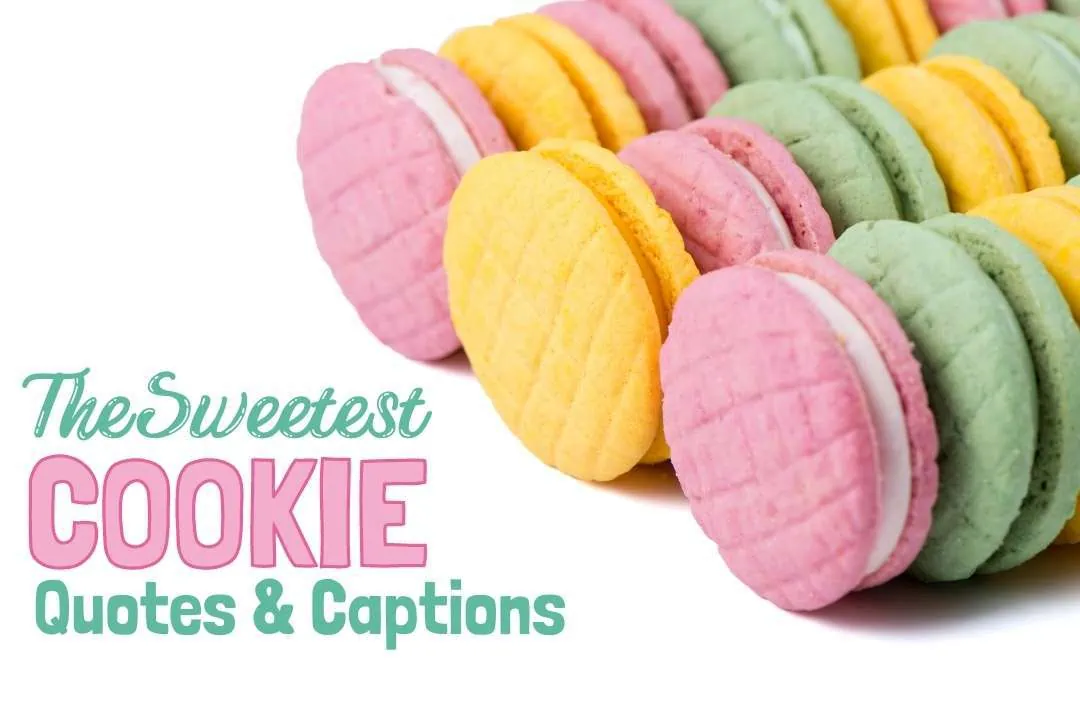 Funny Cookie Quotes
Just like you can laugh out loud with loved ones over a plate of piping-hot cookies, plenty of people have found something to laugh about with these sweet treats. Enjoy these humorous and clever quotes about cookies!
"My weak spot is laziness. Oh, I have a lot of weak spots: cookies, croissants." – Anthony Hopkins
"During the winter, they have these candles that smell like cookies, and I always buy like a hundred of them." – Jared Padalecki
"Yesterday, I really wanted cookies. Today, I am eating cookies. Follow your dreams."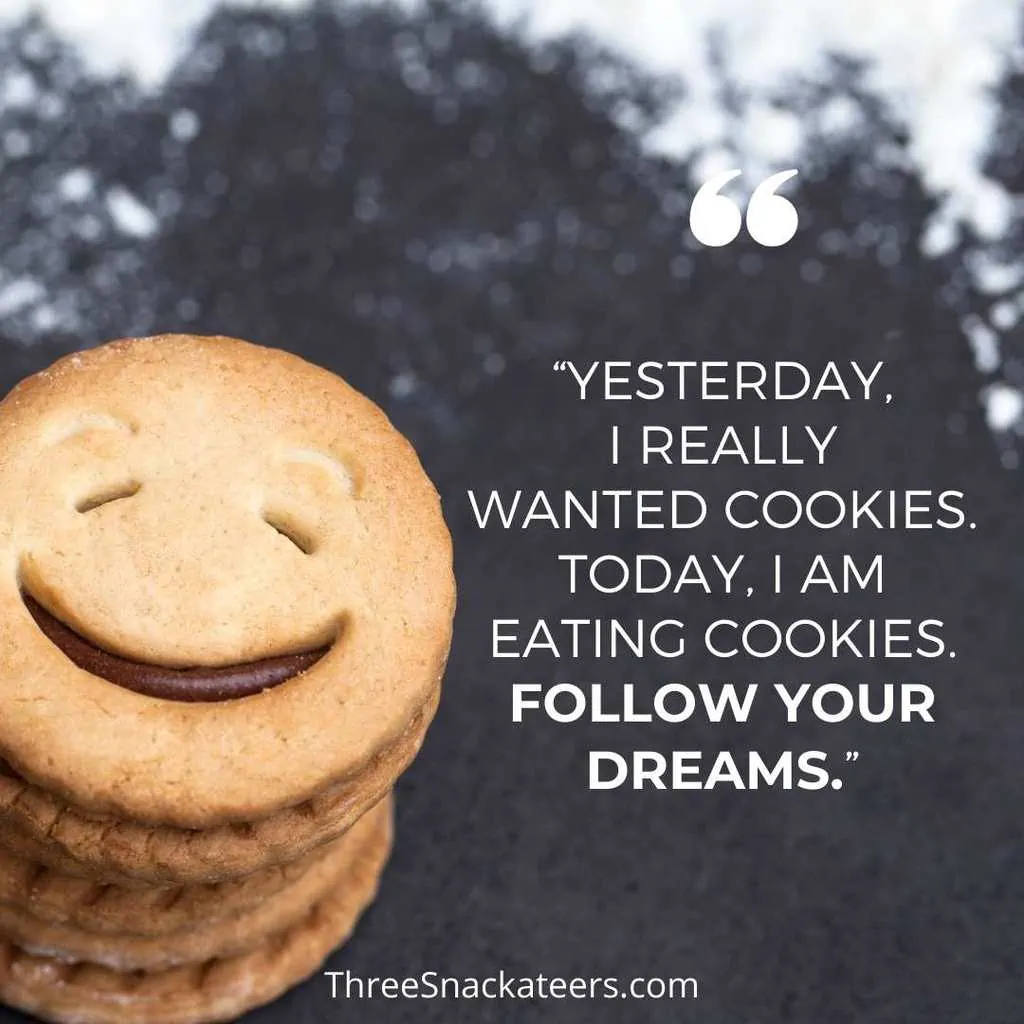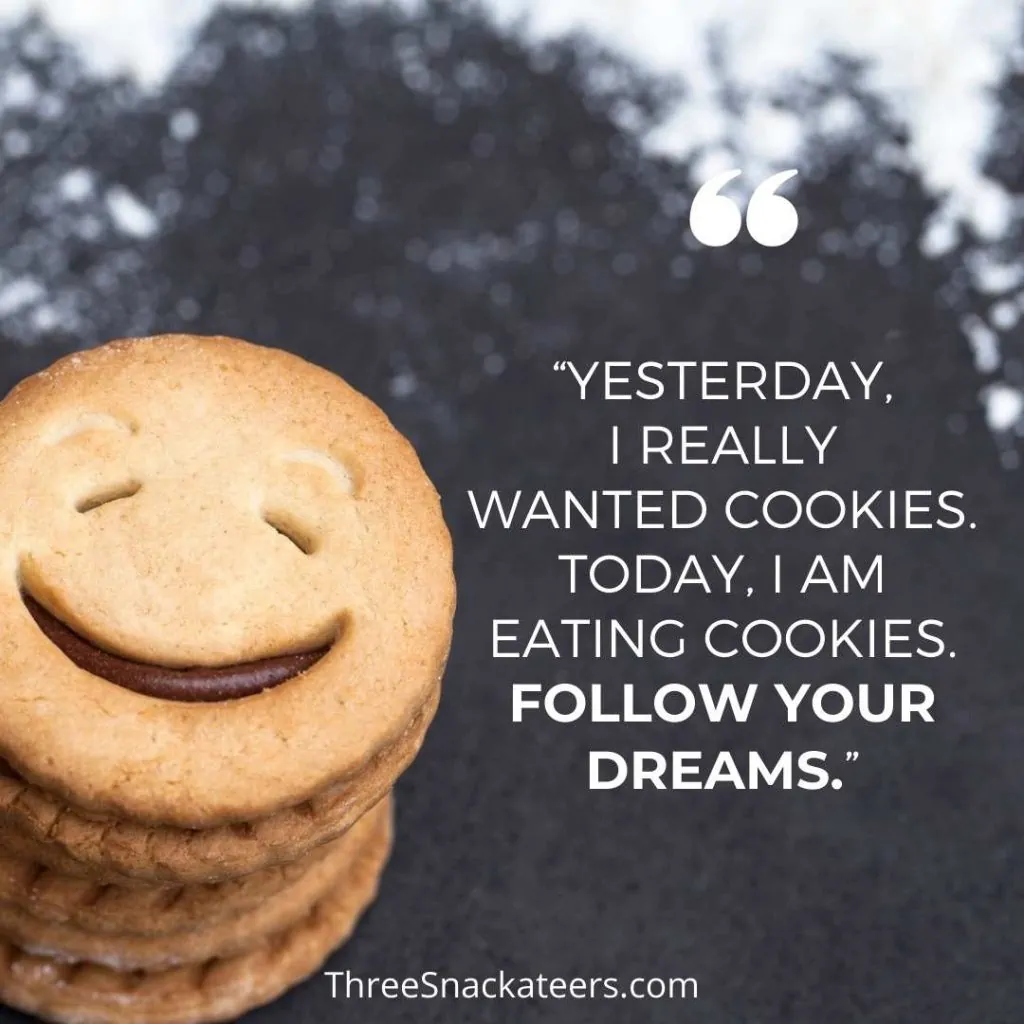 "I'm addicted to chocolate chip cookies. I mean that seriously. If there are chocolate chip cookies, I will devour them." – Hasan Minhaj
"Cookie dough is 100% worth the risk of salmonella."
"I usually travel with a posse . . . I travel like a rapper, but without the artillery. We don't carry guns, we carry cookies." – Gabriel Iglesias
"I have been known to be moved to tears by cookies and ice cream, and ribs are a spiritual experience for me." – Bill Rancic
"Every cookie is a sugar cookie. A cookie without sugar is a cracker."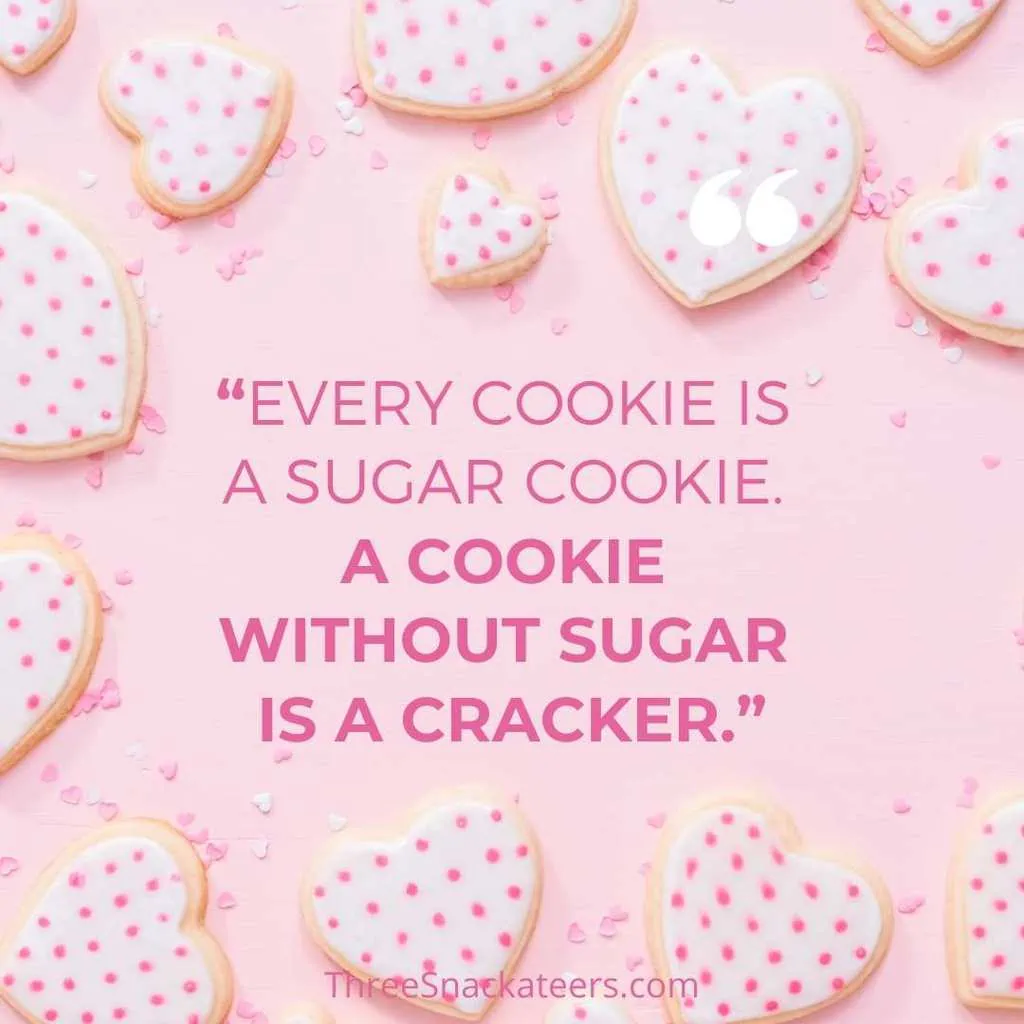 "I'll eat one cookie, not a whole box of cookies. But I'll still eat the one cookie . . sometimes two, or even three." – Kate Winslet
"One time, Dave Zinczenko of 'Eat this, Not That!' fame, busted me in the act. The cookies apparently fall in the 'not that' category." – Lester Holt
"I've got to have my cookies and cream! But I work out a lot, so I burn a lot of calories." – Adrian Peterson
"I'm really good at making cookies. I'm really good at making biscuits, all the really bad stuff." – Molly Sims
"Now and again there are a few cookies going around the training ground. If we have played a game I can afford to have one." – Ross Barkley
"Golden Oreo cookies. I've got 10 boxes of them in my room. I am obsessed with them. But I burn them right off in practice." – Austin Rivers
"Put in charge of cookery on a live kids' show I'd buy cookies from a shop to show as 'ones we made earlier.'" – Zoe Ball
"Today me will live in the moment, unless it's unpleasant, in which case me will eat a cookie." – Cookie Monster
Cookie Quotes for Instagram
Desserts are definitely Instagrammable, but a tray of cookies right out of the oven is truly a sight to behold. Pairing your awesome foodie pics with some of these cute captions is a no-brainer. These cookie quotes and captions will make you laugh and sweeten your timeline!
"Keep calm and eat cookies."
"When the going gets tough, the tough make cookies."
"You can buy cookies, but you can't buy love." – Raquel Welch
"A balanced diet is a cookie in each hand."
"Sorry, I'm busy locked in my pantry eating cookies."
"I think cookies are sort of the unsung sweet." – Bobby Flay
"Cookie-cutter solutions work great on cookies."
"All good things must crumb to an end."
"My cheat days are bread, bread, bread, and cookies." – Jessie James Decker
"Come to the dark side. We have cookies!"
"Friends are nice, but friends with cookies are better."
"Cookies are made of butter and love." – Norwegian proverb
"Home is where the cookies are."
"Cookies are like duct tape. They fix everything."
"I have it down to one cookie a day." – Princess Sassy Pants and Co.
"We go together like cookies and milk."
"National cookie day is every day in this house."
Inspirational Cookie Quotes
You may not think of cookies as a source of inspiration, but they sure can inspire you to be better. Whether you want to keep enjoying your favorite treat in moderation, or you think those little desserts can motivate you to greatness, you can find something inspiring these thought-provoking cookie quotes and captions!
"Fortune cookies are a good idea. If the message is positive, it can make your day a little better." – Yao Ming
"Do I have chocolate chip cookies? Yes, I do . . . But when I have them, they're worth it. I earned them. I did something.." – Jocko Willink
"It's much harder to be sad while eating a cookie."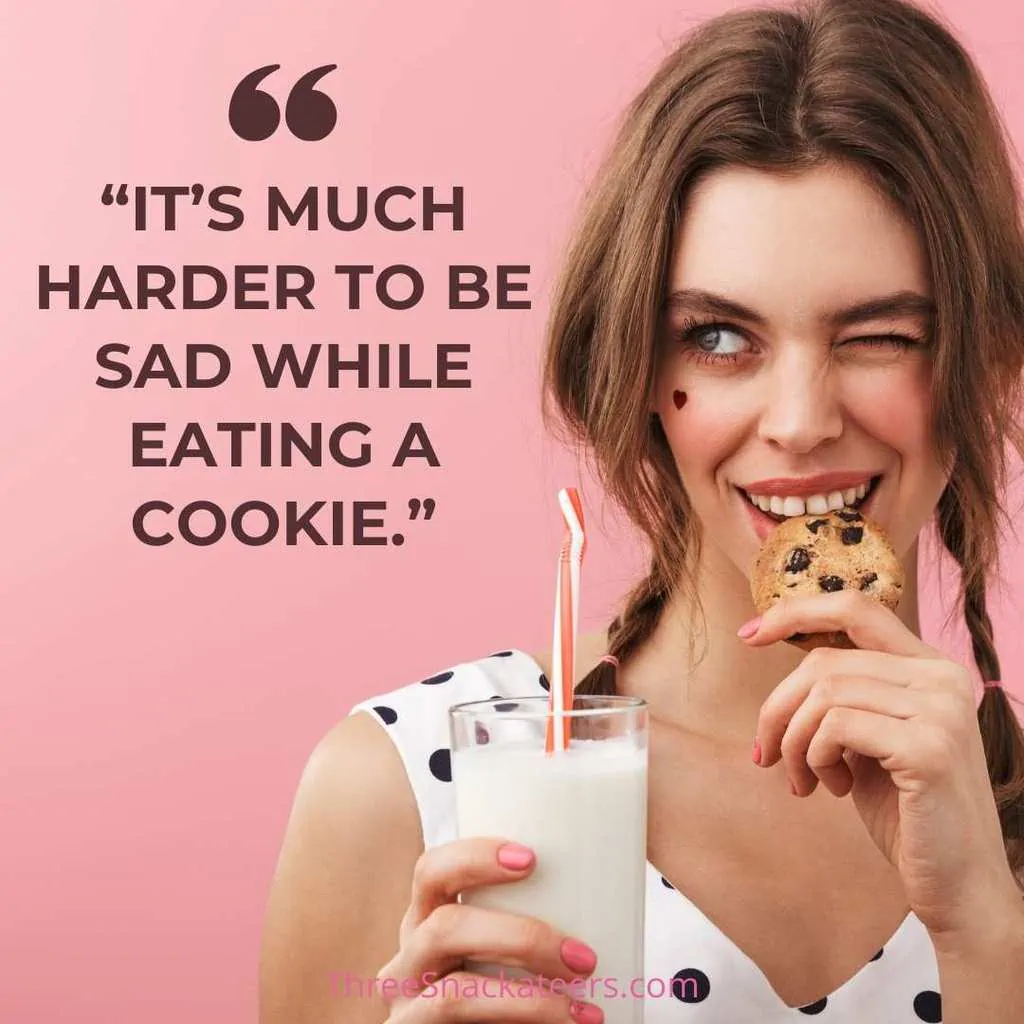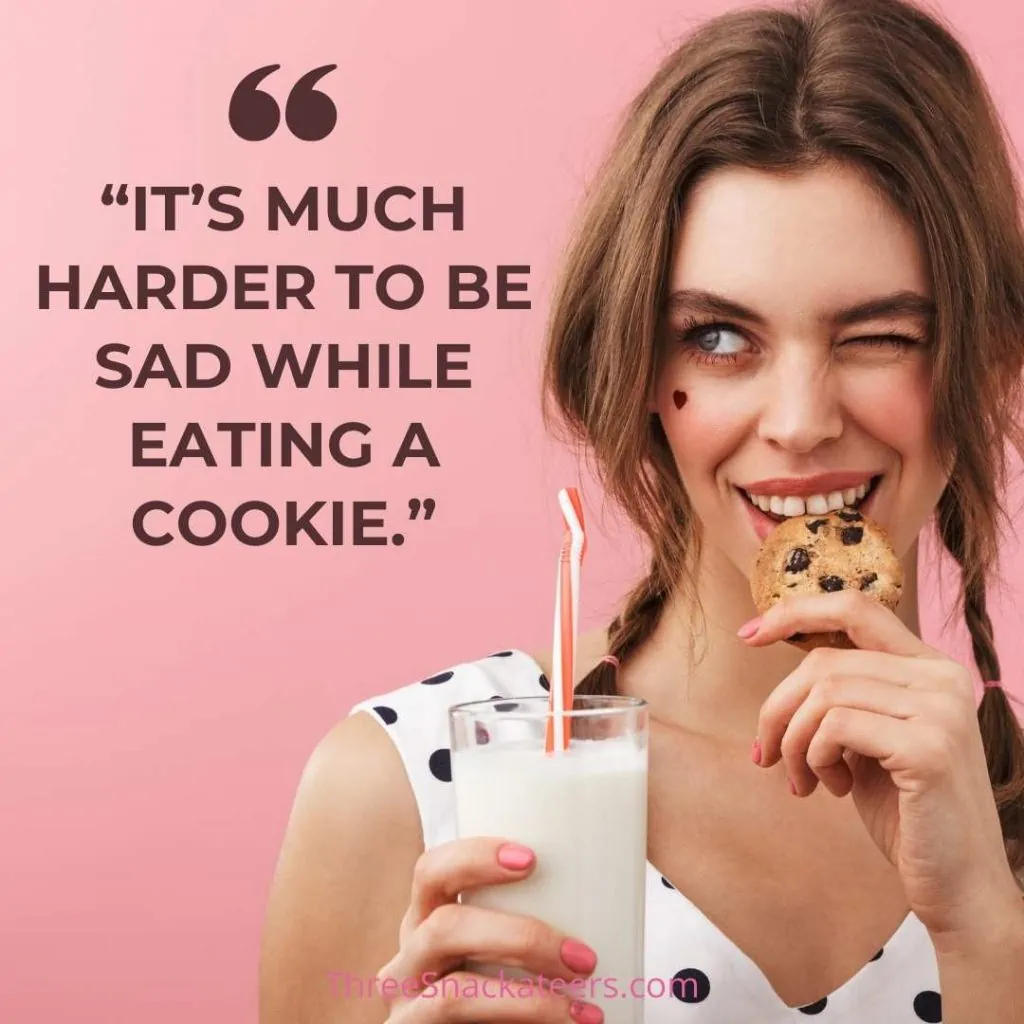 "If you know you want to eat more cake or more cookies, be willing to work out a lil' bit more." – Herschel Walker
"I can't convince you to stop eating the cookies when you're a diabetic. You have to do that. And that takes responsibility." – Don Young
"Selling cookies helped me to realize that you needed to have a certain way to communicate with people." – Maria Bartiromo
"People have got to learn: if they don't have cookies in the cookie jar, they can't eat cookies." – Suze Orman
"Know what fuels your body to be at its best, and enjoy the little things! Indulge! Cupcakes and cookies." – Ali Krieger
"If you know cookies are your weakness, don't even bring them in the house because, like me, you will eat them." – Rachel Hollis
"I would love to eat my body weight in chocolate chip cookies, French fries, and peanut butter, but I don't. I choose not to." – Gunnar Peterson
"Reach as high as you can, and then reach a little higher. There you will find magic and possibility. And maybe even cookies." – Marc Johns
"If you can't change the world with cookies, what's the point?"
---
We hope these clever, sometimes-punny cookie captions and fun cookie quotes have sweetened your day and brought a smile to your face. Maybe one of these fabulous quotes will be a perfect fit for your next social media post or any other sweet idea you may have.
If you're interested in food quotes, then you'll also love these!
– 80+ Food Quotes
– 215+ Pizza Quotes
– 133+ Wine Quotes
– 101+ Best Dessert Quotes
– 75+ Kitchen Quotes
– 75+ Baking Quotes
– 75+ Cookie Monster Quotes
– 101+ Best Pumpkin Quotes
If you enjoyed this article, save it for later on Pinterest, Instagram and Facebook. Also join our Facebook Group for more foodie fun!