There's a time and a place for making frosting from scratch. But sometimes you just want to quickly open a can of frosting and be done with it!
Unfortunately, most of the time store-bought frosting is no match for homemade. It can be way too sweet, too thick, or just plain taste bad! But don't throw out that can of frosting just yet…
In this ultimate guide, you're going to learn some really easy ways to make store-bought frosting better. Way better!
The beauty of these tips and tricks is that the options are endless. You can keep it simple and try just one idea such as adding a pinch of salt to cut the sweetness.
Maybe you want to try a canned chocolate frosting and add instant espresso to kick up the chocolate flavor even more.
Or you can let your imagination run wild and create a whipped cream cheese frosting with purple food coloring, crunchy pretzels and cotton candy extract! 🙂
YOU MAY ALSO ENJOY:
– 5-Minute Chocolate Buttercream From Scratch
– 10 Delicious Cinnamon Roll Icing Recipes (With and Without Cream Cheese)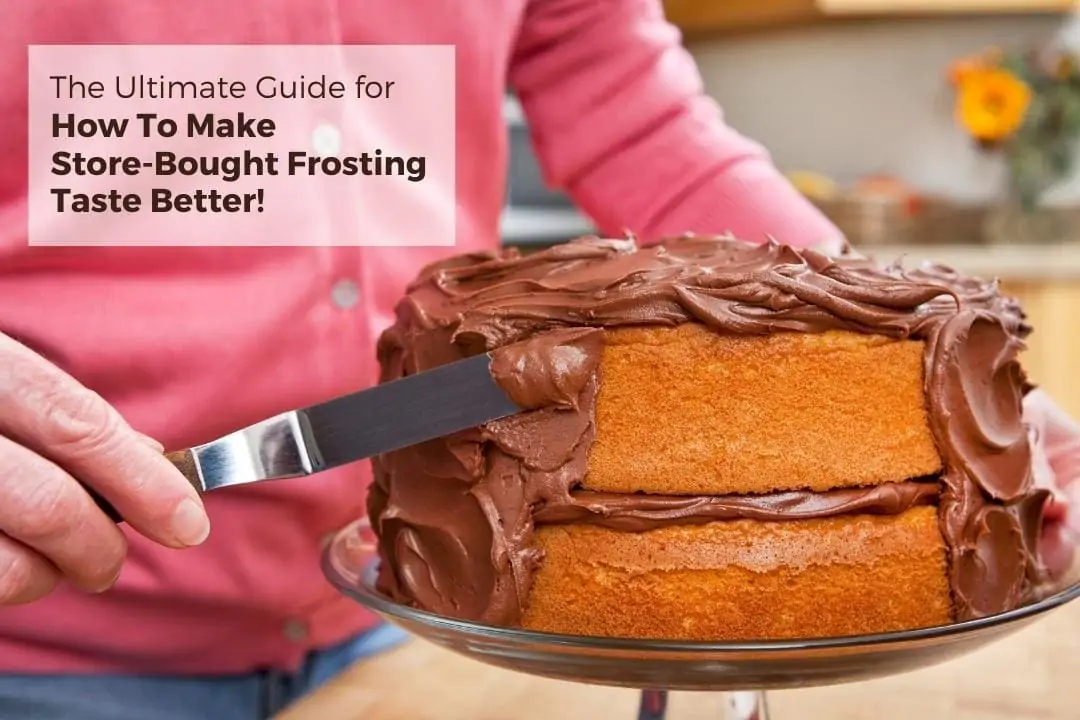 The Ultimate Guide To Make Store-Bought Frosting Better
---
1. TYPE OF CANNED FROSTING TO USE
The tips, tricks and hacks in this article can be used to make pretty much any type of store-bought frosting taste better.
Store Bought Frosting Brands
The brand you select really doesn't matter too much. Some are better quality than others, but at the end of the day, all canned frosting can use some improvement in the taste and texture departments.
A few popular canned frosting brands include Duncan Hines, Betty Crocker, Pillsbury, Wilton, Simple Mills, Baker's Corner (Aldi), or Great Value (Walmart). But of course, if you have a favorite frosting brand, then by all means use that.
Canned Frosting Flavors
If you browse the baking aisle at the store, you're likely to see quite a few different flavors and styles of canned frosting. You'll see classic options like vanilla and chocolate.
Other popular flavors are strawberry, lemon, caramel, and cream cheese. Some labels even boast they are buttercream or homestyle.
However, if you start with a basic flavor like vanilla or chocolate frosting, you have more opportunities to make the store-bought frosting better with some of the techniques you'll learn here.
For example, instead of buying strawberry frosting in a can, you can easily incorporate a delicious, homemade strawberry flavor to a basic vanilla frosting by adding your own jam, extracts or fresh fruit.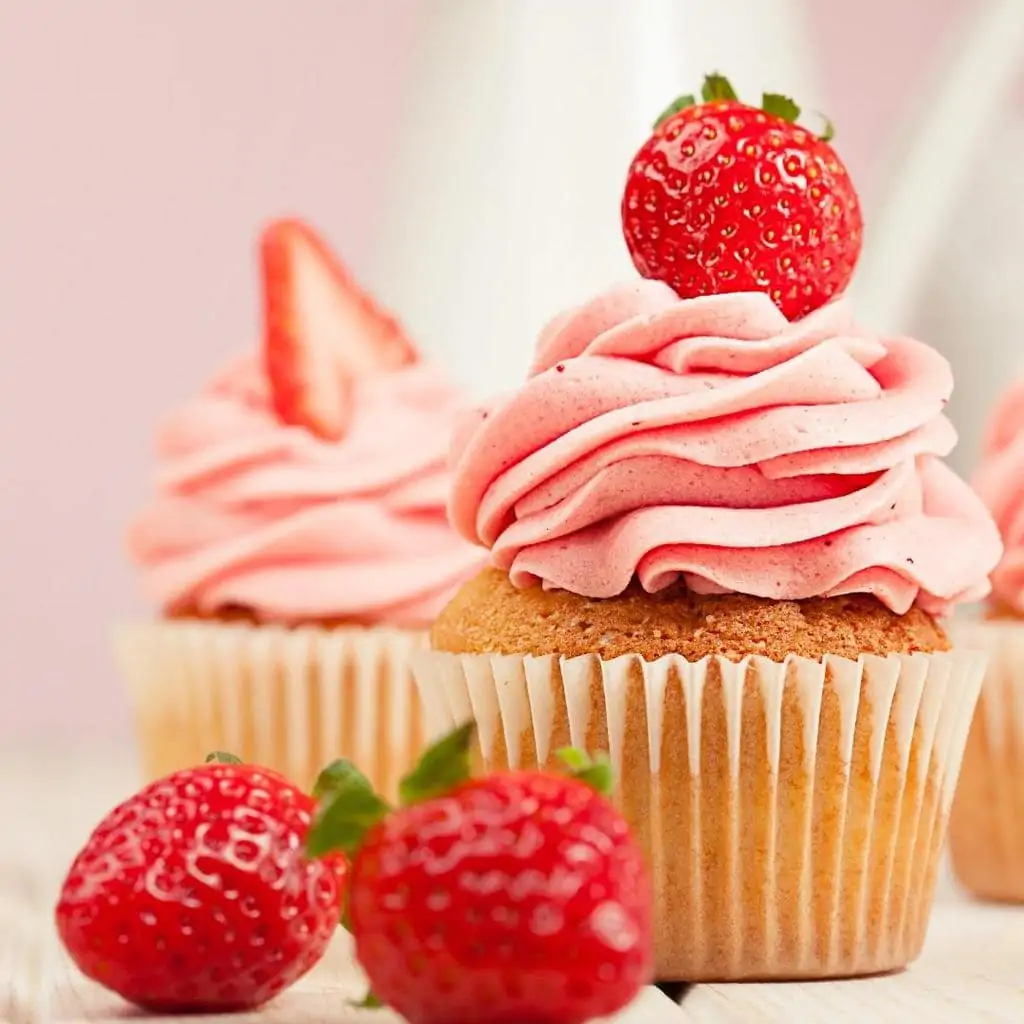 ---
2. IMPROVE THE CONSISTENCY
Before you get started on doctoring up your frosting, consider the type of consistency you want it to have. This will depend on how you plan to use it.
Will you be spreading it on cupcakes, piping it on a cake, or maybe even using it as a glaze on truffles? Or do you just want it to be super fluffy or rich?
Check out the hacks listed below and you'll be on your way to frosting that tastes (almost) homemade.
How To Make Store-Bought Frosting Thinner
Canned frosting has a tendency to be very thick and almost gluey. If you need the frosting to be thinner, you have several options.
Basically, adding a small amount of any liquid will help to thin the icing. Start by incorporating a 1-2 tablespoons and work your way up until the consistency is where you need it.
Liquids To Help Thin Canned Frosting
Milk (1%, 2% or whole)
Flavored Milk (like chocolate or strawberry)
Whipping Cream
Half and Half
Flavored Coffee Creamer
Coffee
Egg Nog
Fruit Juice
Non-dairy Milk Alternatives
Alcohol or Liquors
Water (technially you could use water, but any of the options above will give you a better tasting result)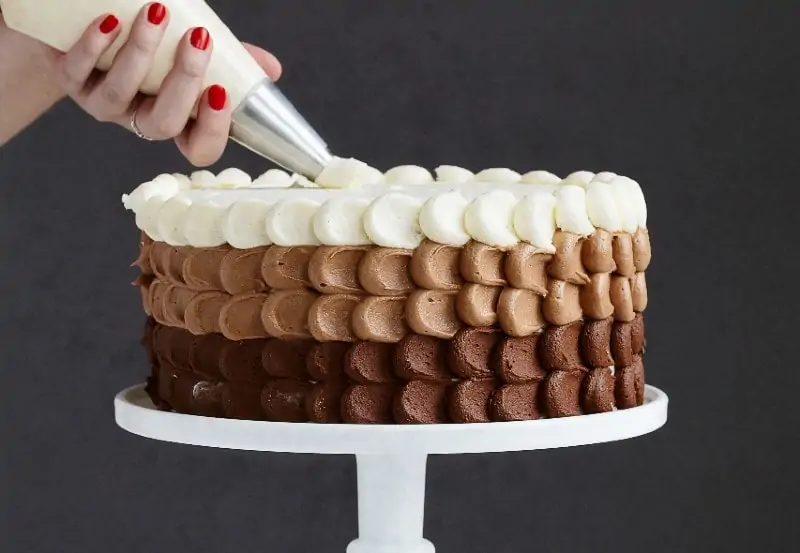 How To Make Store-Bought Frosting Thicker (For Piping)
If you will be piping decorations such as flowers, you might want the frosting to be thicker to help it keep its shape. The quickest way to thicken canned icing is to add powdered sugar.
How To Thicken Canned Frosting
Put your canned frosting in a mixing bowl.
Add 1 tablespoon of powdered sugar.
Use an electric mixer to incorporate.
Add additional tablespoons of powdered sugar as needed until you reach your desired consistency.
Add a pinch of salt if needed to balance the sweetness.
How To Make Store-Bought Frosting Fluffy
There are two really easy ways to make store-bought icing light and fluffy.

Method 1: Whip It
Try using a hand mixer or electric stand mixer to whip your icing. Whipping the frosting will almost double the volume. The texture will be light and airy, making it easy to spread.

Method 2: Add Cool-Whip or Whipped Cream
Adding Cool-Whip or whipped cream will help give your frosting an airy boost. Add equal parts Cool-Whip or other whipped topping and canned frosting to help lighten the consistency.
How To Turn Store-Bought Frosting Into A Glaze
If you need a thin glaze for your cake, donuts, cinnamon rolls or other sweet treats, you can still use canned frosting. Just follow these easy steps.
How To Make Glaze From Canned Frosting
Put your canned frosting in a large mixing bowl.
Put frosting in the microwave for 20-30 seconds. Stir well.
If needed, continue microwaving in 5-10 second intervals until the desired consistency is reached.
Pour the glaze over your baked goods and allow it to cool.
Check out these yummy Twinkie Truffles that use a canned frosting glaze.
---
3. GIVE IT SOME FLAVOR
Most store-bought frosting brands are rather bland and rely on sugary sweetness as the main flavor. Adding some interesting flavor will boost the overall quality and taste of your icing.
There are quite a few different ways to quickly add a much-needed flavor infusion to your canned frosting.
Extracts, Flavorings, Syrups and Powders
There are lots of fun products out there to add flavor to your frosting. Check out the list below for some traditional and inventive ways to add some delicious flavor.
PRO TIP: A little goes a long way when using concentrated extracts, flavorings and syrups. Always start with a small amount. Be sure to check the packaging of your flavoring for instructions on use. Some products can be so powerful you only need a drop or two!
Vanilla

A good quality vanilla extract is the #1 way to make your frosting taste more like homemade. Check the label to make sure you're using real vanilla extract instead of artificial. Real vanilla costs more but you will use less and the taste is far superior.
For the ultimate vanilla flavor, try a vanilla paste. It has tiny little flecks of real vanilla bean that will give your buttercream a truly homemade look, smell and taste. One of my favorite brands is Nielson-Massey.

Flavored Extract

Common extracts like peppermint, lemon, orange and almond can be found in most stores.
Try specialty extracts from a brand like LorAnn for fun flavors like watermelon, pumpkin, peach, bubble gum, cotton candy and lots more.

Flavored Syrups
Cocoa Powder
Instant Espresso Powder
Strongly Brewed Coffee
Jello Powder
Kool-Aid Powder
Dry Pudding Mix
Alcohol

Try a few tablespoons of tasty booze like Kahlua, Grand Marnier, Amaretto, or Limoncello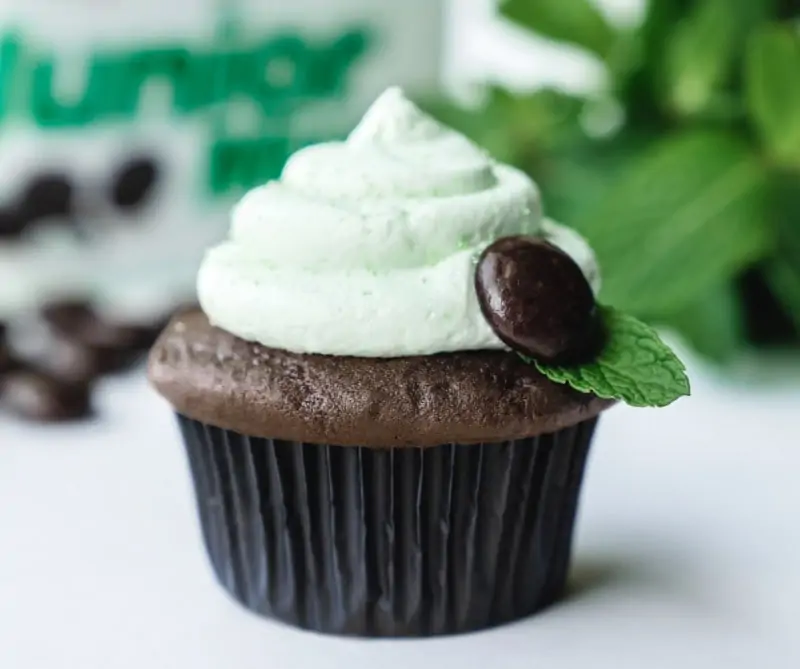 Thicker Flavor Additions
You also have some options that will not only add flavor but also some density to your frosting.
Start with a 1/2 cup for most of the thicker flavorings and work your way up from there.
You can stir any of these in by hand. If the frosting gets too thick, you can add a few drops of liquid or use an electric mixer to incorporate some airiness.
Cream Cheese (frosting will need to be refrigerated)
Peanut Butter (creamy or chunky)
Other Nut Butters (like cashew or almond butter)
Nutella
Cookie Butter
Marshmallow Creme (add a dash of salt to balance sweetness)
---
4. ADD SOME TEXTURE
Adding texture to store-bought frosting is important because it makes the frosting much more interesting and can add flavor and sometimes color too.
Below are some great ideas for adding texture and flavor to your canned icing. For most of these ideas, start with about a 1/2 cup per can of frosting.
You can always add more, but it's much harder (or impossible!) to take it away if you add too much to start.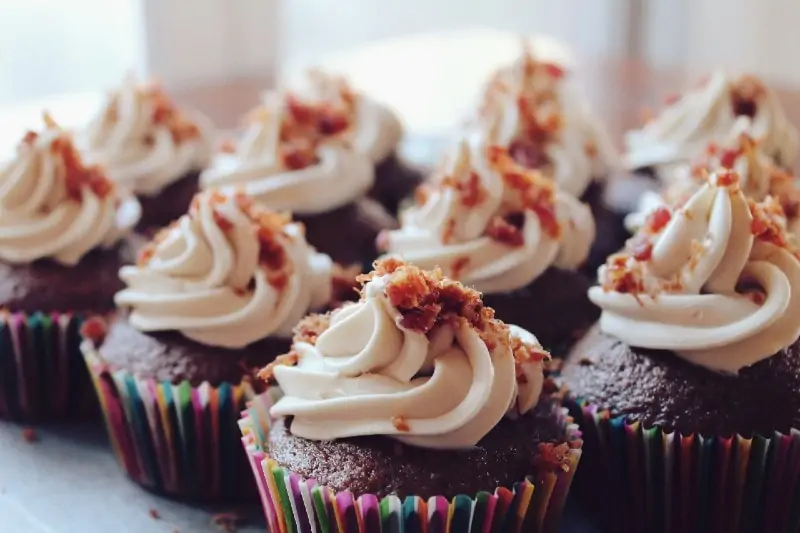 Ideas For Adding Texture To Your Frosting
Fruit

Fresh or canned
Try strawberries, raspberries, blueberries, pineapple, peaches and banana

Jam or Fruit Preserves
Citrus Curd
Pie Filling
Coconut Flakes
Chocolate Chips or Chunks
White Chocolate Chips
Butterscotch Chips
Toffee
Brownie Chunks
Cookie Dough Chunks
Cake Crumbs
Crushed Cookies
Crushed Candies

Try peanut butter cups, M&Ms, peppermints, Butterfinger or other favorites

Jimmies or Sprinkles
Nuts

Toasted nuts will add even more flavor.
Try peanuts, almonds, macadamia, pecans or any other favorite

Pretzels or potato chips for a sweet and salty vibe
How To Incorporate Mix-ins To Your Store Bought Frosting
Put your store-bought frosting in a large mixing bowl.
Add your mix-ins. Usually around a 1/2 cup is a good place to start.
Stir to combine. Avoid using an electric mixer to incorporate your mix-ins.
Slowly stir in more mix-ins if desired. Or use any extras as a garnish after frosting your baked goods.
---
5. DON'T FORGET COLORING
Did you know that the color of your food can affect how you perceive it tastes? It's weird but true!
With that in mind, it seems like a good idea to include a few easy ways to color your store-bought frosting to make it even better.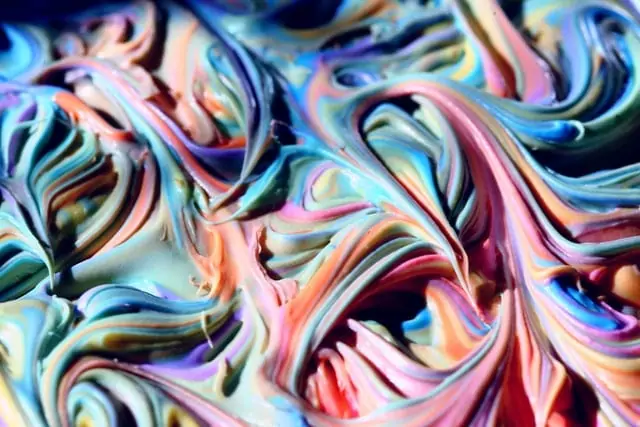 Top Ways To Color Store-Bought Frosting
Food Coloring
Mix-ins

Many of the mix-ins on our list add natural color like peanut butter or crushed cookies

Fruit

Fresh, canned, jellies and jams

Dried Fruit Powder
More Natural Food Coloring

Some cool ideas here for using fruits, veggies and even tea as natural food coloring
---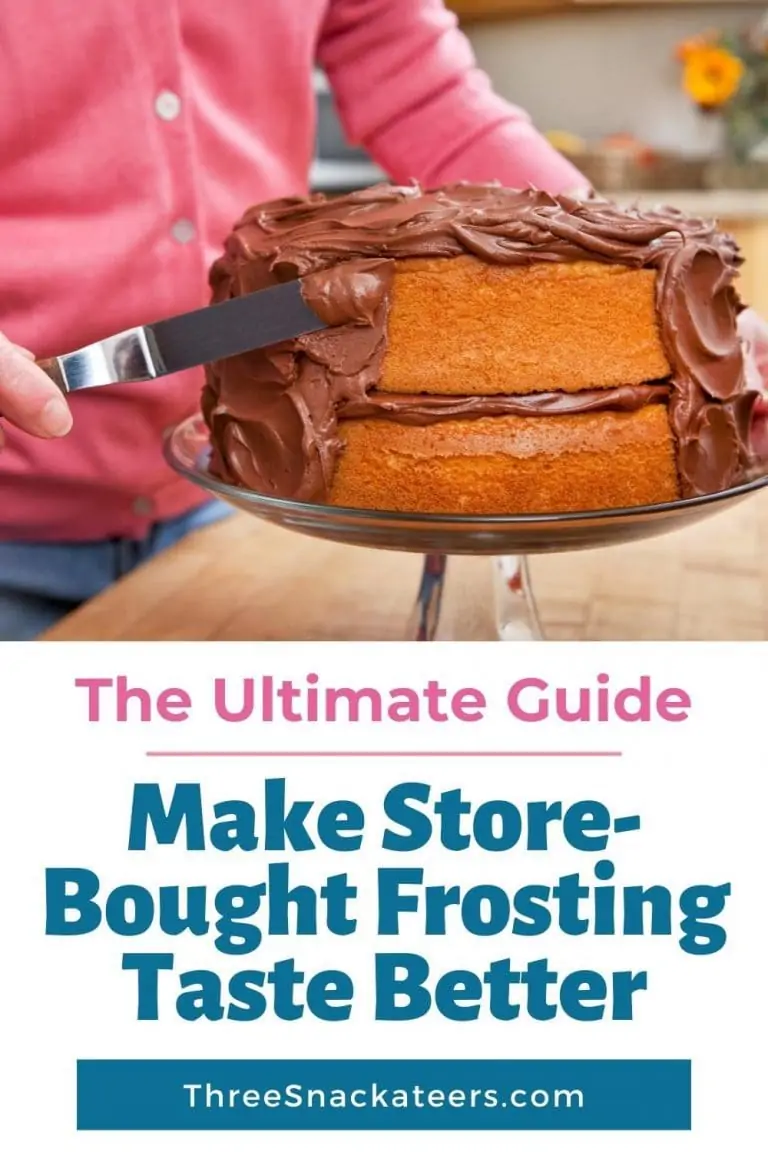 FREQUENTLY ASKED QUESTIONS
How do I make my store-bought icing less sweet?
Store-bought frosting is known to be extremely sweet. A quick way to make it less sweet is to add dairy such as milk, whipped cream, cream cheese or softened butter. A dash of salt will also help balance out the sweetness.
How do I give my store-bought icing a richer taste?
Here are 3 easy ways to give store-bought frosting a richer taste:
1. Add cream cheese
2. Add softened butter
3. Add vanilla and dash of salt
How do I make store-bought frosting taste homemade?
The fastest and easiest way to make canned frosting taste more homemade is to add good quality vanilla and dash of salt.
Don't skimp on the quality of the vanilla. A high-quality real vanilla extract is worth the investment – especially in a simple recipe like frosting where the flavorings will really shine through.
For an even more amazing vanilla flavor, try a vanilla paste. It will add tiny flecks of vanilla bean to your frosting, giving it an even more homemade look and feel.
How do I make store-bought icing fluffy?
There are 2 simple ways to make store-bought icing fluffier.
Option 1: Whip It
Whipping store-bought icing with a hand-mixer is the easiest way to make it more fluffy. Whipping almost doubles the volume, making it light, airy, and easy to spread.
Option 2: Add Cool-Whip or Whipped Cream
Incorporating Cool-Whip or Whipped Cream into your canned icing will also result in a fluffier frosting.
Can I turn store-bought frosting into a glaze?
Yes. Turning store-bought frosting into glaze is easy. Empty the icing into a microwave-safe bowl. Then microwave on high for 20 to 30 seconds. Stir well. If needed, add 5-10 second bursts in the microwave, stirring after each.
When the desired consistency is reached, simply pour the glaze over your cake, donuts or other baked goods.
Can I use water instead of milk to thin my icing?
Yes. You can use water to thin your icing. You can also use other liquids besides milk, such as half and half, whipping cream, other milk alternatives or even something like coffee, coffee creamer or liqueurs.
Can I add Cool Whip to canned frosting?
Yes. You can add thawed Cool Whip to a can of store-bought frosting. The result will be a light, fluffy and creamy frosting.
Can I add lemon juice to store-bought frosting?
Yes. You can add fresh-squeezed or store-bought lemon juice to frosting. For even more zing, you can also add lemon zest and/or lemon extract.
How do you double canned frosting?
Whip it. Frosting in a can is very thick and dense. Simply whipping with an electric hand mixer will add air into the frosting. This will leave you with a lighter and fluffier frosting which almost doubles the volume of the frosting.
Can I pipe canned frosting? How do I make store-bought icing pipeable?
Yes. Canned frosting is typically quite dense which makes it good for piping.
However, for some piped techniques like flowers, you may want the icing to be even thicker. If this is the case, simply add powdered sugar. Using a hand mixer, add about 1 tablespoon at a time, until you reach the desired consistency.
Can you add alcohol to store-bought frosting?
Yes. Most types of alcohol can be added to frosting. Some great-tasting options that pair well with baked goods are Bailey's Irish Cream, Kahlua, Grand Marnier, Calvado, Amaretto and Limoncello.
What store-bought frostings can I use?
Any brand of canned frosting will work with the tips in this article. If you have a favorite store-bought frosting, that is a great place to start.
Some popular canned frosting brands that you'll find at popular retailers and grocery stores are Duncan Hines, Betty Crocker, Pillsbury, Wilton, Simple Mills, Baker's Corner (Aldi), or Great Value (Walmart).
---
So there you have it, over 50 ideas on how to make store-bought frosting taste better. I hope this list helps you find new and creative ways to enjoy your favorite sweet treats!
More Helpful Tips & Tricks
– Best Egg Substitutes For A Cake Mix
– How To Tell When Your Brownies Are Done
– How To Make Store Bought Chocolate Frosting Taste Homemade
– How To Get Rid Of The Burnt Popcorn Smell In Your Microwave
Save it for later on Pinterest, Instagram and Facebook. Also join our Facebook Group for more snack fun!