Do you like silly April Fools Day pranks involving food? This easy April Fools Day Spaghetti & Meatball Cupcake recipe will have your kids, friends and family laughing!
You don't even need to start up the oven or your mixer for this recipe. It's totally no-bake and uses simple, ready-to-use ingredients, so you can have a cute sweet treat without spending a ton of time.
Also, check out our list of 101+ Easy Cupcake Recipes: vanilla, chocolate, kid-friendly, unique, gourmet, fruity, boozy, vegan and everything in between!
Ingredients for April Fools Day Spaghetti and Meatball Cupcakes
The ingredients I used in this recipe are Hostess Orange Cupcakes, Ferrero Rocher Hazelnut Chocolates, Welch's Natural Strawberry Jam, White Cupcake Icing with decorating tips and a block of white chocolate.
YOU MAY ALSO LIKE: Hostess Twinkie Truffles or 15 Fun & Easy Rice Krispie Treats

How To Make April Fools Day Spaghetti and Meatball Cupcakes
Another great thing about this recipe is that there are many variations and substitutions you can use depending on your preferences and how much time you have available. Here are some notes about the ingredients I chose and some ideas for recipe modifications you can try.
For the cupcake:
I chose the Hostess Orange Cupcakes for a couple of reasons. I wanted to have a white base for the cupcake so it blended more with the 'spaghetti' (aka frosting). Also, the citrusy, orange flavor also works well with the 'sauce' (aka strawberry jam.
If you're a chocolate fan, the original Hostess Chocolate Cupcakes would work great too.
For the frosting:
To be totally honest, I'm not a huge fan of frosting from a can. I almost always make my own buttercream from scratch. However, for this recipe, I knew the consistency needed to be just right to hold the 'spaghetti' shape. Since this is a quick and easy recipe, a quick and easy icing seemed to be the way to go. I chose icing in a can that comes with 4 decorating tips – can't get easier than that.

For the toppings:
I used strawberry jam because it has a bright red color (and I love it!), but raspberry would work too.
I went with a name brand hazelnut chocolate, Ferrero Rocher.
Ferrero Rocher Chocolate are Available On Amazon.
Other variations:
If homemade is more your style, this entire recipe can be made from scratch. You can get creative with cake, filling and frosting flavors.
Spaghetti and meatball cupcakes are cute, but what about an entire spaghetti and meatball cake!? Just imagine a round cake with white icing, covered with a huge mound of spaghetti icing, topped with hazelnut meatballs, jelly sauce and white chocolate parmesan!
If you love these silly April Fools Cupcakes,
please consider sharing to Pinterest, Instagram and Facebook!
Yield: 12
Spaghetti and Meatball Cupcakes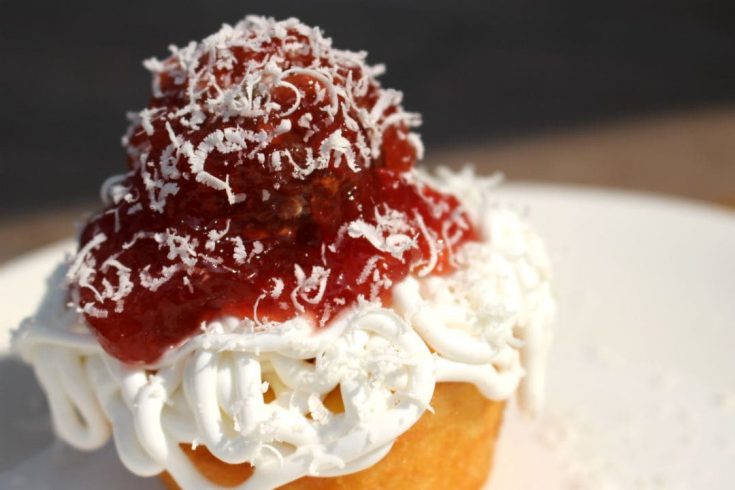 They might look like spaghetti, but these sweet cupcakes are topped with piped frosting, hazelnut chocolate balls and strawberry jelly!
Ingredients
1 package Orange Hostess Cupcakes
1 can white cupcake icing, (with decorating attachments)
1 package Ferrero Rocher hazelnut chocolates
1 container strawberry jelly
1 chunk white chocolate
Instructions
Unwrap your cupcakes and discard the small cardboard square from the bottom. If any orange icing is hanging over the edge of cupcake, you can gently remove some of it so it does not show on your finished product.
Prepare your frosting can by attaching the small circle decorating tip.
Begin assembling by piping a pile of 'spaghetti' all over the top of your cupcake.
Add a hazelnut chocolate 'meatball' on top of the soft frosting.
Next, carefully spoon or squeeze some jelly 'sauce' right on top of the meatball.
Now grate some white chocolate 'cheese' over the whole top of the cupcake.
Repeat the process for all the cupcakes and allow them to set.
Notes
The icing will be soft for a while, especially in warm weather.  You can pop them in the refrigerator for a few minutes to speed up the setting process, but don't leave them in too long or the cupcakes will get hard and chewy.
Nutrition Information:
Yield:
12
Serving Size:
1 grams
Amount Per Serving:
Calories:

98
Total Fat:

5g
Saturated Fat:

2g
Trans Fat:

0g
Unsaturated Fat:

3g
Cholesterol:

3mg
Sodium:

32mg
Carbohydrates:

12g
Fiber:

1g
Sugar:

10g
Protein:

1g
MORE FUN RECIPES THE KIDS WILL LOVE