If you don't have the time (or, let's be real, don't want to spend the time) to make chocolate frosting from scratch, a can of store-bought chocolate frosting is perfectly fine to get the job done.
Store-bought frosting offers a ready-to-spread frosting in a shelf-stable and exactly sized container. Plus, canned frosting is simply reliable: you know exactly what flavor and consistency you're getting.
However, while wonderfully handy, readymade frosting simply doesn't have the same taste as homemade. Often the canned stuff is overly sweet and/or is a bit too thick.
Thankfully there are many easy ways to make chocolate frosting way better, while still enjoying the convenience of the can.
In this article, you'll find dozens of tips and tricks on how to make canned chocolate frosting taste homemade with barely any effort! Plus you can combine some of these ideas which will create hundreds of possible combinations to create store bought frosting that tastes (almost) homemade.
The article is broken into 3 main areas:
Frosting Consistency

Do you need it thicker, thinner, pipeable, pourable, or fluffier? You'll find the answers here.

Frosting Flavor

Explore some basic ideas for enhancing the flavor with things like extracts and mix-ins, plus some really creative and out-of the box ideas too.

(Almost) Homemade Chocolate Frosting Recipe

If you don't have time to experiment and need a tried and true way to enhance your chocolate frosting, then head on down to the recipe at the end of the article.
If you're looking to make other flavors of store bought frosting taste better, check out these 50+ tips and tricks.
The Ultimate Guide To Make Canned Chocolate Frosting Taste Homemade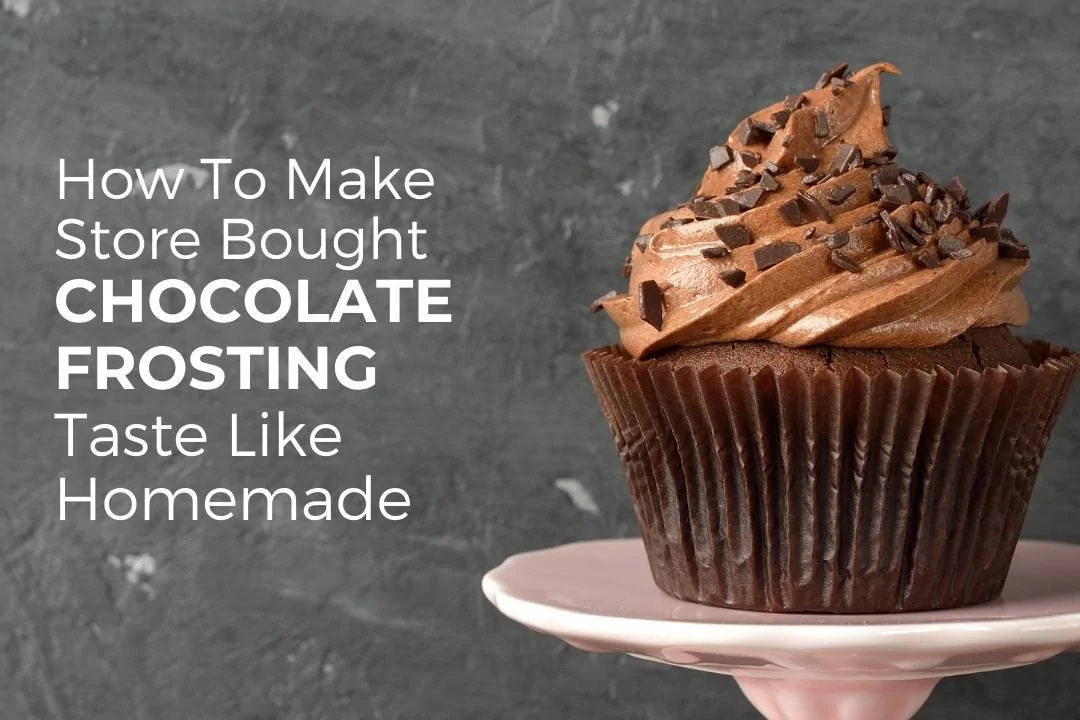 You may also like: 16 Easy Ways To Make Box Pancakes Better
TIPS TO IMPROVE THE CONSISTENCY OF STORE BOUGHT FROSTING
Canned frosting tends to all have the same predictable consistency. You likely will need a thinner or thicker consistency of frosting, depending on what type of goodies you are making.
Follow these tips to make store bought frosting exactly how you need it!
How To Make Canned Chocolate Frosting Thinner
Too thick? Not a problem! Simply add a bit of liquid to get the perfect thin consistency.
Start with 1-2 tablespoons of liquid stirred into the store-bought chocolate frosting. Work your way up to adding as much as needed to get the desired consistency.
Ideas for Liquids To Add To Make Store Bought Frosting Thinner
Whole, 1% or 2% Milk
Chocolate Milk
Heavy Whipping Cream
Half and Half
Flavored Coffee Creamer
Coffee or Espresso
Eggnog
Non-Dairy Milk Alternatives (soy, coconut, almond, etc)
Alcohol or Liquor
Water is also an option in a pinch, but any of the above options will certainly yield a better flavor.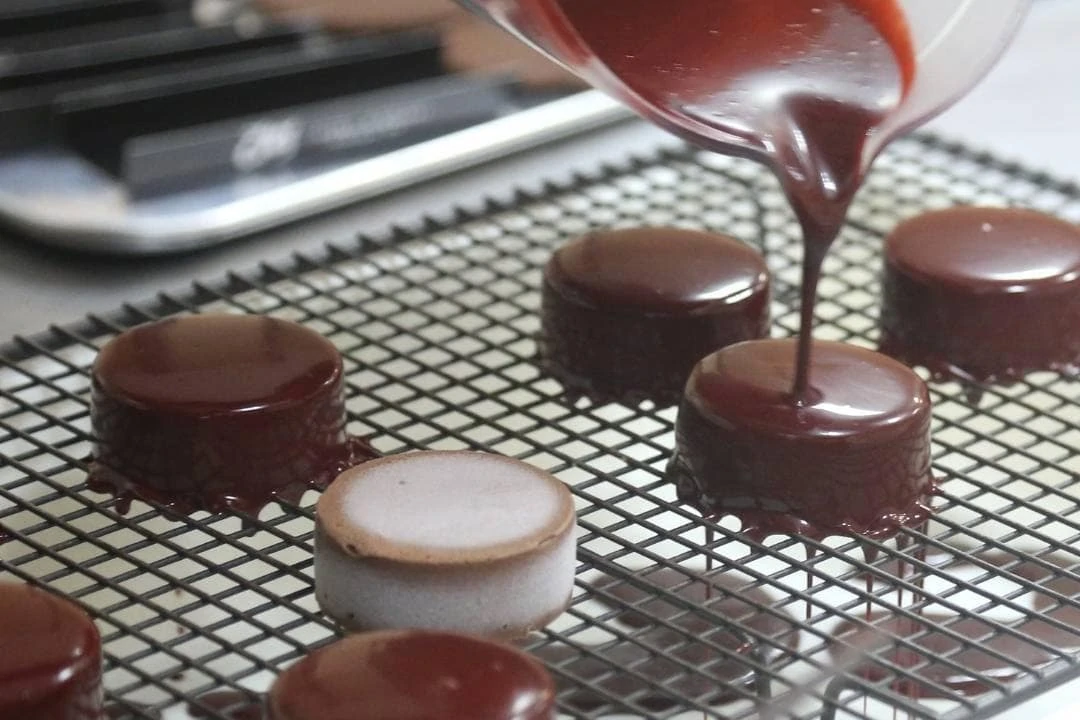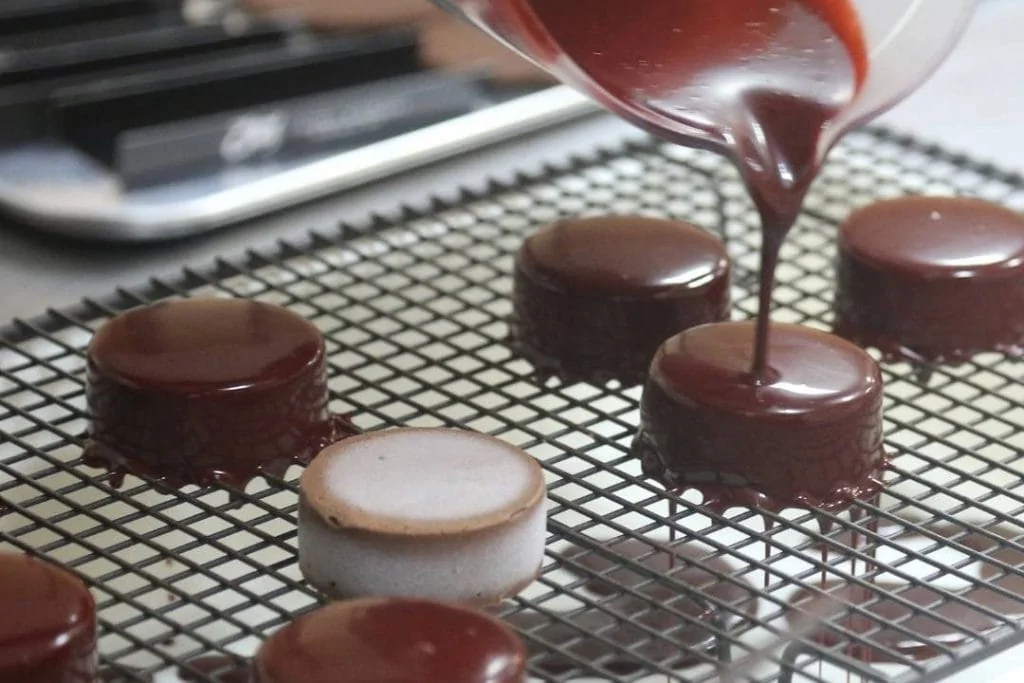 How to Make A Chocolate Glaze From Canned Frosting
A thin, pourable glaze frosting is perfect for donuts, cakes, cinnamon rolls, and all kinds of yummy confections. And yes, it is totally possible to make a delicious glaze with chocolate frosting from a can!
Steps to Turn Chocolate Canned Frosting Into A Glaze
First, transfer the frosting into a large microwave-safe mixing bowl.
Microwave the frosting for 20-30 seconds. Stir well.
Continue to microwave and stir in short 5-10 second bursts until it reaches the right thin consistency.
Then pour over cooled baked treats. Let the glaze cool undisturbed.
Check out this 2-ingredient Twinkie Truffles recipe that uses a canned frosting glaze.
How To Make Canned Chocolate Frosting Thicker
Sometimes a recipe will require a more thick, stiff frosting. Particularly if you are piping decorations or borders.
The easiest and fastest method to make ultra-thick and pipe-able from canned frosting is by adding powdered sugar. Start with 1 tablespoon of powdered sugar per can of frosting, then add additional tablespoons as needed.
How to Make Store Bought Icing Pipeable
Homemade frosting is great for piping. Store bought icing can be too if you add powdered sugar.
First, scoop the frosting into a large mixing bowl.
Add 1 tablespoon of powdered sugar.
Blend with an electric mixer (or stand mixer).
Continue to mix in additional tablespoons of powdered sugar, until the chocolate frosting reaches the thickness you need.
Lastly, I recommend that you add a pinch of salt to balance the sweetness of the canned frosting.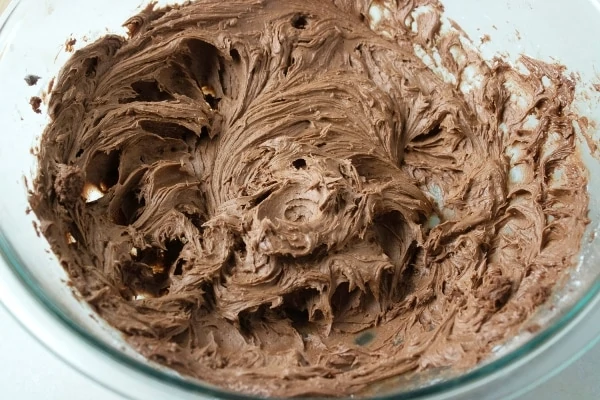 How to Make Canned Frosting Fluffy
In general, most store-bought frosting brands have a pretty dense consistency. You can easily change the consistency of store-bought frosting to make it fluffier and more like a rich buttercream.
Here are two quick options to make store-bought icing fluffy.
1. Whip the Frosting
Use a standing mixer or hand mixer to whip the canned chocolate frosting until fluffy.
2. Add Whipped Cream or Cool-Whip
Either of these will make a light and airy whipped chocolate frosting. Use a hand mixer or standing mixer to combine equal parts whipped topping or whipped cream with canned frosting.
Learn more about the differences between whipped cream and Cool-Whip.
---
HOW TO MAKE CANNED FROSTING TASTE BETTER
Add some oomph to the flavor of canned chocolate frosting by mixing in your favorite enhancers that create a richer taste.
Ideas For Extracts, Syrups, Powders and Other Flavorings
PRO TIP: Before we dive in, a friendly word of caution: a little bit of flavoring will go a long way, so use sparingly to start. Read the package labels before adding to make sure you don't use too much. Typically a drop or two will do the trick!
Here are some suggestions for flavors to add to canned frosting:
Vanilla Extract

Use a high quality vanilla extract. It really does make a difference. You could also try a vanilla bean paste.

Flavored Extracts

Orange or mint extracts would be a great pairing with chocolate forsting.

Flavored Syrups

A coffee or cappucino flavored syrup would taste amazing.

Cocoa Powder

Adds another layer of deep chocolate flavor.

Dried Fruit Powders

Raspberry or strawberry would taste fantastic.

Instant Coffee Powder

You won't taste the coffee flavor, but it will definitely enhance the chocolate flavor.

Strongly Brewed Coffee

Again, there won't be a noticeable coffee flavor. Just a nice mellow chocolate flavor.

Jello or Kool-Aid Powder

Strawberry, cherry, raspberry or orange could be fun.

Dry Pudding Mix

Vanilla, chocolate or butterscotch would be nice.

Alcohol or Liqueurs

Something like Grand Marnier or Kahlua would be tasty.
Suggestions For Thicker, Richer Flavor Enhancers
Another tip to make canned chocolate frosting taste better is to add flavor and create a more dense texture with thicker add-ins.
Start by adding a 1/2 cup of your preferred flavorings to the chocolate frosting. Continue to add more bit by bit as needed.
You can use a hand mixer, standing mixer, or simply stir by hand to incorporate any of these goodies into the store bought frosting.
Softened Cream Cheese

Use room temperature cream cheese to make it easier to incorporate.

Peanut Butter

Crunchy or creamy peanut butter will work great

Nut Butters
Nutella
Cookie Butter
Marshmallow Cream
If the canned frosting gets a bit too thin after blending, refrigerate for several minutes until it thickens back up. But don't leave the frosting in the fridge for too long or it'll become overly thick and crumbly.
Looking for cinnamon roll icing? Check out 10 Delicious Cinnamon Roll Icing Recipes (With and Without Cream Cheese)
Mix-ins To Add Texture and Flavor To Chocolate Icing
There are lots of fun mix-ins that go great with chocolate frosting. They complement the chocolate flavor while adding texture too.
Adding a 1/2 cup of mix-ins to one can of storebought frosting is usually a good start.
Here are just a few ideas on how to make canned frosting better with mix-ins!
Chocolate chips
White chocolate chips
Butterscotch chips
Coconut flakes
Potato chips or pretzels (if Reese's can do it, why can't you!)
Brownie or cake pieces
Crushed cookies like Oreos or Nutter Butter
Chopped candy like chocolate bars, Kit Kats, Butterfinger, peanut butter cups or mint patties
Nuts like peanuts, almonds, macadamia, pecans or any other favorite
Toffee pieces
By now, you should have tons of ideas to doctor up your canned chocolate frosting. And remember to check out the (Almost) Homemade Chocolate Frosting recipe below.
Happy Snacking!
More Helpful Tips & Tricks
– Best Egg Substitutes For A Cake Mix
– How To Make Canned Frosting Taste Better
– How To Tell When Brownies Are Done
– How To Get Rid Of The Burnt Popcorn Smell In Your Microwave
---
Save it for later on Pinterest, Instagram and Facebook. Also join our Facebook Group for more snack fun!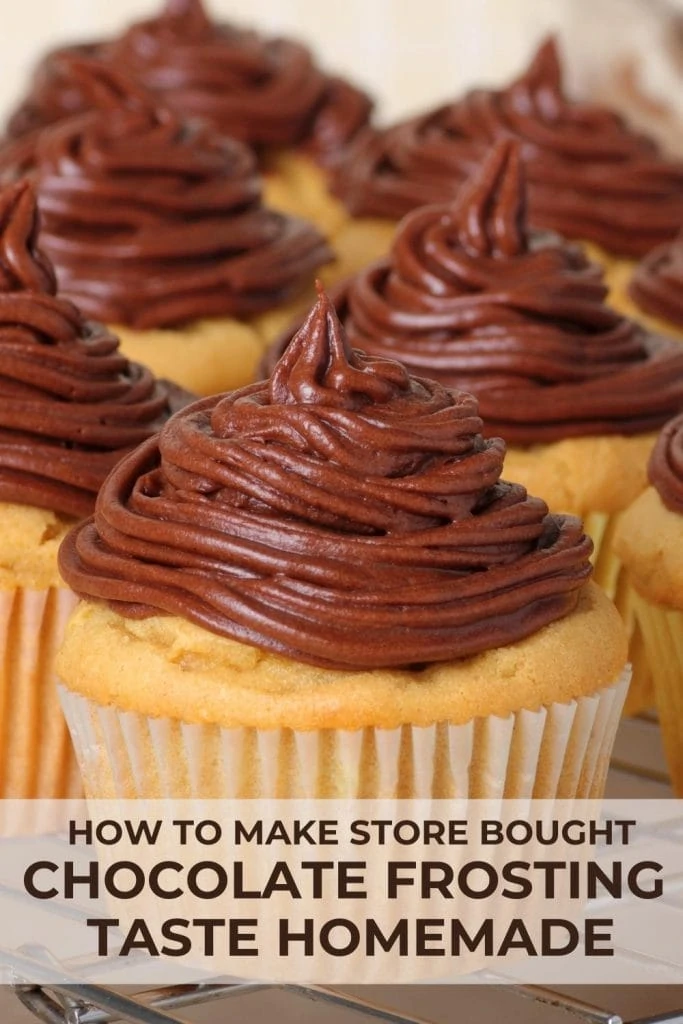 How To Make Canned Chocolate Frosting Taste Homemade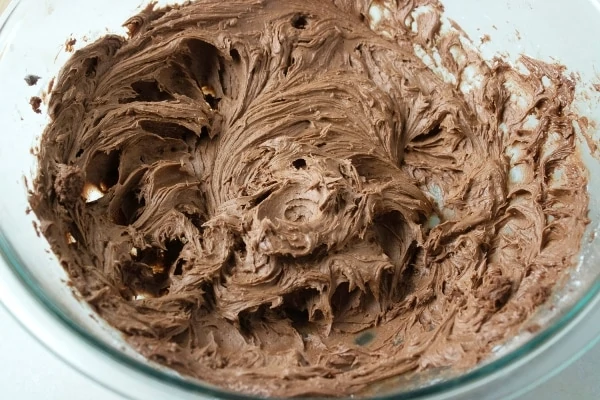 Making your canned chocolate frosting taste (almost) homemade is easier than you think! With just a few simple ingredients, you can create a delicious and creamy frosting that will rival a homemade recipe. Take your cakes, cupcakes, brownies and bars to the next level with this easy recipe!
Ingredients
1 (16 ounce) can of store bought chocolate frosting, any brand
1 stick unsalted butter, room temperature
1/2 cup unsweetened cocoa powder
2 cups powdered sugar
1 teaspoon vanilla extract or paste
1 teaspoon milk
Pinch of salt
Instructions
In a large mixing bowl, cream the room temperature butter until smooth.

Add in the cocoa powder and beat until combined. Scrape the sides of the bowl to incorporate all of the cocoa powder.

Add in the can of store bought. chocolate frosting. Mix until smooth and scrape down sides of the bowl.

Slowly add in the powdered sugar, vanilla and milk. Beat until well combined and smooth. If needed, add a small amount of extra powdered sugar or milk until you reach your desired texture.

For a fluffier consistency, whip the frosting to incorporate more air.

Add the frosting to a piping bag or spread it directly onto your cake, cupcakes, brownies, bars or other baked goods.
Recommended Products
Micky Reed, a two-decade veteran in the food and baking industry, leverages her influential Three Snackateers food blog and Instagram presence to collaborate with industry giants like Ben & Jerry's and Crumbl Cookies. Her work has been featured on Delish, PopSugar and more. Her expertise as a product curator for one of the world's largest international snack subscription box companies solidifies her status as a key player in the field.