Cookie Monster is an unforgettable Sesame Street character that is beloved by millions of children and adults around the world. Since the classic preschool show debuted over 50 years ago, the delightful blue Muppet has made countless people laugh in his never-ending search to nom on more and more chocolate chip cookies.
Cookie Monster is the perfect example of a critter who can say a whole lot without using too many words. Some of the best Cookie Monster quotes are short, but they still pack a punch.
Some of his most memorable sayings celebrate the shape of a cookie, make you chuckle, and even inspire you with a little bit of insight into self-care.
Still, others will be perfect for witty Instagram captions, cute Pinterest pictures, and any other social media posts that could use a little extra flair or humor.
As Cookie Monster would say, why wait to enjoy nomming on something tasty? Sit back, pour a glass of milk, and enjoy this delicious list of 75 Cookie Monster quotes and captions!
Best Cookie Monster Quotes
Thanks to Cookie Monster, everyone can sing about what letter "cookie" starts with, but a lot of his best sayings are just as memorable. You don't have to be a child or a chocoholic to appreciate Cookie Monster's way with words. You just have to love cookies and friendship!
Whether he's singing about his favorite food, shouting his gratitude for the chocolatey dessert from the rooftops, or offering to share a cookie with a loved one, Cookie Monster has plenty of quotes to charm and delight you.
"C is for cookie, that's good enough for me!"
"Me Love to Eat Cookies. Sometimes eat whole, sometimes me chew it."
"Home is where heart is. Heart where cookie is. Math clear: home is cookie."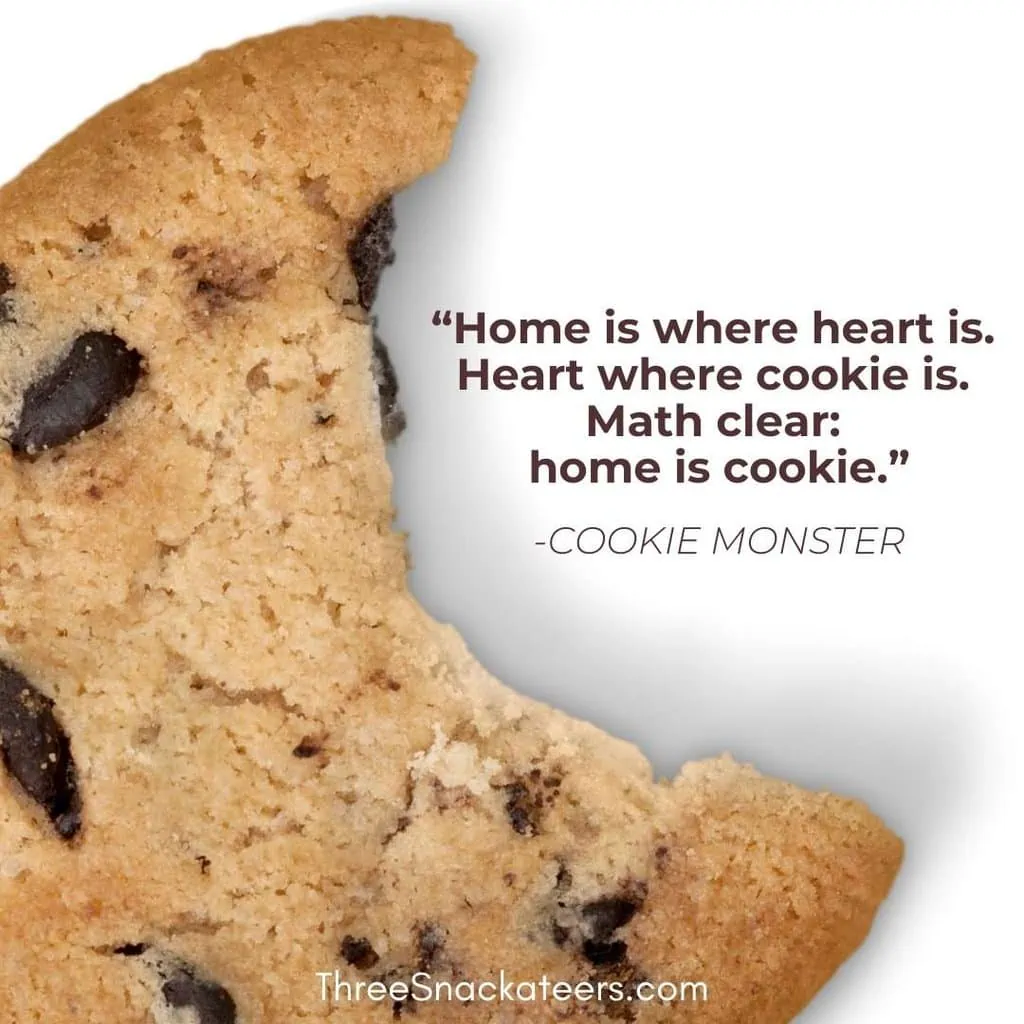 "Last call for cooooooookies! I don't need you to pass up opportunity to eat cookies with me on Sesame Street!"
"No get upset, okay? Don't get excited. Me not fussy — just give me box of cookies."
"Me just met you and this is crazy, but you got cookie, so share it maybe?"
"It da best holiday ever! Cheerful #NATIONALCOOKIEDAY to all me friends… be that as it may, above all, To me! Om nom!"
"My most loved shape is a circle, since me most loved sustenances are circles: pizzas, pies, and, obviously, cookies!"
"Cookie starts with C. Let's think of other things. That starts with C. Oh, who cares about the other things?"
"Three things me grateful for: cookies, cookies and more cookies. Me monster of basic tastes."
"I wouldn't trade you for all the cookies in the world."
"Chocolate chip important to me. It mean whole lot to me. Om nom nom nom."
"Me want to eat cookie. Here and there eat entire, now and then me bite it."
"We're at the library! No get furious, alright? Try not to get energized. Me not particular – simply give me box of cookies."
"A cookie in the current style! This cookie is warm, with melty chocolate chippies, however cold with a yummy dessert."
"Keeping myself up late this evening, each cookie in turn."
"Sorry, Cookie. Me cannot eat you ever . . . Say you talking, Cookie? . . . You crying, Cookie? . . . Hmmm. Well, Maybe sometime a cookie."
"Sometimes me think what is love, then me think love is what last cookie is for. Me give up last cookie for you."
"Me no take the cookies, me eat the cookies!"
"Cookies are a sometimes food."
Cookie Monster Inspirational Quotes
From sweet insights to friendship to advice for moving forward in life, Cookie Monster has a surprising amount of wisdom in many of his sayings. When he isn't busy smacking on cookies, he can come up with fun, perceptive, and downright philosophical quotes that will make you forget that they're coming from a Muppet.
It may seem unlikely to the unsuspecting, but perhaps you will find just the piece of guidance or advice you were looking for as you browse these inspirational, heartwarming, and downright motivational Cookie Monster quotes.
"Sometimes me think, what is friend? And then me say: a friend is someone to share last cookie with."
"Today me will live in the moment, unless it's unpleasant, in which case me will eat a cookie."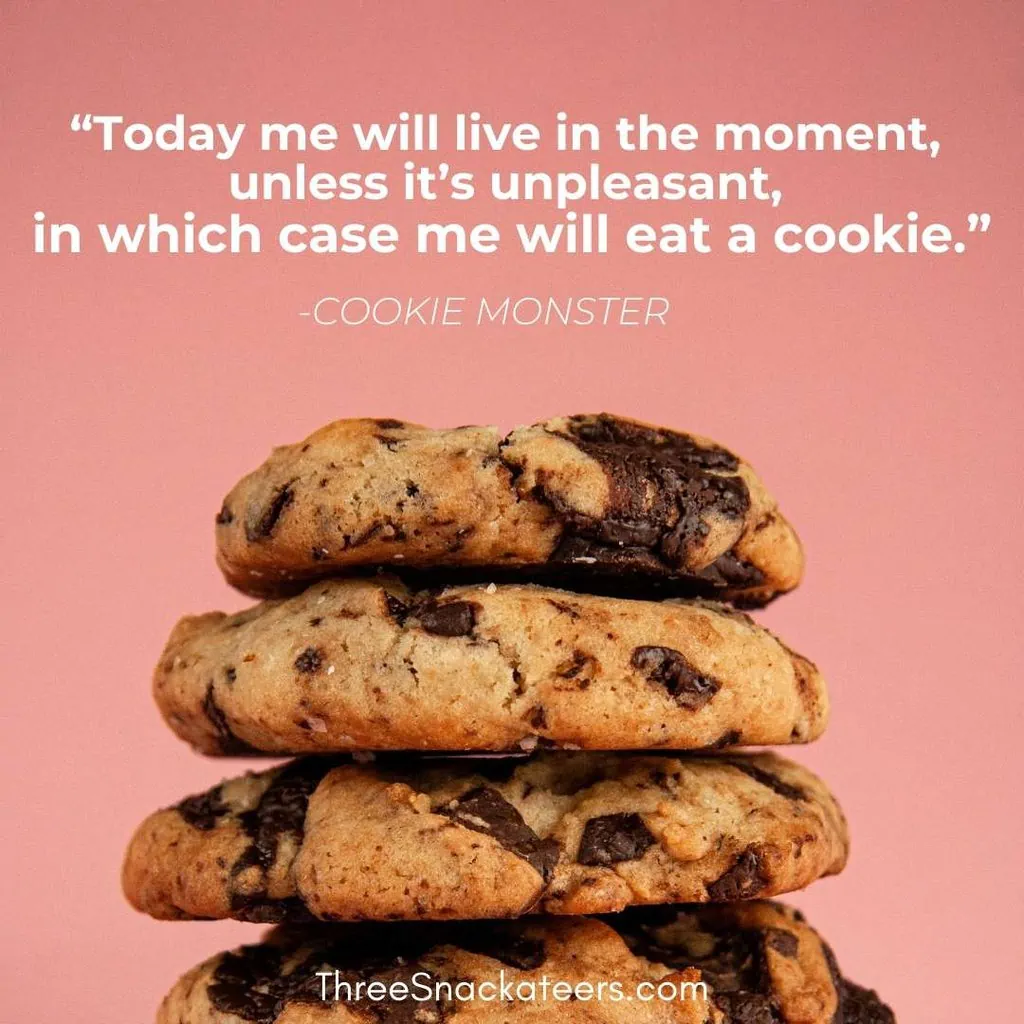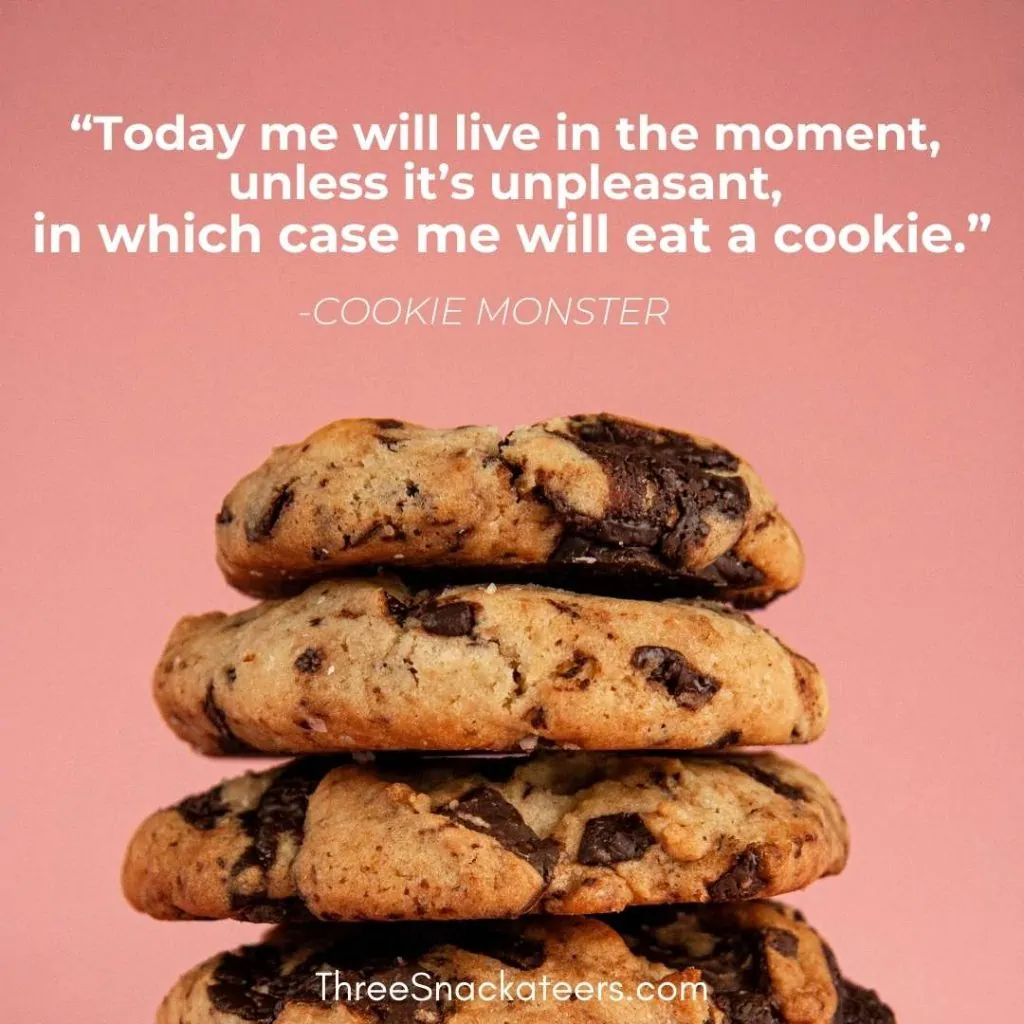 "When nothing goes right, go left."
"Friend something better than chocolate ice cream . . . Maybe friend somebody you give up last cookie for."
"Who care if me eat carrot or collard greens? . . . Me still cookie monster. That not a sham."
"It's good to be alive."
"Companion an option that is superior to anything chocolate dessert . . . Maybe companion someone you surrender last cookie for."
"No cry because cookie is finished. Smile because cookie happened."
"Dis year me concentrating on my self-care. When I need little love, me going to give meself cookie."
"Resist the urge to panic and eat cookies."
"If you were a cookie, I'd be your Cookie Monster."
"Count your cookies, not your problems."
"Speak softly and carry big cookie. Big enough to share with a good friend."
"April Fool's jokes make me one focused on the monster. I need cookie."
"Cookie not diet because cookie is lifestyle. Also because cookie not very good diet."
"You cannot keep cookie for later and also eat cookie now. Unless you have two cookies."
Funny Cookie Monster Quotes
Obviously, Cookie Monster is a hilarious Muppet with a lot of funny things to say. He can turn some familiar phrases on their heads, make a joke about the shape of the moon, and provide the sort of baking advice that is more amusing than it is accurate or Top Chef-worthy.
From life's biggest nutritional dilemmas to observations on the state of modern media, Cookie Monster always seems to know what to say to make us all giggle.
Have yourself a hearty laugh as you munch on these humorous, creative, and sometimes unexpected Cookie Monster quotes!
"Fruit… or Cookie… Fruit… Cookie… Me Cookie Monster! This No-Brainer!"
"Me don't remember me real name . . . Maybe it was Sidney?"
"Early bird gets the worm. But cookie taste better than worm. So me sleep in."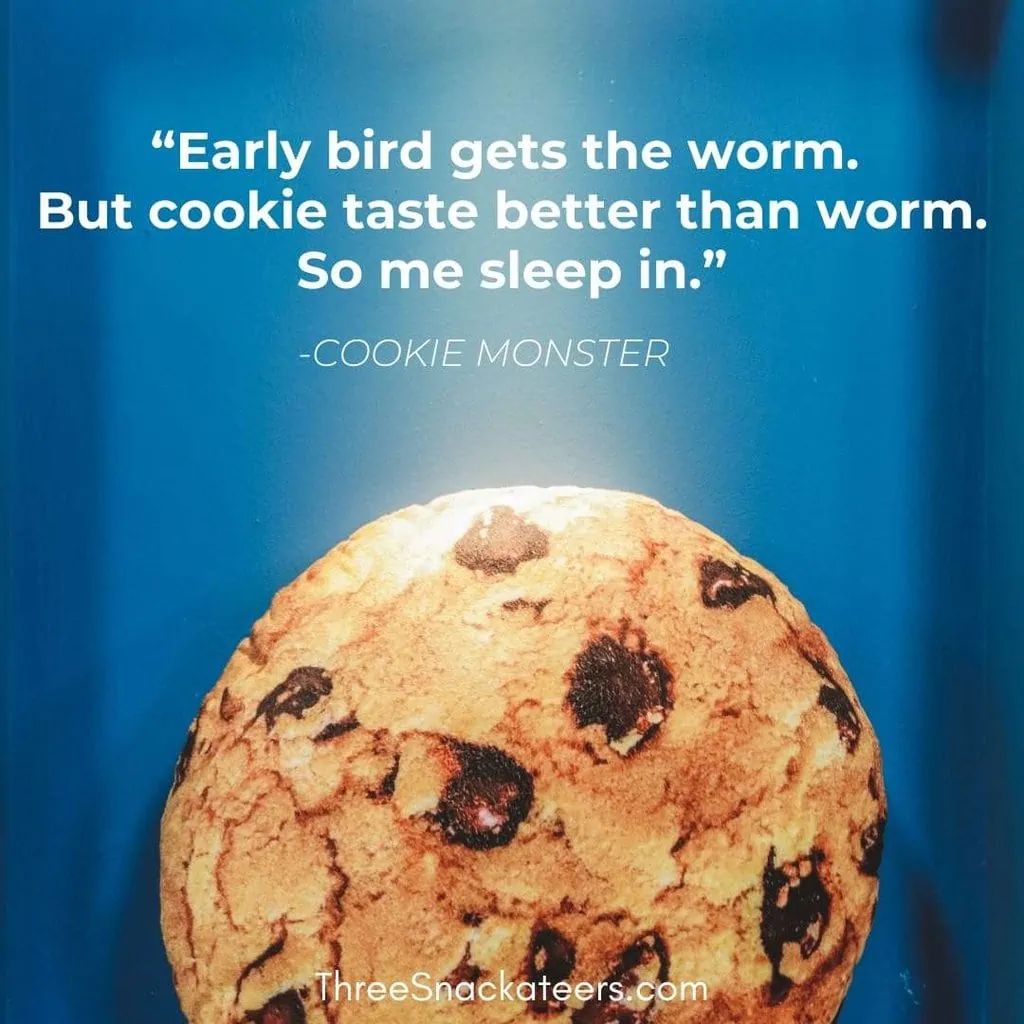 "That what wrong with the media today. All they have is questions, questions, questions. They never have cookies."
"It's my birthday today! Me going to celebrate with 2 cookie cakes! One cookie-molded cake, one cake-formed cookie. Consider every contingency."
"Me going to have a cookie when I completed the process of tweeting. So I wrapped up!"
"Cookie Monster thief, not liar."
"In the event that you need assistance eating all dem cookies, I know a person!"
"I'd give you a cookie, but I ate it."
"Me assessing all my cookies from me monster pound video! This phantom cookie simply like apparition—it vanishes when I eat it!"
"Onion rings are just vegetable donuts."
"Oh and the moon sometimes looks like a C, But you can't eat that."
"A year ago, Telly spruced up as Cookie for Halloween. I pursued him 6 squares till I understood it was simply ensemble!"
"Life not all guessing games, Frog."
"I just took a DNA test. Turns out, 100% cookies."
"If sad, eat cookie. If still sad, talk to doctor. Sounds serious."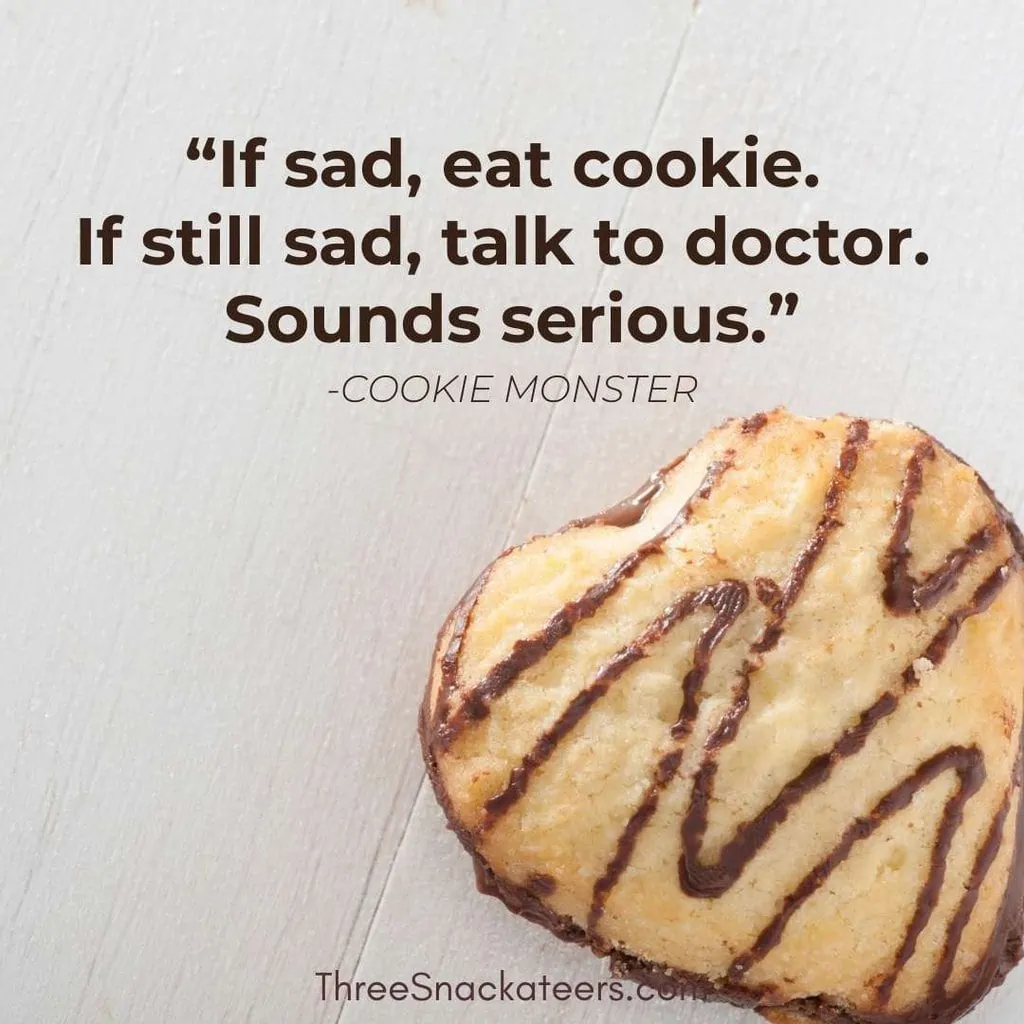 "I do my best to avoid dairy, particularly frozen yogurt. I've turned into a cookie monster at whatever point I need to mess around and eat something modest."
"Never eat cookies again, no! From now on, me eat carrots. Yeah! And fish. And whole wheat bread."
"Ding-dong! You're wrong!"
"Me just kind of throw stuff into bowl and mix."
Cookie Monster Instagram Captions
Instagram is the perfect platform for showcasing your most scrumptious dessert pictures, and cookies are certainly no exception. What better way is there to celebrate a gorgeous cookie photo than with a cute Cookie Monster caption?
These Cookie Monster quotes and sayings may be shorter than a full-length Sesame Street song, but that's part of what makes them so perfect for all sorts of yummy Instagram captions to decorate your feed with!
"Om nom nom nom."
"Keep calm and eat cookies."
"Keep calm and om nom nom!"
"Cookie is like high five for stomach."
"Me sparing pie for tomorrow. Today about cookies!"
"Me love poetry… and cookies!"
"Me want cookie!"
"Me need cookie!"
"Me eat cookie."
"My tummy in despair."
""Me lost me cookie at the disco."
"Me do anything for cookie!"
"Oh, cookie, cookie, cookie starts with C."
"One cookie never enough."
"Peek-a-boo! Here's some cookies for you!"
"Be one with cookie."
"Me no can resist crunchiness."
"Just make cookie yummy. Maybe chocolate chippies."
"You know what goes great with cookies? Cookies."
We hope that you've enjoyed this list of Cookie Monster quotes. These are the best of the best sayings from one of our favorite Muppets, and even if they don't always contain the best nutritional advice, we're sure you found them to be touching, goofy, funny, and even occasionally insightful.
Whether you need a great caption for an Instagram post, a bit of personal motivation, or you just want to cheer up at the thought of a warm cookie with chocolate chippies, these Cookie Monster quotes are guaranteed to hit the spot in the future!
If you're interested in food quotes, then you'll also love these:
– 80+ Food Quotes
– 215+ Pizza Quotes
– 133+ Wine Quotes
– 101+ Best Dessert Quotes
– 75+ Best Cookie Quotes
– 75+ Best Kitchen Quotes and Sayings
– 75+ Best Baking Quotes
– 101+ Best Pumpkin Quotes
If you enjoyed this article, save it for later on Pinterest, Instagram and Facebook. Also join our Facebook Group for more foodie fun!