Baking is one of life's greatest joys. From the thrill of picking a new recipe to the care and precision of measuring and mixing ingredients, few kitchen activities can sweeten up your life like baking.
We thought we'd celebrate the wonders of baking with this list of 75 of the tastiest, most emotional, cheeriest, most thoughtful, and funniest baking quotes and sayings.
Whether you're looking for a cute caption for your latest foodie pic on Instagram, an inspirational quote, or a baking saying to ponder on a rainy day, this delicious list of the best baking quotes will fit you as well as batter in a cake pan!
Best Baking Quotes
From delightful observations to insights that are a recipe for inspiration, here are some of the best baking quotes to lift your spirits and make you smile!
"Baking happens with ingredients that last for months and come to life inside a warm oven. Baking is slow and leisurely.." – Regina Brett
"It's all about a balancing act between time, temperature and ingredients: That's the art of baking." – Peter Reinhart
"I love baking. During the winter, they have these candles that smell like cookies, and I always buy like a hundred of them." – Jared Padalecki
"Civilization was built around wheat, around people settling down and not being nomadic. Baking is one of the oldest professions." – Paul Hollywood
"When there is very little else left to believe in, one can still believe in an honest loaf of fragrant, home-baked bread." – Anna Thomas
"Baking is how you start kids at cooking in the kitchen. It's fun whether it's baking bread or cookies." – Sandra Lee
"Flour and butter, cream and sugar, words and images, all the ingredients for a rich, tasty story." – Rona Simmons
"The smell of good bread baking, like the sound of lightly flowing water, is indescribable in its evocation of innocence and delight." – M. F. K. Fisher
"Baking is . . . Life. So when you describe what you're making, you must describe life." – Jenny Colgan
"God gives us the ingredients for our daily bread, but he expects us to do the baking!" – Chip Ingram
"A basic rule of baking is that, in general, it's almost impossible to make an inedible batch of brownies." – Linda Sunshine
"Baking is about multitasking. If you are organized and prepared, that's half the battle." – Johnny Iuzzini
"Baking is a matter of precision and timing, but I just make things up as I go." – Rumaan Alam
"Nothing says home like the smell of baking."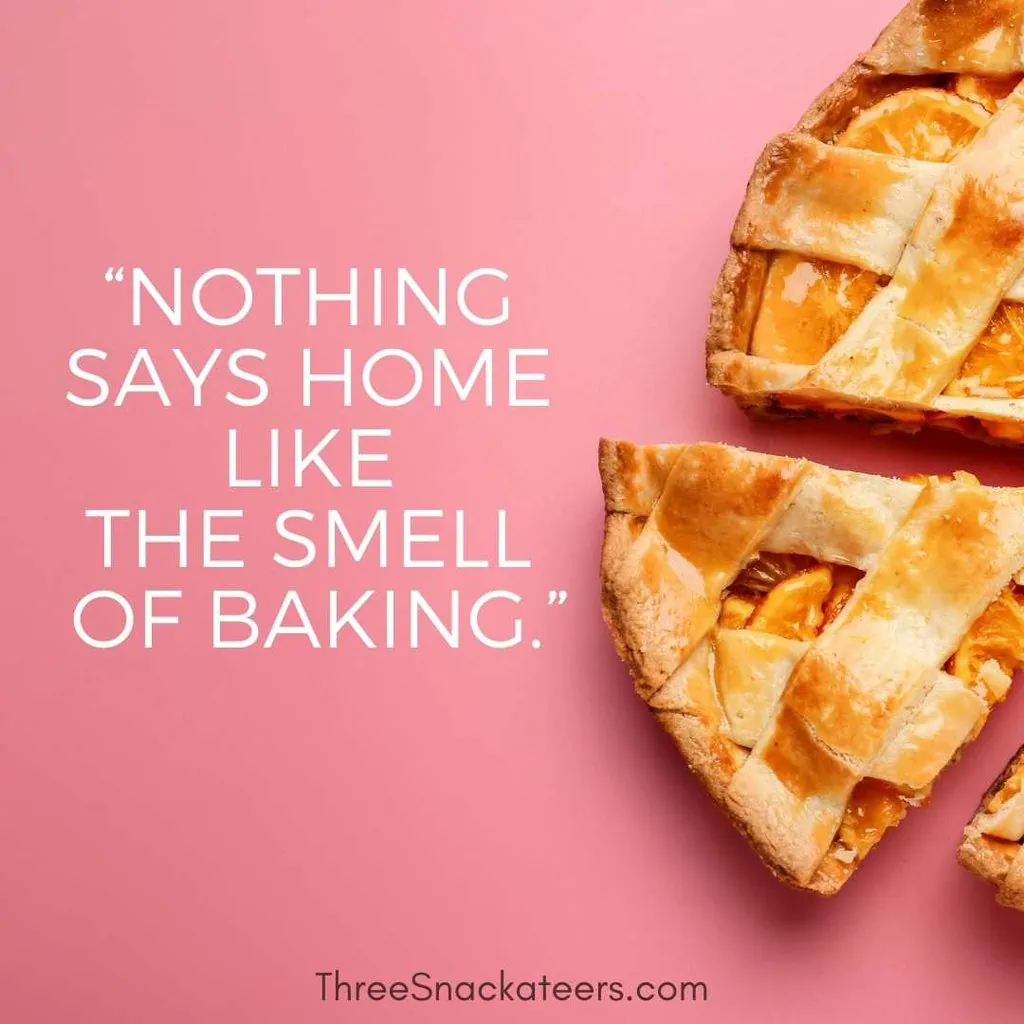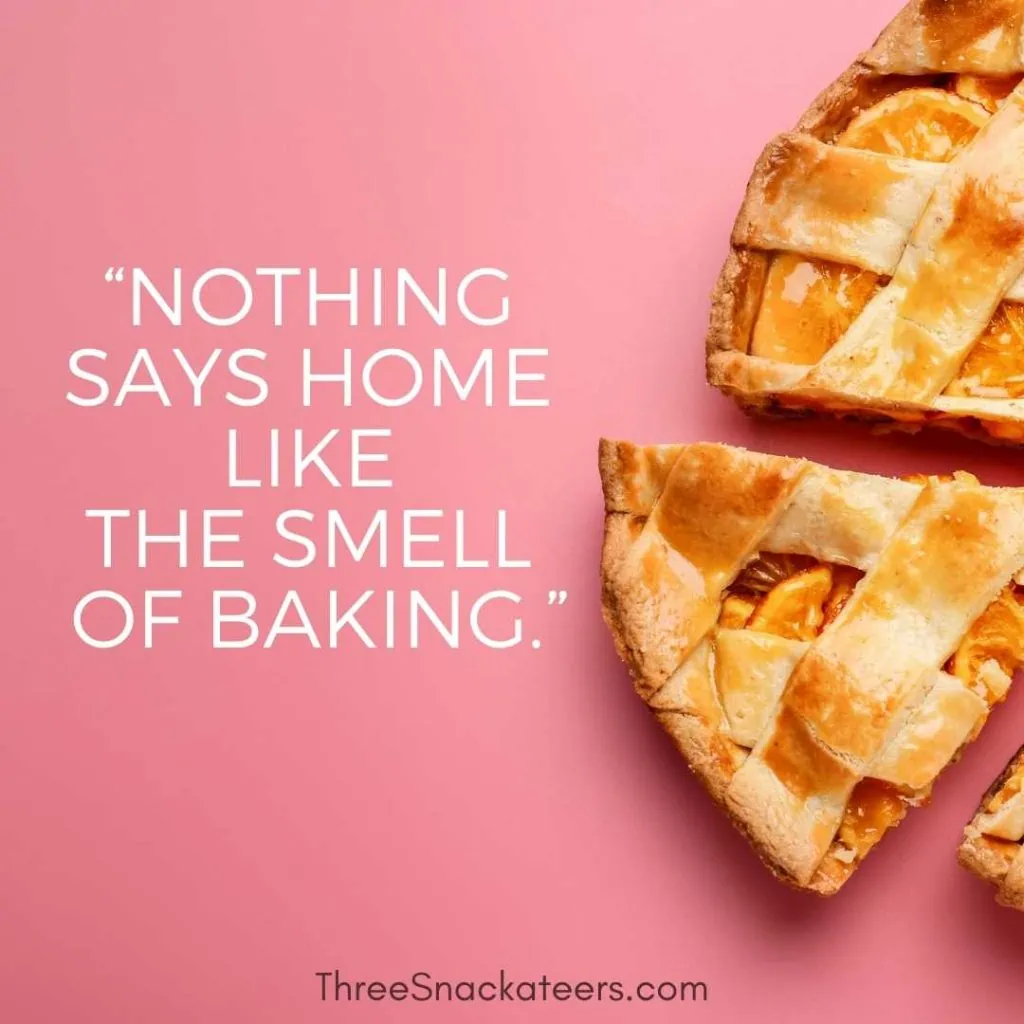 "I think baking is very rewarding, and if you follow a good recipe, you will get success." – Mary Berry
"The Bake Off taps into nostalgic feelings about your mum baking in the kitchen. It's a big ruddy comfort blanket." – Mel Giedroyc
"I am good at baking. I don't know if that counts as a talent, but I love to bake." – Meaghan Jette Martin
"I think baking's far easier than cooking, and because of that, it's more approachable." – Paul Hollywood
"I think sharing recipes is such an important part of baking and the baking world." – Christina Tosi
"I've started baking. Having my hands deep in dough keeps them away from my phone." – Katy Tur
"I can bake but I don't do a lot of baking, mainly because the side effect is not very good for you." – Sarah Lancashire
Cake Baking Quotes
Cake is such an iconic dessert that it really deserves a league of its own. The bakers and other people behind these tasty cake quotes probably think so too. Enjoy their reflections and cake baking quotes about one of the best desserts a baker can provide!
"Cake baking has to be, however innocently, one of the great culinary scams: it implies effort, it implies domestic prowess; but believe me, it's easy." – Nigella Lawson
"Many happy childhood memories begin in the kitchen, baking and decorating birthday cakes. It's one of the sweetest parts of childhood." – Deanna F. Cook
"I've never met a problem a proper cupcake couldn't fix." – Sarah Ockler
"I bake a chocolate cake from scratch every week." – Victoria Osteen
"Making cake is one of the easiest things in the world." – Paul Hollywood
"A party without cake is really just a meeting." – Julia Child
"Love is like a good cake. You never know when it's coming, but you'd better eat it when it does!" – C. JoyBell C.
"I've had many baking disasters but whatever it is, I'll cover it with icing and sprinkles and say a child has made it." – Rylan Clark-Neal
Baking With Love
True baking, the kind that really sticks with you throughout the years, needs a lot of love. These baking with love quotes will remind you of friends, family, and other loved ones and warm your heart like a 350-degree oven!
"Happiness is baking cookies. Happiness is giving them away." – Maida Heatter
"I love baking, it's the most calming thing for me. It's therapeutic, it makes the house smell good, and I get to take the goods to my friends." – Lily Collins
"The secret to having an epically beloved bakery is consistency." – Christina Tosi
"If baking is any labor at all, it's a labor of love. A love that gets passed from generation to generation." – Regina Brett
"You don't have to love cooking to cook, but you have to do more than love baking to bake. You have to bake out of love." – Tom Junod
"Cookies are made of butter and love." – Norwegian Proverb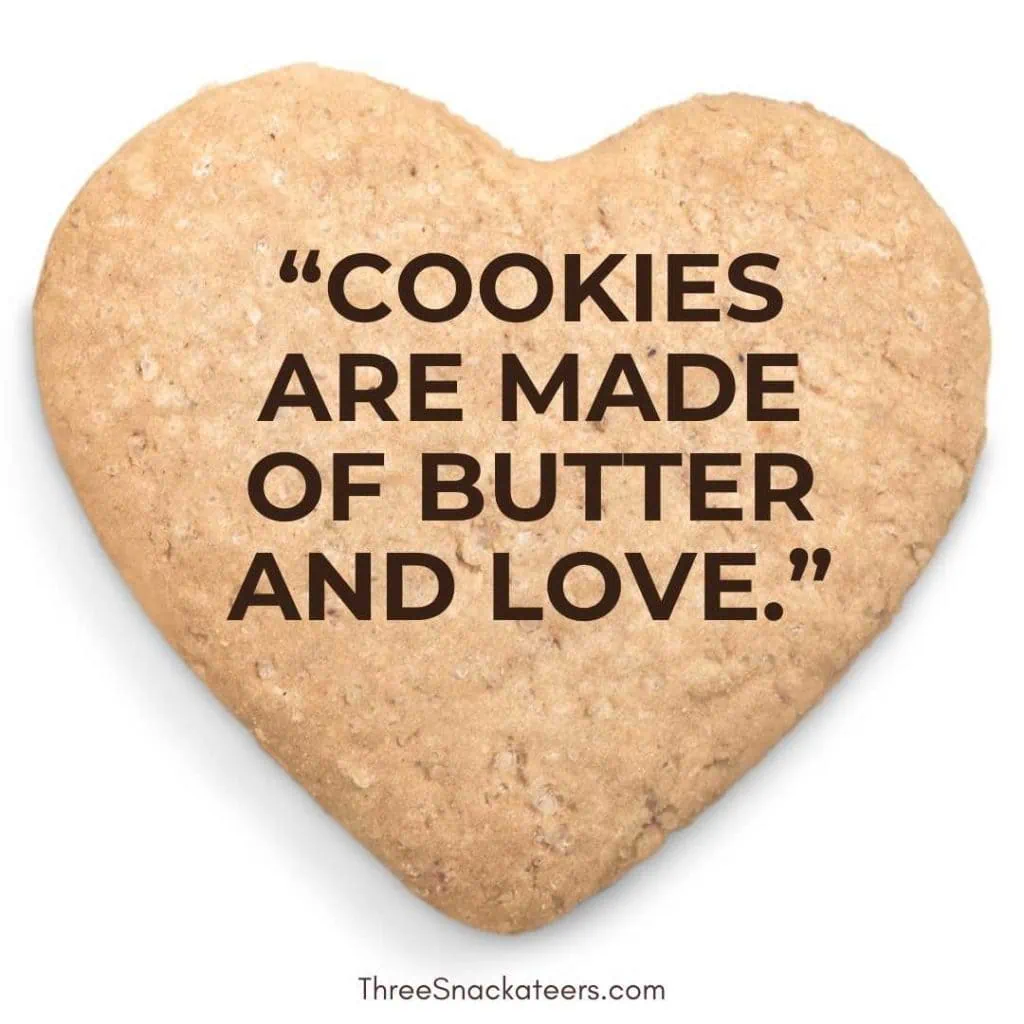 "Baking is done out of love, to share with family, to see them smile." – Anna Olson
"The secret ingredient in baking is always love."
"Make gifts meaningful by putting the time in creating them, whether baking and cooking, or in making arts and craft." – Lidia Bastianich
Morning Baking Quotes
The early bird gets the worm, and the early baker gets the sweets. From bread to cinnamon rolls to coffee cake, these morning baking quotes will leave you feeling perky and ready to face the day ahead!
"I realized that jobs suck, but if you could get up at 6 A.M. and bake your own breakfast, that is very satisfying." – Marco Arment
"Life is short. Eat cookies for breakfast."
"I can't even cook an egg. The only thing I can do well is baking bread. I love it and find it incredibly therapeutic." – Ben Fogle
" 'When you wake up in the morning, Pooh,' said Piglet at last, 'what's the first thing you say to yourself?' 'What's for breakfast?' said Pooh." – A. A. Milne, Winnie the Pooh
"Anyone who gives you a cinnamon roll fresh out of the oven is a friend for life." – Daniel Handler
"I baked the coffee cake recipe from The Joy of Cooking over and over again when I was a kid." – Alex Guarnaschelli
Short Baking Quotes
Some baking quotes tell a joke or a story, but others are shorter than the baking time on a tray of cookies. Savor these amusing and short baking quotes!
"Baking cookies is comforting, they are the sweetest little bit of comfort food."– Sandra Lee
"When you look at a cupcake, you've got to smile." – Anne Byrn
"A recipe has no soul. You, as the cook, must bring soul to a recipe." – Thomas Keller
"I never feel like I'm taking a risk with baking, but always with songwriting." – Alice Merton
"I think baking cookies is equal to Queen Victoria running an empire." – Martha Stewart
"Baking, to me, is very precise, and it's about perfection." – Ree Drummond
"I love watching programs about food. I always think, 'When I'm old, I'll take up baking.'" – Julia Davis
"Unlike writing a book, which can take several years, baking is instant gratification." – Jenna Blum
Rainy Day Baking Quotes
Some baking quotes are somber, like a cake baked in the late hours of the night. Still others aren't sad but are meant for people who prefer a day spent indoors, in the comfort of their home kitchen. Whichever group you fall into, enjoy these rainy day baking quotes meant for gloomy days.
"A bad review is like baking a cake with all the best ingredients and having someone sit on it." – Danielle Steel
"Life was like a batch of biscuits without the baking powder: flat, flat, flat." – Kirby Larson
"Take the broken pieces of your life, bake a master cake out of it." – Israelmore Ayivor
"Cooking and baking is both physical and mental therapy." – Mary Berry
"A bad day spent baking is better than a good day doing anything else."
"I like to party. And by party, I mean stay at home and bake."
"My idea of baking is buying a ready-make cake mix and throwing in an egg." – Cilla Black
"The future . . . seems to me no unified dream but a mince pie, long in the baking, never quite done." – Edward Young
"I'm bad at baking. I'm bad at letting go of things. I'm probably bad at reading." – Heidi Klum
Baking Quotes for Instagram Captions and Bios
If you're looking for a witty caption for your latest dessert picture or a quote to fill out your Instagram bio, you're sure to find something you and your followers love in our great list of yummy Instagram baking quotes.
"Baking is both an art and a science." – Sherry Yard
"Life's better when you're baking."
"You batter believe baking is my happy place."
"If there's a whisk, there's a way."
"Calories? I think you mean delicious points."
"Baking is therapy." – Paul Hollywood
"Baking is my pastime. I just love creating things." – Ed Oxenbould
"You can't buy happiness, but you can bake cake."
"Bakers make the world smell better."
"Abs aren't made in the kitchen, but cookies are."
"Life is what you bake of it."
"Baking is love made edible."
"I am sugar and spice and everything nice."
"Bake the world a better place."
---
As you can see, there are a ton of fun and interesting sayings, quotes, and mottoes about baking. We hope you've enjoyed chowing down on this list, and we're sure you found a memorable quote for your newest social media post or food-related conversation!
If you're interested in food quotes, then you'll also love these:
– 80+ Food Quotes
– 215+ Pizza Quotes
– 133+ Wine Quotes
– 101+ Best Dessert Quotes
– 75+ Best Cookie Quotes
– 75+ Best Kitchen Quotes and Sayings
– 75+ Best Cookie Monster Quotes
– 101+ Best Pumpkin Quotes
If you enjoyed this article, save it for later on Pinterest, Instagram and Facebook. Also join our Facebook Group for more foodie fun!
Micky Reed, a two-decade veteran in the food and baking industry, leverages her influential Three Snackateers food blog and Instagram presence to collaborate with industry giants like Ben & Jerry's and Crumbl Cookies. Her work has been featured on Delish, PopSugar and more. Her expertise as a product curator for one of the world's largest international snack subscription box companies solidifies her status as a key player in the field.