The kitchen is the hub of many people's homes, and why shouldn't it be? As dozens of inspiring and amusing quotes, proverbs, and sayings have pointed out, the kitchen is a place of adventure, warmth, and only occasional peril.
From the joys of cooking to the hilarity of making yourself too much food, these 75 kitchen quotes and sayings will bring a smile to your face, a laugh to your lips, and a spark of cheer to your heart. So put on your chef's hat and savor these sensational kitchen quotes!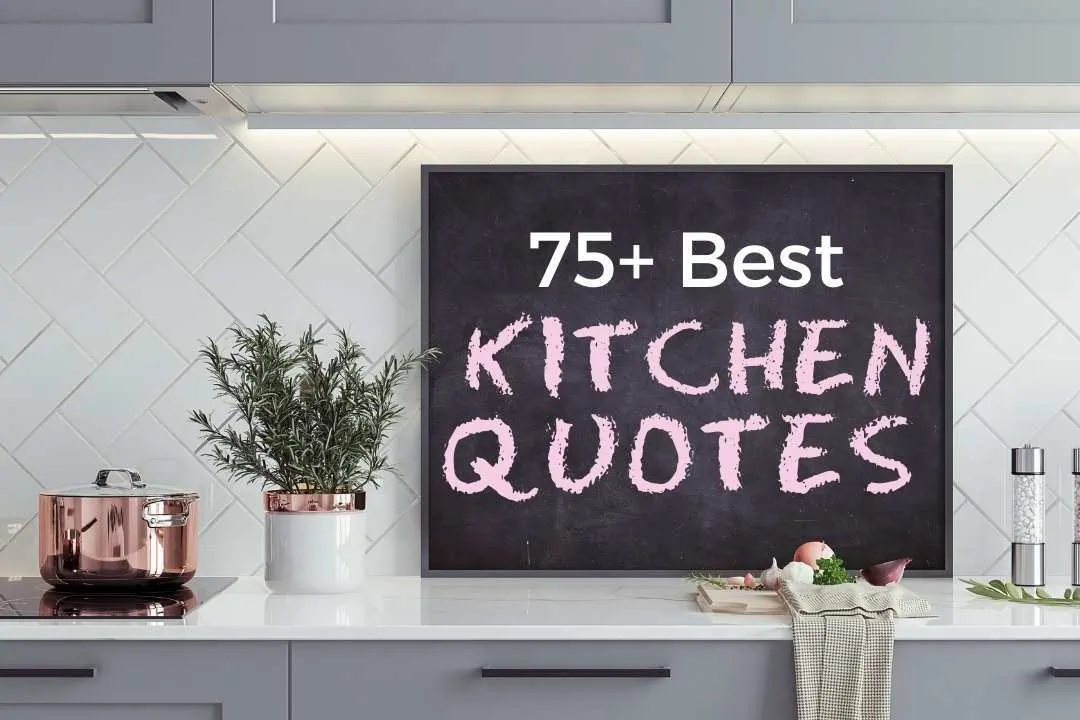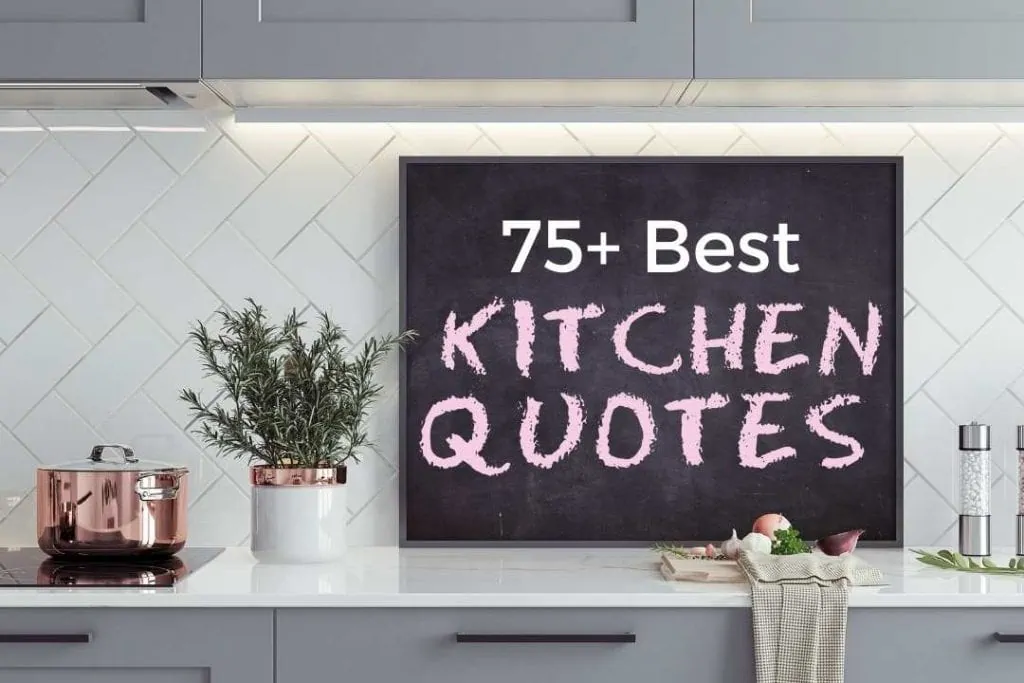 Best Kitchen Quotes
Humans have had hundreds of years to ponder the different aspects of their kitchens, from the value of family to the science of cooking to the sheer love you can enjoy there.
These quotes are insightful, inspiring, and can serve as a warm soup for the soul!
"Good food and a warm kitchen is what makes a house a home." – Rachael Ray
"The more you know, the more you can create. There's no end to imagination in the kitchen." – Julia Child
"The fondest memories are made when gathered around the table."
"The kitchen really is the castle itself. This is where we spend our happiest moments and where we find the joy of being a family." – Mario Batali
"In the 'kitchen of your life', you have a choice as to what ingredients you want to use to build yourself up." – Selorm Betepe Alfred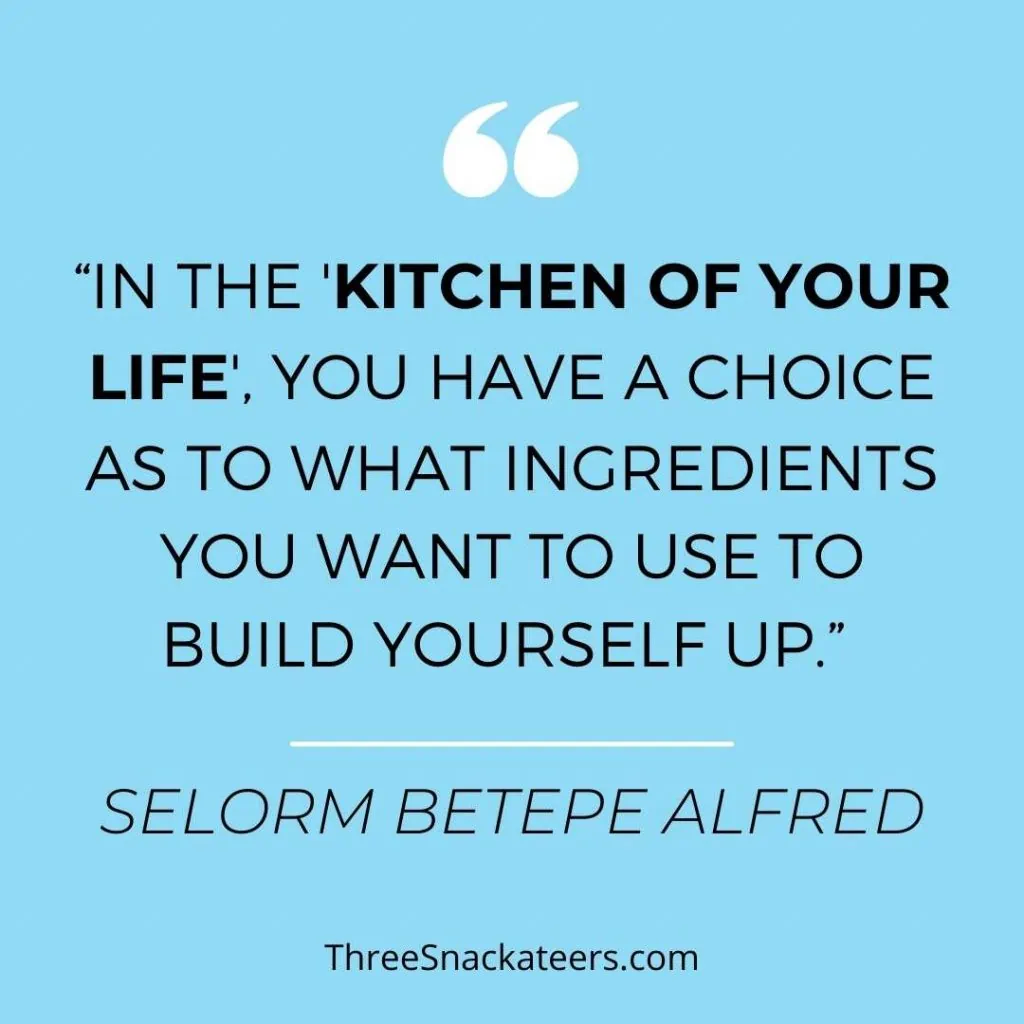 "The observant cook will absorb and accumulate lifelong lessons in the kitchen and come to rely, probably unconsciously, on these principles at work." – Guy Crosby
"If you can't stand the heat, get out of the kitchen." – President Harry Truman
"The kitchen is the heart of every home, for the most part. It evokes memories of your family history." – Debi Mazar
"Kitchens should be designed around what's truly important – fun, food, and life." – Daniel Boulud
"There is nothing nicer than a kitchen really made for a cook. Things that are designed to be used always have an innate beauty." – Julia Child
"Storytelling tastes best in the kitchen, told deep inside the aroma of cooking, told with stomachs growling and mouths salivating." – Brenda Sutton Rose
"No one is born a great cook, one learns by doing." – Julia Child
"The kitchen's a laboratory, and everything that happens there has to do with science. It's biology, chemistry, physics." – Alton Brown
"No matter what the recipe, any baker can do wonders in the kitchen with some good ingredients and an upbeat attitude!" – Buddy Valastro
"Get in your kitchens, buy unprocessed foods, turn off the TV, and prepare your own foods. This is liberating." – Joel Salatin
"If you see someone in the kitchen that has good hands and a quick brain, then you need that person to be in the front of everything." – Rene Redzepi
"If you let too many cooks in the kitchen it could cloud your vision of what you want to do." – Mary Elizabeth Winstead
"Cooking is at once child's play and adult joy. And cooking done with care is an act of love." – Craig Claiborne
Cute Kitchen Quotes
Families and friends bond together in the kitchen, and some people's warmest memories and most charming sayings come from gathering around the kitchen table or a hot stove while supper is getting ready.
These adorable kitchen quotes will make you smile and remind you why a great kitchen truly does make a house a home.
"In the childhood memories of every good cook, there's a large kitchen, a warm stove, a simmering pot and a mom." – Barbara Costikyan
"The time I spend with my family, in the kitchen and out, is precious and priceless." – Jeff Henderson
"Cooking is like love. It should be entered into with abandon or not at all." – Harriet Van Horne
"Thanksgiving Day is the day that your kitchen is going to turn into the most wonderful beautiful place in the world." – Polly Ann Lewis
"My mother taught me that cooking is fun, not something to be anxious about." – Marie Carter
"The kitchen is where you put all the ingredients together. No matter what you do in life, you have to have a plan and put it together." – Yo Gotti
"For me, the kitchen is the most special room in the house. It's a place for adventure – not drudgery, but discovery, sharing and showing off with friends, trying new ideas." – Ted Allen
"On the good days, my mother would haul out the ukulele and we'd sit around the kitchen table – it was a cardboard table with a linoleum top – and sing." – Carol Burnett
"A grandmother's kitchen goes beyond good aesthetics – it's like a bakery plus love." – Books Barbour
"They say the way to our hearts is through our stomachs, so the kitchen must be the heart of the home." – Emma Reed
"My happy place is you teaching me how to dance in the kitchen at two in the morning." – Lidia Longorio
"There is no spectacle on earth more appealing than that of a beautiful woman in the act of cooking dinner for someone she loves." – Thomas Wolfe
Short Kitchen Quotes
Not every quote needs to be a paragraph-long thought. Some of the best sayings about the kitchen are as short as the toddler trying to help her mommy cook.
These brief, punchy sayings get right to the heart of cooking and enjoying life in the kitchen!
"I never feel lonely in the kitchen. Food is very friendly." – Julia Child
"If you can organize your kitchen, you can organize your life." – Louis Parrish
"A kitchen knife cannot carve its own handle." – Korean Proverb
"The kitchen may not get cleaned, and I have to accept that, I do the important things." – Jasmine Guy
"Kitchens are hard environments, and they form incredibly strong characters." – Gordon Ramsay
"If your kitchen smells good, your food lost something." – Nathan Myhrvold
"A sharp knife is the best tool you can have in the kitchen." – Chris Morocco
"A kitchen is a good place to be, almost always the best place in the house." – Michael Ruhlman
"One cannot think well, love well, sleep well if one has not dined well." – Virginia Woolf
"In cooking, as in all the arts, simplicity is the sign of perfection." – Curnonsky
"A fat kitchin, a lean Will." – Benjamin Franklin
"Family fun is as necessary to modern living as a kitchen refrigerator." – Walt Disney
"Remember, you are all alone in the kitchen and no one can see you." – Julia Child
Funny Kitchen Quotes
People have a lot of things to say about the kitchen, and not all of them are sentimental or terse. Some kitchen quotes can cause a deep belly laugh that will make you feel on top of the world.
These hilarious sayings are sure to tickle your funny bone and make you look at your kitchen in a whole new way!
"Best way to get rid of kitchen odors: Eat out." – Phyllis Diller
"For me, a kitchen is like science fiction. I only go there to open the refrigerator and take something out." – Ann Margaret
"You won't learn to swim on the kitchen floor." – Irish Proverb
"My kitchen looks like the one from my childhood – very homey, with a little bit of Alice in Wonderland!" – Paris Hilton
"I cook with wine, sometimes I even add it to the food." – W. C. Fields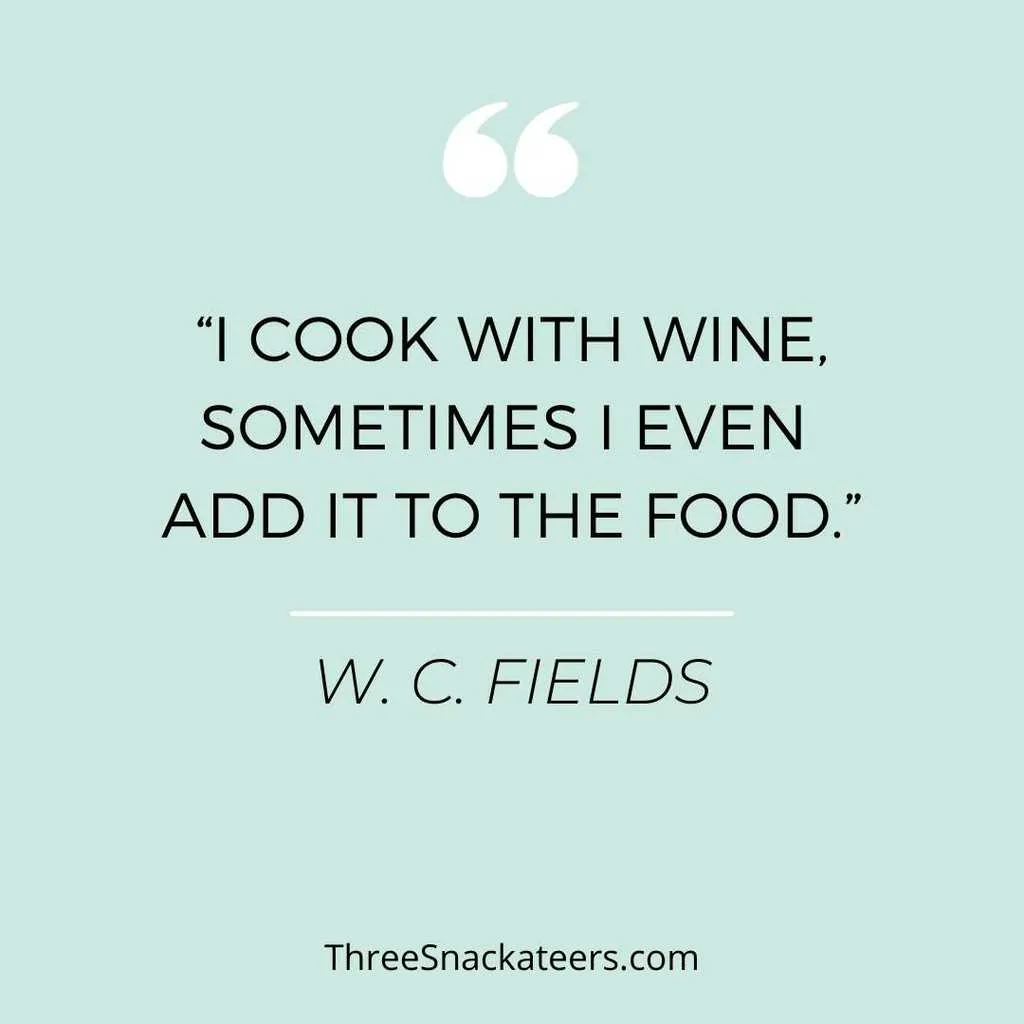 "The kitchen is the most important place in any house. Visit your family, and that's where you'll end up. Go to a party, that's where everyone congregates." – Michelle Dockery
"The kitchen oven is reliable, but it's made us lazy." – Jamie Oliver
"Bad cooks – and the utter lack of reason in the kitchen – have delayed human development longest and impaired it most." – Friedrich Nietzsche
"There are times when wisdom cannot be found in the chambers of parliament or the halls of academia but at the unpretentious setting of the kitchen table." – E.A. Bucchianeri
"I'm at the age where food has taken the place of sex in my life. In fact, I've just had a mirror put over my kitchen table." – Rodney Dangerfield
"When I'm old and gray, I want to have a house by the sea. And paint. With a lot of wonderful chums, good music, and booze around. And a damn good kitchen to cook in." – Ava Gardner
"The only time to eat diet food is while you're waiting for the steak to cook." – Julia Child
"The wisest advice I ever received regarding the kitchen came from my mother: 'Do the dishes while you're cooking." – Lela Rose
"I don't like to say that my kitchen is a religious place, but I would say that if I were a voodoo priestess, I would conduct my rituals there." – Pearl Bailey
"Always remember: If you're alone in the kitchen and you drop the lamb, you can always just pick it up. Who's going to know?" – Julia Child
"Problems in a company are like cockroaches in the kitchen. You will never find just one." – Warren Buffett
"Jump out of bed and I stumble to the kitchen, pour myself a cup of ambition and yawn and stretch and try to come alive." – Dolly Parton
"A man who loves good food has a way of making it gravitate toward his kitchen." – Angelo Pellegrini
"Show me a man who lives alone and has a perpetually clean kitchen, and eight times out of nine I'll show you a man with detestable spiritual qualities." – Charles Bukowski
"Onions and bacon cooking up just makes your kitchen smell so good. In fact, one day I'm going to come up with a room deodorizer that smells like bacon and onions." – Paula Deen
"I went into a French restaurant and asked the waiter, 'Have you got frog's legs?' He said, 'Yes,' so I said, 'Well hop into the kitchen and get me a cheese sandwich.'" – Tommy Cooper
"The kitchen may be the heart of the home, but it is also the place that naturally attracts the most clutter and mess." – Brette Sember
Kitchen Quotes for Instagram
Your feed can be more than news, models, and memes. There are plenty of captions that are as inspiring as they are tasty. Let these delicious quotes remind you of some of life's tastiest joys!
"Everything happens in the kitchen. Life happens in the kitchen." – Andrew Zimmern
"Happiness is a small house, with a big kitchen." – Alfred Hitchcock
"This kitchen is seasoned with love."
"We dance in this kitchen."
"Eat, drink, and be merry."
"Cooking is one of the strongest ceremonies for life." – Laura Esquivel
"No one who cooks, cooks alone." – Laurie Colwin
"Cooking well doesn't mean cooking fancy." – Julia Child
"Kitchens are made for bringing families together."
"People who love to eat are always the best people." – Julia Child
Bet you never realized that foodies and quote aficionados could pair as well as salt and pepper! We hope these scrumptious sayings whet your appetite for even more great content and unforgettable quotes that will put a smile on your face!
If you're interested in food quotes, then you'll also love these!
– 80+ Food Quotes
– 215+ Pizza Quotes
– 133+ Wine Quotes
– 101+ Best Dessert Quotes
– 75+ Cookie Quotes
– 75+ Baking Quotes
– 75+ Cookie Monster Quotes
– 101+ Best Pumpkin Quotes
If you enjoyed this article, save it for later on Pinterest, Instagram and Facebook. Also join our Facebook Group for more foodie fun!
Micky Reed, a two-decade veteran in the food and baking industry, leverages her influential Three Snackateers food blog and Instagram presence to collaborate with industry giants like Ben & Jerry's and Crumbl Cookies. Her work has been featured on Delish, PopSugar and more. Her expertise as a product curator for one of the world's largest international snack subscription box companies solidifies her status as a key player in the field.