There's nothing like a delicious dessert to satisfy your sweet tooth! And what could be more fun than sharing a sweet quote or caption about dessert?
From the good to the bad to the downright funny, these quotes will make you laugh, cry, and everything in between. So sit back, relax, and enjoy some delicious dessert quotes!
In this list, you'll find plenty of great quotes about dessert. To make it easier to find the perfect saying or caption, you can quickly browse these categories:
Funny Dessert Quotes
Whether it's chocolate cake, a creamy bowl of ice cream, or a slice of pie, desserts are a special treat that can bring joy to any occasion. But desserts also have a way of bringing out the humor in people.
From witty one-liners to clever puns, there are plenty of funny quotes about dessert that are sure to make you smile. So next time you're in need of a little pick-me-up, take a look at these funny dessert quotes and enjoy a sweet treat for your mind!
A dessert without cheese is like a beautiful woman with no heart.
-Jean Anthelme Brillat Savarin
Dessert doesn't count if you eat under an assumed identity.
-Valerie Harper
Dessert is probably the most important stage of the meal, since it will be the last thing your guests remember before they pass out all over the table.
-William Powell
Desserts are like mistresses. They are bad for you. So if you are having one, you might as well have two.
-Alain Ducasse
I don't share blame. I don't share credit. And I don't share desserts.
-Beverly Sills
I want to have a good body, but not as much as I want dessert.
-Jason Love
I'd never let anybody share dessert with me or even have a taste.
-Brigid Berlin
If God had wanted me to lose weight he would have made sure there was creamed spinach for dessert.
-Janet Evanovich
I'm not a vegetarian. I'm a dessertarian!
-Bill Watterson
Promises and pie-crust are made to be broken.
-Jonathan Swift
Seize the moment. Remember all those women on the 'Titanic' who waved off the dessert cart.
-Erma Bombeck
Sometimes I think that the one thing I love most about being an adult is the right to buy candy whenever and wherever I want.
-Ryan Gosling
The only obvious advantage to being an adult is that you can eat your dessert without having sampled the vegetables.
-Lisa Alther
Without ice cream there would be darkness and chaos.
-Don Kardong
Sweet Dessert Quotes For Pie, Cake & Cookie Lovers
Who doesn't love sweets? The smell of fresh baked cookies, the sight of a beautiful cake, the first bite of a warm slice of pie…There's nothing quite like it. And what better way to honor your favorite dessert than with one of these sweet quotes? Whether you're looking for a little inspiration or just want to share your love of sweets with others, these quotes are sure to hit the spot.
A party without cake is just a meeting.
– Julia Child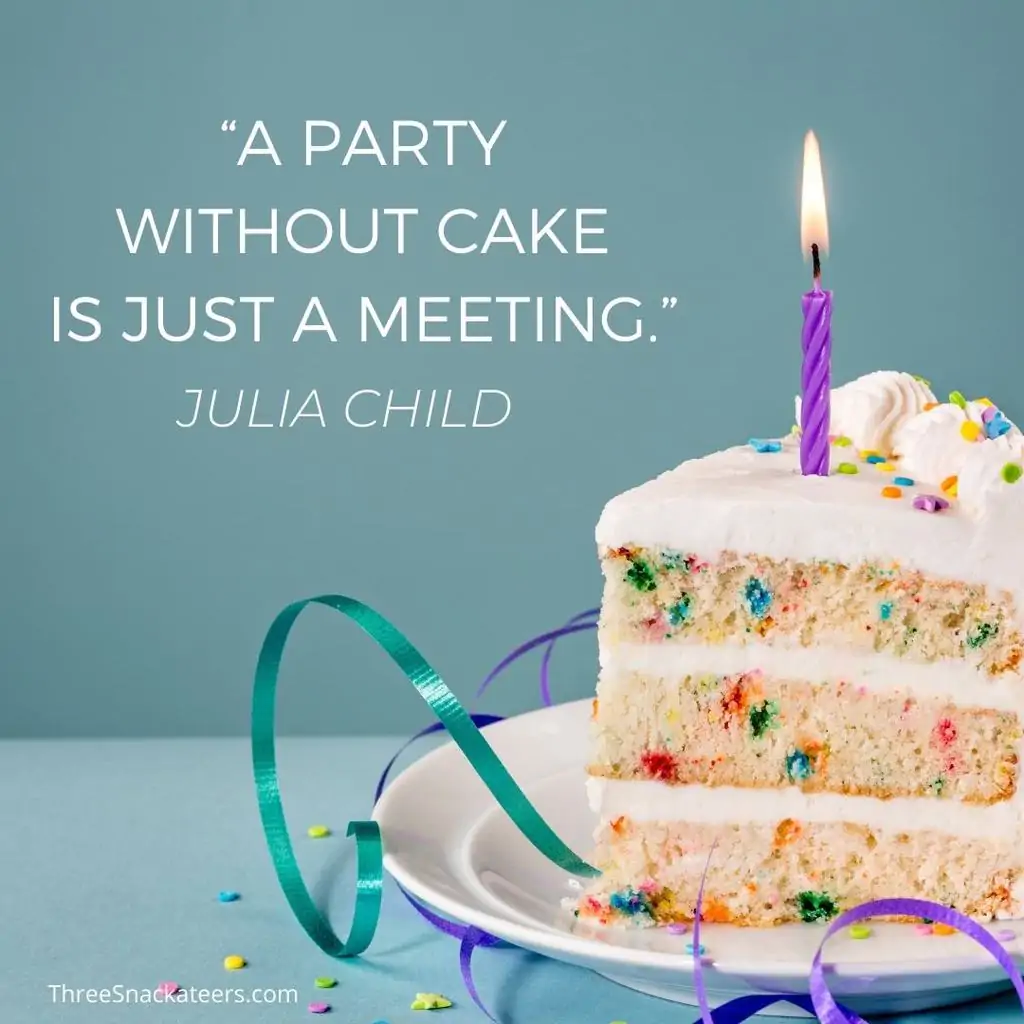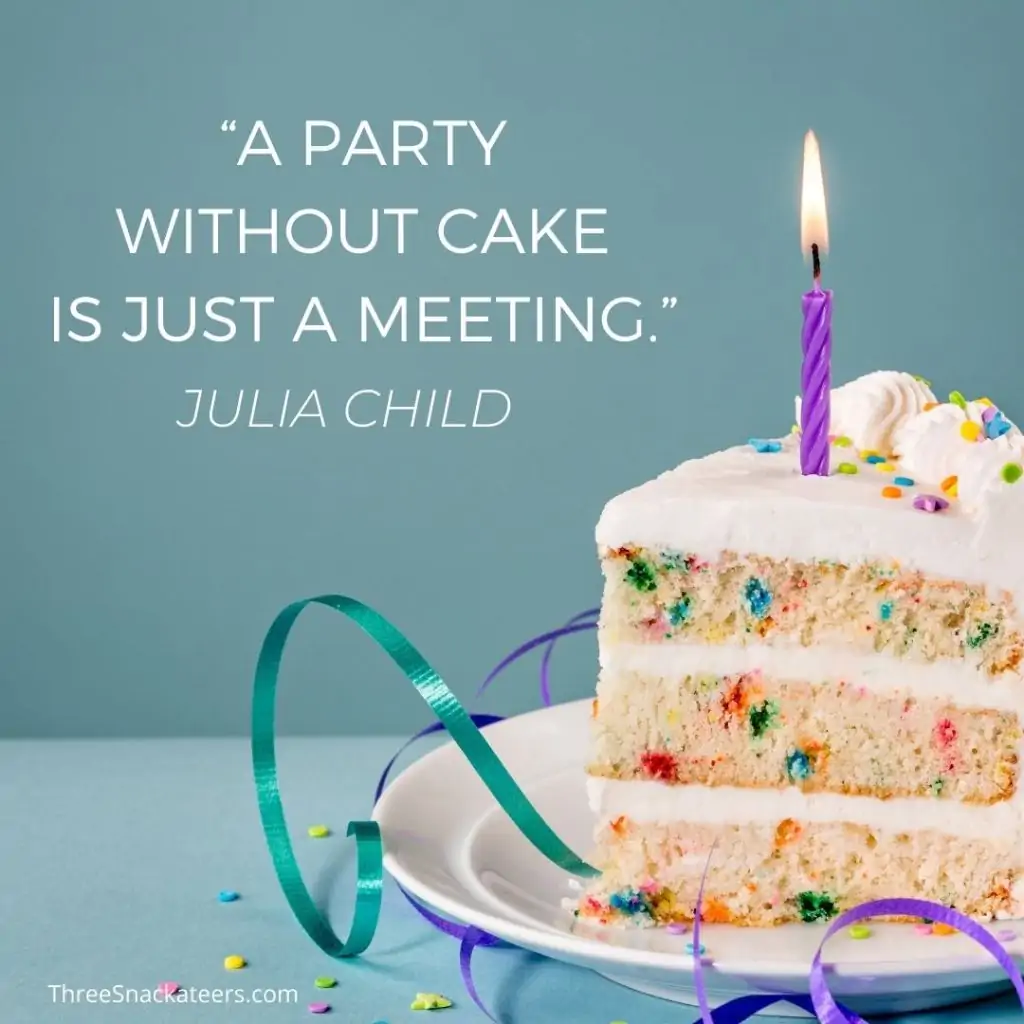 Let's face it, a nice creamy chocolate cake does a lot for a lot of people; it does for me.
-Audrey Hepburn
My policy on cake is pro having it and pro eating it.
-Boris Johnson
The only way cheese is dessert is when it's followed by the word cake.
-Michele Gorman
There's no diet list I'll follow that would rule out cherry pie.
-Edgar Guest
Vegetables are a must on a diet. I suggest carrot cake, zucchini bread, and pumpkin pie.
-Jim Davis
We must have a pie. Stress cannot exist in the presence of a pie.
-David Mamet
A balanced diet is a cookie in each hand.
-Barbara Johnson
Apple pie totally counts as a serving of fruit.
– Unknown
Good apple pies are a considerable part of our domestic happiness.
-Jane Austen
Chocolate Quotes For Dessert Lovers
For chocolate lovers, there's nothing quite like a rich, creamy dessert. And what better way to tempt your tastebuds than with a delicious quote about chocolate? Whether you're looking for a little bit of motivation to indulge in your favorite guilty pleasure or simply want to celebrate your love of all things chocolate, these quotes are sure to satisfy.
After eating chocolate you feel godlike, as though you can conquer enemies, lead armies, entice lovers.
-Emily Luchetti
All you need is love. But a little chocolate now and then doesn't hurt.
-Charles M. Schulz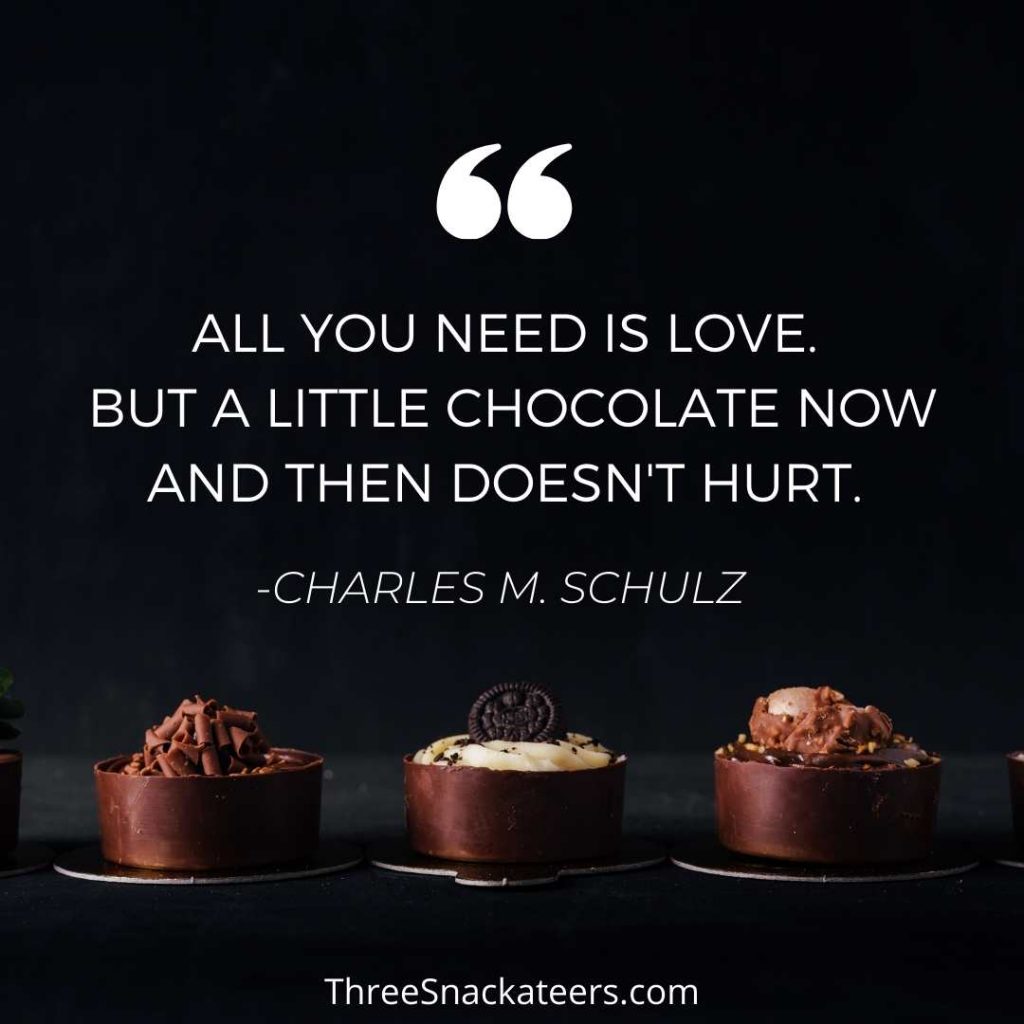 Always serve too much hot fudge sauce on hot fudge sundaes. It makes people overjoyed, and puts them in your debt.
-Judith Olney
Don't wreck a sublime chocolate experience by feeling guilty.
-Lora Brody
I can't walk by chocolate without eating it.
-Malin Akerman
I never met a chocolate I could not eat.
-Danielle Steel
Look, there's no metaphysics on earth but chocolates.
-Fernando Pessoa
Sometimes a girl's gotta have some chocolate!
-Carrie Underwood
The Best Dessert Sayings and Sweetest Dessert Quotes
Dessert is often the best part of a meal. It's the perfect way to end a dinner party or to show your loved ones how much you care. And what better way to show your affection than with a delicious dessert? But sometimes, it's not just about the sweets. Sometimes, it's the thoughtful words that accompany them that make them even more special. Here are some of the best dessert sayings and sweetest dessert quotes to help you express how you feel.
Dessert is a necessity of life.
-Adrienne Posey
Dessert is an opportunity to make something beautiful as well as delicious.
-Roland Mesnier
Dessert is like a feel-good song and the best ones make you dance.
-Edward Lee
Dinner is to a day what dessert is to dinner.
-Michael Dorris
Fun can be the dessert of our lives but never its main course.
-Harold S. Kushner
I love dessert. I can't be guilty about it because I have to taste everything. I experiment.
-Martha Stewart
It's the finale. It's the last impression. A bad dessert can ruin the meal.
-Anne McManus
Life is short. Eat the dessert first!
-Jacques Torres
Stressed is dessert spelled backward.
-Thornton Wilder
That's what dessert means to me: a dollop of sweet love in an otherwise cold world.
-Sarah Strohmeyer
The willingness and ability to live fully in the now eludes many people. While eating your appetizer, don't be concerned with dessert.
-Wayne Dyer
There is no better way to bring people together than with desserts.
-Gail Simmons
With the exception of dessert, food is food.
-Janet Evanovich
Work is the meat of life, pleasure the dessert.
-B.C. Forbes
You don't just change your whole life in one big step. It's the small things you do every day that pull over to the big things, like taking yourself out for coffee and eating a really good dessert when you're depressed could be the start to living a fulfilled life.
-Marcy Dermansky
I don't trust people who don't eat dessert.
-Unknown
Cute Dessert Quotes For Dessert Lovers
If you're a sucker for sweets, then these dessert quotes are just for you. Indulge your sweet tooth with these foodie quotes celebrating all things dessert. So, sit back, relax, and enjoy these cute quotes. After all, life is too short to skip dessert!
Sometimes me think, what is friend? And then me say: a friend is someone to share last cookie with.
-Cookie Monster
A kiss is a lusty dollop of dessert to be served with desire and savored with passion.
-Al Pacino
Life is short. Lick the bowl.
Absolutely eat dessert first. The thing that you want to do the most, do that.
-Joss Whedon
Always look at the dessert menu first to make sure you save enough room.
-Micky Reed
Baking may be regarded as a science, but it's the chemistry between the ingredients and the cook that gives desserts life. Baking is done out of love, to share with family and friends, to see them smile.
-Anna Olson
I am starting to think that maybe memories are like this dessert. I eat it, and it becomes a part of me, whether I remember it later or not.
-Erica Bauermeister
I have a sweet tooth. I love dessert, and if somebody makes me one, I'm going to have it.
-Sarah Rafferty
It doesn't matter the problem. Dessert is the answer.
I think life is about falling in love with the right person, shopping, eating our favorite desserts and traveling a lot.
-Olivia Palermo
I want to serve desserts and pastries that people recognize and love to eat, but sometimes, with an unexpected twist of surprise.
-Sean Sasser
Marriage is a dinner that begins with dessert.
-Henri de Toulouse-Lautrec
My problem is desserts. I am obsessed with desserts.
-Sofia Vergara
Dessert Captions For Instagram
Whether you're celebrating National Dessert Day or just looking for a little inspiration, these quotes and captions are sure to sweeten up your feed. From classics like "life is short, eat dessert first" to pun-filled gems like "you're the cherry on top of my sundae," there's something for everyone. So go ahead and indulge – your feed will thank you!
A life without sweet treats is no life at all!
Ah, my butter half!
Always save room for dessert.
Begin the day with something sweet.
But first, dessert.
Cake is my happy place.
Cake it easy, man!
Cupcakes make the world go round.
Dessert calories don't count.
Dessert is always the solution to any problem.
Dessert is calling me; I must go.
Diet starts tomorrow.
Do I love ice cream? You sherbet I do!
Don't be afraid to take whisks.
Don't break promises; break pie crusts instead.
Doughnut worry, be happy!
Everyone has weaknesses. Mine happens to be sugar.
Feeling downie? Then eat a brownie!
Find someone who looks at you the way I look at my dessert.
First comes love, then comes dessert.
Fitness, you say? More like fit this cake in my mouth!
Flan-tastic!
Here to bake your day.
Holy cannoli!
I liked it, so I licked it!
I love this berry much!
I run because I really like cake.
I take dessert seriously.
I'd go glazy without you.
I'm a cake-aholic!
I've never met a dessert I didn't like.
Icing for joy when I see cake.
If the saying "we are what we eat" is true, then I am incredibly sweet.
Is a day even over if you haven't had dessert?
It doesn't matter the problem. Dessert is the answer.
It's dessert o'clock somewhere.
Just a few more calories won't hurt!
Keep calm and eat cupcakes.
Laugh s'more, worry less.
Life is what you bake of it.
Live. Love. Dessert.
Living the sweet life.
Me want cookie!
Muffin compares to you.
My superpower? I make cupcakes disappear.
Oh, what a sweet world we live in.
Slice, slice, baby!
So many desserts, so little time.
Stressed spelled backward is desserts.
Sugar is my sidekick.
Sweet dreams are made of this.
Thanks for pudding up with me.
I carry a knife around in case there might be cake!
The sugar made me do it.
The taste of sweetness calms my soul.
Us weir-doughs gotta stick together!
What the Fudgsicle?!
You bake the world a better place.
You can't be sad when you're eating dessert.
You dessert nothing but the best!
You had me at dessert.
You bake the world a better place.

You're baking me crazy!
You're the cherry on top of my sundae.
---
If you're interested in food quotes, then you'll also love these!
– 80+ Food Quotes
– 215+ Pizza Quotes
– 133+ Wine Quotes
– 75+ Kitchen Quotes
– 75+ Cookie Quotes
– 75+ Baking Quotes
– 75+ Cookie Monster Quotes
– 101+ Best Pumpkin Quotes
If you enjoyed this article, save it for later on Pinterest, Instagram and Facebook. Also join our Facebook Group for more foodie fun!