If you're a fan of wings, then you've probably heard of Wingstop, the chain of restaurants that specializes in all things chicken! They offer classic bone-in chicken wings, boneless wings, crispy chicken tenders and sandwiches too. Some locations also offer Thigh Bites.
The fun part about ordering from Wingstop is the variety of flavors, sauces and rubs to choose from. They have sauces ranging from fiery hot to mild, sweet to savory and everything in between.
In this article, you'll get an overview of current Wingstop flavors and sauces. We'll also take a look at some limited-edition and interesting global flavors. And finally, we'll answer some frequently asked questions about Wingstop flavors.
You may also like:
– How Long To Deep Fry Chicken Wings
– Easy Frozen Chicken Tenders in Air Fryer
– Air Fryer Frozen Chicken Nuggets
Best Wingstop Flavors and Sauces
Below you find a list of the best Wingstop sauces, flavors and rubs that are currently offered. The flavors are ranked in order of spiciness, from least (plain wings) to most heat (Atomic flavor).
Plain
Heat Scale: 0 out of 5; No Heat
Type Of Flavoring: None
Plain chicken wings from Wingstop are just like they sound – no sauces or dry rubs are added for flavor. Some people choose to order a side sauce or dip along with their plain wings.
Garlic Parmesan
Heat Scale: 0 out of 5; No Heat
Type Of Flavoring: Dry Rub
Wingstop's Garlic Parmesan dry rub is savory, buttery and delicious. The flavor is rich and potent, with just enough garlic to make it interesting but not overpowering in taste or smell.
Hawaiian
Heat Scale: 0 out of 5; No Heat
Type Of Flavoring: Wet Sauce
The Hawaiian wing sauce is a unique blend of island citrus and rich Asian flavors that will have your mouth watering for more. The flavor profile is sweet and tangy, with no spiciness or heat.
Lemon Pepper
Heat Scale: 1 out of 5; Mild
Type Of Flavoring: Dry Rub
Lemon Pepper is one of the most popular flavors at Wingstop. This dry rub is zesty and full of lemon flavor with a hint of cracked black pepper.
With only a bit of mild spice, this flavor is playfully referred to as the "gateway" flavor for those easing their way into the hotter sauces.
Hickory Smoked BBQ
Heat Scale: 2 out of 5; Mild
Type Of Flavoring: Wet Sauce
If you love the classic flavors of BBQ, but are looking for a little more kick, Wingstop's Hickory Smoked sauce is a perfect choice. The bold sauce is rich and smoky, with just the right amount of sweetness.
Mild
Heat Scale: 2 out of 5; Mild
Type Of Flavoring: Wet Sauce
For those who like the taste of buffalo sauce but can't handle the heat, mild sauce is the perfect compromise. It has all the flavor of the original hot sauce without the fiery kick.
Original Hot
Heat Scale: 3 out of 5; Medium
Type Of Flavoring: Wet Sauce
When it comes to hot sauce, there's nothing quite like the OG Hot sauce from Wingstop. This classic sauce is the one that started it all, and it's still one of the most popular choices on the menu.
If you're looking for a flavorful kick, Original Hot is a perfect choice. It has a classic blend of heat and tang.
Spicy Korean Q
Heat Scale: 3 out of 5; Medium
Type Of Flavoring: Wet Sauce
If you're looking for a sauce that will send your taste buds on a rollercoaster ride, give Wingstop's Spicy Korean Q sauce a try.
This zesty sauce is a perfect balance of sweet and spicy, with ginger and garlic providing a subtle backdrop for the Sriracha and crushed red pepper.
Louisiana Rub
Heat Scale: 3 out of 5; Medium
Type Of Flavoring: Dry Rub
Wingstop's Louisiana dry rub is the perfect blend of spices to give your wings a little bit of pep. A hint of garlic kicks the flavor up a notch, while the Deep South Cajun love gives it a nice smoky heat.
Mango Habanero
Heat Scale: 4 out of 5; Hot
Type Of Flavoring: Wet Sauce
The Mango Habanero sauce from Wingstop is a bit of a trickster. When you take that first bite, you first get the delicious sweetness of the mango.
But just when you think you've got the flavor figured out, the habanero kicks in. If you can handle the heat, you'll be rewarded with a delicious and unique flavor experience.
Cajun
Heat Scale: 4 out of 5; Hot
Type Of Flavoring: Wet Sauce
Wingstop's Cajun sauce is a delicious combination of the heat from Wingstop's original hot sauce, mixed with a dusting of bold zesty Cajun rub flavors that come straight outta Louisiana.
Atomic
Heat Scale: 5 out of 5; Very Hot
Type Of Flavoring: Wet Sauce
Wingstop's Atomic sauce is not for the faint of heart – it packs a serious punch. But be warned, this sauce is not for everyone. Only the boldest of the bold can handle the intense heat of this sauce.
You may also like: Your Guide To The Best Buffalo Wild Wings Flavors & Sauces
Wingstop Dips
In addition to its lineup of dry rubs and sauces, Wingstop also offers some side dips. You can pick from classic flavors including homemade ranch, bleu cheese and honey mustard. They also offer a jalapeno cheese sauce as well.
Limited Edition Wingstop FLAVORS and Sauces
Wingstop Remix Flavors
In 2019, three "remix" flavors briefly appeared on the Wingstop menu. After hearing from countless fans raving on social media about their favorite flavor combos, Wingstop decided to "return the flavor".
In 2021 and again in 2022, Wingstop brought back three flavor remixes for a limited time.
The Remix flavors included:
Bayou BBQ: A Southern-inspired combination of Hickory Smoked BBQ and Wingstop's signature Cajun seasoning.
Hot Lemon: A spicy and zesty combination of Wingstop's Original Hot with Lemon Pepper seasoning.
Lemon Garlic: A combination of buttery Garlic Parmesan paired with zesty Lemon Pepper seasoning.
Hot Honey Rub
In 2022, Wingstop launched a limited-edition Hot Honey Rub. This crunchy dry rub pairs sweet honey with heat from ancho chili and cayenne pepper.
Blazed And Glazed
In 2022, Wingstop also released a limited-edition 4/20-inspired sauce for its cannabis-loving fans. While the sauce didn't get you high, it was created to taste like 4/20 with an intriguing combination of flavors including hemp seeds, terpenes, strawberry and cayenne pepper.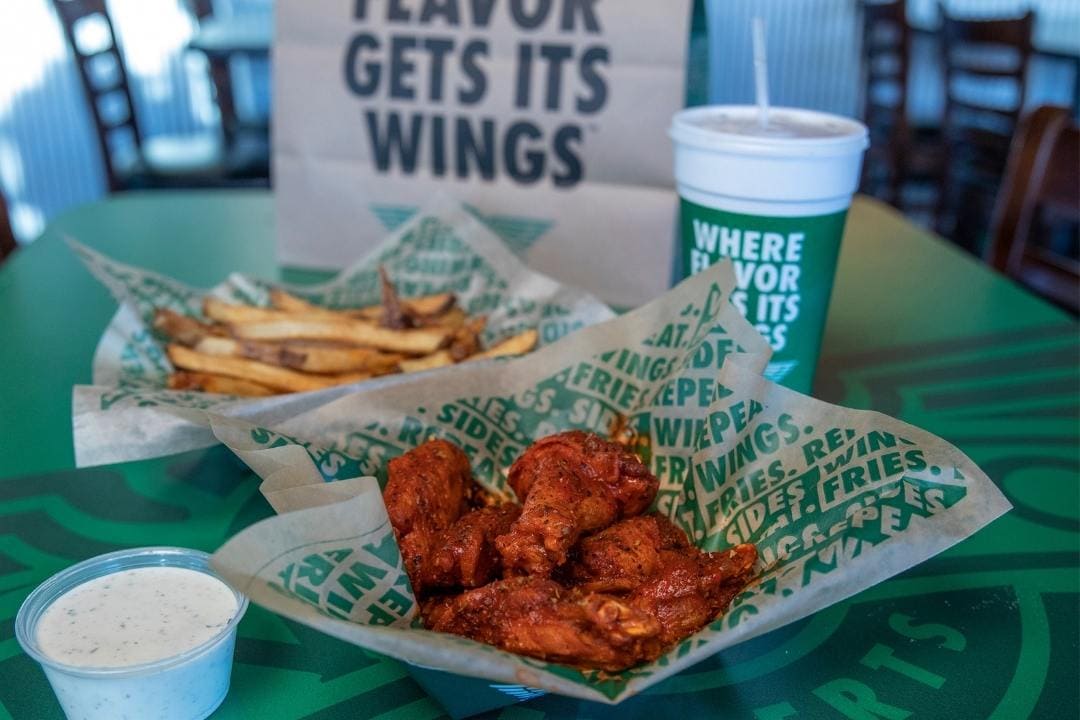 GLOBAL Wingstop Flavors and Sauces
It's no surprise that people in different areas of the world have different flavor preferences. To accommodate these regional differences, Wingstop offers unique flavors in some areas. Below are a few examples.
Wingstop Singapore Flavors
Teriyaki: Sweet and soy flavors, with no heat.
Kecap Manis: Indonesian sweet soy sauce paired with chili flakes.
Texas Buffalo: Traditional American buffalo-style with a blend of cayenne peppers and a tangy vinegar base.
Inferno: Hot! Hot! Hot!
Wingstop United Kingdom Flavours
Brazilian Citrus Pepper: A bold dry rub bursting with zesty citrus and piri piri peppers.
Wingstop France Flavors
Golden Mustard: The Frenchy special that recalls the sensations of a Sunday mustard chicken.
Parmesan Cheese: A tasty combination of garlic, Provencal herbs and parmesan.
Hot Buffalo: Traditional "Buffalo Sauce" slightly spicy with a note of cider vinegar.
Wingstop Mexico Flavors
Suaves: Wingstop's Original recipe at a relaxed level. A spicy balance, pleasing to any palate.
Wingstop Indonesia Flavors
Asian Spice: A blend of savory and sweet with a hint of spiciness.
Red Hot Cajun: Perfect balance of cajun spice, tomato and chili.
Atomic Blast: "Hot, fun and tears. A hot blast in your mouth."
Frequently Asked Questions
Can You Mix Flavors At Wingstop?
If you're a fan of Wingstop, you know that the restaurant offers a wide variety of delicious flavors to choose from. But what if you can't decide which flavor you want? Can you mix and match flavors at Wingstop?
Unfortunately, the restaurant won't mix sauces and flavors for you. However, you can order extra sauces on the side to create your own flavor combinations.
Here are some fan-favorite flavor hacks for Wingstop:
Mango Habanero + Lemon Pepper
Lemon Pepper + Original Hot Sauce
Hawaiian + Cajun
What Is The Wingstop Blazed and Glazed 420 Flavor?
In a bold move, Wingstop publically acknowledged in 2022 that its wings are the ultimate munchies for its cannabis-loving fans. So in honor of 4/20 (aka the most chill day of the year) Wingstop unveiled a limited-edition, 4/20-inspired flavor called Blazed & Glazed.
This innovative flavor included a blend of hemp seeds, terpenes, strawberry and cayenne pepper. While the flavor was designed to taste like 4/20, it didn't actually get people high.
What Is The Hottest Wingstop Flavor?
The spiciest flavor at Wingstop is called Atomic. They are made with Habanero peppers which rank as "extra hot" on the Scoville Heat Units scale.
Is Wingstop Mango Habanero Spicy?
The Mango Habanero wings at Wingstop are pretty hot. The sauce has a 4 out of 5 heat level. This is just one notch behind the chain's hottest wing called Atomic, that ranks 5 out of 5 on the spicy scale.
The heat of the Mango Habanero sauce is somewhat balanced by the sweet and fruity notes of the mango.
What Is The Most Popular Wing Sauce At Wingstop?
Original Hot is Wingstop's first flavor and has been a fan favorite ever since. It has all the flavor of classic buffalo wing sauce with just enough heat to keep you on your toes.
Does Wingstop Have Teriyaki Sauce?
Unless you're visiting a Wingstop location in Singapore or Indonesia, you're out of luck when it comes to finding teriyaki sauce on the Wingstop menu.
At some point, around 2018, the company quietly discontinued its delicious teriyaki flavor. The news surprised scores of Wingstop fans who vowed not to return to the restaurant until the beloved flavor makes a comeback.
---
Next Up:
– What Are The 23 Flavors In Dr Pepper?
– The Best Cook Out Milkshake Flavors
– Best Liquid IV Flavors Ranked
– All Crumbl Cookie Flavors List
Micky Reed, a two-decade veteran in the food and baking industry, leverages her influential Three Snackateers food blog and Instagram presence to collaborate with industry giants like Ben & Jerry's and Crumbl Cookies. Her work has been featured on Delish, PopSugar and more. Her expertise as a product curator for one of the world's largest international snack subscription box companies solidifies her status as a key player in the field.