Are you a fan of chicken wings? If so, you may already be familiar with the delicious flavors and sauces found at Buffalo Wild Wings.
This popular chain is well-known for its impressive selection of traditional and boneless chicken wings (and cauliflower wings too!) that come with a wide range of mouthwatering seasonings and sauces.
Whether you prefer classic flavors like mild, medium, or hot sauce, or more exotic varieties like lemon pepper or Asian Zing, you're sure to find plenty of amazing options at BWW.
So if you're looking to take your chicken wing experience to the next level, this guide is for you. In this article, we're going to explore the top Buffalo Wild Wings flavors and sauces that will make your taste buds sing.
You may also like: The Ultimate Guide To Wingstop Flavors and Sauces
Buffalo Wild Wings Flavors and Sauces Overview
Most people use heat as a measure of which wing sauces they want to try. So in this article, we're going to start with mild and medium options that are on the permanent BWW menu, then jump up to hot and wild sauces.
After that, we'll cover some of Buffalo Wild Wings limited edition and discontinued flavors and sauces.
So let's jump right in and explore your mild sauce options as B-Dubs!
Buffalo Wild Wings Mild Sauces
If you're looking for a flavorful meal that still packs a gentle punch of flavor, you'll definitely want to try Buffalo Wild Wings' selection of mild sauces.
Plain
The best way to ensure your B-Dubs wings won't leave your mouth burning is to order them plain. Plain wings have a slight crunch and a bit of salty flavor. If you want some additional flavor, you can always order a side dipping sauce.
Mild Hot Sauce
One of the most popular options at BWW is their mild sauce. This crowd favorite is a versatile blend of savory flavors that hits all the right notes without the heat.
Parmesan Garlic
This bold and flavorful sauce is packed with delicious rich garlic flavor and just the right amount of parmesan. The creamy texture is perfect for slathering on your wings or using it as a side dipping sauce.
Honey BBQ
BWW's Honey BBQ sauce has a sweet and smoky flavor. The sauce has a rich color and thicker consistency that coats the wings nicely. The spice is subtle, and the sweet flavor from the honey helps keep it in balance.
Sweet BBQ
If you're looking for an all-around palate pleaser, the Sweet BBQ is perfect. It has just enough tang to it without being too overwhelming or cloying. It doesn't have any smokey or spicy flavor, just a nice pleasant sweet vibe.
Teriyaki
BWW's version of teriyaki sauce gets mixed reviews. It's similar to a sweet soy sauce and doesn't have any heat to it. However, you may find it misses the mark when it comes to the balance of other expected flavors like ginger and sesame.
Lemon Pepper Seasoning
The BWW Lemon Pepper Dry Rub has the tart taste of lemon joined with the zest of pepper in every bite. It's certainly delicious as a wing seasoning, but don't forget to sprinkle it on your fries too.
Lemon Pepper Sauce
Buffalo Wild Wings also offers lemon pepper flavor in sauce form. It boasts the same citrusy and peppery flavor as the dry rub. Add this flavorful sauce to your wings or use it as a dipping sauce.
Salt & Vinegar Seasoning
If you're a salt and vinegar chip fan, then the salt and vinegar seasoning from BWW is worth a shot. With just the right balance of salty and tangy, this seasoning is great for coating your wings or sprinkling on sides like fries.
Buffalo Wild Wings Medium Sauces
If you're ready to tip-toe into the spicy wing world, one of BWW's medium sauces might be right for you. They have a nice selection of medium sauces with bold flavors that pack just the right amount of heat and spice.
Medium Hot Sauce
The BWW Medium Hot Sauce has a bold flavor that packs a punch, without being too overpowering or too mild. Whether you're dunking your tenders or dousing your fries, it's a great mid-level sauce.
Asian Zing
This Asian-inspired sticky sauce is kind of like a wilder version of BWW's teriyaki. It has notes of soy sauce, ginger, and garlic, plus some chili pepper spice to create a sweet, tangy and balanced sauce.
Spicy Garlic
The Spicy Garlic sauce leans heavily on the garlic and is lighter on the heat. It has a red-orange color and spice level similar to BWW's mild sauce.
Buffalo Seasoning
If you're craving classic Buffalo wing flavor, but not in the mood for licking sauce off your fingers, the Buffalo dry rub might be for you.
It's got a very mild amount of heat with a salty, garlicky and buttery flavor. The texture is also a bit odd, which leaves most people opting for the Original Buffalo sauce.
Caribbean Jerk
Welcome to Jamaican, mon! This sauce inspired by the islands is kind of like a sweet, ginger sauce with some manageable heat from red pepper.
Chipotle BBQ Seasoning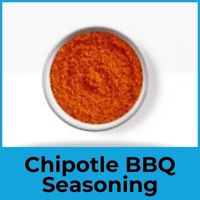 BWW's Chipotle BBQ dry seasoning brings the heat from fire-roasted chipotle peppers. It also adds a delicious mesquite smokiness to the touch of sweetness from the BBQ seasoning.
Orange Chicken
BWW's Orange Chicken sauce is another sweet Asian-inspired flavor. This glaze has notes of orange and soy sauce, with a bit of heat from mild chili peppers.
Buffalo Wild Wings Hot Sauces
The actual spiciness of food is always subjective. What's hot to one person can be mild to the next.
With that in mind, the sauces below fall into BWW's "hot" category and vary in actual heat intensity.
Hot Sauce
BWW's Hot Sauce is the perfect balance of tangy, and spicy flavors with just a touch of sweetness. The vinegar adds some zingy brightness to the sauce while the peppers provide just the right amount of spice to give your taste buds a little kick without overwhelming them with heat.
Whether you're tossing your wings in this magical sauce or drizzling it over your fries, this sauce is flavorful and addictive.
Original Buffalo
Known for its hot and spicy flavor, Buffalo Wild Wings' Original Buffalo Sauce is one of the most popular sauces in the restaurant's arsenal. This zesty sauce boasts a hint of tang from vinegar and Worcestershire sauce with a smooth and buttery finish.
Mango Habanero
If you're looking for a hot and spicy sauce that still packs a delicious flavor, check out BWW's signature Mango Habanero sauce. The mango in the sauce provides a refreshing sweetness that serves to balance out the intense habanero spice.
A word of caution: this is a powerful sauce that really brings the heat and will probably bring some sweat to your brow.
Thai Curry
Thai Curry is an interesting flavor that brings together a wide range of different like sweet chili and coconut to create a complex and incredibly flavorful experience. The sauce has a medium-high level of heat that builds as you eat.
Jammin' Jalapeno
Jammin' Jalapeno sauce features spicy jalapenos, with a hint of lime and tequila. At one time, this was a limited edition sauce, but people loved the sweet and spicy lime flavors, so BWW brought the discontinued sauce back to the permanent menu.
Nashville Hot
The Nashville Hot Sauce has just the right mix of heat and flavor to keep your taste buds tingling, without being too in-your-face and overwhelming. Unlike some other Buffalo sauces, features more hints of sweetness than tangy vinegar.
Wild
Wild sauce is on the high end of the spicy list at BWW's. It definitely brings the heat, but also has a balanced smokey flavor.
Interestingly, Wild sauce is one of the hottest flavors on the menu, but isn't quite crazy enough to make it into BWW's category of the same name which we'll dive into next.
Buffalo Wild Wings Wild Sauces And Seasonings
And finally, we have BWW's selection of flavors that are so out there, they land in a category called "wild".
If you're up for the challenge of some serious spice, try one of these sauces that rank at the top of the BWW heat charts.
Desert Heat Seasoning
The Desert Heat flavoring is a fiery pepper dry rub with a bit of smoke. BWW says this flavor is the hottest signature seasoning on the menu. Many people describe this flavor as a hotter, saltier version of Chipotle.
Blazin Carolina Reaper
Beware! Blazin Carolina Reaper is the hottest sauce on the BWW menu and not for the faint of heart. It uses the shockingly hot ghost pepper to deliver an unrelenting burn. For reference, the ghost pepper is 170 times hotter than Tabasco sauce.
Limited Edition BWW Sauces
It's no secret that BWW loves the introduce fun, new wings sauces and flavors. They even have a top-secret B-Dubs Sauce Lab dedicated to conjuring up inventive new flavors.
Let's take a look at some of the creative, limited-edition sauces that BWW's has launched over the years.
General Tso's – For the summer of 2023, BWW's is offering a limited-time General Tso sauce that combines the bold flavors of crushed red pepper and Chile de árbol. This sticky sauce brings together a perfect balance of sweet, smooth, and spicy tastes.
Sweet Chile Lime – Also available for a limited time in 2023 is the Sweet Chile Lime sauce, This creative blend features notes of honey, chile peppers, and lime to create a balance of sweet and savory flavors.
Sauce Gardner 'Sauce Sauce' – BWW collab with Jets rookie Ahmad "Sauce" Gardner. Smokey, sweet, and spicy flavors of BBQ sauce. Launched in 2022.
Doritos Flamin' Hot Nacho Sauce – This 2022 limited-edition sauce was topped with crumbled Doritos Flamin' Hot Nacho chips.
Doritos Spicy Sweet Chili – The sauce features soy sauce, brown sugar, onion, garlic and paprika flavors with crumbles of crunchy Doritos Spicy Sweet Chili chips on top. Launched in 2021.
Truffalo – Spicy buffalo sauce with the flavor of white truffles. Launched in 2021.
Champa Sauce – Only served in Tampa Bay, this sweet and savory sauce combined Orange Chicken and Lemon Pepper flavors. Launched in 2021, this limited-time flavor celebrated Tampa Bay's win at Super Bowl LV.
Pizza Sauce – BWW's first pizza-inspired flavor. The garlic parmesan sauce included tomato powder and basil seasoning. Launched in 2020.
Smoky Adobo – Similar to a BBQ sauce with a balance of smoky, sweet, and spicy flavors. Originally released as a sauce on their Dirty Dubs Tots. Launched in 2020.
BMF Wing Sauce – A UFC-inspired sauce, served one day only on Saturday, November 2, 2019. The sauce was flavored with mango and spicy habanero, heat from ghost peppers and finished with the super hot flavor of Desert Heat seasoning. The sauce was created in honor of the "BMF" title belt match between Jorge Masvidal and Nate Diaz.
Dragon Fire Sauce – A Game Of Thrones-inspired sauce, served one day only on Sunday, April 14, 2019. The sauce featured chili and ghost peppers paired with soy and ginger. The super-spicy wings were topped with a jalapeño garnish.
Blue Moon BBQ Sauce – Made with Blue Moon craft beer, citrus, coriander and a blend of other spices. Garnished with an orange. Launched around 2018 and returned briefly in 2020.
BBQ Pumpkin Ale Sauce – Ale mixed with BBQ flavors and pumpkin spice for a taste of the season. Launched in 2018.
Salted Caramel Barbecue Wings – A mild honey barbecue sauce with a drizzle of a salted caramel glaze. Launched in 2014 and returned in 2018.
Korean BBQ – Flavored with soy sauce, red chili pepper, rice vinegar and garlic. Launched in 2018.
'Wing Bling' topping – Not technically a flavor, but in 2018, guests could ask for 'WingBling' and would get a glittery sprinkle on their wings. This limited-time option coincided with the start of the 2018 Winter Olympics.
Rising Sun Sauce – A Japanese-style barbecue sauce with soy, ginger, vinegar and brown sugar. Launched in 2016.
Mumbai Masala – Inspired by tikka masala, a tomato-based sauce with coriander, garlic, paprika, cumin, and turmeric. Launched in 2016.
Fireball Cinnamon Whiskey – Collab with Boston Beer Company in 2015.
More Discontinued Flavors From The B-Dubs Sauce Lab
Sriracha Sizzle
Wicked Wasabi
Honey Ginger Kick
Big Easy Bourbon Honey Mustard
Classic Margarita (Lime, Tequila and Salt)
Ghost Pepper
Chipotle Cherry Sting
Smoldering Santa Fe (Mexican Guajillo, Chipotle, and Jalapeno Peppers)
Buttery Maple (Smokey With Sweet Maple)
Mandarin Kick (Orange, Pineapple With Spice)
Mayan Midnight Mole (Mexican Cocoa with Spicy Chipotle Pepper, Ancho Chili, Cinnamon, and Chili Pepper)
Moroccan Fire (Harissa-inspired Sauce With Red and Serrano Peppers, Garlic, Coriander, Cayenne, and Caraway)
BBQ Mango Mashup (Sweet BBQ, Honey BBQ, and Mango Habanero)
Angry Orchard Fiery Apple Whisky
Music City Fire (Inspired by Nashville Hot Sauce With Cayenne, Paprika, Garlic, Black Pepper, and Onion)
Scorpion Rum (Hotter than Blazin' With Scorpion, Habanero, and Chipotle peppers, and Myer's Dark Rum)
Spicy Strawberry Sriracha (Chili Powder, Garlic, Plus Strawberry)
Zesty Citrus (Mountain Dew-inspired with lemongrass and red pepper)
Summy Shandy (With Leinenkugel's Summer Shandy)
Sweet Saharan Spice (African Bird's Eye Peppers)
B-Dubs Hackables
To celebrate National Sauce Month in 2018, Buffalo Wild Wings looked to its employees for flavor inspiration. The BWW staff did not disappoint.
Here are the creative flavor mashups (aka B-Dubs Hackables) they came up with:
Vampire Slayer: Spicy Garlic sauce topped with a zip zag of Parmesan Garlic
Dirty Bird: Teriyaki sauce topped with Cajun seasoning
El Loco: Chipotle BBQ dry rub seasoning, topped with creamy queso, shredded lettuce, pico de gallo and sliced jalapenos.
Frequently Asked Questions
How Many Flavors Of Buffalo Wild Wings Are There?
At any given time, you can expect to see around 20-24 different sauces on the Buffalo Wild Wings menu. Some flavors on the menu may be available for a limited time only.
Also, keep in mind that flavors on the permanent menu may be discontinued at any time!
Where Can I Buy Buffalo Wild Wing Sauces?
You can buy BWW sauces and dry rubs at any restaurant location. You can also find it stocked on shelves at grocery stores and retailers like Walmart. You'll also find a nice selection of Buffalo Wild Wings sauces, seasonings and samplers on Amazon.
What Is The Most Popular Wing Flavor?
According to a recent survey of 2500 Americans, the top wing flavors are honey BBQ, Buffalo sauce and parmesan garlic. Additional favorites included spicy garlic and lemon pepper.
What Is The Most Popular BWW Sauce?
According to Buffalo Wild Wings, their three most popular sauces are Honey BBQ, Medium Hot Sauce and Parmesan Garlic. Interestingly, these three sauces also coincide with the most popular wing flavors in the US (see previous FAQ.)
Up Next: The Ultimate Guide To Wingstop Flavors and Sauces
You may also enjoy:
– Easy Frozen Chicken Tenders in Air Fryer
– How Long To Deep Fry Chicken Wings
– Air Fryer Frozen Chicken Nuggets
Micky Reed, a two-decade veteran in the food and baking industry, leverages her influential Three Snackateers food blog and Instagram presence to collaborate with industry giants like Ben & Jerry's and Crumbl Cookies. Her work has been featured on Delish, PopSugar and more. Her expertise as a product curator for one of the world's largest international snack subscription box companies solidifies her status as a key player in the field.