There's nothing quite like a cold, refreshing beverage on a hot summer day. But what if that beverage could also give you a boost of energy and faster hydration? That's where Liquid I.V. comes in.
Liquid I.V. is a line of powdered electrolyte drink mixes. The products are designed to help hydrate faster than water alone.
Liquid I.V. Hydration Multiplier and Energy Multiplier products are available in a variety of flavors like lemon lime, strawberry, acai berry, passion fruit and golden cherry. Products can be purchased from the Liquid IV website, on Amazon and in many stores.
Keep reading to learn more about the best Liquid IV flavors, its main ingredients, possible benefits, and where to buy. We'll also cover will some frequently asked questions.
What is Liquid IV?
Liquid IV electrolyte powders contain a specific ratio glucose, sodium and potassium to help deliver water and nutrients to your bloodstream faster than drinking water alone.
The drink mixes use a breakthrough technology called Cellular Transport Technology (CTT), which is believed to enhance the absorption of water into the bloodstream.
Liquid IV Hydration Multiplier was the first product offered by the company. Additional products targeted for energy, immune support, sleep and digestive support have been launched in recent years.
---
Liquid IV ingredients
Liquid I.V. products are non-GMO, gluten-free, soy-free, and dairy-free. Below is a list of some key ingredients found in Liquid IV products.
Mined Salt (Sodium): Sodium is a key electrolyte utilized in Liquid IV's cellular transport technology. It is added to help enhance water absorption in the body.
Potassium Citrate: Potassium is another key electrolyte that helps maintain fluid balance in the body.
Dextrose: Dextrose, a form of glucose, is a natural sugar found in the body. It helps improve absorption into the body.
Silicon Dioxide: Made from natural materials silicon and oxygen, silicon dioxide is added to provide a smooth consistency to the drink powder.
Natural Flavors: Liquid IV extracts flavors from fruits, veggies, roots, and other natural sources.
Citric Acid: A non-GMO, non-artificial form of citric acid is used to enhance flavor.
Sodium Citrate: This is the salt found in citric acid. It provides balance to the sweetness of some flavors.
Vitamin B: Vitamins B3, B5, B6, and B12 are known to support cell function and convert food to energy.
Stevia Leaf Extract: Stevia is a natural sweetener that has no calories and is up to 400 times sweeter than sugar.
---
Liquid IV benefits
All Liquid IV products are designed for rapid hydration thanks to the cellular transport technology (CTT) mentioned above.
However, the company also has some specialty products designed to support other health areas including immune support, energy, sleep and digestive health. Each of the specialty products is formulated with additional functional ingredients to provide benefits beyond hydration.
---
Liquid IV flavors
Liquid IV offers a full line of products in standard flavors that are regularly available for purchase online and in stores. They also offer limited-edition flavors.
First, we'll cover the Hydration Multiplier. We've ranked these Liquid IV flavors by popularity, customer comments and personal preference.
1. Lemon Lime (Hydration Multiplier)
Lemon Lime Liquid I.V. is the first flavor released by the company. It's also one of the most popular. It is fresh, crisp, and a little zesty. Many people find this flavor to be similar to Lemon Lime Gatorade.
2. Strawberry (Hydration Multiplier)
Strawberry is one of the best-selling flavors. With the taste of fresh strawberries and whipped cream, some people say it tastes like strawberry shortcake.
3. Golden Cherry (Hydration Multiplier)
This flavor is fresh, fruity and crisp with a bit of tartness, just like delicious golden Rainier cherries.
4. Passion Fruit (Hydration Multiplier)
This bold and invigorating flavor has hints of berries and honey. It is inspired by Hawaiian lilikoi which is a yellow passion flower fruit that has a tart, tangy flavor with a hint of sweetness.
5. Acai Berry (Hydration Multiplier)
This flavor was inspired by fruit from Brazilian palm trees. Compared to the previous two flavors listed, this is the more exotic option. With more bold flavors, acai berry offers notes of grape and honey.
6. Watermelon (Hydration Multiplier)
This flavor provides a fresh, bright and bold flavor of watermelon, with an unexpected twist of rose.
7. Concord Grape (Hydration Multiplier)
If you're a grape fan, you'll enjoy this flavor that has deep and bold notes of dark purple Concord grapes.
8. Pina Colada (Hydration Multiplier)
This flavor is perfect for kicking back on a hot day or sitting by the pool. Just like a pina colada, it has the delicious flavors of pineapple and coconut cream.
9. Guava (Hydration Multiplier)
Guava is an interesting flavor choice since it's not a well-known fruit. However, you may enjoy it because it's sweet with familiar notes of pineapple, citrus, and hibiscus.
10. Tropical Punch (Hydration Multiplier)
Who doesn't love tropical punch? This fruity drink is packed with tangerine, pineapple and cherry flavor.
---
Next up, you'll learn about the best Liquid IV flavors in the specialty product lines.
Tangerine (Hydration Multiplier + Immune Support)
This immune support blend has a natural tangerine flavor. It also contains vitamin C, zinc, and wellmune, which is designed to support the immune system.
Yuzu Pineapple (Energy Multiplier)
This bright flavor combines sweet pineapple with a tart twist of yuzu. It is only available in the Energy Multiplier product line which offers a proprietary blend of Coffeeberry Energy Extract, CognatIQ Coffee Fruit Extract, and L-Theanine for physical energy and a cognitive boost.
Lemon Ginger (Energy Multiplier)
Lemon Ginger is another Energy Multiplier flavor. It contains a blend of matcha (from green tea leaves), guayusa (from Amazon holly trees), and ginger. It also has about 100mg of fast-acting natural caffeine from the matcha and guayasa.
Tart Green Apple (Hydration Multiplier + Probiotic Kombucha)
The tart green apple flavor in this mix is a nice complement to the fermented tea vinegar powder that is mixed with probiotic live cultures.
This product supports the digestive system with 1 billion CFU probiotics per serving. Plus it has vitamins C, B6 and B12 to support your immune system.
Blueberry Lavender (Sleep Multiplier)
This nighttime drink mix features the relaxing, natural flavors of blueberry and lavender. It also has melatonin, l-theanine and valerian root to help you fall asleep and stay asleep.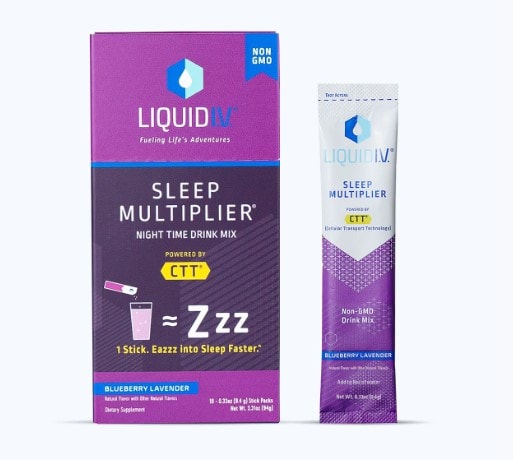 ---
And finally, here are some of the best Liquid IV flavors that have been released in the past and were available for a limited time only.
Limited Edition Liquid IV Flavors
Cotton Candy (2022)
Caramel Apple (2021)
Yellow Cherry (2021, the same as Golden Cherry, but sold exclusively at Walmart as 'yellow cherry')
Pear (2021)
Apple Pie (2020)
Sea Berry (2020, made with real, rare seaberries from the Himalayas)
Strawberry Cake (2020, brought back as the now permanent 'strawberry. flavor)
Yummy (a collab with musician Justin Bieber, featuring guava and hibiscus)
Poosh (a collab with wellness brand Poosh, featuring honey, ginger and tumeric)
You may also like:
–15 Ben & Jerry's Ice Cream Flavors Inspired By Music
– All Crumbl Cookie Flavors List (With Descriptions & Pictures)
– The Best Boba Tea Flavors
---
Where to buy Liquid IV
For the best selection of new products and flavors, including limited edition releases, your best bet is to buy directly from the Liquid IV website. You'll also get first access to promotions and discounts like their subscribe & save program and student discounts.
When ordering direct from Liquid IV you also get a 60-day, 100% satisfaction guarantee. If you don't like what you ordered, you can request a refund.
You can also find Liquid IV products on Amazon and at other retailers like Costco, Target, Walmart, Walgreens, CVS, GNC and more.
Liquid IV Coupon
If you're looking to place an order now and save, feel free to use promo code THREESNACKATEERS for a 25% discount and free shipping from Liquid IV.
How to use Liquid IV
Liquid IV drink mix comes in convenient, single-serve packets. To use, simply mix one stick with the amount of water recommended in the directions. It can be served hot or cold.
For the hydration multiplier products, you mix with 16 ounces of water. For Energy Multiplier products, you'll mix with 12 ounces. And for Sleep Multiplier, you'll use around 8 ounces of water.
Liquid IV recommends consuming one stick per day for healthy adults.
Frequently Asked Questions About Liquid IV
Is Liquid IV Good For You?
Liquid IV is safe for most people to use. However, it's always a good idea to check with your doctor before using any new supplement, especially if you have any health issues like high blood pressure, diabetes, heart problems or kidney concerns.
Where Can I Get A Liquid IV Discount?
You can use discount code THREESNACKATEERS for 25% off your order plus free shipping from Liquid IV.
Does Liquid IV Have Caffeine?
The original Hydration Multiplier formula does not have caffeine. The Energy Multiplier product has around 100mg of caffeine. This is about the same amount as in an 8-ounce cup of coffee.
Is Liquid IV Good For A Hangover?
Dehydration is one of the main culprits of a hangover. Liquid I.V. Hydration Multiplier is intended to help rehydrate your body quickly, so it's definitely worth a try.
Where Can I Buy Liquid I.V. Near Me?
You order Liquid IV products on Amazon or on the Liquid IV website. If you'd prefer to buy it at a store near you, it can also be found at many retailers like Costco, Target, Walmart, Walgreens, CVS, GNC and more.
How Much Liquid IV Can You Have In A Day?
For healthy adults, it is recommended to consume up to 1 stock of Liquid IV per day.
---
As you can see, there are quite a variety of Liquid IV flavors available that can provide a delicious and refreshing way to stay hydrated.
Whether you're looking for a fruit-flavored option or something with a little more exotic, there's definitely a flavor out there for everyone.
And remember, the company has been releasing fun new limited edition flavors in recent years, so keep an eye out and you might find a new favorite Liquid IV flavor!
Up Next:
– What Are The 23 Flavors In Dr Pepper?
– The Best Cook Out Milkshake Flavors (2022)