Who doesn't love pizza? We would argue that it's kind of the perfect food. It's hearty, it's filling, and it's endlessly customizable. Whether you like your pizza with just a few simple toppings or loaded up with everything under the sun, there's a perfect pizza out there for you.
If you're looking for inspiration for your upcoming pizza night, you're going to love this huge list of the best pizza toppings and popular ingredient combinations to try!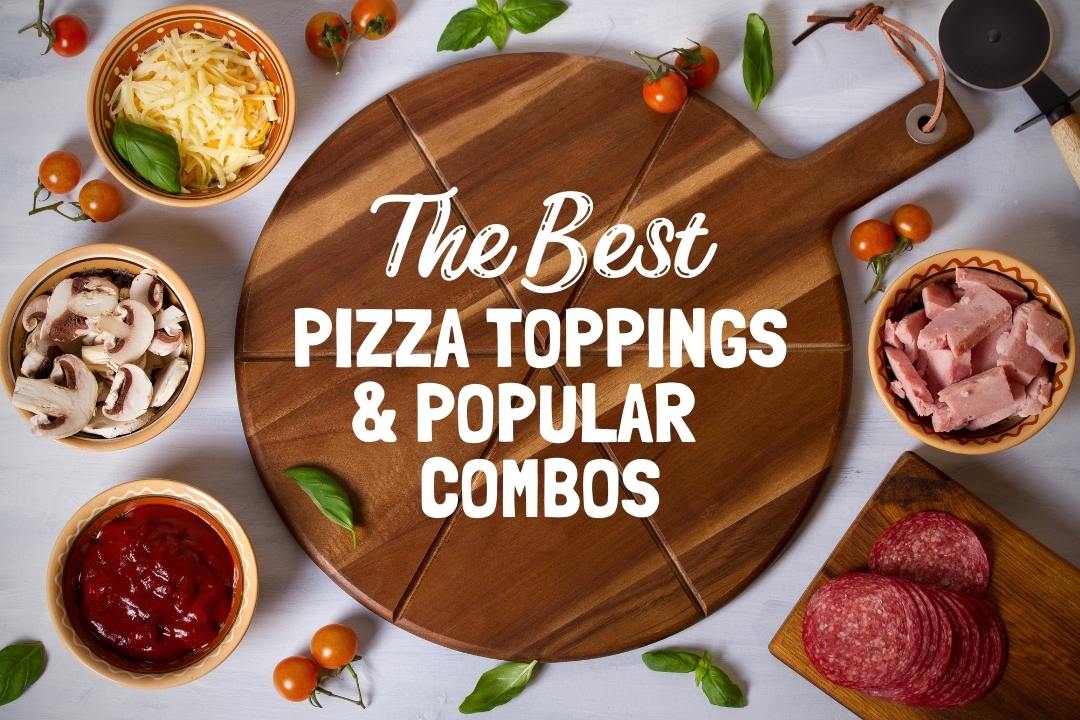 Related Reading: How To Reheat Pizza (5 Best Ways)
Veggie Pizza Toppings
Mushrooms
For a classic flavor, try using button or portobello mushrooms. If you want something a little more adventurous, consider shiitake, cremini, porcini or morel mushrooms. If you're feeling exotic, give truffles a try!
Onions
Onions are a versatile pizza topping and there are many different types. White, yellow and red onions are popular for their strong flavors. A milder sweet Vidalia onion is also a great option.
Raw onions will give your pizza a sharp, tangy flavor. If you're looking for a more mellow, sweet flavor, try caramelizing the onions before adding them to your pizza.
Green onions, often called scallions, are sometimes added on top of gourmet pizza for extra color and flavor.
Bell Peppers
Bell peppers are a popular pizza topping and they pair especially well with onions and mushrooms. Experiment with green, yellow, red and orange bell peppers for flavor and color.
Banana Peppers
Banana peppers are yellow and have a mild, tangy flavor. They add a pop of color and a touch of sweetness to your pizza that can balance out the savory flavors of the sauce and cheese.
Jalapeno Peppers
Sliced, fresh jalapenos are a mild pepper that tastes great on pizza. They work well with toppings like pepperoni, red and green peppers, tomatoes and even sweet pineapple. For an extra flavor kick, try pickled jalapenos.
Other Types Of Hot Peppers
If you enjoy some heat on your pizza, you might also want to try poblano peppers, green chili peppers, red chili peppers, Fresno peppers, or serrano peppers.
Tomatoes
Roma and cherry tomato slices are the most common tomato toppings on pizza. They are commonly used alongside fresh mozzarella and basil on Margherita pizza.
You'll also see them on Mexican-inspired pizzas along with beef, beans, onions, peppers and sometimes sour cream.
And don't forget about sun-dried tomatoes. They taste great with fresh mozzarella, feta, spinach, arugula, basil, mushrooms and onions to name a few.
Black & Green Olives
Olives add a touch of salty, earthy flavor to pizza. They go well with a variety of other ingredients, such as onions, peppers, mushrooms, and sausage.
Pineapple
Love it or hate it, pineapple on pizza is here to stay. It is most commonly used on Hawaiian pizza. It adds a sweet burst of flavor and contrast to the salty ham (or bacon) and cheese.
Garlic
Fresh or roasted garlic on pizza can add a lot of great flavor. Just remember a little goes a long way.
Spinach
Adding spinach to your homemade pizza is a great way to get some extra nutrition into your meal. It also adds a pop of color and freshness.
You can either sprinkle fresh or wilted spinach on top after the pizza has been baked or add it before baking along with the other toppings.
Spinach works well with olive oil, garlic, mushrooms, roasted red pepper, fresh mozzarella, feta, ricotta, and goat cheese.
Arugula
Arugula is a type of leafy green vegetable that has a slightly peppery flavor. It is often used in salads, but it can also be used as a pizza topping.
Arugula on pizza pairs well with other ingredients that have strong flavors, such as onions, garlic, and tomatoes.
Artichokes
Artichokes are a great source of fiber and antioxidants. For a classic flavor combination, try pairing artichoke hearts with spinach and feta cheese. Other great options include white sauces, sun-dried tomatoes, roasted red peppers, grilled chicken, or sausage.
Kale
Try pairing kale with ingredients like sausage, onions, roasted red peppers, feta cheese, olives, mushrooms, tomatoes, and spinach. Top it off with a drizzle of balsamic vinegar reduction.
Zucchini
When thinly sliced and placed on top of a pizza, zucchini adds a fresh flavor and a pop of color. Try zucchini on pizza with ingredients like fresh mozzarella, goat cheese, feta, olive oil and red pepper flakes.
Basil
It's best to add fresh basil to your pizza after it's been baked. You can add whole basil leaves or chopped basil.
Dried basil can be added to your pizza or sauce before or after cooking.
Basil is often used on Margherita pizza along with fresh mozzarella and tomato sauce.
Unique Vegetable Toppings
As long as you enjoy it, pretty much any vegetable can be used as a pizza topping. Here is a list of some other interesting (and sometimes weird!) veggie pizza toppings we've seen:
Corn
Chickpeas
Cucumber
Brussel sprouts
Squash
Sweet potato
Figs
Broccoli
Cauliflower
Pickles
Asparagus
Leeks
Bean sprouts
Eggplant
Pear
Avocado
Apple
Peaches
Vegan Pizza Toppings
Any of the vegetable pizza toppings mentioned above are perfect for a vegan pizza. You might be surprised to learn that there are a number of vegan pizza toppings beyond the typical vegetables.
For example, vegan sausage crumbles, tempeh bacon and seitan sausage can make for a delicious and hearty pizza.
And don't forget the cheese! There are now a number of vegan cheese options on the market that are every bit as delicious as their dairy-based counterparts.
If you're going to stick with just vegetarian toppings, give them a little extra love for a more intense flavor. For example, try caramelized onions, roasted garlic, sun-dried tomatoes and oven-roasted veggies.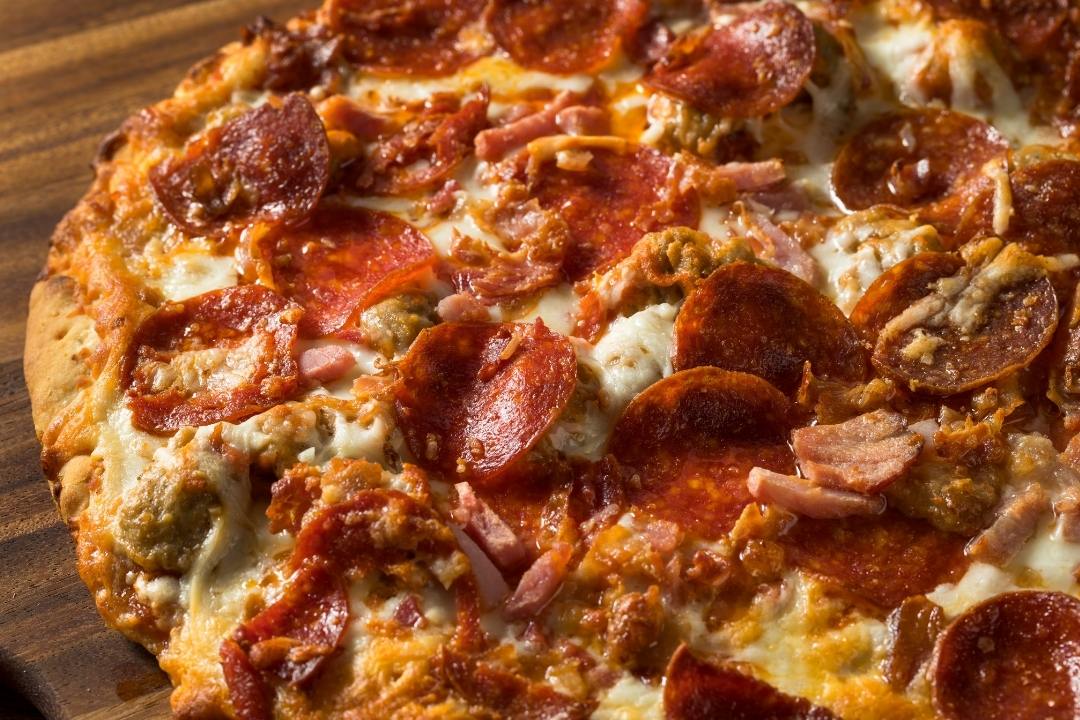 Meat Lovers Pizza Toppings
Pepperoni
Pepperoni is the most popular pizza topping in America, and for good reason. Pepperoni is zesty and flavorful, and it pairs well with just about anything.
Thin slices of pepperoni are the most common, but some people also prefer to use diced or thick-cut.
Sausage
Sausage is a classic topping for pizza, and there are many delicious options to choose from. Mild pork sausages are a great option for those who want the flavor of sausage without the spice. For a bit more heat, try spicy sausage.
Italian sausage is a popular choice for pizza lovers who want a little bit of both worlds. It has a bold flavor from added seasonings that is balanced by the other toppings on the pizza.
Chicken sausage is a good choice for those who want a leaner sausage. It is lower in fat and calories than other types of sausage, but it still has a lot of flavor.
Plant-based sausages are a great option for those who want to enjoy the taste of sausage without the meat. There are many different types and brands of plant-based sausage available today.
Ground Beef
Ground beef on pizza is a delicious way to change up your usual pizza night. It's great with onions and peppers, on a meat lovers pizza or taco pizza.
Bacon
Bacon makes everything better, including pizza. If you're looking for a bacon pizza that will knock your socks off, try pairing the savory, salty bacon with chicken and a sauce like buffalo, barbeque or ranch.
Ham
Ham is a great option if you're looking for something a little different from the usual pepperoni or sausage. This cured pork has a salty, sweet and smoky flavor that pairs great with other meats and veggies like pineapple, onions and peppers.
Canadian Bacon
Canadian bacon is a lean cut of meat made from smoked pork loin. It actually has a flavor and texture closer to ham than bacon. It's usually diced or cut into thin strips. It's most commonly found on Hawaiian pizza and meat lovers.
Chicken
Grilled chicken is a great option if you're looking for a leaner protein to top your pizza with. It pairs especially well with sauces like buffalo, BBQ and ranch. You can use chunks of seasoned chicken breast, pieces of grilled chicken or even shredded rotisserie chicken.
Meatballs
Meatballs are another great option if you're looking for something heartier than the usual meat toppings. Just like a meatball sandwich, meatballs on pizza work great with marinara sauce, mozzarella cheese, peppers and onions.
Salami
Similar to pepperoni, salami is a perfect pizza topping. In fact, pepperoni is technically a type of spicy salami!
Salami is usually milder in flavor, although there are many different kinds that have slightly different flavor profiles. Some examples are Genoa, Soppressata and Picante.
Prosciutto
Proscuitto is an Italian dry-cured ham that is usually thinly sliced. It goes through a long curing process that gives it a salty and slightly sweet flavor that pairs perfectly with the savory sauce and cheese on pizza.
You'll often find it on gourmet pizzas with fresh ingredients like arugula, figs, goat cheese, ricotta, balsamic and even fresh corn!
FUN FACT: Prosciutto is the Italian word for ham.
Anchovies
Anchovies are often polarizing; people either love them or hate them. These small cured fish have a distinctive salty, fish and savory and umami flavor.
If you're looking for an anchovy pizza that will tantalize your taste buds, you may want to also add olives and capers for a true flavor explosion.
Shrimp
Saute or grill up some shrimp with garlic and butter for a delicious pizza topping. Shrimp pizza often has a white sauce with supporting ingredients and flavors like spinach, white wine, parmesan and lemon.
Other Meat Toppings For Pizza
Here are a few other less common meat, seafood and protein toppings you might also want to try out.
Pulled pork
Kielbasa
Hot dogs
Egg
Tuna
Calamari
Crab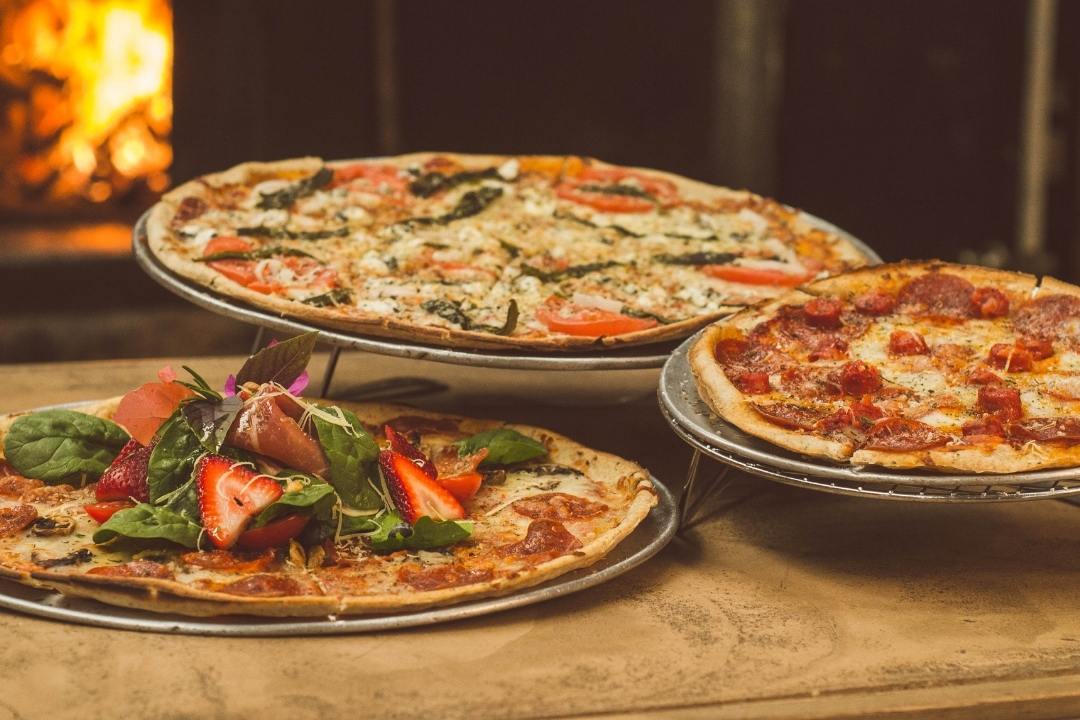 Healthy Pizza Toppings
While pizza is often seen as an unhealthy food, it can actually be a fairly healthy meal if you choose the right toppings.
One of the healthiest pizza toppings is vegetables. A wide variety of veggies can be added to pizza, from the classic mushrooms and peppers to more unconventional choices like eggplant or spinach.
Another healthy pizza topping is lean meats. Turkey pepperoni and grilled chicken are both excellent choices that can add protein and flavor to your pizza. You might even want to try shrimp on your pizza.
If you're looking for a vegetarian or vegan protein option, consider adding soy crumbles or grilled tofu.
Although it's delicious, cheese can add a lot of fat and calories to your pizza. To keep your diet in check, try a lower-fat cheese like low-fat, part-skim mozzarella. If sodium is a concern, fresh mozzarella may be a good option. Also, consider strong-tasting cheeses like parmesan and blue cheese. You can use less cheese, but enjoy all the flavor.
And don't forget about the sauce. A simple tomato sauce is usually lower in calories than creamier sauces. If you're really craving a white sauce or some ranch dressing, try a light drizzle on top to get the flavor without all the calories.
Herbs and seasonings will also help amp up the flavor without added fat or calories. Experiment with ingredients like fresh basil, garlic, red pepper flakes and Italian seasonings.
You can also experiment with different types of crusts, such as whole wheat or cauliflower crust to add nutrients, flavor and texture.
Pizza Sauces
From classic tomato to zesty pesto, the right sauce can take your pie to the next level. Here are some of the most popular sauces for pizza, along with a few tips on how to use them.
As you read through the list below, be sure to consider if you'll want to use the sauce as a base for your whole pizza or as a finishing drizzle on top.
No matter what type of sauce you choose, remember that less is more. Too much sauce can overwhelm the flavor of your toppings and make your crust soggy. Start with a small amount of sauce and add more if needed.
Red Sauce
Red sauce, often called tomato sauce or marinara, is the classic choice for pizza. It is by far the most popular pizza sauce. This traditional and versatile sauce can be used on just about any type of pie.
A huge variety of brands and flavors of pizza sauce can be found at grocery stores, delis and specialty retailers. If you're looking to make your own, try this recipe for the best pizza sauce!
White Sauce
White sauce for pizza is a creamy sauce typically made from milk, salt, pepper, garlic, butter, flour and parmesan cheese. It is very similar to Alfredo sauce.
White sauce is a great blank canvas for your toppings. Its mild flavor and creamy texture help support your other flavors instead of competing with them. Pretty much all of the meats and vegetables listed above in this article would taste great with white sauce.
FUN FACT:
White Pizza, or Pizza Bianca, is a pizza made with only white cheese and sauce.
Olive Oil
Some people prefer to skip traditional sauces and opt for a simple olive oil and garlic base for their pizza. Pizzas that use an olive oil sauce tend to use simpler ingredients like a blend of white cheeses, vegetables and fresh herbs.
Pesto Sauce
Pesto is a traditional Italian sauce made from fresh basil, garlic, olive oil, Parmesan cheese, and pine nuts. The basil gives the sauce its distinctive green color. The nuts give it a thick, creamy consistency. It has a bright, herby flavor that pairs perfectly with the melty cheese and crispy crust of a pizza.
Popular pesto pizza toppings include fresh tomatoes, sun-dried tomatoes, goat cheese, ricotta cheese, fresh mozzarella, onions and arugula. It's often finished with a drizzle of olive oil.
Barbeque Sauce
Barbecue sauce is an unexpected but delicious choice for pizza. Sweet and smoky flavors pair well with chicken, bacon, and onions. One of my favorites is to drizzle barbecue sauce over a cheese pizza with mushrooms.
Hawaiian pizza (ham and pineapple) sometimes uses BBQ sauce or a 50-50 mix of BBQ and red sauce.
Ranch Sauce
People that like ranch dressing use it on almost everything including pizza! And it does make sense because the creaminess of the ranch balances out the spices and the subtle herb flavor pairs well with the cheese.
Chicken bacon ranch pizza is one the most popular pizzas using ranch dressing. If you made it at home, you can use a bottle of ranch dressing, make a homemade recipe or use a ranch seasoning mix.
If you enjoy ranch, but the idea of using it on the whole pizza is a bit much, you can also use it sparingly as a drizzle on top or as a dipping sauce.
Balsamic Glaze
Balsamic vinegar glaze has a dark brown color with a thick, syrup-like consistency. It has a sweet and tangy flavor that tastes great on certain kinds of pizzas. It does have a strong flavor so it's almost always used as a drizzle or side dipping sauce.
Caprese pizza is a popular pie that has fresh mozzarella, tomatoes, fresh basil, salt, olive oil and a drizzle of balsamic glaze reduction.
Buffalo Sauce
Buffalo chicken pizza plays off of two of America's favorite foods – pizza and chicken wings! The basic recipe uses a spicy Buffalo sauce, shredded chicken, and mozzarella cheese.
However, there are many variations on this basic theme. Some recipes call for blue cheese instead of mozzarella, while others add diced tomatoes, green onion and even sour cream.
Types Of Cheese For Pizza
When it comes to choosing cheese for your pizza, there are a few things to keep in mind.
Texture
First, you'll usually want a cheese that melts well, so it can cover the surface of the pizza and hold the toppings in place. Shredded or sliced mozzarella, a blend of mozzarella and cheddar, or provolone are good, traditional options.
Fresh mozzarella is a popular choice for its creamy texture and mild flavor. You'll notice that when melted it tends to hold its shape more than shredded or sliced mozzarella. Ricotta, gouda, gorgonzola and feta will also hold their shape.
A hard cheese, like parmesan or dried asiago, are typically used more sparingly as a finishing garnish.
Flavor
You'll also want to consider the flavor of the cheese. A sharper cheese like Parmesan or a distinctive blue cheese will add a lot of flavor to the pizza, while a milder cheese like mozzarella or provolone will be more subtle.
Ingredient Combinations
And finally, you'll want to think about how the cheese will interact with the other ingredients on the pizza.
If you're using a lot of strong flavors, like sausage, pepperoni, onions or peppers you might want to go with a milder cheese.
But if you're keeping it simple with just a few toppings, you can afford to be more adventurous with your cheese selection. For example, you might try a combination of mozzarella, parmesan, Monterey jack and gorgonzola on a 4-cheese cheese pizza.
List Of Cheeses For Pizza
Mozzarella – the most popular pizza cheese; try shredded, slices or fresh mozzarella
Provolone – usually slices; great-tasting well-rounded option
Monterey Jack – mild, light taste and melts well; richer and greasier than mozzarella
Parmesan – shaved, shredded or grated; nutty flavor; typically more of a garnish as it does not melt
Asiago – fresh with soft texture or dry-aged with hard texture; salty, nutty, tangy flavor; great on vegetable pizzas
Cheddar – shredded or slices; can be orange or white in color; best when paired with another cheese like mozzarella or provolone
Gorgonzola and Blue Cheese – typically crumbles; salty flavor; pairs well with caramelized onion, prosciutto and pears
Feta – typically crumbles, pairs well with tomatoes and black olives; also great on dessert pizzas with fruit
Gouda – semi-hard cheese; rich, buttery flavor; sometimes smoked
Ricotta – mild, creamy and holds it shape when baked; typically used on gourmet pizzas with ingredients like sun-dried tomatoes, artichoke, spinach or fresh basil
Pecorino Romano – usually grated; sharp, smoky notes
Colby Jack – more sharpness than mozzarella
Burratta – semi-soft cheese with milky flavor and texture
Pepper Jack – creamy flavor of Monterey Jack cheese with spiciness from added peppers
Gruyere – creamy texture with subtle sweetness; pairs with red or white sauces
Seasonings For Pizza
If you're looking to spice up your pizza game, there are a few popular seasonings that can really take your pie to the next level.
Salt & Pepper
A sprinkle of salt and pepper on any pizza can help boost the flavors of your other ingredients.
Garlic
Another classic option is garlic. Garlic salt, garlic powder or even roasted garlic cloves all add delicious flavor to pizza. In fact, some specialty pizzas skip the red sauce and use and a delicious blend of garlic and olive oil instead.
Oregano
Oregano is another popular seasoning in many Italian dishes. This herb has a strong, somewhat bitter flavor that really stands out against the cheese and tomato sauce. A little goes a long way with oregano, so be careful not to overdo it.
Chili Or Red Pepper Flakes
If you're looking to turn up the heat, you might want to use chili or red pepper flakes. These tiny fiery bits pack a punch, so use them sparingly if you're not a fan of spicy food.
Italian Seasoning
Italian seasoning is a versatile spice mix that uses many different dried spices and herbs. Typical ingredients in Italian seasoning include oregano, basil, thyme and rosemary.
Pizza Seasoning
Another popular spice blend is pizza seasoning. It's pretty similar to Italian seasoning, but has some extra flavors like onion, garlic, fennel, paprika and sometimes chili flakes or red pepper flakes.
Popular Pizza Topping Combinations
Below are some classic and popular pizza ingredient combos. There really is no right or wrong way to make these types of pizzas.
Start with the basic ingredient lists below as a general guideline and then customize according to your preferences.
Margherita Pizza
Olive oil garlic sauce or tomato sauce with fresh mozzarella, tomatoes and basil
Supreme Pizza
Red sauce, mozzarella cheese with pepperoni, sausauge, green peppers, onions and olives
Hawaiian Pizza
Red sauce or 50/50 mix of red sauce and BBQ, mozzarella with canadian bacon (or ham or bacon), pineapple chunks and optional red onion
Meat Lovers Pizza
Red sauce, mozzarella cheese with a combinations of meats such as pepperoni, sausage, ham, canadian bacon and
Veggie Pizza
Red sauce, mozzarella cheese with a combination of vegetables such as mushrooms, onion, peppers, tomato and spinach
Cheese Lovers Pizza
Red or white sauce with any combinations of cheeses such as mozzarella, cheddar, provolone, parmesan, romano and asiago.
Cheeseburger Pizza
Red sauce, mozzarella and cheddar cheese with hamburger, onion and bacon
BBQ Chicken Pizza
Barbeque sauce, cheddar and mozzarella cheese with shredded chicken, red onion and cilantro
Chicken Bacon Ranch Pizza
Ranch dressing, cheddar cheese with chicken and bacon
Buffalo Chicken Pizza
Buffalo sauce, mozzarella cheese with chicken, onion, bacon and ranch dressing
Chicken Alfredo Pizza
Alfredo sauce, mozzarella cheese with chicken, garlic, spinach and mushrooms
Taco Pizza
Salsa or red sauce, ground beef, refried beans, black olives, onions, tomatoes with optional sour cream and crushed tortilla chips
Up Next:
– 101+ Pizza Puns, Jokes & Captions
– 215+ Pizza Quotes, Captions, Slogans and Taglines