Monthly snack subscription boxes have become a big hit – and it's no wonder why. You get package after package of fun and unique food, drinks and snacks you wouldn't likely find at your local stores.
There are companies that specialize in surprise monthly roundups, niche desserts, and food from specific regions or countries.
One popular snack subscription service that specializes in Japanese snacks is TokyoTreat.
You may also like: A Taste of Japan: Comparing Sakuraco and Bokksu Snack Subscription Boxes
TokyoTreat – Japanese Snack and Candy Box
If you haven't yet heard of these wildly popular subscription boxes, TokyoTreat offers samplings of tasty candy and snacks direct from Japan to your door.
Every box focuses on a particular season, major event (think cherry blossom season) or theme, and is brimming with all kinds of unique treats from savory to sweet.
The company markets itself as offering packages of happiness delivered right to you each month. And we're not just talking Japanese candy and chips here (although there's plenty of those).
Snack boxes typically include samples of the hottest Japanese treats plus several other fun snacks … like giant "party pack" bags with lots of mini candies to share, and DIY kits that encourage you to play with your snacks!
TokyoTreat Subscription Box Review: Japanese Snacks
I recently tried my first box from TokyoTreat for this review. TokyoTreat shared a box with me at no charge. However, as always, all opinions are my own.
I'll walk you through my first impressions on the packaging, upon opening the box and trying the snacks.
I'll also provide some insights that may be helpful as you're deciding if TokyoTreat is the right box for you.
TokyoTreat Packaging
If you decide to order a subscription, you absolutely won't miss this bright orange box. I was certainly excited to see it sitting on my doorstep.
Packages travel quite a long way as they are shipped straight from Japan. Besides a few scuffs on the top, this box (which serves as both the outer shipping box and the box that holds the snacks) shows no other signs of damage.
Every snack in the box arrived in perfect condition. There was even a heavy soda jostling around in the box and still no crumbled cookies!
Tasty Snacks, Sweet Treats and Japanese Candy
The box I received was packed to the brim with amazing treats that I was excited to try just from looking at the unique, colorful packaging.
One of the first things I noticed was the brand-name snacks. In my box, I received several recognizable treats including Kit Kats, Fanta, Frito-Lay and Pocky.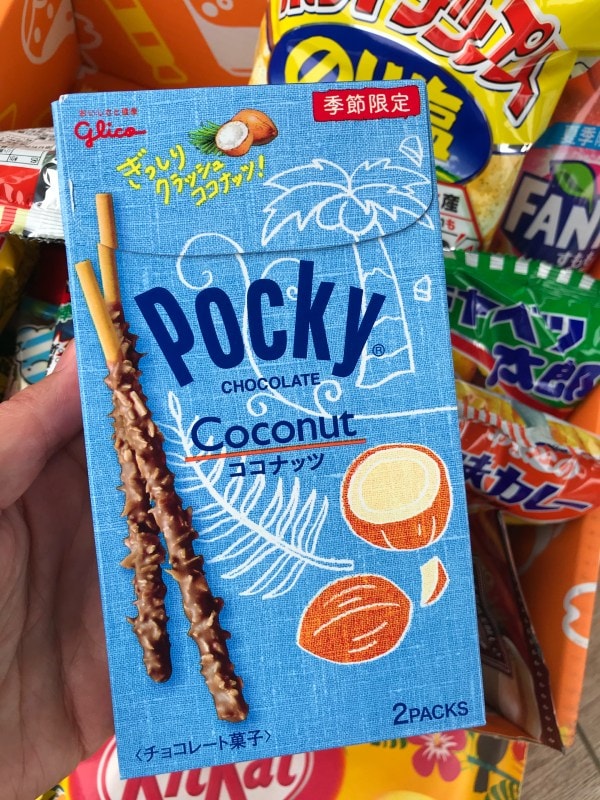 There were also plenty of other fun snacks that I was not familiar with, like these cute paw print gummies.
TokyoTreat Overview Booklet: A Helpful Surprise
While I did recognize a few of the snacks, I had no idea what the majority of the products were. So it was a nice surprise to get a full color 8-page booklet that described most of the products.
As you can see in the image above, the color photos in this guide were super helpful to match up the products. A few of the items were listed as 'mystery' or 'surprise', so I still had to do a little guesswork on those.
One other neat thing about the guide is that it is printed in the reverse of how it would be in the US. The booklet is printed in Japan, so it's read from right to left. So you just need to flip it over to start reading.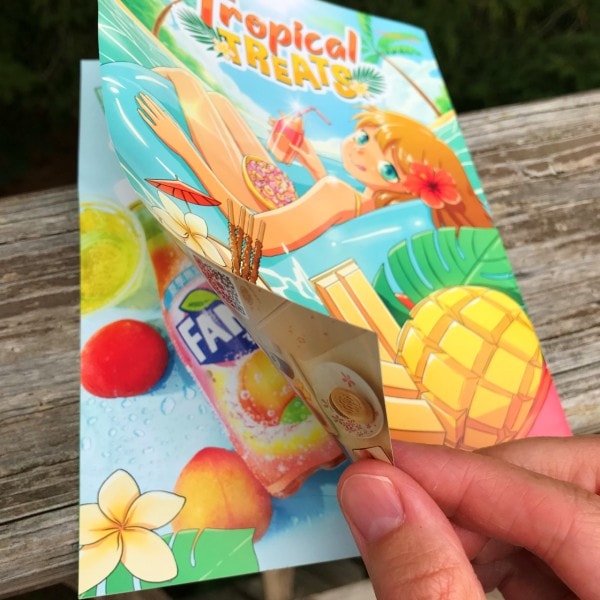 ---
More Snack Subscription Reviews:
– MunchPak Review: Snack Subscription Box From Around The World
– Universal Yums Review: International Snack Boxes
– MunchPak vs Universal Yums: 5 Big Differences
TokyoTreat FAQs
What is TokyoTreat?
A monthly subscription snack box service offering samples of high-quality, popular treats and drinks from Tokyo, Japan.
Every box is packed with Japanese snacks and every month boxes are shipped straight from Japan with delivery to your home.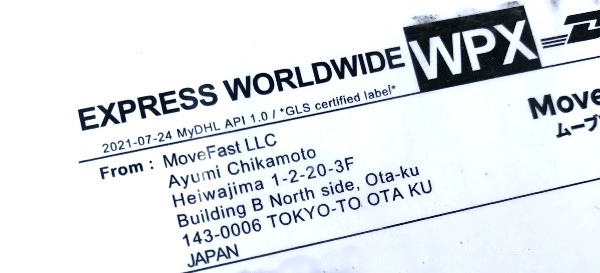 How much is a TokyoTreat box?
The Classic snack box starts at around $25 per month. It contains at least 12 full-sized snacks plus a helpful booklet that provides descriptions of the products.
The Premium snack box starts at around $35 per month. It contains at least 17 full-size quality snacks per box. It also contains a Japanese drink and a few other treats.
Both boxes can be ordered for just one month and you can cancel at any time. You can also order for 3, 6 or 12 months. These subscriptions will be slightly less per month. They are billed quarterly, bi-annually or annually.
Does TokyoTreat have free shipping?
Everyone loves free shipping, but sometimes it just doesn't make sense. I asked an official TokyoTreat representative why they aren't currently offering free shipping.
She explained that due to major global shipping restrictions and postal delays, they use various shipping methods for each country. They choose methods that provide tracking support and a quicker delivery process so customers can receive their boxes in a timely and safe manner.
As you can imagine, all these different shipping methods cost different amounts depending on where and how the package is being shipped.
So the shipping fee is NOT included in the box pricing shown on this page. The actual fee will be calculated automatically after you enter your shipping address and destination country before checkout.
The full breakdown of which countries they can ship to, the shipping method and fee, and estimated delivery time can be found on the Help Center.
How do I buy from TokyoTreat? How do I order TokyoTreat?
To become a customer, simply visit their website and choose whether you'd like their Premium or Classic subscription level.
Both boxes include a variety of snacks to try, but a Premium subscription will have many more unique goodies, like a Japanese drink to try each month.
Once you select the size, you are able to pick however many months you'd like to sign up for. Plans are billed annually or monthly, depending on how long you're subscribed. You're able to cancel anytime.
How long does it take to get TokyoTreat box?
Packages are sent within 3 days from the order date. They are mailed with 2-5 day express shipping. So the first box should arrive within a week or so from the day you order.
Where does TokyoTreat ship to?
Monthly snack boxes are delivered internationally. There are some countries that TokyoTreat boxes cannot be delivered to. But currently, they are shipping to anywhere in the United States.
Is TokyoTreat or Japan Crate better?
TokyoTreat and Japan Crate are both snack subscription services that ship snacks, candies, cookies, and more directly to customers from Tokyo Japan. While they are similar in many ways, there are a couple of differences we noticed.
TokyoTreat Reward Program
TokyoTreat offers a special bonus program called 'streaks'. Streaks are basically 'points' that you get each month for continuing your subscription. Your streaks continue to grow as long as you do not cancel or skip a month.
As your streaks accumulate, you will earn awesome rewards. You can redeem your streaks for exclusive items, discounts or to shop on Japan Haul.
Japan Crate Subscription Differences
Japan Crate offers 3 size subscription boxes – mini, original and premium. The prices listed on their website for the boxes include shipping.
So which is better: TokyoTreat or Japan Crate?
Since you are looking to order a Japan food subscription box, the best way to decide might be look to at the snacks each company has offered in the past.
Both companies have pages on their websites that allow you to look at the snacks and drinks that have been included in past boxes.
How Can I Contact TokyoTreat?
If you are not currently a customer, you can reach out to the company via the Contact section of their website. There is a separate login portal for an existing customer to contact for assistance.
What should I expect from TokyoTreat?
Each month you'll receive a curated selection of popular snacks, party packs, and candies, all related to a specific season, event or theme.
The number and variety of goodies will depend on your selection of their Classic or Premium subscriptions.
Premium TokyoTreat subscription box subscribers receive almost a dozen extra tasty snacks per box, including a Japanese drink and large party pack of treats.
Will I get Japanese Kit Kats in my TokyoTreat box?
Japanese Kit Kats are pretty awesome. They have so many more delicious flavors than we have in the US.
TokyoTreat does try to include a large-sized bag of Kit Kats in each box. But there is no guarantee that you will get Japanese Kit Kats every month.
"I'm going to be real, there are a lot of KitKats. I love KitKats so this is amazing. Japan has a lot of different flavors of them I suppose because I never thought these flavors would exist. What does sakura even taste like? Glad I can find out."

TokyoTreat Customer
While you will get (roughly) the same number of snacks in each box, they will all be different varieties month-to-month.
Many boxes do contain other delicious brand-name snacks to get excited about such as Pocky, Frito Lay, Oreo and Hi-Chew. And fingers crossed you'll get some Kit Kats too!
Final Thoughts: Is TokyoTreat worth it?
Absolutely. If you are looking for a taste of some amazing snacks and drinks from a different country, this Japanese subscription service is definitely worth the money.
I'll be honest. I didn't love every snack in the box, but that's all part of the fun.
For example, I tried a puff that tasted like cabbage that was a little odd. So I just followed it up with a sweet and delicious banana-flavored marshmallow!
The entire unboxing and tasting experience is enhanced with the helpful little booklet containing product descriptions and other notes about Japanese culture.
TokyoTreat boxes contain quite a few snacks, so you'll get a great mix of textures and flavors. No matter your preference – sweet, salty, crunchy, chewy, familiar or exotic – I'm pretty confident you'll find something yummy every month.
RELATED READING:
– The Best Subscription Boxes To Order Online
– MunchPak International Snack Subscription Box Review
– Universal Yums International Snack Subscription Box Review
– MunchPak vs Universal Yums: Which Is A Better Snack Subscription?