You've probably seen photos of an exotic purple drink with a big straw and small dark spheres resting in the bottom of the glass.
Or maybe you've even ordered that pretty purple bubble tea at the boba shop. But you might be left wondering, exactly what is the flavor of purple boba tea!?
The answer is taro! Taro boba tea, also called taro bubble tea or taro milk tea, is one of the most popular drinks at bubble tea shops. It can be made in many ways, but typically contains jasmine tea, milk, sweetener, boba pearls and taro root powder to create the beautiful purple color. The flavor is sweet and slightly nutty.
New to boba tea? Start here –> How To Drink Boba Tea: Everything You Were Afraid To Ask!
If you're looking for a delicious purple boba tea taro boba tea to make at home, we recommend Pearly Taro Milk Tea Kit. It's really easy to make (takes only 3 minutes!), it's way less expensive than storebought and it tastes amazing.
What Is The Purple Boba Tea Called?
Purple boba tea is most often made with taro (pronounced TAH-ROW). This popular drink goes by many names including taro boba tea, taro bubble tea, taro milk bubble tea, taro boba milk tea and even taro pearl milk tea.
As you can see, the terms boba, bubble and pearl are often used interchangeably. These words all refer to the small dark balls with a chewy texture that you'll often find at the bottom of the drink.
One thing to note is that while most purple boba tea is made with taro, it can sometimes be made with ube. We'll cover the differences between taro and ube in more detail below.
What Flavor Is Purple Boba Tea?
Taro is one of the most popular boba tea flavors. The drink gets its flavor and vibrant color from taro powder.
What Does Taro Bubble Tea Taste Like?
Taro bubble tea is sweet and with a bit of a nutty flavor. Some people say it has a unique taste that is similar to sweet potatoes.
Other people detect a bit of vanilla flavor. Most taro teas have added milk and sugar to provide extra sweetness and creaminess.
What Is Taro Milk Tea Made Of?
The main ingredients in many taro milk tea recipes are jasmine tea base, taro powder, sugar, water, boba/tapioca balls and ice. Since taro is the key ingredient in this drink, we'll cover some common questions about it next.
What Is Taro?
Taro is a tropical plant native to Southeast Asia. The edible part of the taro plant is the root, which can be boiled, mashed or roasted. or turned into bright purple taro powder. If you're looking for fresh taro root, you may find it in an Asian grocery store.
What Is Taro Powder?
Taro powder is a finely ground powder made from the root of the taro plant. It has a sweet, nutty flavor.
Since real taro root is actually white in color, manufacturers add coloring to give it the vibrant purple hue. You can find taro powder in some specialty stores and also online.
Are Taro And Ube The Same?
Many people think that taro and ube are the same things, but there are actually some important differences between these two tubers from the sweet potato family.
One main difference is color. Taro is typically white with purple specks, while ube is a deep purple.
Another big difference is taste. Ube is more rich and sweet. Some say it has a hint of vanilla, honey or even white chocolate. Taro has a more nutty, raw, earthy, starchy flavor.
As noted above, both ingredients can be used to make bubble tea. But when it comes to popular boba flavors, taro is the winner.
Frequently Asked Questions About Taro Milk Tea
Is Taro Milk Tea Good For You?
Taro milk tea can offer some health benefits, but it entirely depends on how it's made. The healthiest version of the drink has just two ingredients: fresh taro root and whole milk.
Taro root is a good source of fiber and other nutrients like vitamin B6 and E, manganese and potassium. It may also help improve gut health, weight, blood sugar levels and heart health.
Many people, especially in the United States, prefer a sweet taste. To accommodate this preference, boba shops will often add extra sugar and sweeteners like simple syrup. For a healthier alternative, ask your local shops to go easy on the sugar.
What Goes Well With Taro Milk Tea?
Taro milk tea pairs well with any type of milk including regular dairy milk and milk alternatives such as soy, oat and almond milk.
Taro bubble tea is often made with jasmine green tea from tea bags or loose green tea leaves. However, you can definitely make it with your favorite black tea or even oolong tea if that is what your taste buds prefer!
Black tapioca pearls (or boba balls) are another classic ingredient to add to this popular drink. You can find boba pearls online and in asian supermarkets.
Coconut also tastes great with taro tea. You may want to try adding coconut powder for a tropical twist if you're making your drink at home.
And finally, taro tastes great with yogurt. Try making a taro smoothie with yogurt and taro powder (or fresh taro root that has been pureed). Add in some sugar or brown sugar for a sweeter flavor.
Why Is Taro Tea Purple?
Taro tea is purple because it is made with taro powder. Taro powder is derived from the starchy root vegetable called taro. The real taro root has white flesh with some purple spots.
When manufacturers turn it into a powder, they usually add some food coloring to boost the visual appeal. They sometimes add sweeteners as well.
Is There Caffeine In Taro Bubble Tea?
Despite its name, traditional taro milk tea contains only taro and milk. This version of the drink contains no tea, making it caffeine-free.
However, there are many different ways to make taro bubble tea. Many boba shops and recipes use green tea in their taro tea version. In this case, depending on the type of tea used, the drink would most likely contain caffeine.
Can I Make Taro Boba Tea At Home?
Absolutely! There are many recipes for taro tea that range from totally homemade to quick and easy. We're all about delicious but easy, so you'll find a simple recipe below.
Another easy way to make boba tea at home is to order a bubble tea kit. They come with everything you need, plus easy-to-follow instructions. Some of the kits are super cute too and would make a great gift for a boba lover.
If you're looking for a great taro boba tea to make at home, we recommend checking out the Pearly Taro Milk Tea Kit. It's super quick and easy to make at home – it only takes 3 minutes to prepare. And it's delicious!
One of the biggest reasons people love boba tea is the endless variety of flavors. If you're up for experimenting try one of these 25+ boba tea recipes.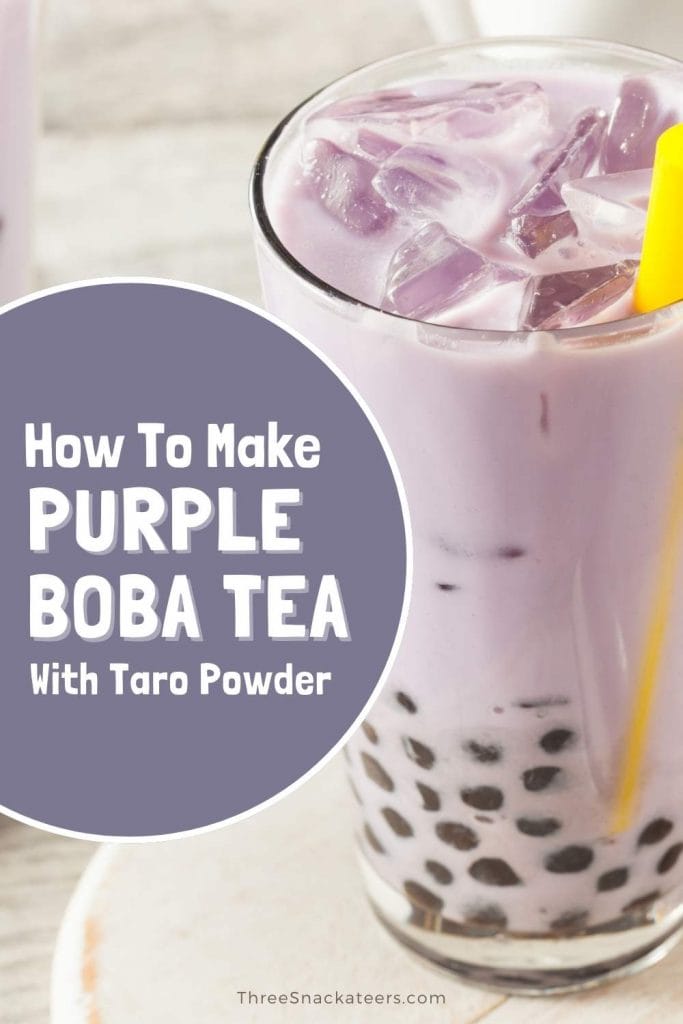 Yield: 1 serving
Easy Taro Milk Tea Recipe
Make your own pretty purple boba tea with this quick and easy recipe.
Ingredients
1 /2 cup jasmine green tea
1-2 tbsp sweetener of your choice (sweetened condensed milk, sugar, brown sugar, honey)
1 cup milk (non-dairy can be used)
Instructions
Prepare the tapioca pearls according to the package instructions.
Brew the green tea with about a 1/2 cup of water.
Add taro powder and sweetener to the green tea. Mix well using a spoon, frother or blender.
Place tapioca pearls in the bottom of your serving glass. Pour the taro tea mixture over the pearls.
Fill the rest of the amount of glass with milk.
Swirl gently with a wide bubble tea straw to swirl the milk and tea together.
Recommended Products
As an Amazon Associate and member of other affiliate programs, I earn from qualifying purchases.
Nutrition Information:
Yield:
1
Serving Size:
1
Amount Per Serving:
Calories:

274
Total Fat:

5g
Saturated Fat:

3g
Trans Fat:

0g
Unsaturated Fat:

2g
Cholesterol:

20mg
Sodium:

124mg
Carbohydrates:

48g
Fiber:

2g
Sugar:

16g
Protein:

9g
If you're looking for a great taro boba tea to make at home, we recommend checking out the Pearly Taro Milk Tea Kit. It's super quick and easy to make at home – it only takes 3 minutes to prepare. And it's delicious!