If you love boba tea and have ever tried making it at home, you know that those cute little tapioca balls can be a bit of a hassle to make from scratch.
But have no fear! There are now plenty of boba tea kits on the market that make it easy to enjoy your favorite sweet treat at home.
In this buying guide, we'll take a look at some of our top picks for the best bubble tea kits available, so you can choose the one that's right for you. We'll also provide a few tips on how to make the perfect cup of delicious boba bubble tea.
So whether this is your first time making boba or you're a seasoned pro, read on for everything you need to know about making this a tasty bubble tea drink at home.
You may also like:
– How To Drink Boba Tea: Everything You Were Afraid To Ask!
– 25+ Boba Tea Recipes
What Is the Best Bubble Tea Kit To Buy?
Well, that depends on what you're looking for! Here's a quick run-down of some of the best boba tea kits that we've come across.
Keep reading below for more details about each of these companies.
11 Best Bubble Tea Kits
In this list below you'll find complete kits which are basically bubble tea starter kits with everything you need for a perfect cup of bubble tea from the comfort of your own home.
Each company listed offers a different assortment of boba products and a wide range of the best boba tea flavors. You'll find all sorts of options to satisfy your budget, preferences, and your taste buds.
Delicious, Affordable and Ready In Under 3 Minutes
After talking boba with the company's founder and sampling their delicious teas, it was clear that Pearly earned the top spot on our best boba tea kits list!
Why You'll Love DIY Boba Kits From Pearly
Pearly's DIY bubble tea kits are so easy to use. Just mix the flavor packet with hot water, microwave the tapioca balls for 30 seconds, and then mix everything together with ice and enjoy.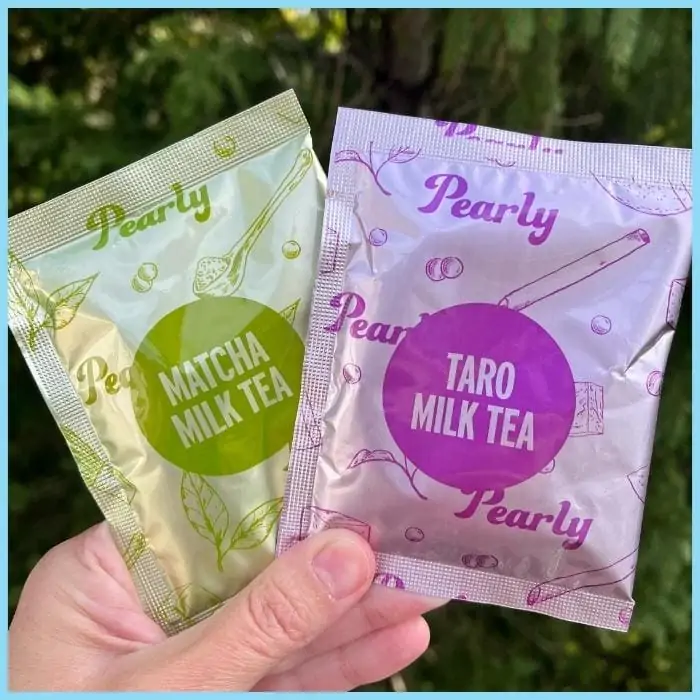 As a relatively new company on the boba scene, Pearly is already making a splash. One happy customer said that Pearly rivals her favorite boba shop. Another said they are never leaving their house again because the kits are so easy and delicious.
Their new Big Boba Bundle comes with literally everything you need. You get 6 of each flavor (original, taro, Thai, matcha and passionfruit), glass boba cup with lid, wide boba straw and cleaner, extra long stirring spoons and ice trays to make perfectly sized ice cubes for boba.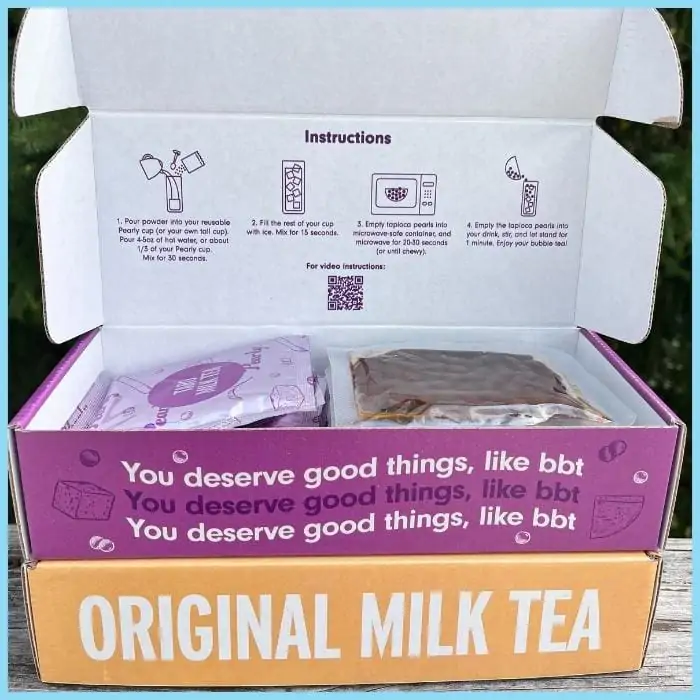 Another really cool thing is Pearly's bubble tea kits for the office or breakroom. Their office boba kits come with everything you need to set up a sweet boba station at the office. The convenient replenishment kit will keep you stocked up.
And finally, Pearly is innovative. Besides adding new flavors and products, they also offer custom products. You can contact them to set up a recurring subscription, host a virtual boba event or even order boba with custom packaging!
How To Order
You can order Pearly bubble tea kits and boba accessories online directly from the Pearly website.
---
Famous Hong Kong Style Milk Tea With A New York Flair
New Territories creates delicious ice cream, bubble waffles and boba teas that combine traditional Hong Kong recipes with a bit of New York flavor.
Why You'll Love Boba Kits From New Territories
If you're looking for high-quality boba tea with rich, silky and smooth flavors just like it's served in traditional Hong Kong cafes, New Territories is the way to go.
Their famous popping bubble tea is available in strawberry, mango and lychee flavors. Each popping boba is filled with juice made with natural cane sugars. Each boba pop releases an explosion of fruit juice mixed with the sweetened assam black tea.
How To Order
You can order boba tea kits from New Territories for nationwide shipping on Goldbelly.
---
These Boba Kits Are A Party In A Box!
The bubble tea kits make a perfect gift for boba tea lovers. They come with a tumbler and reusable straw, plus super cute waterproof Kawaii stickers to customize your cup.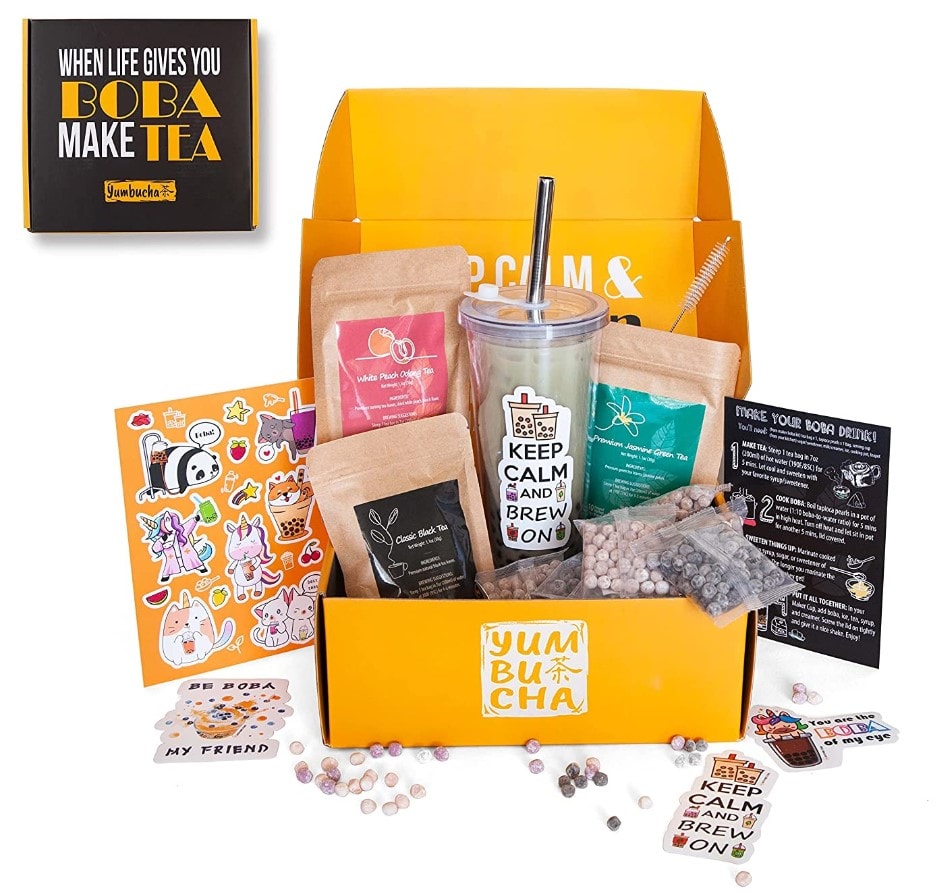 Why You'll Love Yumbucha
Each boba tea kit comes with individually packed quick-cook tapioca pearls (the boba balls) and premium natural loose leaf tea.
Some of the available tea kit flavors include rose oolong, white peach oolong, classic black tea and green jasmine tea.
How To Order
Yumbucha has a great selection of boba tea kits available on Amazon with Prime shipping.
---
Handcrafted Bubble Tea Kits From An Etsy Star Seller
Locca Tea is one of the best-sellers of boba tea on Etsy with hundreds of positive reviews. Many people mentioned buying the premium bubble tea kit for birthday and Christmas gifts.
Many customers also mention that these kits come with fantastic instructions and recipe cards to ensure the chewy tapioca boba pearls and tea turn out perfectly.
Why You'll Love Bubble Tea Kits From Locca Tea
The Locca Boba kit options are handcrafted in California and are packed with premium ingredients. The packaging is really classy which makes it a perfect gift for boba lovers.
The chewy bubbles (the delicious boba pearls) are vegan, gluten-free and made with natural ingredients.
The teas are premium/organic loose leaf teas and no artificial milk tea powder. Some of the amazing flavors include premium grade matcha, earl grey lavender, rosehips, peach oolong, jasmine, black and thai teas.
How To Order
You can order Locca DIY Boba Tea Kits on Etsy.
---
Create Your Own Boba Tea Kit
Kassava offers many bubble tea products, but their best seller is the premium boba tea kit that you can customize with your favorite two teas.
Why You'll Love Kassava Bubble Tea Kits
The DIY boba kits from Kassava are super high quality. In fact, they source their custom curated ingredients fright from Taiwan, the birthplace of boba!
Some classic tea flavors include a signature blend, assam black tea, earl grey, oolong green, roasted oolong, jasmine green tea, Thai tea with condensed milk, Hong Kong tea.
They also offer fruit tea boba kits in flavors like mango, passionfruit, lychee and peach.
How To Order
You can find Kassava DIY tea kits on Etsy to order online for nationwide shipping.
---
Brown Sugar Bubble Tea Kits and Virtual Bubble Tea Classes
If you love sweet and delicious brown sugar boba tea, definitely take a look at the DIY kit from Kits By Food Craft!
They also offer virtual events so you and your friends can have a fun bubble tea party while learning how to make your own boba tea at home. What a fun experience!
Why You'll Love Kits By Food Craft
Their assorted Bubble Tea kits are loaded with popular flavors including brown sugar, taro (the pretty purple boba tea) and mango. They also offer syrups and powders that you can buy separately.
You'll also want to check out their other fun DIY kits and virtual classes for making things like sushi, hot sauce, chocolate truffles and more!
How To Order
A wide variety of boba tea kits and the online bubble tea class can be ordered on Etsy. The other kits and virtual classes mentioned above can also be purchased right on Etsy too.
Deluxe Organic Boba Tea Kits
From organic tea to reusable stainless steel straws and a straw cleaner, these thoughtful kits include everything you need to make a glass of boba milk tea at home.
Why You'll Love Boba Tea From Oakland Tea Co
Organic tea, the ability to pick your own flavors and free shipping are just a few reasons to love these boba kits from Oakland Tea Co.
If you're a brown sugar (tiger) boba tea fan, you're also going to love their extra dark, rich molasses brown sugar syrup blend to soak your boba balls in!
How To Order
Order your bubble tea kits from Oakland Tea's Etsy shop and get free nationwide shipping.
Classic Milk Teas Plus Creative Yogurt And Coffee Teas
A wide variety of boba tea kits including a yogurt smoothie boba box, coffee bubble tea box and classic milk tea box will turn you into a repeat customer. Customers rave about the beautiful and delicious taro milk tea!
Why You'll Love
Choose your favorite classic milk tea flavor like black tea, early gray tea, matcha and taro. Be sure to check out the yogurt smoothie boba kit and coffee boba that can be served iced, blended or hot.
One of the great things about SAMMEE is that you buy bubble tea kits, but also can separately purchase the delicious tea, chewy boba pearls, powders and boba straws.
The kits come in really nice-looking boxes with cute package designs, making them great for gifts.
How To Order
Shop online for DIY bubble tea kits and boba ingredients in the SAMMEE Etsy shop.
Adorable Packaging For A Perfect Boba Gift (Vegan Too!)
The super cute pink and blue packaging makes these boba tea kits stand out from the pack. The customer reviews rave about the great packaging and high-quality ingredients.
Why You'll Love Bar Pa Tea Boba Kits
The DIY Fruity Green Bubble Tea box is packed with green leaf tea and fruit syrups including mango, lychee and passionfruit with golden boba bubbles. The signature jumbo-size golden bubbles have a unique color and chewy texture.
They also sell a gorgeous Pink Matcha Latte set. It has the prettiest green and pink colors, plus golden boba.
How To Order
Bar Pa Tea is named a "top shop for gifts" on Etsy. Check out their 5-star reviews and comments by clicking on the button below.
Boba Tea Kits That Ship From The UK With Awesome Fruit Flavors
Bobalife offers a variety of bubble tea kits – from traditional teas to fruity flavors to classic milk teas – that ship worldwide from the UK.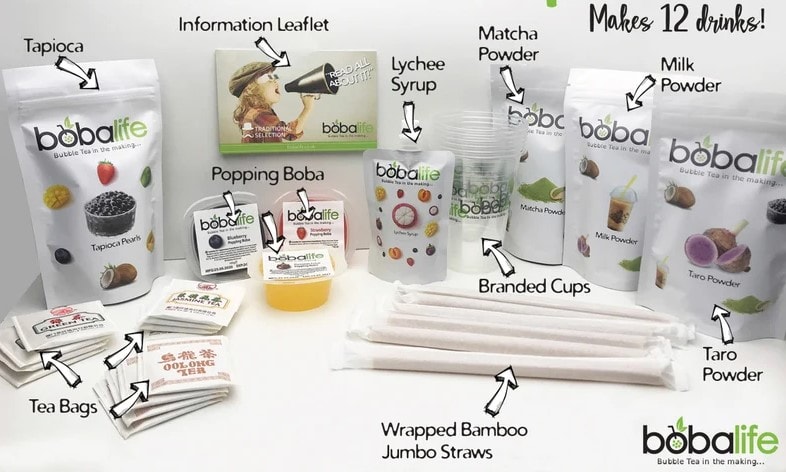 Why You'll Love Bobalife
Bobalife has a really great selection of boba kits. Some of the classic flavors include taro, Taiwanese Milk, Matcha and Lychee.
They have some great boba fruit flavors that we didn't find with any other vendors: raspberry, blueberry, peach, kiwi, strawberry, cherry, passion fruit, green apple and pineapple.
How To Order
Order Bobalife bubble tea kits and gifts on Etsy for shipping worldwide!
The Best Shop For Matcha Bubble Tea Fans
Matcha lovers better check out this bubble tea shop! Learn how to make the Dirty Matcha (matcha latte with boba) and the Matcha Tornado (matcha vanilla latte with boba and matcha cream)!
Why You'll Love Kitsby
Not only does this shop offer the best matcha boba tea, they also sell a matcha green tea brownie kit, a matcha cream puff baking kit and lots more tea-inspired kits.
How To Order
Check out the Kitsby shop on Etsy to view their bubble tea sets as well as other baking kits.
---
Now that we've gone over some of the best boba tea kits, let's wrap up with a few tips to help you get started.
First, make sure you have all the supplies you need before getting started. The best option is to buy a complete kit like from one of the bubble tea kit brands mentioned in this list. The Pearly Starter bundle is a great option.
If you have questions about boba you should definitely check out this article: How To Drink Boba Tea: Everything You Were Afraid To Ask!
Next, be sure to follow the instructions that come with your tea kit carefully. This will help you make the perfect cup of boba tea every time.
Finally, don't forget to have fun and experiment with different flavors and combinations.
Every time you try a different bubble tea kit, you might be discovering a new favorite boba recipe. At the very least, you'll have fun exploring the uniqueness of each bubble tea cup you try.
There are endless possibilities when it comes to making boba tea, so go ahead, explore and enjoy!