As the days get shorter and the temperatures start to drop, there's nothing quite like a delicious cupcake to help brighten your day and decorate the holiday dessert table.
You may be feeling like you've had your fill of pumpkin spice, but don't worry, we've got plenty of winter cupcake flavors to get you excited for the season.
From classic flavors like eggnog, gingerbread and peppermint, to cute-themed Christmas cupcakes reindeer and snowmen, there's something for everyone.
We've also included plenty of gluten-free and vegan winter cupcake flavors and recipes too.
In the big list below, you'll find dozens of delicious winter cupcake recipes and flavor ideas that will keep you cozy all season long. So pull out your muffin tin and get baking!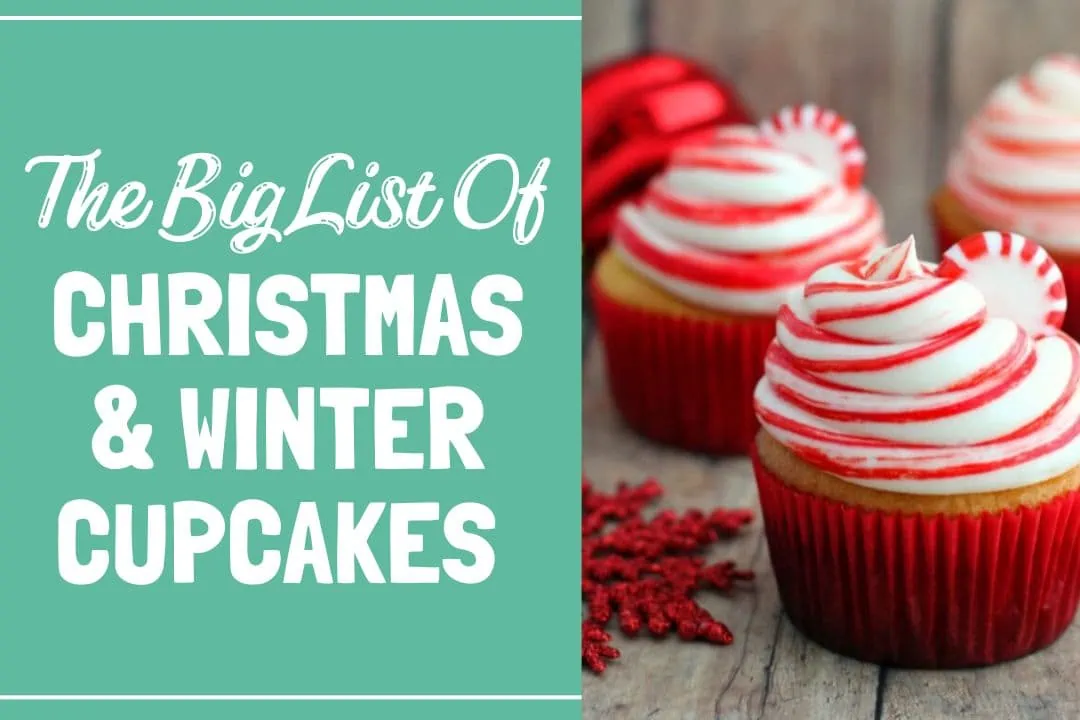 You may also like:
– 10 Best Gourmet Christmas Cookies To Order Online
– 30 Easy Non-Alcoholic Christmas Punch Recipes For The Holidays
– 13 Unique Chocolate Gifts For Christmas (2022)
Classic Winter Cupcake Recipes
Now that your head is filled with all the flavor possibilities, here are some great recipes to make your winter flavor dreams come to life.
In this first section, you'll find recipes for all of the classic holiday cupcake flavors like eggnog and gingerbread.
Boozy Holiday Cupcakes
If you're looking for a festive cupcake filled with holiday spirits (pun intended), these boozy treats will do the trick.
Unique Holiday Cupcake Flavors
The cupcakes in this section capture traditional holiday flavors and combine them in creative ways.
Christmas Theme Decorated Cupcakes
It's no secret that kids love Christmas. They also love cupcakes, so adding decorated holiday cupcakes to your Christmas break bucket list is a no-brainer. Below are some super cute decorated cupcakes that the whole family can help with.
Pro Tip: You can buy gluten-free cupcakes online from Baked By Melissa! They specialize in bite-sized cupcakes in delicious flavors that can be shipped nationwide.
You may also like:
– 5 Best Places For Gluten-Free Cookie Delivery
– 13 Best Gluten-Free Cakes Delivered
– 10 Best Bakeries To Order Vegan Cakes & Desserts Online For Delivery
Pro Tip: You can also buy vegan cupcakes from Baked By Melissa! Order their mini cupcakes online for nationwide shipping.
Up Next:
– 9 Best Gourmet Cupcakes To Order Online For Delivery