From posh, upscale bakeries in bustling cities to grocery stores and small mom-and-pop corner bakeries in small towns, macarons have taken the world by storm!
These bite-sized, uniquely colored pastries are the perfect combination of light and chewy, sugary goodness.
If you're not a pastry chef, you may wonder why the price tag seems to be so high for these tiny treats. 
These little morsels can cost you more than you might have expected for a box of desserts. In fact, a single macaron costs anywhere from $1.50 to $4.00 or more!
But macarons aren't your average sweet treat.
The time, expertise, and costly ingredients required to make macarons perfectly textured and flavored are the main reasons why these desserts are a little more expensive than your average bakery item. Macarons are often seen as a luxury item due to their delicate nature and intricate designs, which also drives up the price.
Macarons are notoriously difficult to make – even for experienced pastry chefs. A good macaron also takes a lot of time to make. Plus, the best macarons use high-quality ingredients.
However, despite their higher price tag, macaron cookies have only been increasing in popularity.
We'll take an in-depth look at what macarons are, their history, the baking process, and what exactly makes these treats a delicacy that warrants a higher price. Trust us – they are worth the splurge!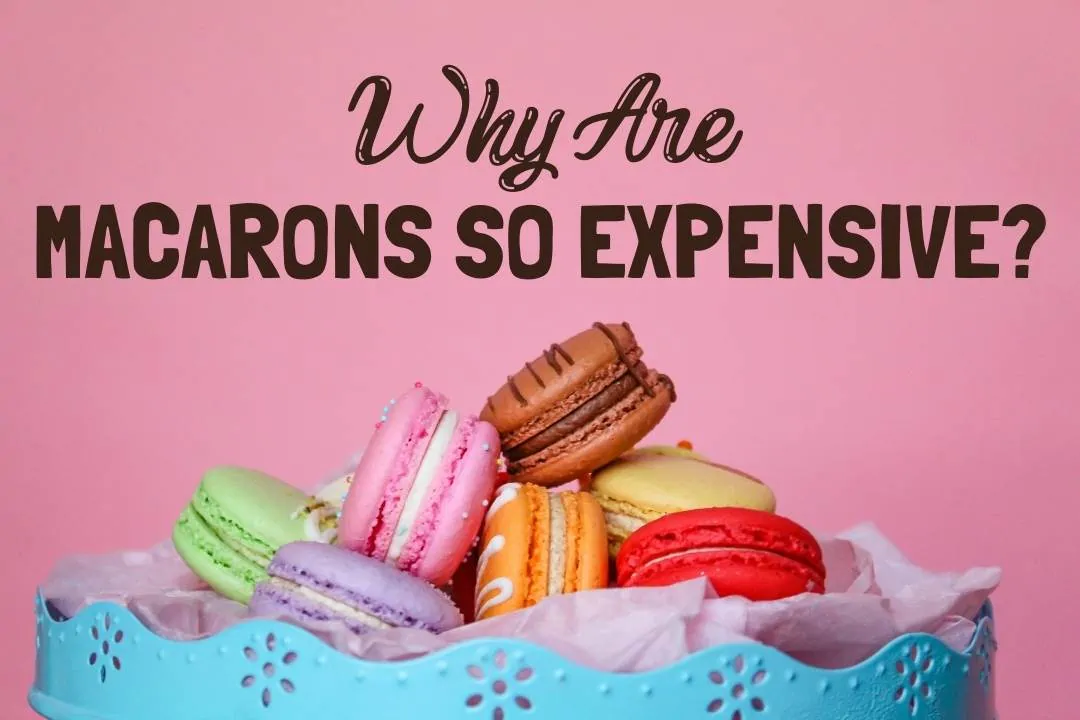 What Are Macarons?
A macaron is a dessert with a fairly simple list of ingredients that requires a lot of expertise to execute perfectly each time. They are made with two almond meringue cookies sandwiching a variety of fillings, and come in an array of colors and flavors.
The tiny, rounded desserts are made with a meringue base to help create the cookie's texture that has a smooth outer shell with a slightly chewy interior.
The main ingredients used to make the cookie shell include almond flour, sugar, egg whites, and sometimes food coloring and other flavors.
While the filling is often what determines the flavor of the macaron, it also plays an important role in the overall texture of the cookie.
A popular type of filling is ganache, which is rich, smooth and made with chocolate and cream. Other popular fillings include buttercream, jams, and fruit curds.
Learn more about what macarons taste like.
How Much Do Macarons Cost?
If you've ever wondered how much those pretty little French macarons cost, wonder no more! Here's a quick rundown of the average price of macarons.
The Cost To Buy Macarons
In the United States, macarons typically cost between $2 and $3 each. However, prices can vary widely depending on the region and the specific bakery.
For example, macarons from high-end bakeries in New York City are generally more expensive than those in other parts of the country.
Where To Buy Macarons
If you're going to treat yourself to some macarons (or buy some as a thoughtful food gift), you should definitely consider buying from a great bakery that specializes in macarons.
Sure, you can pick some up from your local grocery store or try to make your own. But chances are you don't buy macarons very often.
Why not get some really great ones and experience the true delight of a macaron hand-crafted by expert bakers?
Here are a few recommendations for places to order the best macarons:
The Most Famous Paris Macaron Shop
Founded in 1862 in France, Laduree is one of the most well-known luxury pastry shops in the world. Some of their irresistible flavors include rose, blackcurrant violet, coffee, strawberry candy and passion fruit.
A box of a dozen macarons from this famous Paris bakery starts at around $45.
Macarons By Legendary Chef Thomas Keller
Bouchon Bakery is led by chef and owner Thomas Keller who is recognized as one of the best chefs in the world! This bakery has been featured in the New York Times, the LA Times, New York Magazine, Travel + Leisure and Conde Nast Traveler to name a few.
Choose from traditional flavors executed to perfection like vanilla, chocolate and pistachio, plus seasonal chef-selected flavors. A classy gift box of six macarons from Bouchon starts around $55.
Authentic French Macarons From World Baking Champion Pierre Zimmermann
You get over a century of French family bakery expertise when you order macarons from this artisan bakery located in Chicago. Their mouth-watering confections are all-natural and gluten-free.
You'll find a wide variety of macaron flavors at La Fournette including mango, lychee, nutella, lemon and hazelnut.
They also some fun cocktail-inspired flavors like pina colada, mojito and tequila sunrise. A dozen macarons starts around $55.
A Beloved New Orleans Sweet Shop
This sophisticated dessert boutique has been featured in Oprah's O Magazine, Bon Appetit and Food Network.
Cool celebrities like Reese Witherspoon, Kate Hudson, and Nicolas Cage are also known to stop by!
Some popular flavors include pistachio, salted caramel, cafe au lait and blackberry honey. Macarons from Sucre start around $55 for a box of 8 treats.
Most Affordable Gourmet Macarons
Best known for their delicious bite-sized cupcakes, Baked By Melissa also offers mini macarons. These double-stuffed, melt-in-your-mouth macarons come in fun flavors like cookie dough, snickerdoodle, red velvet and sugar cookie.
A box of 25 macarons from Baked By Melissa starts around $50.
The Cost To Make Macarons
Although you will spend a good amount of time making your own macarons, if you have a love of baking and want to learn the process, it might just be worth the intensive labor and the investment in a good macaron recipe book.
Depending on the ingredients you use to make macarons, a homemade version can cost you as low as around $.25 per pastry. That is a far leap from store-bought or bakery-made versions.
Of course, you can always expect to pay a little extra if you opt for decadent ingredients like vanilla bean paste and artisan chocolate. However, even with those more expensive ingredients, you will still pay way less if you make them yourself at home.
More Desserts To Order Online
– 37 Best Gourmet Mail Order Cookies To Buy Online
– 9 Best Gourmet Cupcakes To Order Online For Delivery
– 11 Best Birthday Cakes To Order Online For Delivery
Why Are Macarons So Expensive?
As mentioned, there are a few reasons why macarons are more expensive than many other sweet treats. Let's look into each reason and break it down to better understand where the higher prices come from.
Macarons Require A High Level Of Expertise
The skill that is necessary to create such a delicate pastry is one of the main reasons macarons are so expensive. Bakers are specially trained in the art of macaron-making.
Precise measurements of expensive ingredients and meticulous attention to detail during the whole process are required. One small mistake can result in a baking sheet filled with bad macarons that can't be used.
Macarons are difficult to make for various reasons. The perfect macaron is about the size of a half dollar and has a smooth texture of the outer crust with a chewy interior. However, the macaron shells or the outer "cookie" portions of the dessert are extremely temperamental.
There are a dizzying amount of factors at play when making macarons.
If the meringue and macaron batter are not the perfect consistency from the start, the cookies will not set properly.
You have to be careful not to overmix or undermix.
The temperature of the batter and kitchen need to be just right.
The size and shape of each cookie must be perfect and consistent.
The cookie's texture has to be spot-on every time.
The delicate texture means cookies need to be handled gently so they don't crack or crumble.
But, if it's all done correctly, the end result is a magnificent little sandwich cookie, unlike anything you've ever had before.
Macarons Take A Long Time To Make
Perfect macarons take a while to make. And in the world of business, time is money. From start to finish, they usually take about 2 hours just for one batch of macarons.
Because of the finicky process required to make great macarons, it's been a challenge for bakeries to automate the process or create macarons in bulk while still maintaining a high level of quality.
Price and Quality of Ingredients
The ingredients required to make macarons can cost a little more than your average baked good. A dessert that takes this much time and delicate attention warrants only the best ingredients.
A main ingredient in macarons is almond flour. The only ingredient in almond flour is almonds. Almonds are pretty pricey, so it makes sense that almond flour is an expensive ingredient too.
The filling is another place where good-quality ingredients make a big difference. A delicious ganache, buttercream or lemon curd filling is made by using the best vanilla beans, the highest-quality chocolate and the freshest organic lemons.
Another place where the cost of ingredients comes into play is the finishing touches on top of the macaron. You'll often see a shimmer of edible glitter, a drizzle of chocolate or other embellishments atop gourmet macarons.
The Prestige Factor: Macarons Are A Trendy, Luxury Dessert
Macarons have an interesting history and have been around for decades. During the Renaissance, around 1533, it is recorded that French queen Catherine de' Medici enjoyed macarons made by Italian pastry chefs.
It's also on record that two Carmelite nuns, known as the Macaron Sisters, baked and sold macarons to pay for housing during the French Revolution.
Of course, back in those days, standard macarons were nothing like the designer desserts we see today that cater to an upscale market. Today, these colorful little cookies are equally popular on social media and on the pages of Vogue magazine.
You can find macarons in plenty of places – from your local bakery to five-star restaurants. You can even order delicious macarons to be delivered to your door or shipped nationwide. Goldbelly is a good place to order macarons online from some of the world's best bakeries.
Macarons come in an endless variety of gorgeous colors and delicious flavors. All these different types of macarons, combined with gorgeous packaging and the right kind of marketing, have created a cult following for these sweet little treats.
Believe it or not, the beauty, decadence, and intrigue add to the cost of macarons. You can expect a high price when your cute little cookie is viewed as a status symbol of sorts.
FUN FACT: The most expensive macaron in recent years was sold at the Regis Bal Harbour Resort in Miami, Florida. The $9,000 macaron was made with white tea and edible 24-karat gold and served in a crystal box. Talk about prestige!
Final Thoughts: Are Macarons Worth The Price?
Macarons certainly are a playful, yet decadent and luxurious dessert you can indulge in. While you can definitely make them at home with the help of a macaron cookbook, the expert bakers that put the time and effort into making these tasty treats make them all the more indulgent and something to savor.
While there is a lot of variation in the quality and price of macarons, one thing is clear: these delicious little cookies are definitely worth the splurge!
Before you go, don't forget to take a peek at the delicious selection of macarons these famous bakeries offer!
Up Next:
– Blue Macarons: Flavors, Recipes & Where To Buy
– What Do Macarons Taste Like?