Perogies are classic comfort food. The great thing about this traditional polish food is that there are so many different ways to serve it.
Whether you're looking for a tasty snack, good side dish, or a simple dish to serve for special occasions, you'll find your inspiration in this list of 25 ideas of what to serve with perogies. You're sure to find a recipe for savory or sweet pierogies that the whole family will enjoy.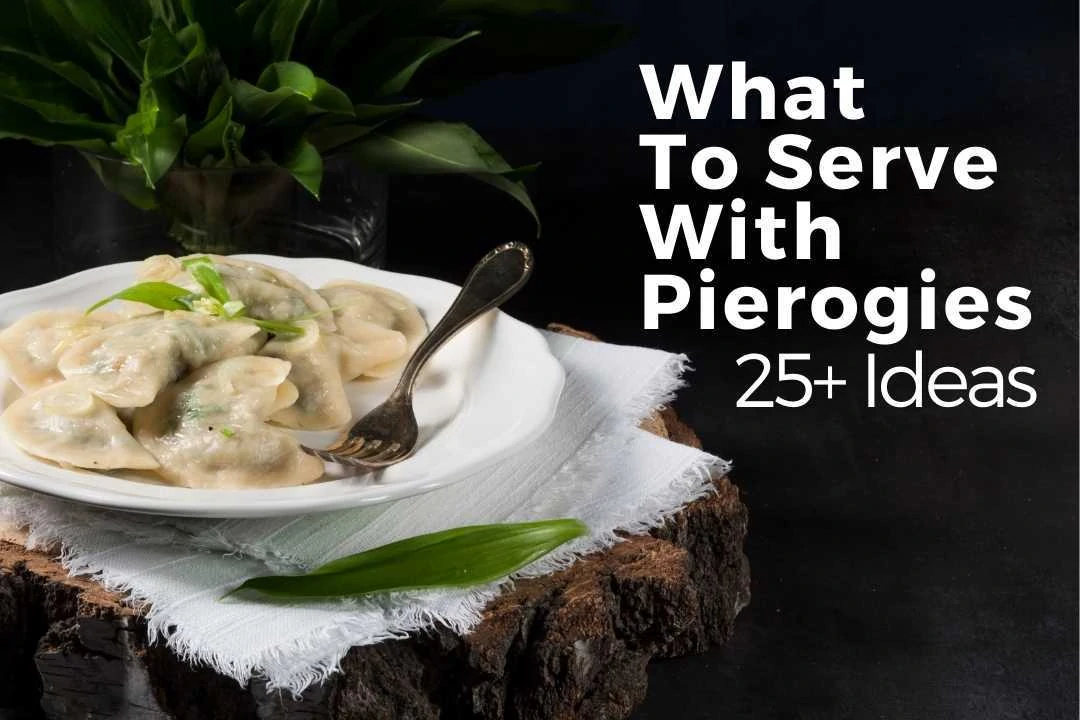 What To Serve With Perogies (25 Delicious Ideas)
If you're not familiar, pierogis are small, filled dumplings. They kind of look like little ravioli.
They have a tender outer dough that is wrapped around a filling. The fillings can be sweet or savory.
Traditionally the most common fillings are things like meats, cheeses, potatoes, and sauerkraut. Common sweet fillings are sweetened farmer's cheese or fruit.
In this article, you'll come away with some really awesome ideas for what to serve with both savory and sweet.
What To Serve With Savory Perogies
Savory pierogies are most commonly filled with mashed potatoes, onions, cheddar cheese, cabbage, sauerkraut, meat, mushrooms and spinach.
Below are 17 easy ideas that will turn your savory pierogies into delicious side dishes or a fabulous main course. If you're looking for sweet pierogi ideas, jump down towards the end of the article.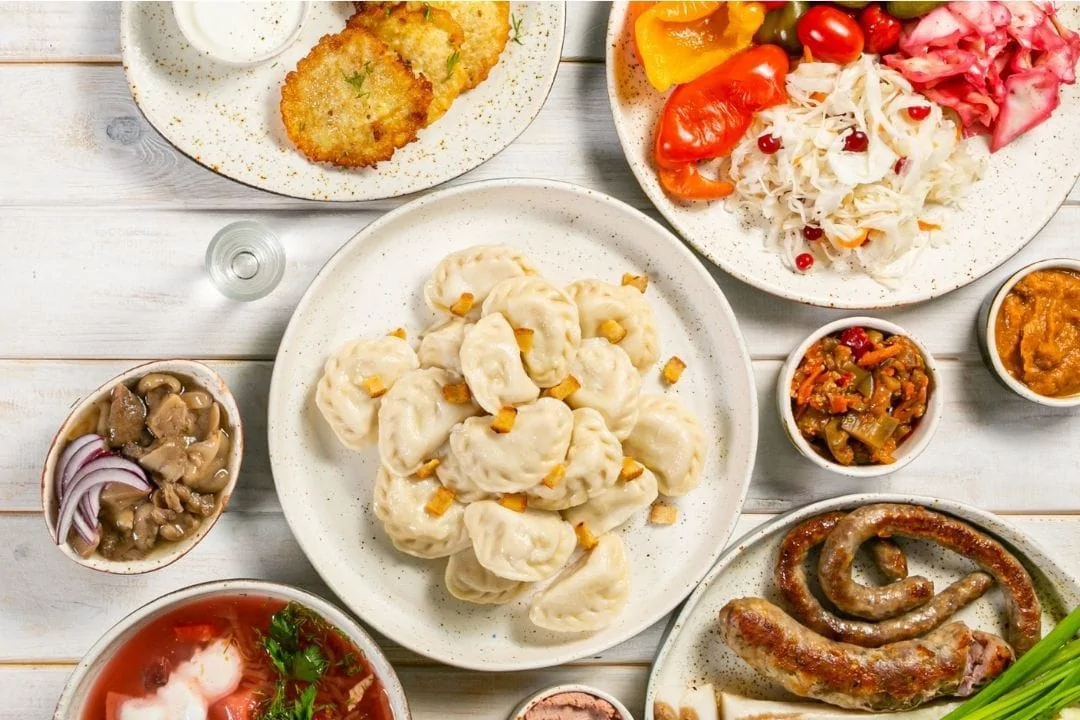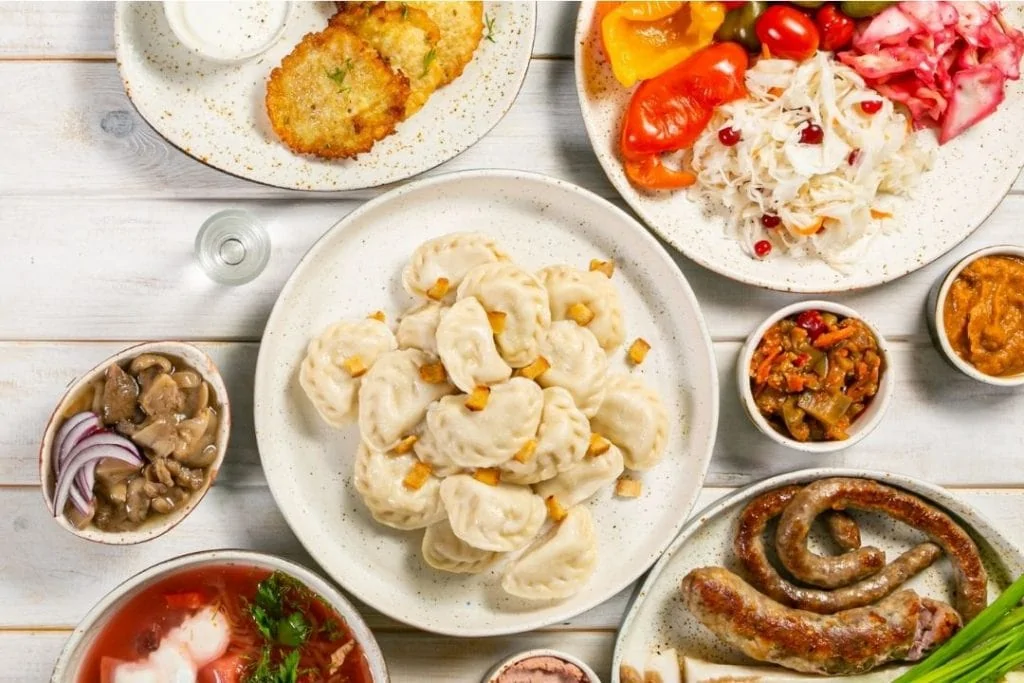 Melted Butter
A really delicious and easy way to serve perogies is simply with melted butter. In fact, some might say it's the best way!
This simple preparation is great with cheddar cheese and potato perogies, as well as ones stuff with ground beef, sauerkraut, or other fillings.
Pan fry your pierogies over medium heat with butter. You can also add a little olive oil or bacon grease for extra flavor. Season with salt, black pepper, and/or garlic powder.
Saute until the perogies are golden brown. Remove from the heat and top with some fresh herbs, breadcrumbs, and parmesan cheese.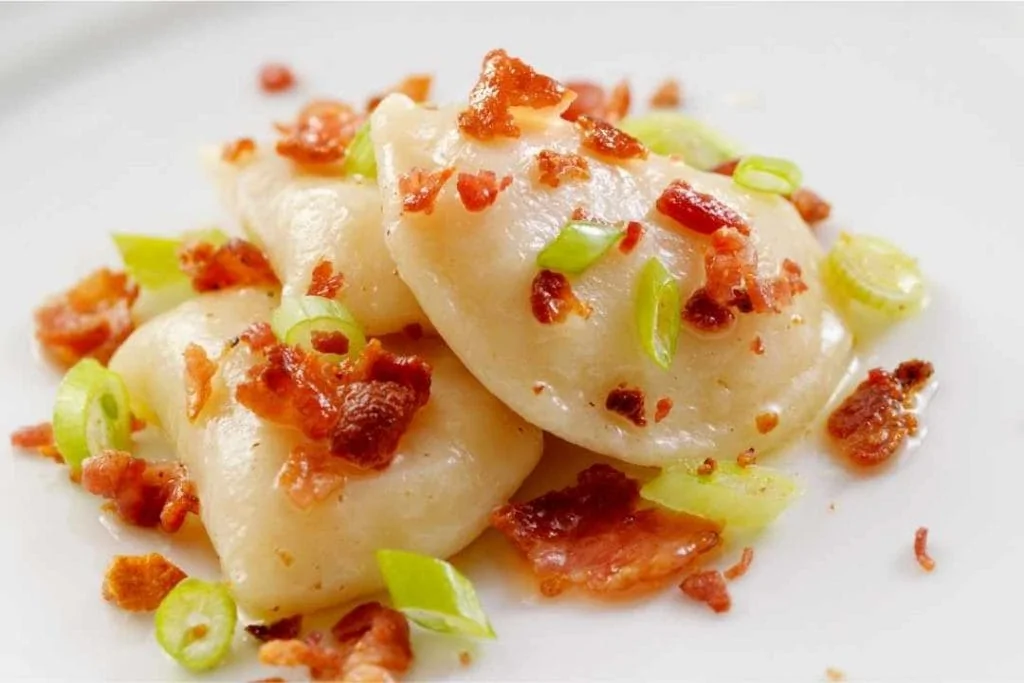 Bacon and Fried Onions
Another amazing way to prepare pierogies is with bacon and fried onions.
In a large skillet, saute some chopped bacon. Cook for a bit to render out the bacon fat. Add diced onions and fry until translucent. Add in your perogies and cook over medium heat until heated through.
Bacon and Cabbage
Bacon with sauteed green cabbage is another perfect pierogi pairing. It's quick, easy, and delicious.
Add chopped bacon and sliced cabbage to a large fry pan. Saute until bacon renders off some fat and the cabbage starts to wilt. Add in your pierogi and cook until everything is nice and golden brown.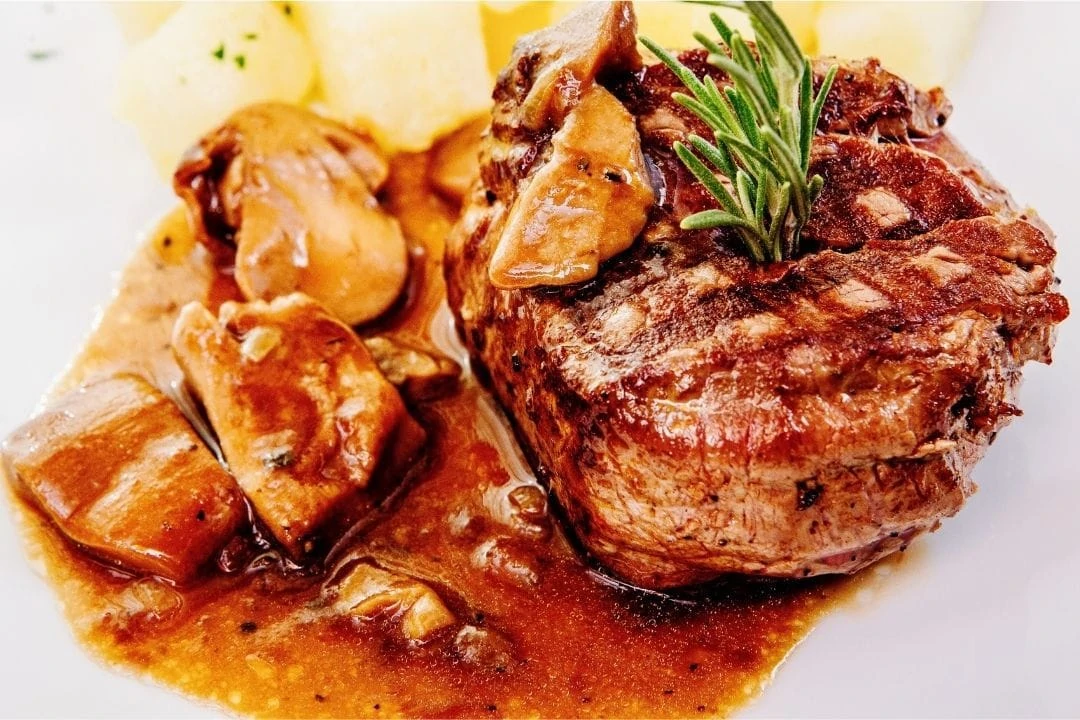 Pork Chops
Cheese or potato perogies are a perfect side dish to go with the earthly flavor of pork chops. Add some cranberry relish, apple chutney or a drizzle of balsamic vinegar reduction for a memorable and delicious meal.
Mushrooms Or Mushroom Sauce
A really simple, but hearty and satisfying meal is pierogies with mushrooms. Simply saute some fresh mushrooms with your pierogies. Throw in some onions, seasonings, and fresh herbs for a quick and delicious meal.
If you've got a great recipe for a creamy mushroom sauce, try pairing it with some pierogies. If you need a recipe, try this one with a creamy dill mushroom sauce.
Ham
A nice smoky ham is a great addition to a pierogi dish. You can chop the ham into cubes and pan fry with the pierogis. You can also add some chopped bacon, diced onions, and cheddar cheese if desired.
Or you can prepare a delicious ham steak and serve the pierogies as a side dish.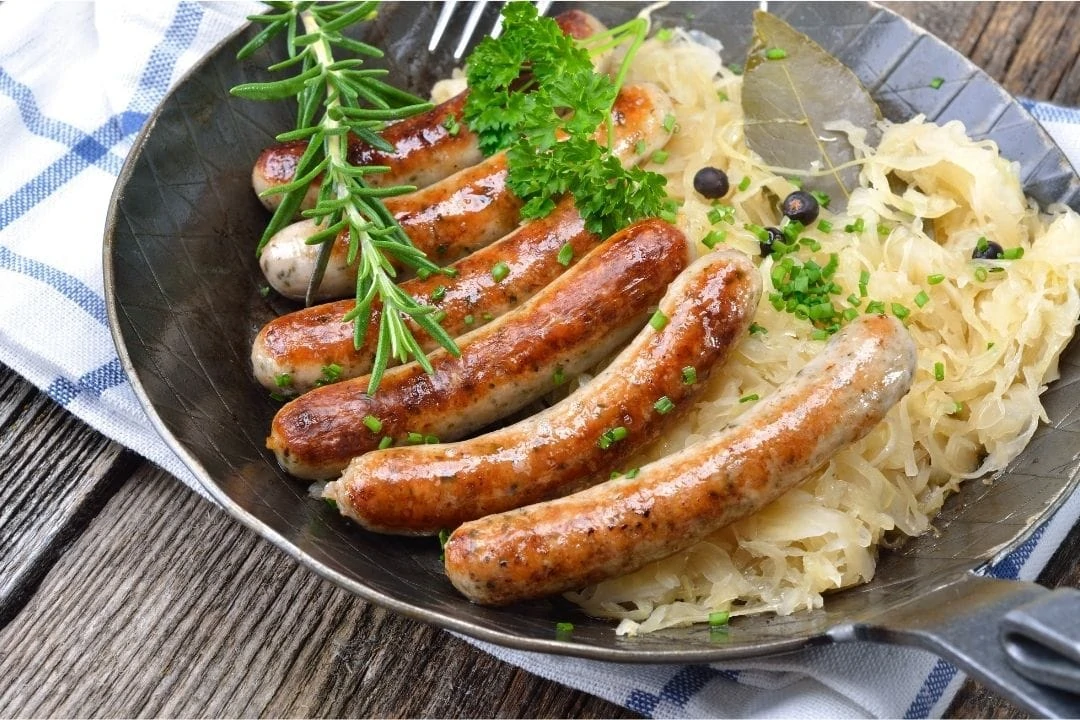 Polish Sausage or Kielbasa
It's no surprise that Polish dumplings pair perfectly with Polish sausage. Kielbasa can be prepared in a number of different ways that will taste great with pierogies.
Related Reading: 35 Delicious and Easy Kielbasa Recipes
Sauer Kraut
You know what goes well with sauerkraut pierogies? More sauerkraut!
Here's an idea for a recipe that combines kielbasa, pierogi and sauerkraut into one tasty bake.
Spare Ribs
Perogies go great with meat dishes like tender spare ribs (short ribs). There are lots of great recipes out there like this braised red wine crockpot dish.
Sour Cream
A favorite way to serve perogies is with a dollop of sour cream. The cool, creamy flavor of the sour cream is a wonderful contrast to the warm, savory Polish dumplings.
Ranch Dressing
Some people really enjoy using ranch dressing as a dipping sauce for perogies. While it's not for everyone, the creamy cool dressing certainly complements meat or cheese pierogi.
Brown Butter and Sage
The only thing better than butter is brown butter!
On medium-high heat, melt a half stick of butter in a large nonstick pan. Add about 8-10 fresh sage leaves. Once the butter is melted, add the sage leaves.
Cook for 2-3 minutes or until the butter begins to turn brown and smell nutty and delicious. Toss in your pierogies and serve warm. Top with parmesan cheese if desired.
Fresh Herbs
Savory perogies are very filling and hearty. Fresh herbs like parsley, chives, dill, mint, thyme, rosemary, tarragon or basil add a punch of flavor and help brighten your dish.
Green Vegetables
Don't forget your veggies. Flavorful green vegetables like brussels sprouts, asparagus, broccoli, spinach, green peas, green beans, fava beans, or sorrel pair really well with meat or cheese-filled perogies.
Tomato Sauce Or Slow Roasted Tomatos
Pierogi dough is somewhat similar to pasta in taste and texture, so it's no wonder they taste great with the complex flavor of tomato sauce and roasted tomatoes.
To slow roast tomatoes, simply cut them in half. Place on a sheet pan with the peel side down. Top with olive oil, garlic, salt, pepper and a sprinkle of sugar. Roast them in the oven for about an hour or until slightly golden brown on top.
Cranberry Relish
If you're serving pierogies with a holiday meal like Thanksgiving or Christmas, cranberry relish would be a great addition. The sweet and tart flavor of the relish is a nice refreshing contrast to the richness of the dumpling.
Garlic and Honey Glaze
This is definitely a unique way to serve polish dumplings, but it's a must-try recipe. Plus this sweet and salty delight is easy to make. Check out this recipe from the pierogi gurus at Mrs. T's.
FUN FACT:
Did you know that October 8 is National Pierogi Day?
What To Serve With Sweet Perogies
Many people are most familiar with the savory varieties of polish pierogies. But if you've never tried a sweet cheese pierogi, you're missing out.
There is a sweet filling in a cream cheese pierogi. It's usually sweetened with vanilla.
Similar to a sweet potato side dish topped with marshmallows and brown sugar, sweet pierogies work well as a side dish with a meal.
Or you can indulge in these tasty treats in a variety of ways for a full-fledged dessert.
Here are 8 delicious ways to serve up sweet cheese pierogies.
Melted Butter and Powdered Sugar
Savory pierogies taste great with melted butter and so do the sweet kind!
Just warm your perogies in a saute pan with melted butter. Remove from the pan and top with powdered sugar.
Fruit and Fruit Sauces
For a sweet side dish or yummy dessert, try topping your sweet pierogies with orange or strawberry sauce, lemon curd or raspberry coulis.
Add some fresh blueberries and strawberries for an extra special treat.
Bacon and Sauteed Onions
Believe it or not, sweet cheese pierogies taste awesome with smoky bacon and sweet caramelized onions. It's sweet, salty and delicious.
Add diced bacon and onions to a saute pan with some butter. Fry for a few minutes, then add your sweet perogies. Season with salt and pepper. Continue to cook until golden brown. Remove from heat and enjoy.
Sweetened Cream With Fruit
Try topping your perogies with sweetened cream. You can use greek yogurt sweetened with maple syrup or brown sugar.
Or you can use a sweetened whipping cream with a touch of powdered sugar and vanilla. Add some fresh fruit to complete this sweet treat.
Crème Anglaise, Vanilla Custard or Pastry Cream
For a sophisticated dish, top a sweet cheese pierogi with a delicious dollop of vanilla custard or creme anglaise. Add a fresh mint leaf to the top for a simple, but elegant dessert.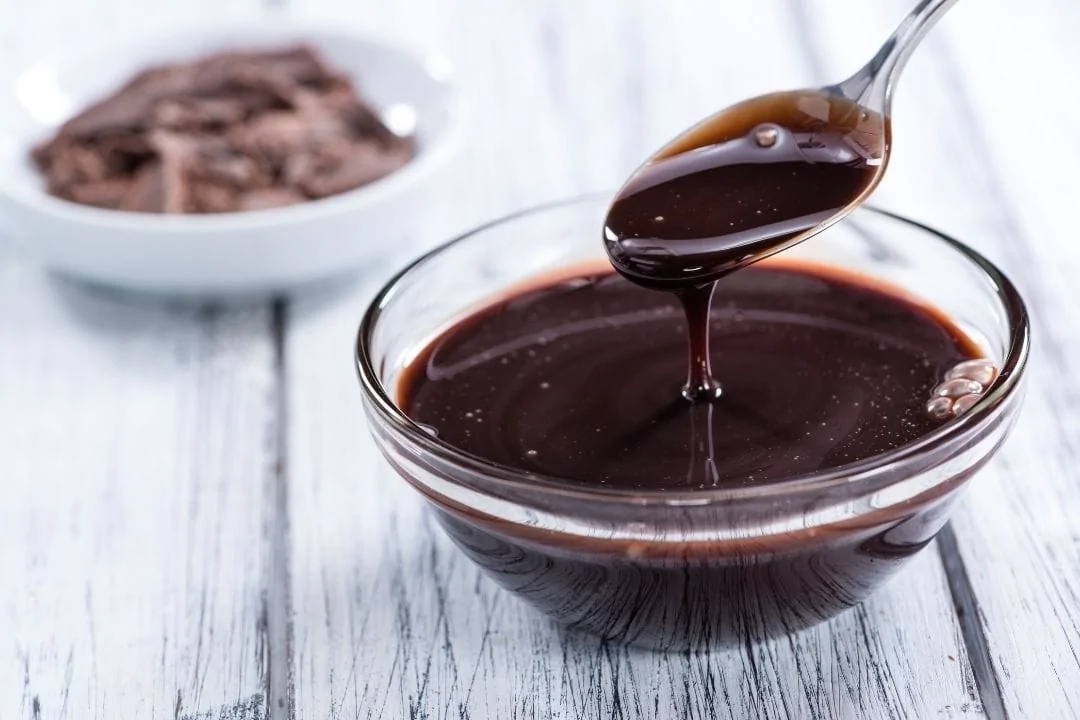 Chocolate Ganache or Sauce
Add a drizzle of warm chocolate ganache to your sweet dumplings. You can even throw some strawberries on top for a sweet Valentine's or anniversary dessert.
Honey and Cinnamon
This idea is probably the easiest one on the list. After your dumplings are done cooking, just drizzle them with your favorite honey. Top off the dish with a sprinkle of cinnamon.
Deep Fry With Sugar and Cinnamon
We saved the best for last. Deep-fried pierogies taste better than an elephant ear you get at the county fair!
Just pop your sweet pierogies into the deep fryer or pot of hot oil. You can get instructions here for frying fresh or frozen perogies. When they are done, sprinkle with a cinnamon-sugar blend and enjoy!
---
RELATED READING:
– How To Cook Frozen and Fresh Pierogies
– How To Cook Fresh and Smoked Kielbasa
If you enjoyed this article, save it for later on Pinterest, Instagram and Facebook. Also join our Facebook Group for more snack fun!