Can you imagine getting international snacks delivered to your door every month? That's what Universal Yums is all about.
This Universal Yums review will provide information on the company and answer frequently asked questions. You'll also get my in-depth review based on my personal experience with the company.
What is Universal Yums?
Universal Yums is a monthly subscription box service that sends you an international food experience each month. It's the best way to discover new snacks from around the world without leaving your home.
Each month their boxes feature snacks from one country. Their expert curators handpick each item sent out to provide an authentic connection to that country's culture and cuisine.
You can choose between 3 Yum Box sizes: mini, medium, and large. The subscription boxes come with a different variety of snacks in every box – from chips to chocolate bars to gummies.
Universal Yums – How It Works
It's easy to subscribe to Universal Yums for yourself or give as a gift.
Yuniversal Yum Box Sizes
First, select from three size and price options for how many snacks are included each month:
Yum Box (5-7 snacks, around $15/box)
Yum Yum Box (10-12 snacks, around $25/box)
Super Yum Box (18-20 snacks, around $38/box)
US shipping is free with all three options.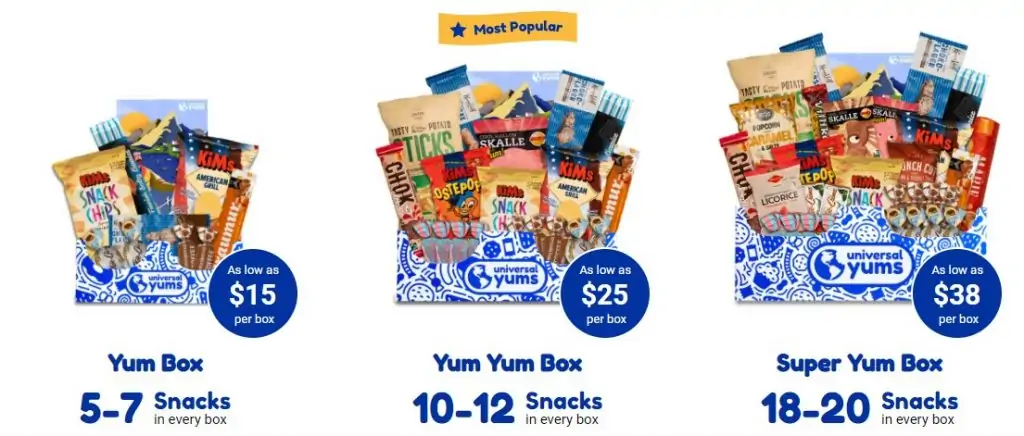 What's Included In A Universal Yums Box
Every Universal Yums box includes a combination of classic and trendy snacks from a different country. You'll find sweet snacks, savory snacks, chocolate, candy, and more.
All of the snacks in the subscription boxes have authentic flavors from the country featured that month.
Depending on the subscription level chosen you also receive recipes, trivia – and more! But all of the box subscriptions receive an interactive tasting game and information booklet unique to that month's country.
For the initial box, you are asked to choose your first destination from a list of three different countries. But after that first month, you'll receive a new surprise country each month.
Your first box will be sent out shortly after it is ordered, and then each box will be shipped on the 15th of each month.
Universal Yums Box Subscription Lengths
There are two subscription lengths and invoicing options to choose from: Prepaid for 1 year, or a month-to-month subscription (auto-renewed on the 1st of each month).
If you prepay for the full year at once you wind up saving a few dollars off of each box, so the savings definitely adds up over 12 months.
Universal Yum Box Cancellation
Month-to-month subscriptions can be cancelled anytime, so there's no pressure or penalties if you decide to call it quits. And you can easily resubscribe later if you like.
Need to just skip a month here or there? No problem! There's a handy "Skip" button in the billing section of your online account.
However, prepaid annual subscriptions cannot be cancelled mid-service. You can cancel so that your subscription isn't auto-renewed, but you will continue to receive boxes that have already been paid for. This also goes for month-to-month subscriptions that are auto-charged on the 1st of the month.
Gift subscriptions can be purchased as a one-time gift, or in 3, 6, or 12-month intervals. These also are priced starting at $15-$38 per box, with anywhere from 5-20 snacks.
Pros and Cons Of Universal Yums
PROS
Definitely the biggest YAY factor for Universal Yums is the excitement of "visiting" a new food destination every month.
You actually get to learn about countries from around the world thanks to the booklet that includes fun facts, trivia and more.
Month-to-month subscriptions let you pause service, or increase the size of your box. So they are pretty flexible as your needs change.
Great monthly or annual gift that keeps giving all year long with no effort necessary.
Just want to try out some fun international snacks without committing to a whole box? The Yum Shop lets you purchase and ship individual items from past boxes.
CONS
Canceling a Universal Yums subscription is easy enough and handy for month-to-month boxes. However, prepaid annual subscriptions cannot be canceled and refunded mid-year.
Each box is specific to one country which can be a drawback for some people if you don't care for snacks from a certain region.
YOU MAY ALSO LIKE:
– TokyoTreat Japanese Snack Subscription Box Review
– A Taste of Japan: Comparing Sakuraco and Bokksu Snack Subscription Boxes
---
Universal Yums Review
This section will provide some insights that may be helpful as you're deciding if Universal Yums is the right subscription service for you.
Three Snackateers Universal Yums Review
In my review below, I'll walk you through my personal experience and thoughts about Universal Yums like the packaging, assortment of snacks and overall value.
Packaging
The Universal Yums box is hard to miss with its distinctive blue and white colors and fun snack icons.
The outer shipping box is the only packaging – there is no additional inner box. It is durable and designed for shipping.
However, my box still managed to get a little crushed on one of the corners. Thankfully, all of the snacks inside remained in good shape.
Snack Booklet: Trivia, Games and More
My Yum Box came with a really impressive assortment of "extras" above and beyond the standard product description booklet.
There was a full-color 8.5×11 insert featuring a fun map of Indonesia.
On the back was a 'Yum Scoreboard' to rank your favorite snacks from the box as you taste them. It also had recommendations for additional snacks to try and a scavenger hunt game.
They also include a nicely designed sticker from the featured country (Indonesia).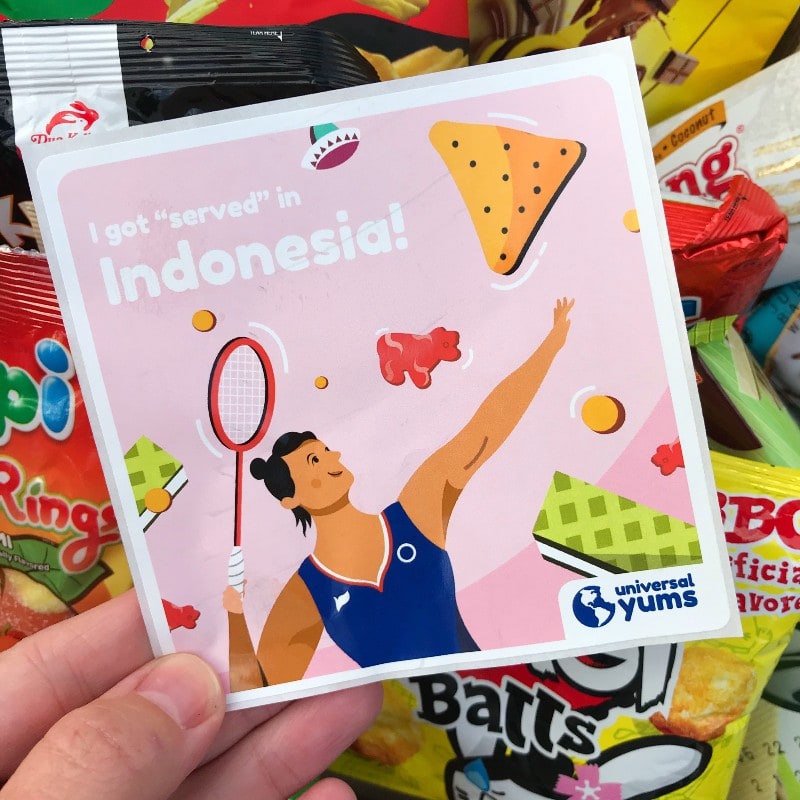 The box also included an impressive full-color, 16-page booklet.
The pamphlet included not only product details, but also trivia, games, nutrition panels and plenty of information about Indonesia.
Snacks In My Yum Box
I received a nice assortment of flavors and textures in my box: salty potato chips, sweet gummies, crunchy crackers, tasty chocolate wafers and fruity candy.
Every snack seemed very authentic to the featured country.
While some of the flavors were familiar, there was not a single brand or snack that I recognized. This made for a fun and exciting tasting experience.
Overall, I was very impressed with my Universal Yums box.
From top to bottom, it was a great overall experience. From the branding, packaging, variety and quality of snacks to the price point and all the extras like the booklet … just well-done all around.
It wasn't just a box filled with tasty snacks. It's more than that. I really felt like I was getting a small glimpse into the culture of Indonesia.
The entire presentation feels really thoughtful. It's clear the company has put a lot of time, effort and passion into creating a unique experience for its customers.
RELATED READING:
– Must-Try Snack Subscription Boxes
---
FREQUENTLY ASKED QUESTIONS ABOUT UNIVERSAL YUMS
When Does Universal Yums Ship?
Your first box is sent shortly after it is purchased. Then all boxes are shipped by the 15th of each month.
How Much Does Shipping Cost?
Universal Yums offers free shipping on their boxes to anywhere in the USA.
Does Universal Yums Accommodate Food Allergies or Specific Diets?
No, at this time they only have one type of box available with no allergy-specific modifications. But all ingredients are listed on the products.
Can I Buy Past Universal Yums Boxes?
No, past boxes are not for sale. Descriptions of previously sent boxes are available to review on the site for a hint at what *might* be in future boxes.
However, you can purchase many items from past boxes. The Yum Shop features both savory and sweet snacks priced individually and can be purchased anytime.
Is Universal Yums Safe?
Yes! Universal Yums does business directly with snack manufactures to ensure all FDA standards are met and the products are high-quality.
Can I Give Universal Yums Box as a Gift?
Yes, Universal Yums is a terrific gift for family and friends. Gift subscriptions can be purchased as a one-time gift, or in 3, 6, or 12-month intervals. These also are priced starting at $15-$38 per box, with anywhere from 5-20 monthly snacks.
Universal Yums vs. MunchPak: Which is Better?
MunchPak and Universal Yums both offer a monthly subscription service that provides customers with fun and interesting snacks from around the world.
They are similar in a few other ways as well. Both companies offer:
multiple size subscription box options
similar pricing levels
a wide assortment of sweet and savory treats in each box such as candy, chips and chocolate
gift subscriptions
a descriptive product booklet with each box
The main difference between these two services is the origin of the snacks.
Universal Yums subscribers will receive a box every month that features snacks from only one country. Recent feature countries have included Czech Republich, Taiwan, Greece and South Korea.
Each MunchPak box includes snacks for multiple countries around the world. Sometimes regional US snacks are included too.
For a complete overview of the differences between the 2 services, check out MunchPak vs Universal Yums: 5 Big Differences.
Related Reading: MunchPak Snack Box Review
How Do I Cancel Universal Yums?
Month-to-month subscriptions can be cancelled or restarted anytime from your user account.
Prepaid annual snack subscriptions cannot be cancelled mid-service. You can turn off subscription auto-renewal, but you will continue to receive boxes that have already been paid for. This also goes for month-to-month subscriptions that are auto-charged on the 1st of the month.
Where is Universal Yums based?
The company was founded in the USA and is located in New Jersey.
---
Final Thoughts: Is Universal Yums worth it?
With so many options on the market, it's hard to know which snack subscription box is best for you. Universal Yums has a high-quality product and plenty of great reviews that help them stand out in the crowd.
Here's a quick recap:
Snack Variety
Each Yum Box features tasty treats from one specific country. Each box has an impressive range of flavors and textures. You can expect your snack boxes to include a fun assortment of snacks like chips, chocolate, candy and other snack food you can only get in other parts of the world.
Overall Value
The price per box is in line with the competition for international snack boxes. It's important to consider all that is included in the price beyond just the cost of the food.
Curating high-quality products from specific areas of the world is complex. Additional fees are also involved when importing goods to the US.
The helpful booklet and other information included are also a valuable addition.
Subscription Options
As outlined in the article above, there are multiple box sizes and subscription options available. Boxes can be given as gifts. Individual snacks can also be ordered from the Yum Shop.
So there you have it! I hope this information and my honest Universal Yums review have been helpful for you.
If a Universal Yums subscription sounds like the right choice for you, just click on the button below to order your first box of fun snacks from around the world.
Save it for later on Pinterest, Instagram and Facebook. Also join our Facebook Group for more snack fun!