This magical Unicorn Party Dip is a colorful and fun, no-bake dessert dip!
It is made with just a few simple ingredients and takes less than 10 minutes from start to finish. The end result is a creamy and delicious party dip that kids and adults will love.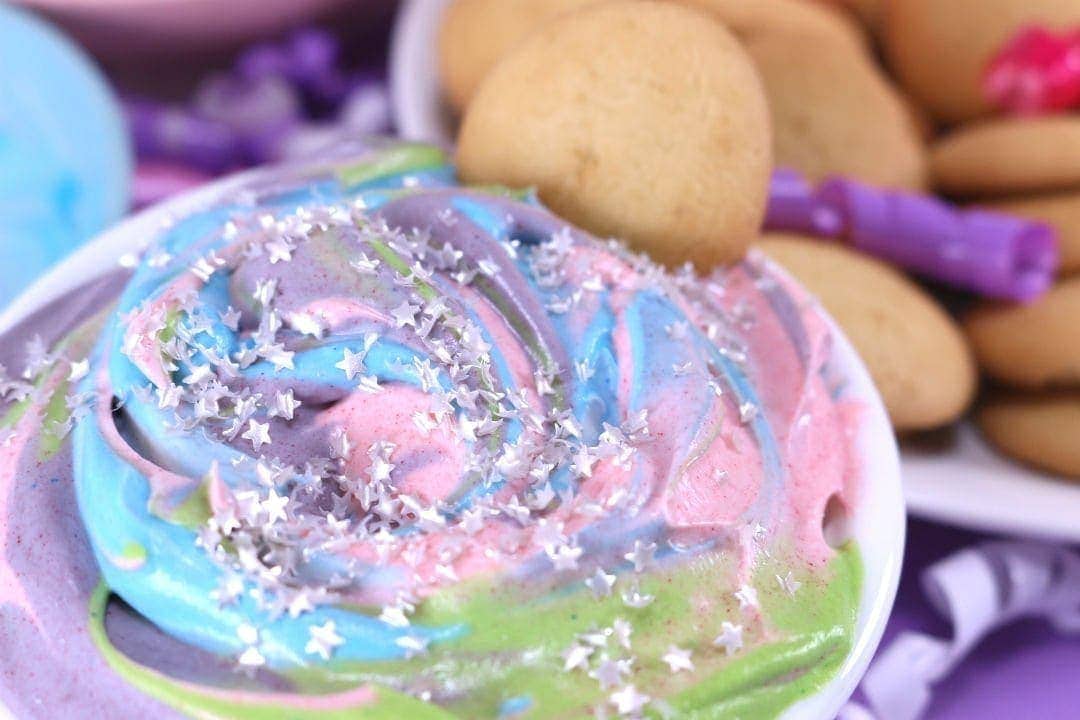 Ingredients for Unicorn Party Dip
This deceptively simple recipe is so delicious. You only need a handful of ingredients to create a batch of this colorful concoction that is fit for a unicorn to eat!
It's a kid-friendly recipe too. They will love to help with mixing the colors and sneaking a taste from the bowls.
Ingredients List
Whipped topping (like Cool Whip or homemade)
Learn more about Cool Whip vs homemade whipped cream. Also, get a homemade whipped cream recipe too!
I achieved the gorgeous coloring in my dip with only a few drops of AmeriColor Soft Gel Paste. I've used all types of food coloring in the past, but AmeriColor is at the top of my list.
The colors are so vibrant and the consistency of the gel makes it really easy to add just a drop at a time. The colors blend quickly and easily. I highly recommend you give them a try. Tons of colors and sets are available on Amazon.
I used these Silver Star Sprinkles from Wilton. They were just too perfect for Unicorn Dip. You can find them in some stores, but I got mine from Amazon.
Vanilla wafer cookies, graham crackers, fruit, sugar cookies or other finger foods for dipping
MORE CUTE SNACK RECIPES FOR KIDS:
Flip Flop Nutter Butter Cookies
Spaghetti & Meatball Cupcakes
Beach Day Pudding Cups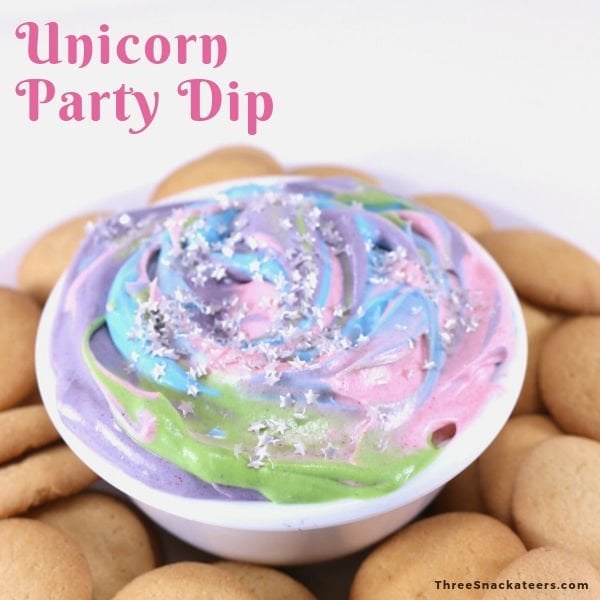 How To Make Unicorn Party Dip
First, grab a large mixing bowl, 3 additional smaller bowls and serving bowl.
Our plan here is to make the full batch of dip in the big bowl, then divide it evenly between the other bowls for coloring.
Then we'll add the colored mixtures directly to the serving bowl to combine and swirl into our rainbow of colors.
In the large bowl, add the cream cheese, whipped topping, powdered sugar and vanilla.
Use a hand mixer to combine the ingredients until the mixture is smooth and creamy (no cream cheese lumps!)
Next, divide the mixture evenly between all 4 bowls. Add a drop or two of food coloring to each bowl.
I used deep pink, sky blue, leaf green and violet from this AmeriColor Soft Gel Paste set.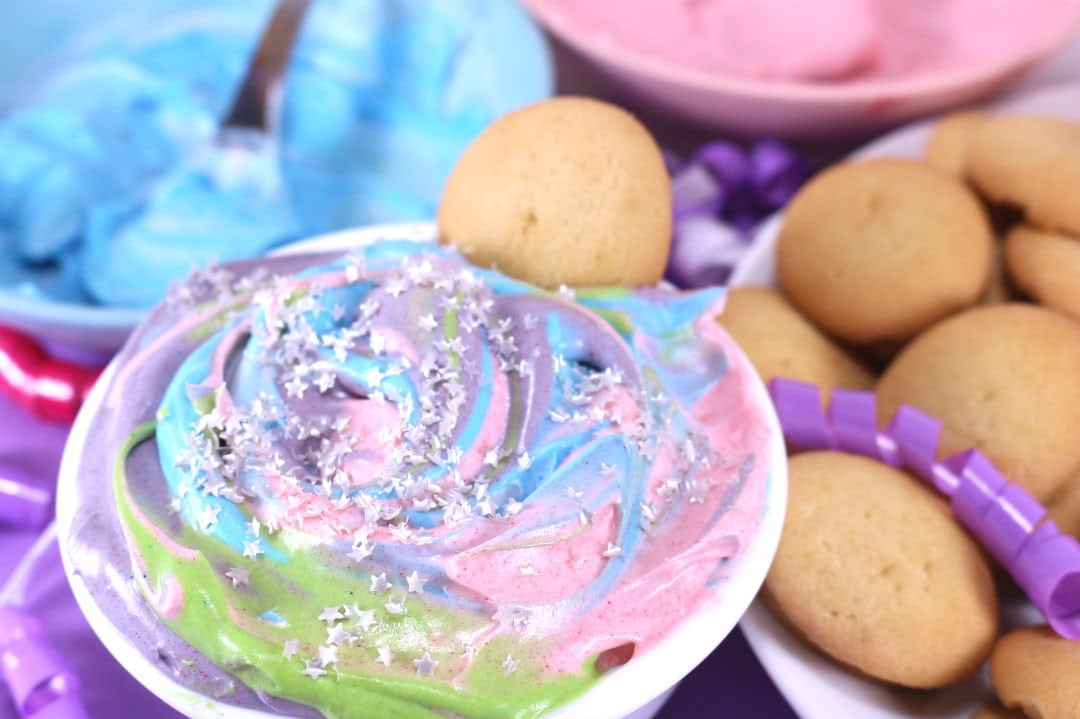 YOU MAY ALSO LIKE: Cute and Colorful Circus Animal Cookie Truffles
Use a separate spoon to stir in the coloring in each bowl. If you want a more vibrant color, add only a drop of additional coloring at a time and stir well. Repeat until you achieve your desired colors.
Now grab your serving bowl. Add spoonfuls of each colored mixture into the bowl. Alternate the colors until you have used up all of the mixture.
When the serving bowl is filled to the top, carefully swirl the top layer of the dip with a spoon or knife. You don't want to stir or the colors will start to blend. Just lightly drag or pull the knife through the dip in short strokes.
Throw some party sprinkles on the top (like the silver stars I used) and you're all set!
Be sure to save Unicorn Party Dip to your 'Awesome Sweet Treats' board on Pinterest or share with your friends on Facebook.
We appreciate your support and hope you love this recipe as much as we do. ENJOY!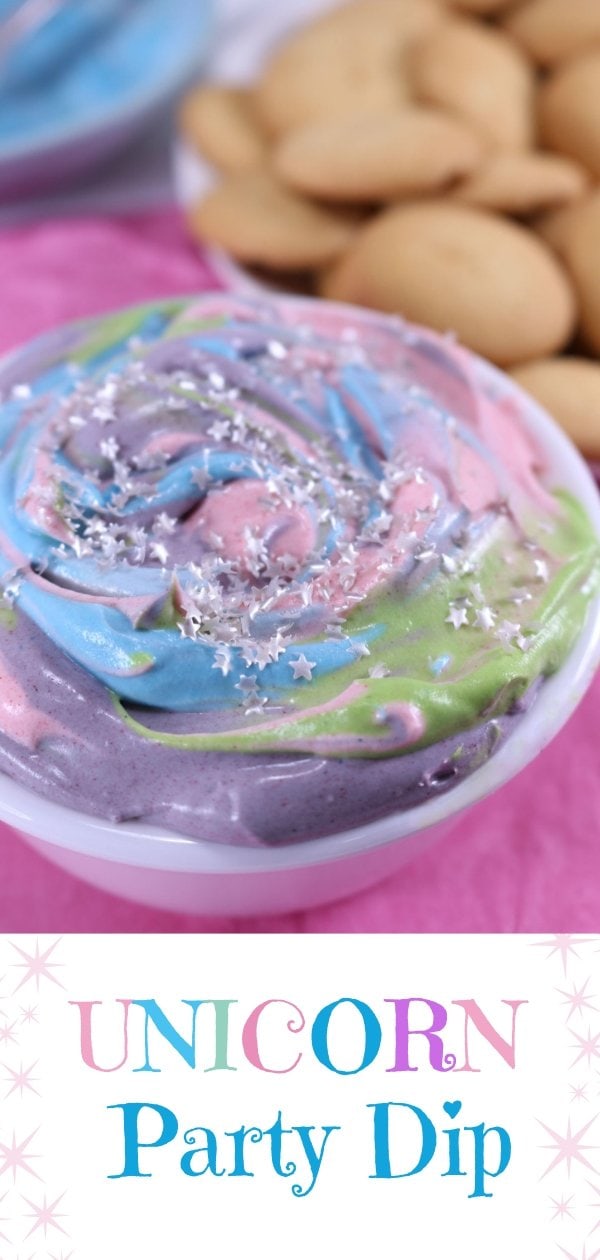 MORE FUN SWEET RECIPES THE KIDS WILL LOVE
Yield: 10 servings
Unicorn Party Dip
This magical Unicorn Party Dip is a colorful and fun, no-bake dessert dip!
Ingredients
8 ounces cream cheese
8 ounces whipped topping
1/2 cup powdered sugar
1 tablespoon vanilla extract
pink food coloring
purple food coloring
blue food coloring
green food coloring
Instructions
In a large bowl, add cream cheese, whipped topping, powdered sugar and vanilla. Beat with a hand mixer until well combined and fluffy.
Divide the mixture evenly into four smaller bowls. Add food coloring one drop at a time until desired color is achieved.
Add spoonfuls of each colored mixture into a serving bowl. Alternate the colors until you have used up all the mixtures. Then carefully swirl and blend the colors together with a knife.
Top with sprinkles and edible glitter. Serve with graham crackers, vanilla wafers or fruit.
Recommended Products
As an Amazon Associate and member of other affiliate programs, I earn from qualifying purchases.