Even if you can't make it to a Crumbl Cookies location, you can still get your cookie fix! Thankfully, Crumbl offers local delivery and nationwide shipping, so no matter where you are, you can have delicious cookies delivered to your doorstep.
If you're lucky enough to have a Crumbl location near you, you can visit the store, order in advance for curbside pickup or have warm cookies delivered to your house. If you're not near a Crumbl store or want to send cookies as a gift, then you'll want to check out their shipping options.
In this article, we'll go over everything you need to know about having Crumbl Cookies delivered or shipped to you. In fact, we had some cookies shipped across the country to us so we could show you exactly how it all works!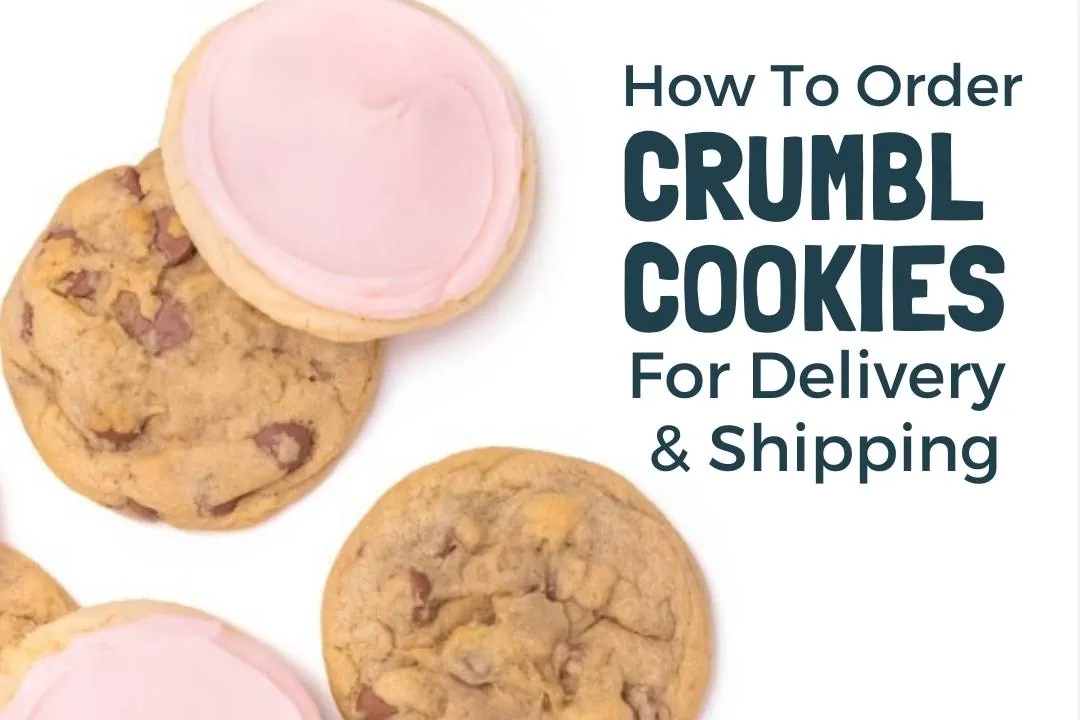 You may also like:
– Everything You Need To Know About The Crumbl Cookie Menu
– All Crumbl Cookie Flavors List (With Descriptions & Pictures)
– Crumbl Cookies Locations and FAQs (2022)
How Do I Place A Crumbl Order For Delivery Or Shipping?
You can place a delivery or shipping order for Crumbl Cookies using their website or downloadable app. It's pretty straightforward to place an order.
Just follow the series or prompts to enter your delivery address, gift options, cookie selections and payment method.
Can I Send Someone Crumbl Cookies?
Yes, you definitely can send Crumbl Cookies to someone else. If they are near a Crumbl location, you can choose to have the cookies delivered to them. Or you can also have cookies shipped anywhere in the US.
And new in 2023, Crumbl is expanding to Canada. Their first Canadian store is in Edmonton.
Both options allow you to add gift wrapping that comes with a sticker and bow.
Be sure to plan for at least 2-4 days of transit time if you're shipping the cookies. My cookie shipment arrived in a plain white plastic wrap, so the contents will be a total surprise.
What Flavor Crumbl Cookies Can Be Shipped And Delivered?
Each week, Crumbl unveils a new rotating menu of flavors. Many of the cookies come with frosting or other toppings. Some cookie flavors also require refrigeration. In most cases, these more decadent cookies will be available for local delivery, but not for shipping.
As you can imagine, it's challenging to ship cookies and keep them in one piece. For that reason, Crumbl only offers their more durable cookies for shipping.
In the image below, you can see the difference between the delivery/pick-up menu vs the shipping menu.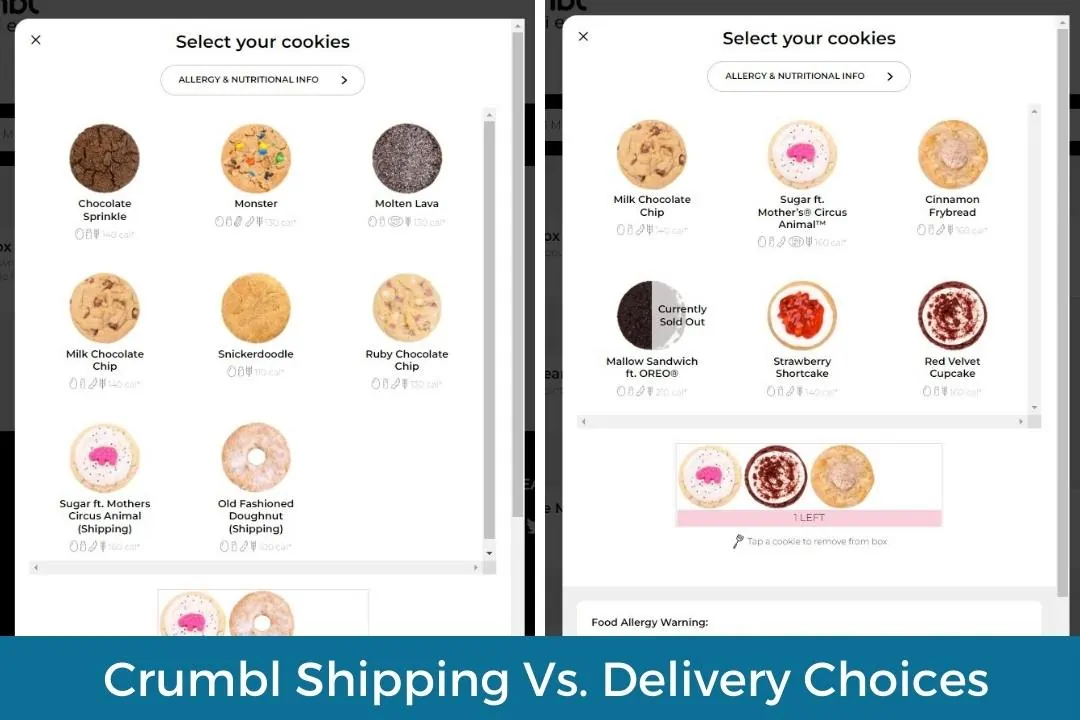 The Crumbl shipping menu changes monthly. The classic Crumbl milk chocolate chip or Semi-Sweet Chocolate Chunk cookie is always in the shipping lineup. Here are some other examples of cookie flavors that have made it onto the monthly Crumbl Cookies menu for shipping.
Past Flavors On Crumbl Cookies Shipping Menu
Blueberry Muffin
Sea Salt Toffee
Brownie Batter
Chocolate Potato Chip
Funfetti
Dark Dream
Iced Oatmeal
Peanut Butter
Cookies & Cream
Triple Chocolate Chip
Cereal Milk ft. Fruity Pebbles
Midnight Mint
Cookie Butter White Chip
Chocolate Peanut Butter Chip
Red Velvet Chip
Sugar ft. Mothers Circus Animal
Macadamia Nut
Molten Lava
Monster
Chocolate Sprinkle
Snickerdoodle
Ruby Chocolate Chip
Old Fashioned Doughnut
You can find full descriptions of all Crumbl Cookies flavors here.
Related Reading: Ultimate Guide To Dirty Dough Cookies
How Often Do Crumbl Shipping Cookies Change?
The Crumbl Cookies shipping menu changes on a monthly basis. You'll typically have 8 different cookie flavors to choose from. Either the milk chocolate chip cookie or semi-sweet chocolate chunk cookie is always on the shipping menu.
The in-store Crumbl Cookie menu for pickup, curbside and local delivery is updated weekly. The flavors for the upcoming week are revealed on Sunday via social media and the Crumbl website.
But don't run to the nearest Crumbl just yet. While the new weekly flavors are announced on Sunday, all Crumbl locations are actually closed on Sunday. You'll have to wait until Monday to get your fix on the new flavor lineup.
How Much Does It Cost To Send A Box Of Crumbl Cookies?
At the time of writing this article, the price listed online for a 6-pack of cookies is $29.99 and a 12-pack box is $49.44. You'll also need to factor in at least $12 for shipping and more for tax (if applicable in your area).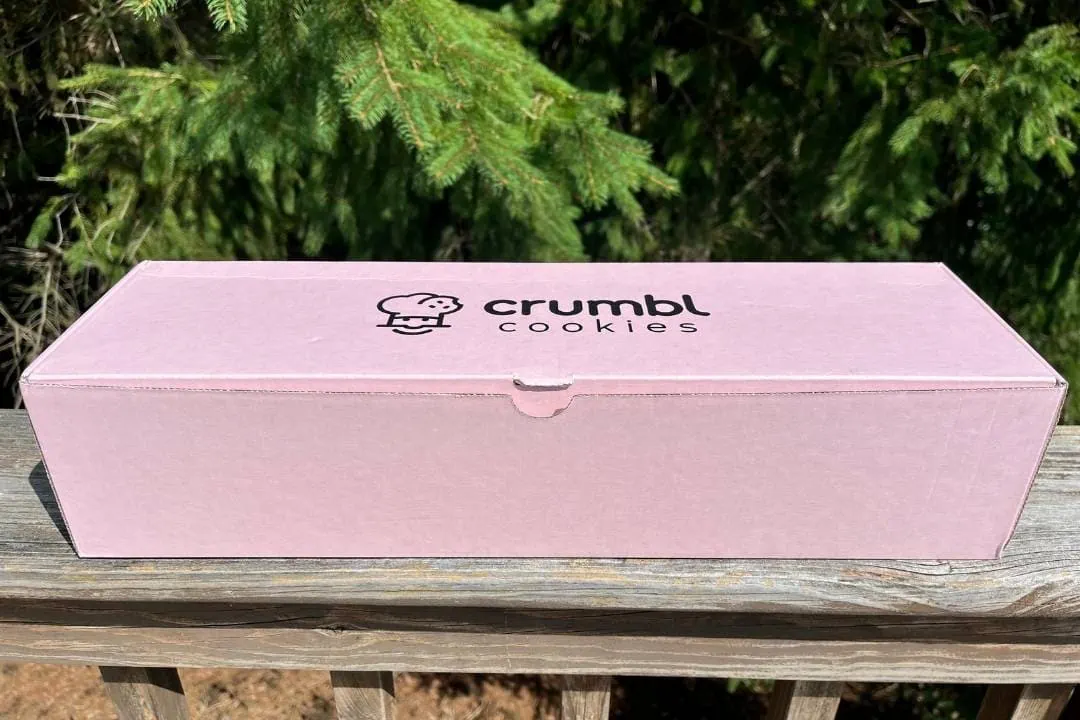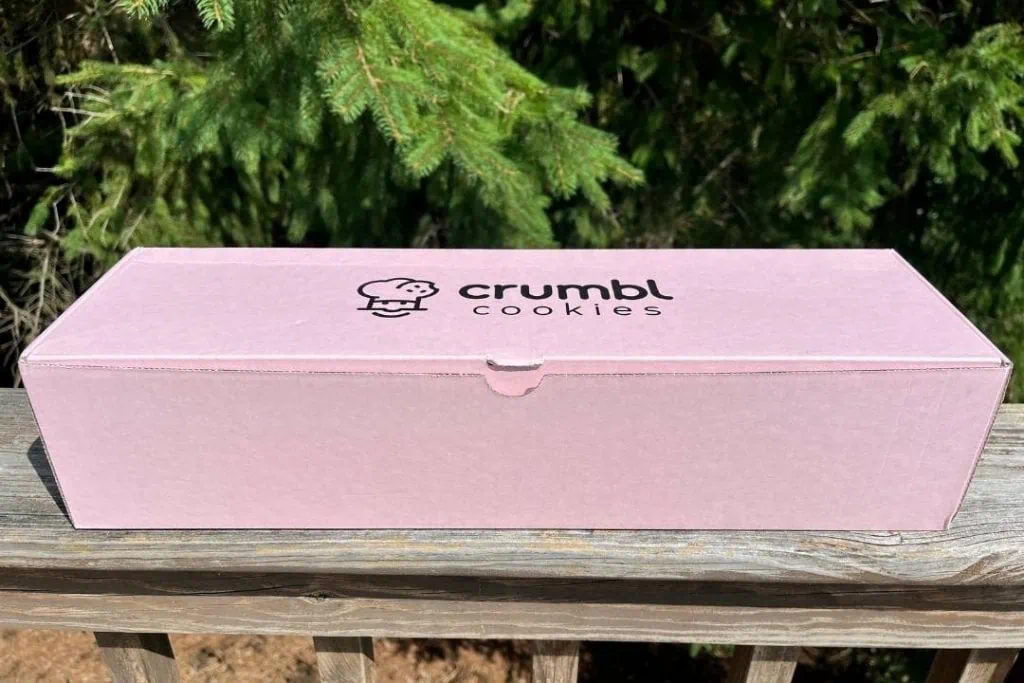 Do Crumbl Cookies Ship Well?
Yes, Crumbl Cookies hold up pretty well when shipped. The cookies are each individually wrapped and carefully packed into a long rectangular Crumbl Cookies shipping box. The pink box is made of very sturdy, durable cardboard.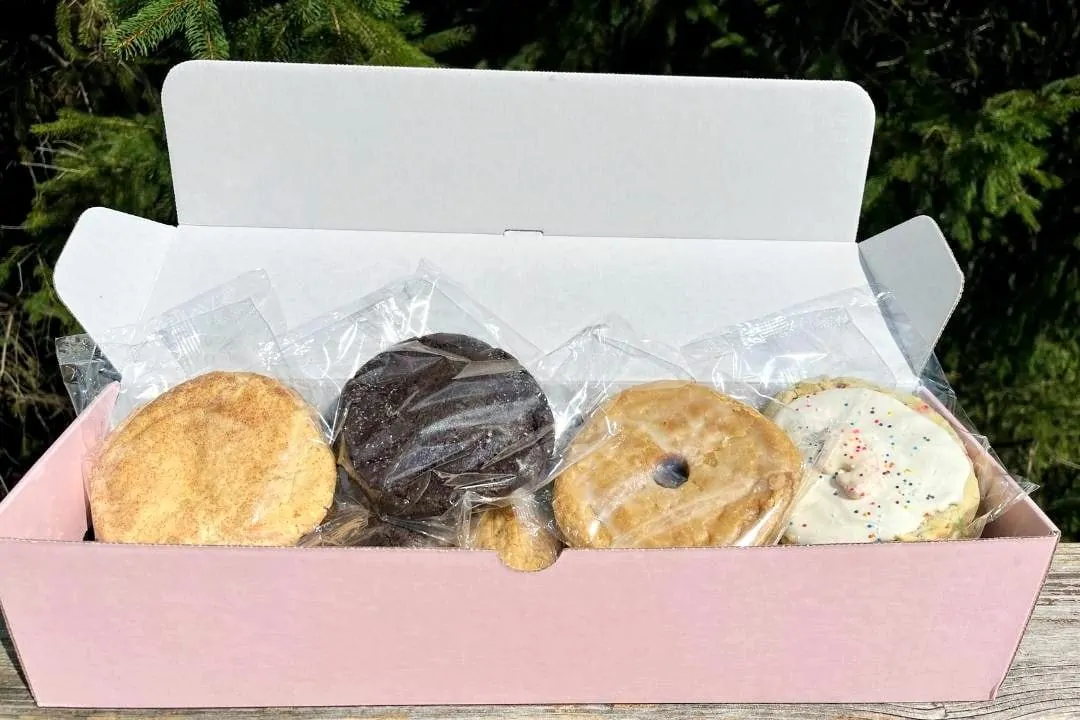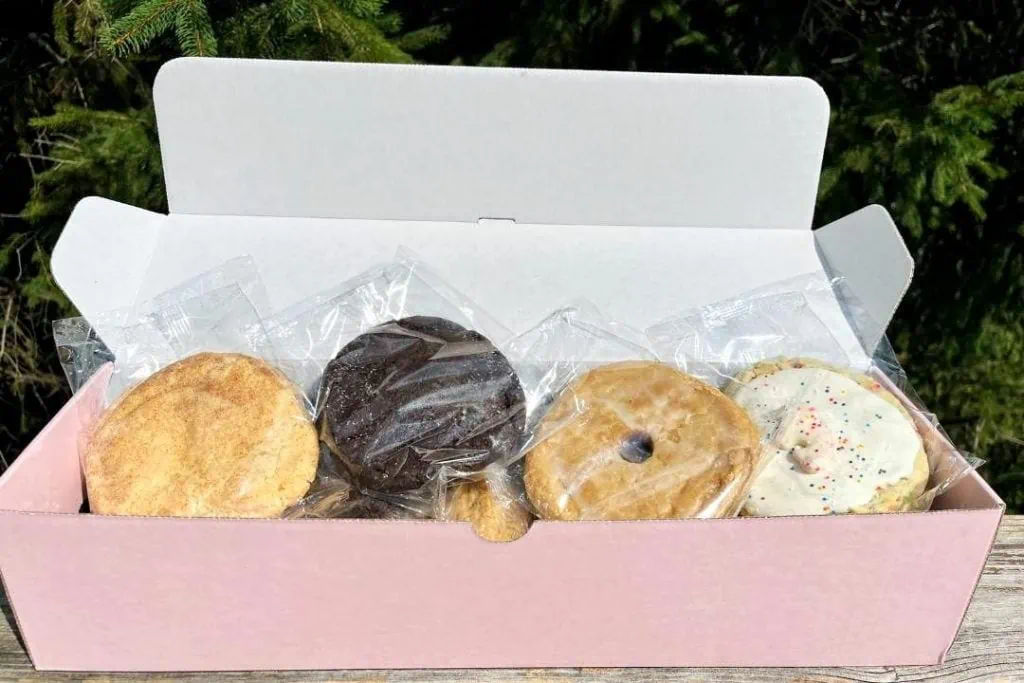 You may also like: The 5 Best Bakeries To Buy Individually Wrapped Cookies
The box also has a waterproof plastic outer wrapping. The plain, white outer wrap did not have any Crumbl branding on it (other than the return address), so if you're sending it as a gift, it would be a total surprise to open it up.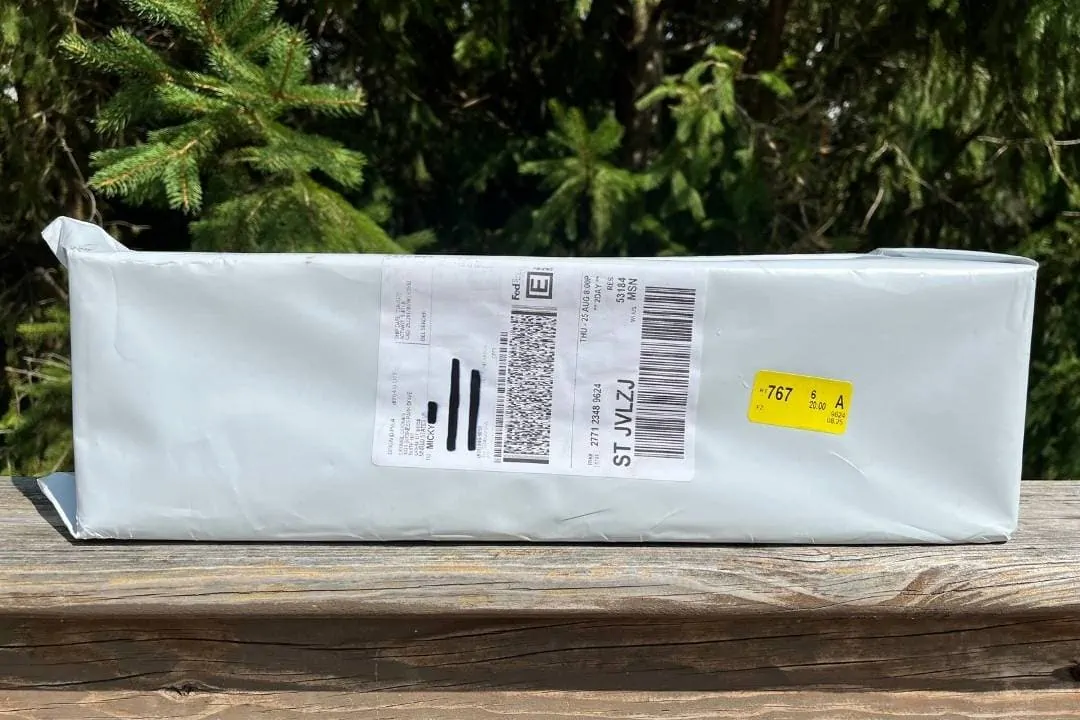 Considering my Crumbl Cookie order jostled through the mail system from Utah to Wisconsin in very warm weather, I'd say they arrived in pretty good shape. My order arrived at my house two days after it left Utah.
With the exception of slightly crumbled edges and cracks on a couple of the cookies, they all arrived in mostly good condition.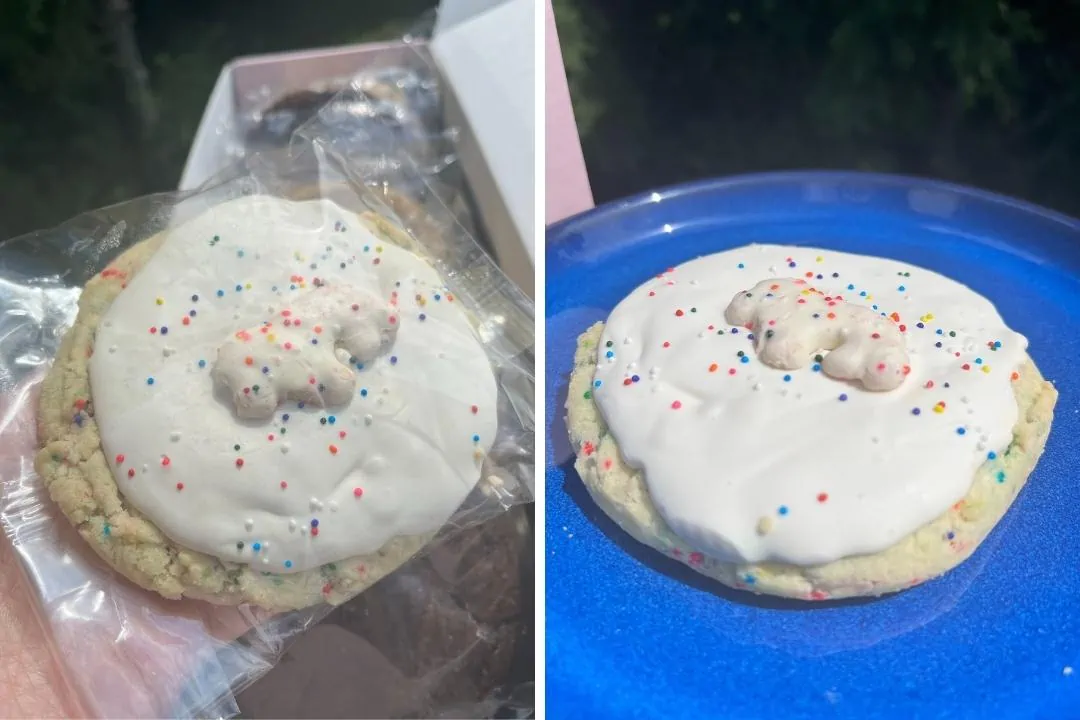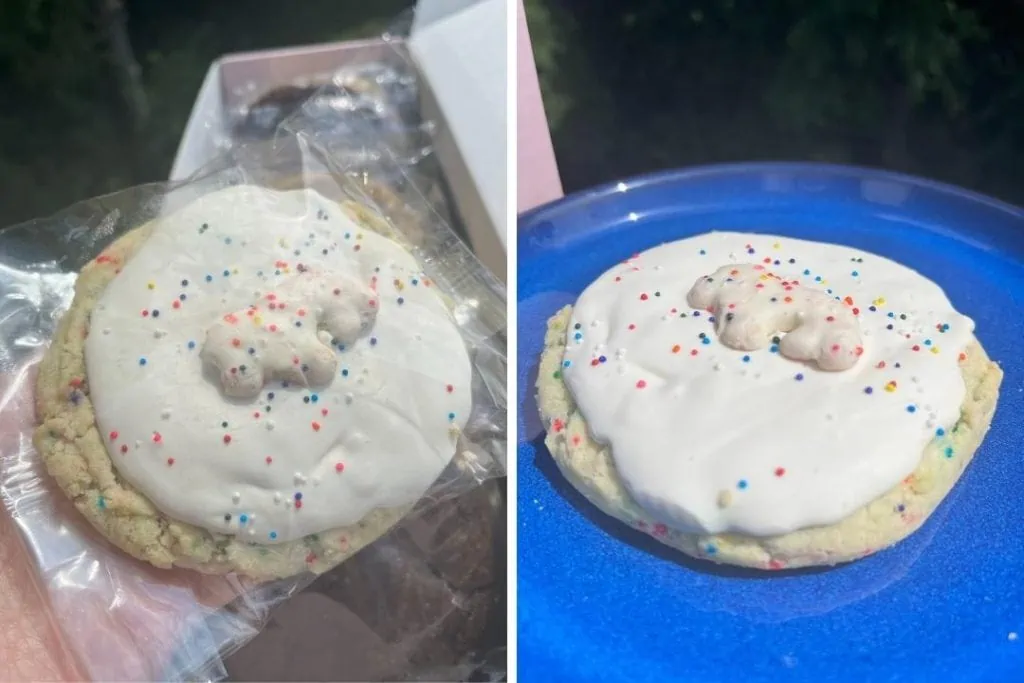 Are Shipped Crumbl Cookies Good?
As one might expect, shipped Crumbl Cookies are not quite as good as fresh, warm cookies from your local store. Don't get me wrong – they are still great cookies. But for a couple of pretty understandable reasons, the quality is just not quite the same.
First, the cookies are already at least several days old when they arrive. All of the cookies in my order were still very moist and delicious.
They just lacked that fresh-out-of-the-oven vibe. However, the order did come with instructions on how to reheat the cookies at home.
Another reason for a slightly lower yum score is the wear and tear they endured from shipping. Although the cookies held up remarkably well for the distance they traveled, their appearance and texture suffered just a bit.
For example, the Molten Lava cookie has a dusting of powdered sugar. But on my shipped cookie, the sprinkling of sugar was no longer visible.
Also, my Old Fashioned Doughnut cookie suffered what can only be described as a few small stress fractures. 🙂
Conclusion: Is Crumbl Cookies Delivery And Shipping Worth It?
There's a lot to consider when deciding if a Crumbl delivery or shipping order is right for you. Here's a final recap of our thoughts on each.
Final Thoughts On Crumbl Cookies Delivery
PROS: If you're near a Crumbl location and are in the mood for cookies, delivery is a great way to go. Yes, there is a delivery fee, but you'll have that will most delivery services. With local delivery, you also get the full range of flavor options from the rotating weekly menu.
CONS: Most delivery drivers do their best to deliver top-notch cookies. However, any time you transport delicate sweet treats, there is a possibility your order could suffer smooshed frosting or crumbled edges.
Final Thoughts On Shipping Crumbl Cookies
PROS: The obvious benefit to having cookies shipped is anyone in the US can get their hands on the sweet treats even without a store close by. They also make an awesome gift.
CONS: However, the cost to ship cookies is pretty steep when you factor in the cost of the already pricey, gourmet cookies plus shipping. You also have to consider that the cookies will be a few days old and probably won't arrive in perfect condition.
So in the end, we do recommend giving delivery a try. If you've got the budget and a huge Crumbl craving, shipping could be worth the splurge.
UP NEXT:
– Everything You Need To Know About The Crumbl Cookie Menu
– All Crumbl Cookie Flavors List
– Crumbl Cookies Locations and FAQs
– Insomnia Cookies Locations, Menu & FAQs