If you're looking to elevate your cornbread game and add a delicious twist to a classic favorite, our sweet potato cornbread recipe is just what you need.
This mouthwatering fusion of the rich, earthy sweetness of sweet potatoes, warm spices and the comforting, crumbly texture of cornbread creates a harmonious marriage of flavors.
Whether you're preparing it as a side dish for a hearty dinner or indulging in a slice with your morning coffee, this recipe promises a warm, comforting, and delicious experience that you'll want to savor again and again.
More Recipes You'll Love
– Autumn Bliss Sweet Potato Pound Cake Recipe
– Easy Peach Cobbler Pound Cake Recipe
– Sweet Potato Casserole
Sweet Potato Cornbread Ingredients
For this sweet potato cornbread recipe, just gather the ingredients listed here. Then, find the instructions and measurements on our recipe card at the bottom of the page.
Cooked and mashed sweet potato: Cooled to room temperature.
All-purpose flour
Large eggs: At room temperature.
Unsalted melted butter: Cooled to room temperature.
Fine yellow cornmeal
Whole milk: At room temperature.
Whole buttermilk: At room temperature.
Granulated white sugar
Packed light brown sugar
Ground cinnamon
Ground nutmeg
Baking powder
Baking soda
Salt
Pats of butter, honey, or maple syrup (for serving)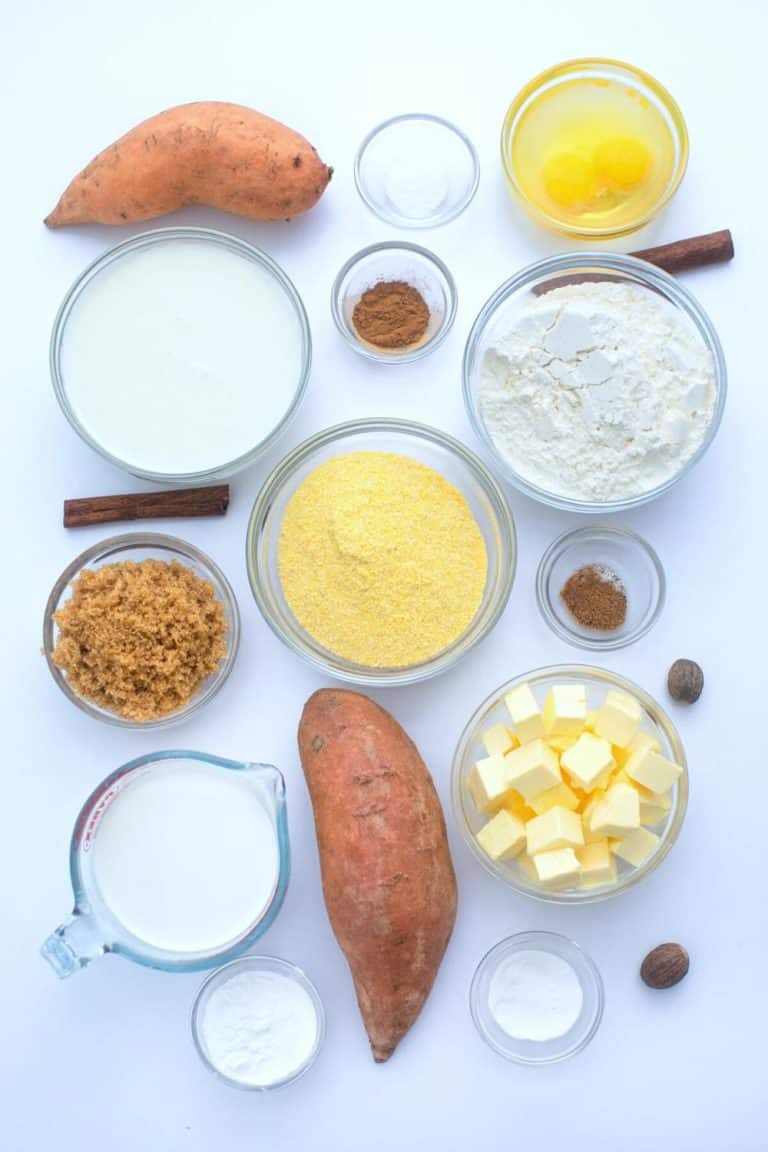 How To Make Sweet Potato Cornbread From Scratch
Preheat oven and prep the pan: First, preheat your oven to 400 F and line a 9×9-inch pan with parchment paper.
Whisk the dry ingredients: While you wait for the oven to heat, whisk the cornmeal, flour, sugars, baking powder, salt, baking soda, nutmeg, and cinnamon in a medium bowl.
Add sweet potatoes: Next, mix the mashed sweet potatoes, buttermilk, milk, and eggs in a large mixing bowl. Then, mix the dry ingredients with the wet ingredients until it is just combined.
Add the butter: Now, pour in the butter and fold into the batter until mixed in.
Pour into baking dish: Pour the sweet potato cornbread batter into the prepared baking dish and smooth the top.
Bake your cornbread: Last, bake your sweet potato mixture for 35 to 40 minutes or until it passes the toothpick test, and it is golden brown. Let it cool for 10 minutes.
Slice and serve: Finally, slice into wedges and serve warm with extra butter, honey, and other toppings.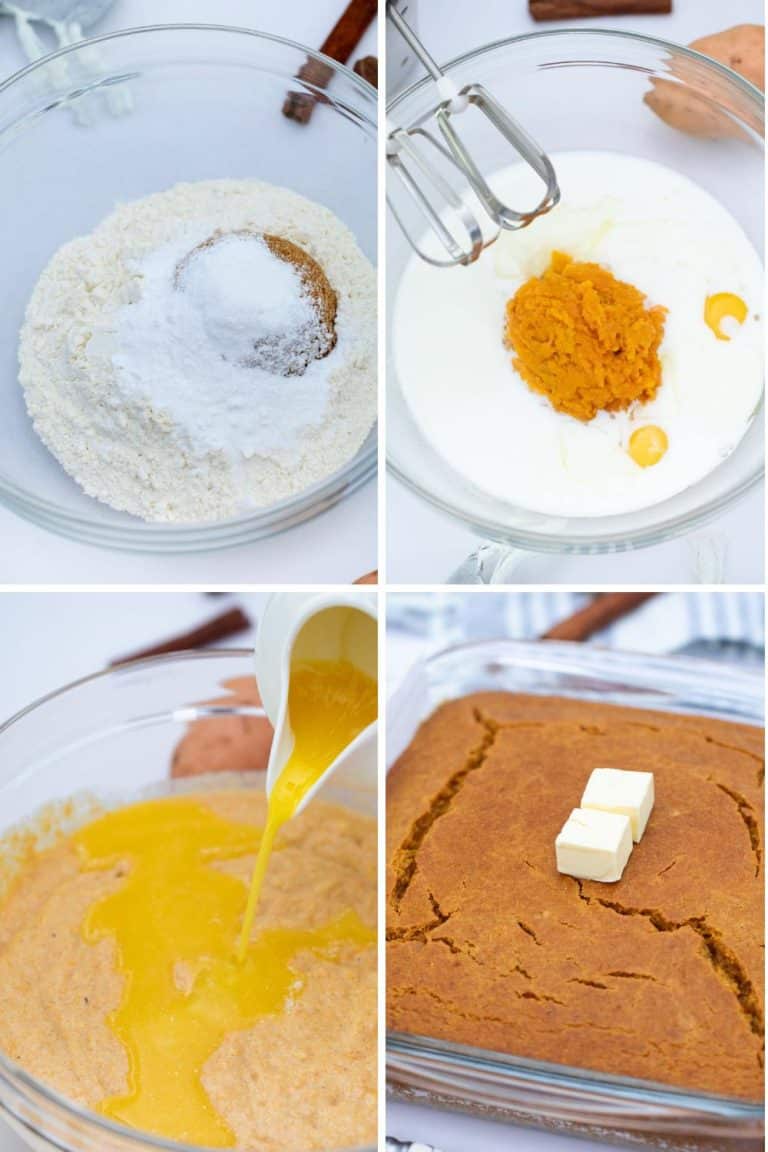 Sweet Potato Cornbread Recipe Variations
Cornbread muffins: Make sweet potato cornbread muffins using a muffin tin filled with cupcake liners. Just shorten the cooking time to 15 to 20 minutes.
Sour cream: Add a 1/2 cup of sour cream to make extra moist and rich sweet potato cornbread.
Pumpkin pie spice: Feel free to use pumpkin pie spice (pumpkin spice) instead of (or in addition to) the cinnamon and nutmeg for more aromatic spices and flavors.
Vanilla extract: Adding a teaspoon of vanilla extract to your sweet potato cornbread batter for extra flavor.
No buttermilk: You can use all milk instead of buttermilk, but the buttermilk makes a moist and tender crumb.
Make it crispy: For that extra crispy crust, pour the batter into a hot cast iron skillet instead of using a pan.
Dark brown sugar: Use dark brown sugar for a delicious molasses flavor.
Bread flour: Instead of all-purpose flour, you can also use bread flour.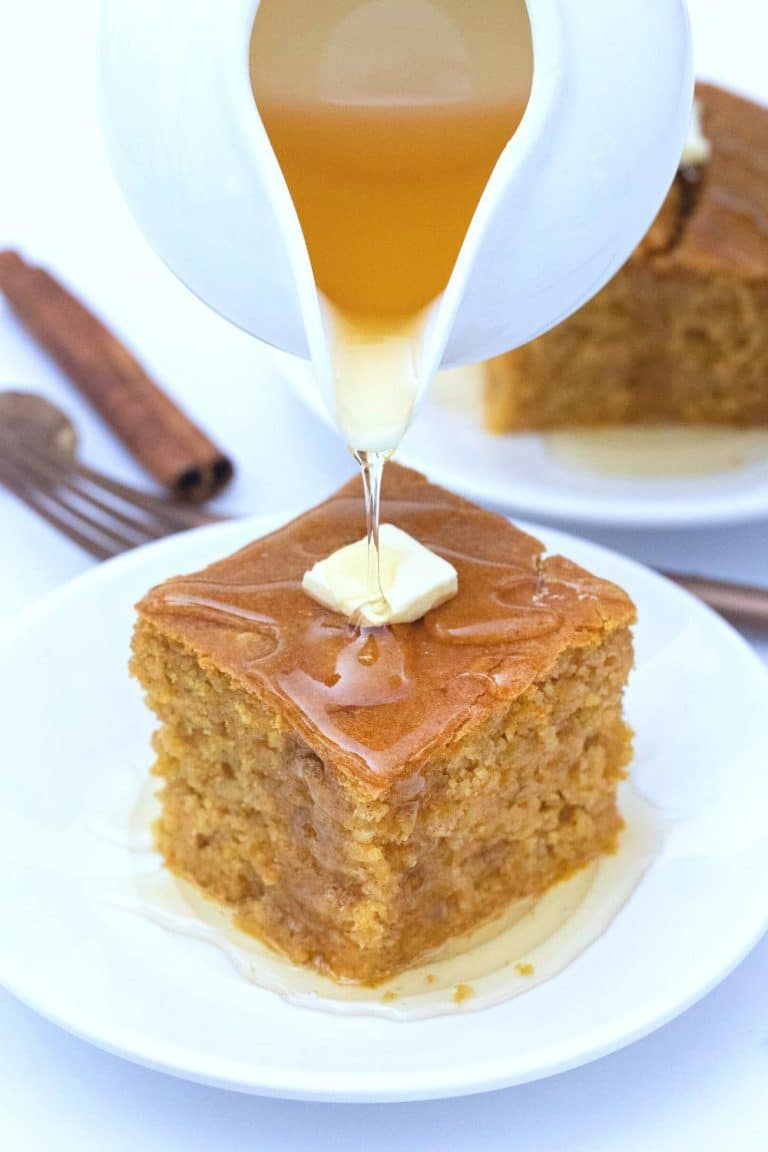 Cornbread Serving Suggestions
This sweet potato cornbread is the perfect side dish for any meal or just for a snack anytime. Here are some great serving ideas you can try.
Sweet potato cornbread pairs well with just about anything but it is especially good with a large bowl of hot chili.
For variety, have a separate bowl of southern cornbread, which is made with no sugar, and one less egg for a more savory flavor.
Gumbo is another Southern dish that goes great with any kind of cornbread.
Top with a sweet glaze of powdered sugar and milk to make it just sweet enough to serve for dessert.
Speaking of toppings, spoon some of your favorite fruit preserves or sauce.
Cranberry sauce would also be a delicious topping for a holiday meal.
Believe it or not, some people like their cornbread with ketchup, mustard, or mayo. Be sure to have all the condiments ready for guests!
Frequently Asked Questions
Q. How do I make sweet potato mash?
A. First, scrub your sweet potatoes and poke a few holes in each one. Then, place them on a baking sheet and cook in an oven preheated to 375 degrees F. Bake until fork tender, about 40 to 60 minutes depending on the size of the sweet potatoes. You could also peel the potatoes and slice them into sweet potato cubes before baking to shorten the baking time to about 20 to 30 minutes. Mash sweet potatoes with a potato masher, mixer, or food processor.
Q. Why is my cornbread so crumbly?
A. Crumbly cornbread may be caused by an oven being hotter than it should be. Test your oven temperature with an oven thermometer to make sure it is set at the right temperature. It may also be that you mixed it too much. Just stir until the flour is no longer visible but leave it a bit lumpy.
Q. What are the nutrition facts in this recipe?
A. Each serving has approximately 356 calories, 203 mg of sodium, 16 grams of fat, 8 grams of saturated fat, 0.5 grams of trans fat, 55 grams of carbohydrates, 73 mg of cholesterol, and 22 grams of sugar. You also get approximately 2 mg of iron, 5 grams of unsaturated fats, 7 grams of protein, 7,198 units of vitamin A, 425 mg of potassium, 104 mg of calcium, and 8 mg of vitamin C.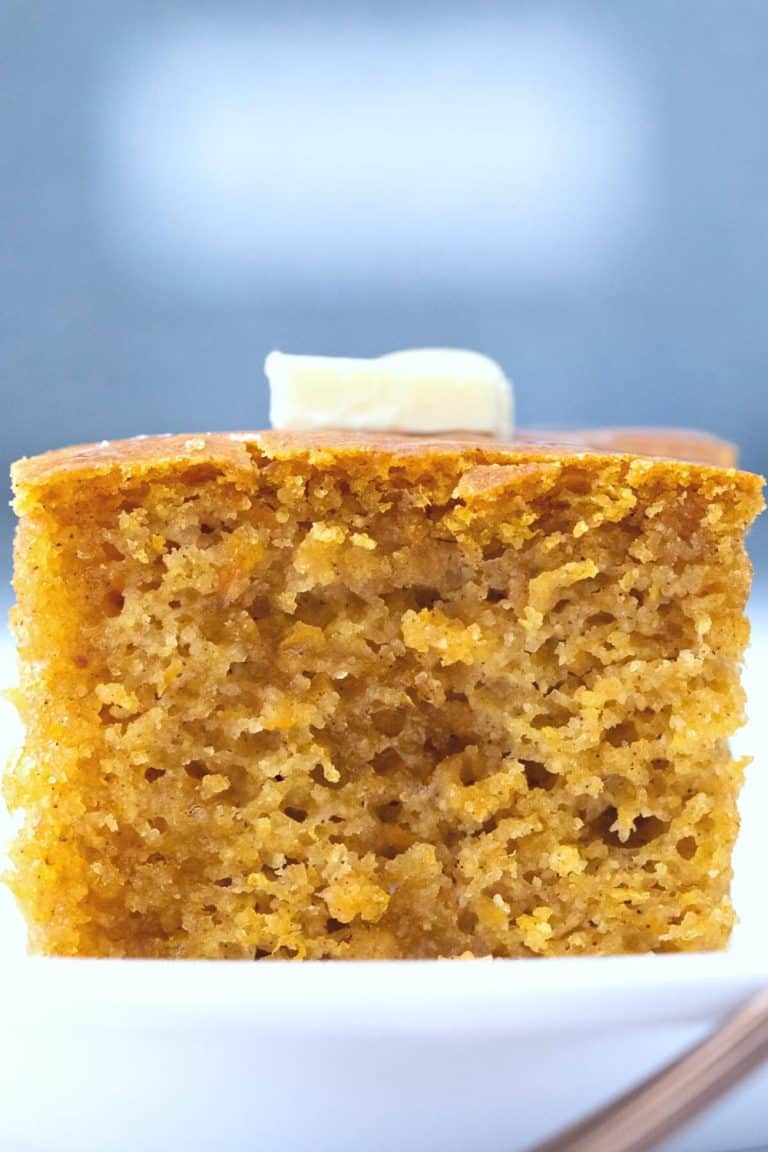 How To Store Cornbread Leftovers
Store: You can store your leftover cornbread wrapped in plastic in an airtight container or zipper baggie on the counter for three days or in the fridge for five days.
Freeze: To keep cornbread moist when freezing, wrap it in plastic wrap before putting it into a freezer bag. Then, it will stay fresh for up to 90 days.
Thaw: To preserve flavor and texture, thaw slowly in the fridge overnight.
Reheat: Although this is best served hot, you can eat your cornbread cold if you like. To warm, place it in the microwave for 30 to 45 seconds depending on the size.
Sweet Potato Cornbread Recipe Tips
You can use canned sweet potatoes instead of cooked and mashed sweet potatoes. However, the flavor will not be as fresh.
If you use salted butter, omit the salt from the recipe.
Instead of parchment paper, you can spray your pan with nonstick baking spray or coat it with oil or butter.
Instead of a baking pan, you can use a 10- to 12-inch cast iron skillet or a 12-cup muffin pan with cupcake liners.
To check doneness, try the "toothpick test". A toothpick inserted into the center of the cornbread should come out clean.
Using self-rising cornmeal? You can leave out the baking powder and cut the baking soda in half.
To give your cornbread batter a more vibrant orange hue, add a few drops of orange food coloring gel.
Make sure you let the butter cool slightly so you do not cook the eggs when mixing them together.
Yield: 9 Slices
Southern Delight Sweet Potato Cornbread Recipe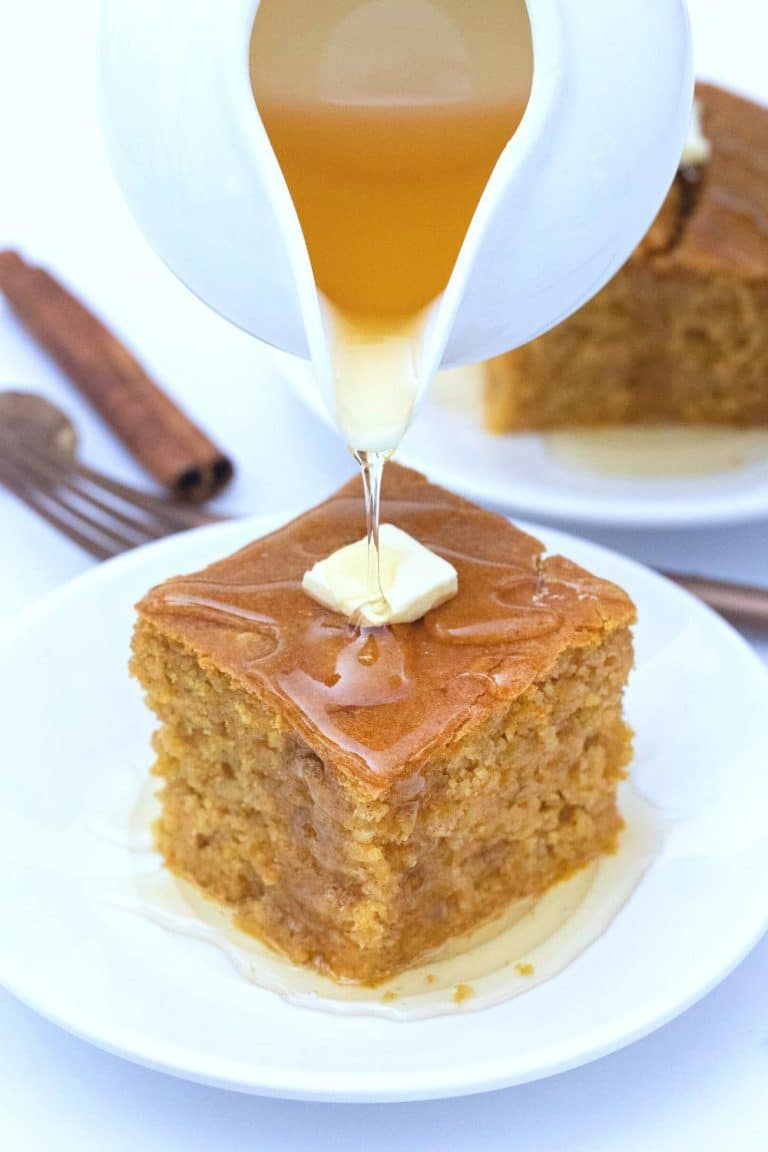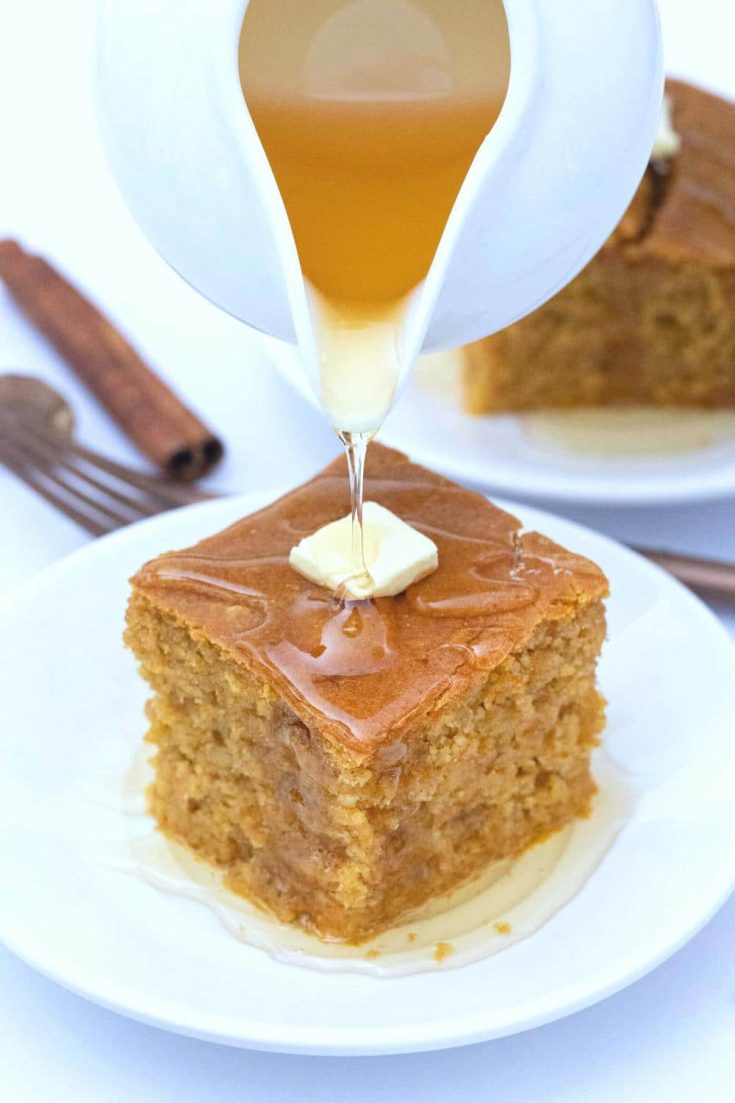 Indulge in the perfect balance of savory and sweet with our delectable sweet potato cornbread recipe.
Ingredients
1 cup fine yellow cornmeal
1 cup all-purpose flour
1/4 cup dark brown sugar, packed
3 teaspoons baking powder
1 teaspoon baking soda
1/2 teaspoon kosher salt
1/2 teaspoon ground cinnamon
1/4 teaspoon ground nutmeg
2 large eggs, room temperature
1 cup whole buttermilk
1 cup cooked mashed sweet potatoes
6 tablespoons unsalted butter, melted
Extra butter, honey or syrup for serving
Instructions
Preheat the oven to 400°F.
Line a 9×9 inch baking pan with parchment paper and generously grease with butter or baking spray. Set aside.
In a medium bowl, whisk together the dry ingredients: cornmeal, flour, brown sugar, baking powder, baking soda, salt, cinnamon, and nutmeg.

In a large bowl, using an electric mixer, beat the eggs, buttermilk, milk, and mashed sweet potatoes until fully combined.
After that, add the dry ingredients into the wet ingredients. And using a rubber spatula fold everything together until just combined.
Now, add the melted butter and also fold it in until combined.
Transfer the mixture into the prepared pan and level the top with an offset spatula.
Bake for 35-40 minutes or until a toothpick inserted into the center of the cornbread comes out clean.
Cool the cornbread on a wire rack for 10 minutes before cutting and serving.
If desired, serve warm with a pat of butter and/or drizzle of honey or maple syrup.
Micky Reed, a two-decade veteran in the food and baking industry, leverages her influential Three Snackateers food blog and Instagram presence to collaborate with industry giants like Ben & Jerry's and Crumbl Cookies. Her work has been featured on Delish, PopSugar and more. Her expertise as a product curator for one of the world's largest international snack subscription box companies solidifies her status as a key player in the field.