There aren't many certainties in life, but this is one of them: You're going to love Salted Caramel Cracker Bites!
Seriously, they are so easy to make and taste oh, so, so good. They are buttery, but also crunchy.  Salty, but also sweet. And perfectly poppable.

This post may contain affiliate links. As an Amazon Associate I earn from qualifying purchases. Please read our disclosure policy for more information.
You may also like: Cinnamon Sugar Pretzels Recipe
Ingredients for Salted Caramel (Toffee) Cracker Bites
Oyster Crackers: I'm usually a fan of store brands, but this isn't a time to skimp. Use name brand oyster crackers (like Nabisco) for this recipe. They are bigger, heartier and hold up better to the thick, delicious caramel coating.
Brown Sugar: Light or dark will work. I opted for dark as I think it adds a deeper flavor.
Butter: Salted or unsalted will work, but I chose salted because that's what I had in the fridge. Plus, I've had too many so-called 'salted' caramels that have no detectable saltiness. We will not make that mistake here my friends!
Vanilla: I love vanilla so much – I could talk about it for days! But I know you're excited to make this recipe, so I'll keep it short. Yes, imitation vanilla will work. And yes, real vanilla extract will work too. But real vanilla bean paste will make you a champion. It's a little more expensive, but you use less and get an amazing flavor. If you're ready to take the plunge, give one of these brands a try: Nielson-Massey or Cambie Confections.
Salt: Kosher or sea salt is going to be your best bet. The effect we are going for is random bursts of saltiness which only happens with larger, undissolved salt chunks. If you use regular table salt, you'll just get a consistent salty note in every bite which can be too overpowering.
Variations: Toss in a little cayenne pepper if you like it spicy. Or maybe try a dusting of cinnamon and sugar if you prefer sweet.
Related Recipe: Kickin' Ranch Crackers
How to make Salted Caramel (Toffee) Cracker Bites
It's a very easy recipe, but there is one step that's a bit tricky to explain. When making the caramel sauce/glaze, you're going to melt the butter, then add brown sugar and vanilla. So it'll start out looking like this.
When the brown sugar is dissolved, you can crank up the heat to bring it to a boil for a few minutes. It's going to start looking a bit puffy and fluffy like the picture below.
That's just how you want it. If you keep stirring you'll be in good shape. Stop stirring and you risk scorching the sugar. Even if it doesn't look burnt, you may still get an unpleasant flavor.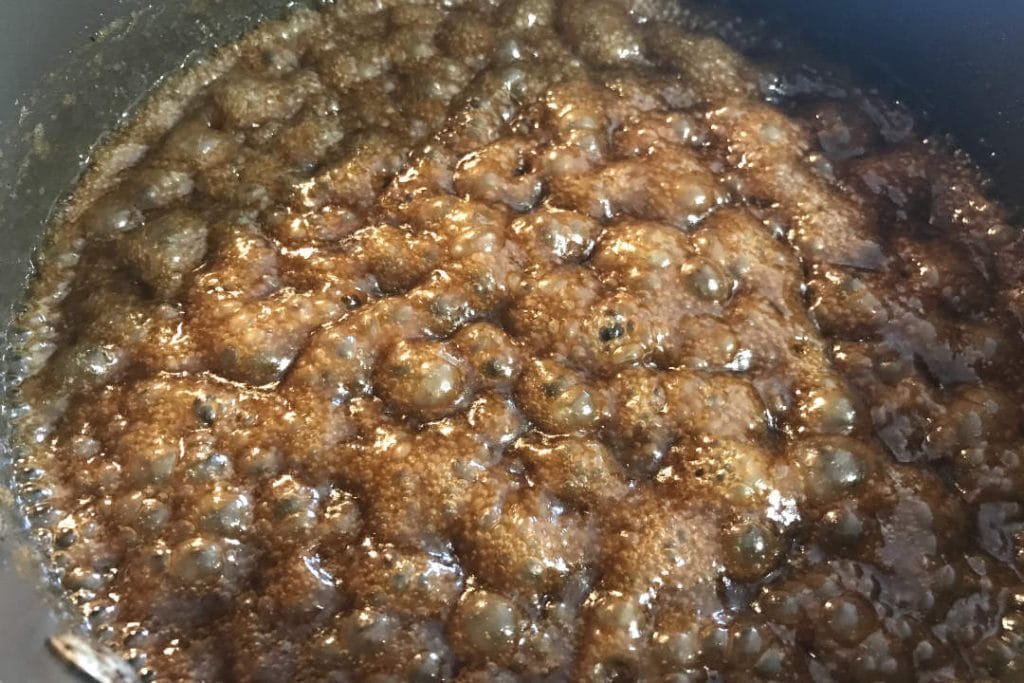 All you have to do now is get that ooey, gooey goodness all over the oyster crackers, throw it in the oven and then patiently waiting for it cool so you can dig in.
I sincerely hope you give this recipe a try. It's one of my favorites and I think it'll become one of your too. Enjoy!
Make sure to pin this Salted Caramel Cracker Bites to your favorite recipes board on Pinterest.
Salted Caramel Cracker Bites
Sweet, salty, bite-sized and so easy to make!
Ingredients
4

cups

oyster crackers

3/4

cup

butter

3/4

cup

brown sugar

2

teaspoons

vanilla paste or extract

1

teaspoon

kosher salt
Instructions
Preheat oven to 400 degrees.

Line a baking sheet with parchment paper (or aluminum foil) and lightly spray with non-stick cooking spray.

Spread your crackers in a even layer on the baking sheet.

In a large pan on medium heat, melt the butter. Add the brown sugar and vanilla. Stir until brown sugar is dissolved.

Turn up the heat until the mixture begins boil. Stir continuously for about 3-4 minutes while the mixture gets bubbly and lighter in color. It will smell delicious!

Turn off the heat and quickly pour over the top of the crackers. Mix gently with a rubber spatula until all of the crackers are completely coated.

Sprinkle the kosher salt over the top of the crackers.

Allow the crackers to cool. Then break into pieces. Serve immediately or store in an airtight container.
Recipe Notes
Recipe Variations
 - Combine 3 TB granulated sugar and 1 1/2 tsp cinnamon. Sprinkle over the top of the crackers after baking.
- Add a pinch of cayenne pepper or other spice if you like a kick.
Ingredient Notes:
- I used Nabisco Premium Oyster Crackers for the recipe. They are much bigger than the store brands.
- I highly recommend using vanilla paste instead of extract. The flavor and aroma are amazing. A couple brands that I personally use and recommend are Neilsen-Massey and Cambie Confections.
Recipe is adapted from Simply Sated.
You may also be interested in: