THE SUMMER OF OREO CONTINUES WITH ROCKY ROAD TRIP!
The third new Oreo cookie flavor announced at the Sweets and Snacks Expo in May is now on shelves! Rocky Road Trip Oreo follows the release of the Limited Edition Good Humor Strawberry Shortcake Oreo and the new permanent flavor Chocolate Peanut Butter Pie Oreo.
The next flavor to be released will be Peppermint Bark. As most of us know, Christmas items make their way on shelves earlier and earlier every year. I am only assuming the Limited Edition Peppermint Bark Oreo will be in stores sooner rather than later!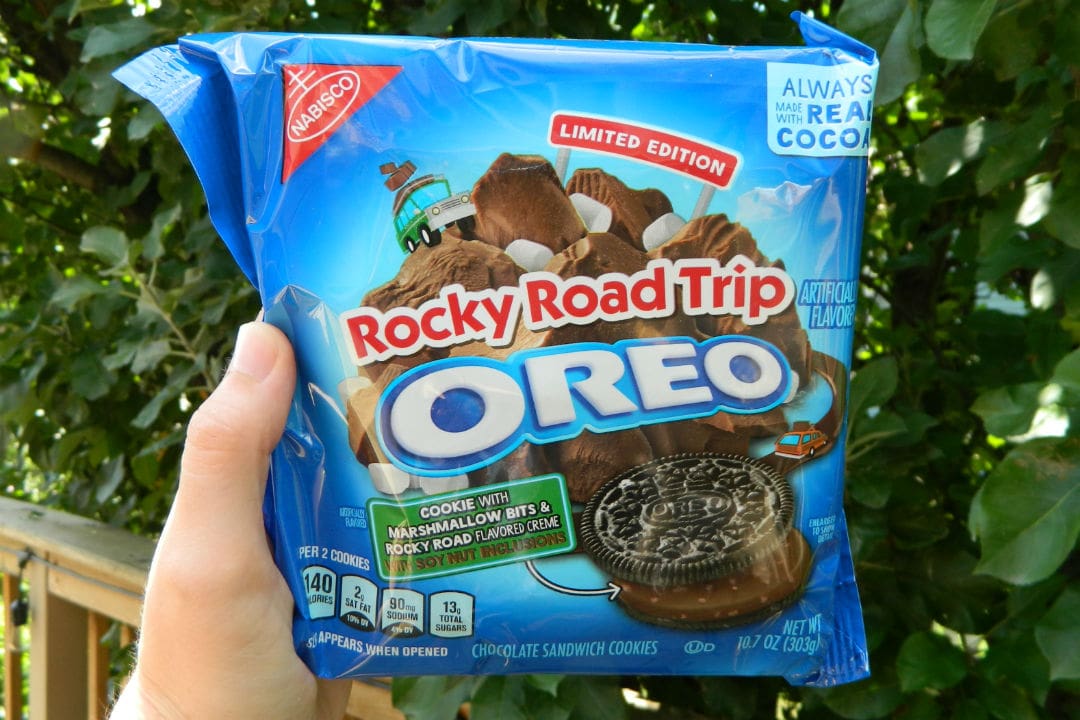 Not going to lie, I wasn't too excited about this flavor. The chocolate cookie Oreo's are usually not my first choice. I much prefer the Oreo flavors that have either golden or graham cookies. Also, I have never been a big fan of Rocky Road. I remember trying Rocky Road ice cream years ago and thought it was just okay. I never had the urge to try any other type of Rocky Road treats, either.
When I spotted these cookies at our local Walmart, I almost didn't buy them. With a bit of a push from my husband, they landed a spot in our shopping cart. But let's be honest, he didn't have to push that hard!
Are Rocky Road Oreo Cookies worth trying?
These were surprisingly good. I enjoyed them way more than I thought I would. The two main flavors are chocolate and marshmallow. You can really taste the marshmallow bits.
The package also advertises "soy nut inclusions." Not really sure what that means, but I didn't notice any type of nut flavor. If I had, I probably would not have enjoyed them as much. Since I am not a Rocky Road connoisseur, I can't really elaborate on whether or not they truly taste like Rocky Road. All I can tell you is that they satisfied my sweet tooth.
Final Thoughts On Rocky Road Oreos
I have been pretty impressed with the three new Oreo flavors that have been released over the past few months. Although both the Rocky Road Trip and Chocolate Peanut Butter Pie Oreo's were pretty tasty, I think my favorite of the three so far has been the Good Humor Strawberry Shortcake. If you haven't done so already,
Be sure to check out our other Oreo reviews!
HAVE YOU TRIED THE ROCKY ROAD TRIP OREO?
LEAVE A COMMENT BELOW. WE'D LOVE TO HEAR WHAT YOU THINK!
I love hunting for new snacks and I am always excited to share my finds! Here are a few fun food facts about me. I eat cereal without milk. I love peanut butter and jelly sandwiches. I eat one almost everyday for lunch and have done so for the majority of my life. I will try anything claiming to be "Birthday Cake" flavored. I will never pass on a cupcake. When I am not snacking, I am either sleeping, working, watching TV or burning off my snacking calories.