Chocolate-covered pretzel rods with Reese's Pieces are a must-have treat for peanut butter lovers. This quick and easy recipe is the perfect combination of sweet and salty flavors.

RELATED RECIPE: No-Bake Reese's Snack Mix
Ingredients for Chocolate Covered Pretzel Rods with Reese's Pieces Candy
All you need for this simple recipe is three ingredients.
A few notes on substitutions:
I am partial to milk chocolate so that is what I used in my recipe. Depending on your preferences, dark or white chocolate would also taste great.
In this recipe, I used Reese's Pieces because I love the crunch and color they add. You could also use any other Reese's candy, such as peanut butter cups, as long as it's finely chopped. If the pieces are too large, they tend to slide right off the soft, melted chocolate.
YOU MAY ALSO LIKE:
– The Best Reese's Products We've Discovered
– Easy Peanut Butter Rice Krispies Treats Recipe
How To Make Reese's Pretzel Rods
Step 1:
First, line a baking or cookie sheet with wax paper.
Step 2:
Next, finely chop the Reese's Pieces and put them on a plate. Be careful if you are chopping these with a knife – they can be slippery little devils! If you're having a tough time chopping them by hand, you can do a rough chop in the food processor.
It would also work to put them in a small plastic baggie and crush with the back of a spoon or gently break them apart with a meat tenderizer.
Step 3:
Now you can get started on melting the chocolate. A tall, microwave-safe glass or jar works best. Add the chocolate to your glass and melt in the microwave according the instructions on the package.
Typically, you will start with 30 seconds in the microwave. There will still be some chunks. Just give it a stir and continue with 15 to 30 second intervals until the chocolate is melted. Your goal is to is shiny and smooth chocolate with no chunks. Be careful not to overheat it.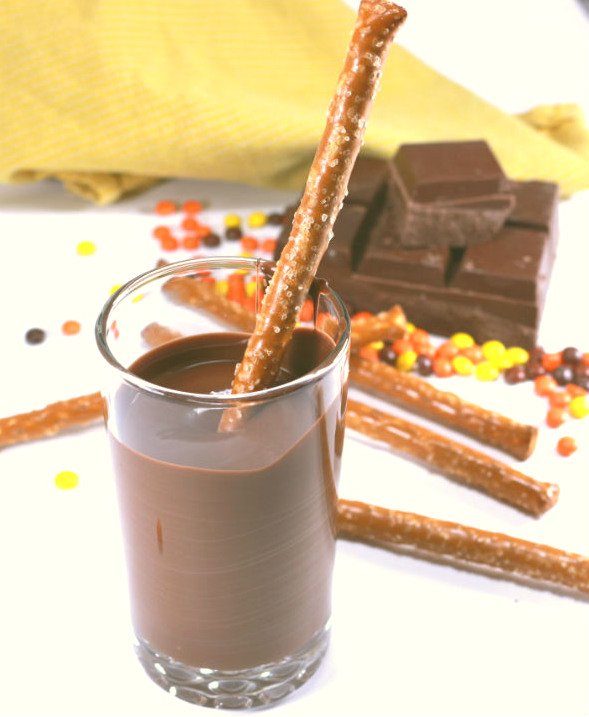 Step 4:
Now comes the fun part: dipping and decorating your pretzels!
Grab a pretzel and dip in into the chocolate so at least half the length is coated. Take your time to allow any excess chocolate to drip back in to the jar. You may need to gently shake to coax the extra chocolate off. If you skip this step, the chocolate will slide off the pretzel and a chocolate "pool" will form on your cookie sheet while they are drying.
While you are still holding the pretzel rod, sprinkle the Reese's Pieces on the melted chocolate. Hold the pretzel over your plate to catch any extra toppings that don't stick to the chocolate. Make sure to rotate the pretzel so all sides get equally covered with crunchy Reese's crumbles.
When you're happy with the how your pretzel is shaping up, gently place it on the baking sheet to dry. Then repeat the process for all the remaining pretzels.
You'll want to work quickly, but carefully. If your chocolate starts to get too thick while you are working, just pop in back in the microwave for 15-30 seconds. Give it a quick stir and you're good to go again.
---
We hope you love this recipe as much as we do. If you're feeling the love, would you please consider sharing on Pinterest or Facebook?