Rainbow Cone is a popular ice cream shop that has been a Windy City tradition for over 95 years.
Rainbow Cone is a Chicago institution made famous for its "rainbow cone". This creative treat features five layers of ice cream that are sliced, not scooped.
The flavors in the Rainbow Cone that have been stacked for nearly a century include Orange Sherbet, Pistachio, Palmer House (vanilla with cherries and walnuts), Chocolate, and Strawberry.
The sliced dessert is closely associated with Chicago and is deeply loved by locals and tourists alike who have had a chance to taste the rainbow!
But how can you order your very own Rainbow Cone if you're not from Chicago? Does the shop have any other desserts? Get the answers to these questions and more in this ultimate guide to the wonderful Rainbow Cone Ice Cream Shop.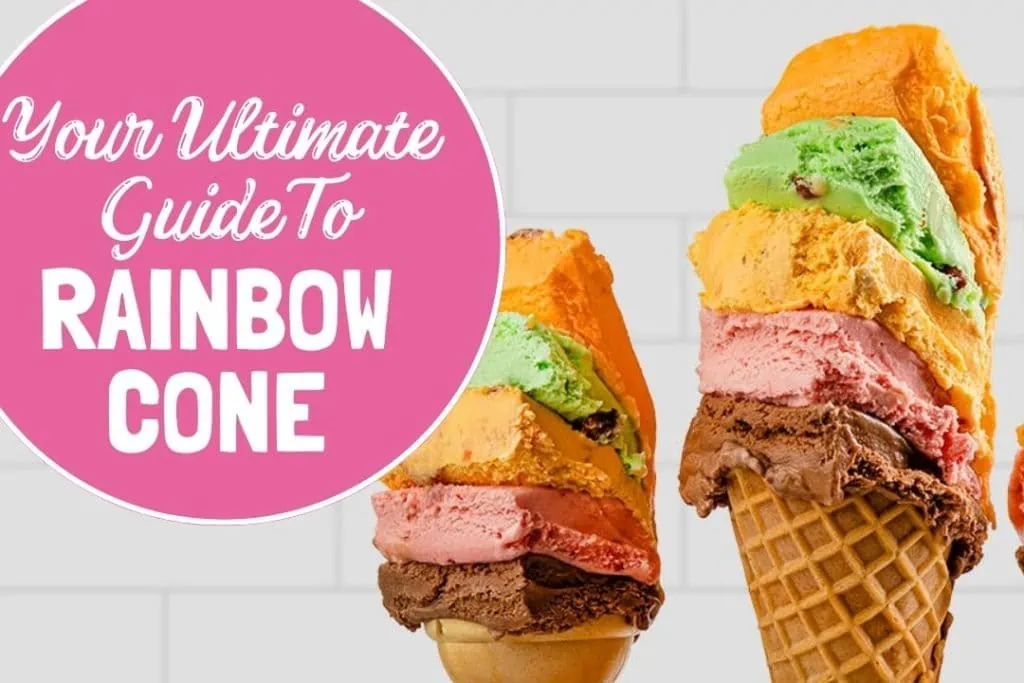 You may also like:
– 11 Best Mail-Order Ice Creams For Nationwide Delivery
– Review: eCreamery Ice Cream and Gelato
The Tasty History Of Rainbow Cone
Rainbow Cone definitely has a rich and tasty history. From the very beginning, it was a family-owned shop with a pleasant and warm atmosphere. It was founded by Joseph Sapp and his wife, Katherine, way back in 1926.
Grandpa Joe was a creative fella who wanted to come up with a flavor combination that would delight his clients. He believed 'life's too short for just one flavor', so he came up with five staple flavors that would be served in a quite non-traditional way. The ice cream was sliced instead of scooped!
The first shop opened on the corner of 92nd Street and South Western Avenue in the Beverly neighborhood of Chicago. It quickly became a popular place among the locals.
Nowadays, Rainbow Cone belongs to the next generation of the Sapp family, who continue the tradition of serving the iconic Rainbow Cones and other treats. The original store still exists and there are many new locations as well.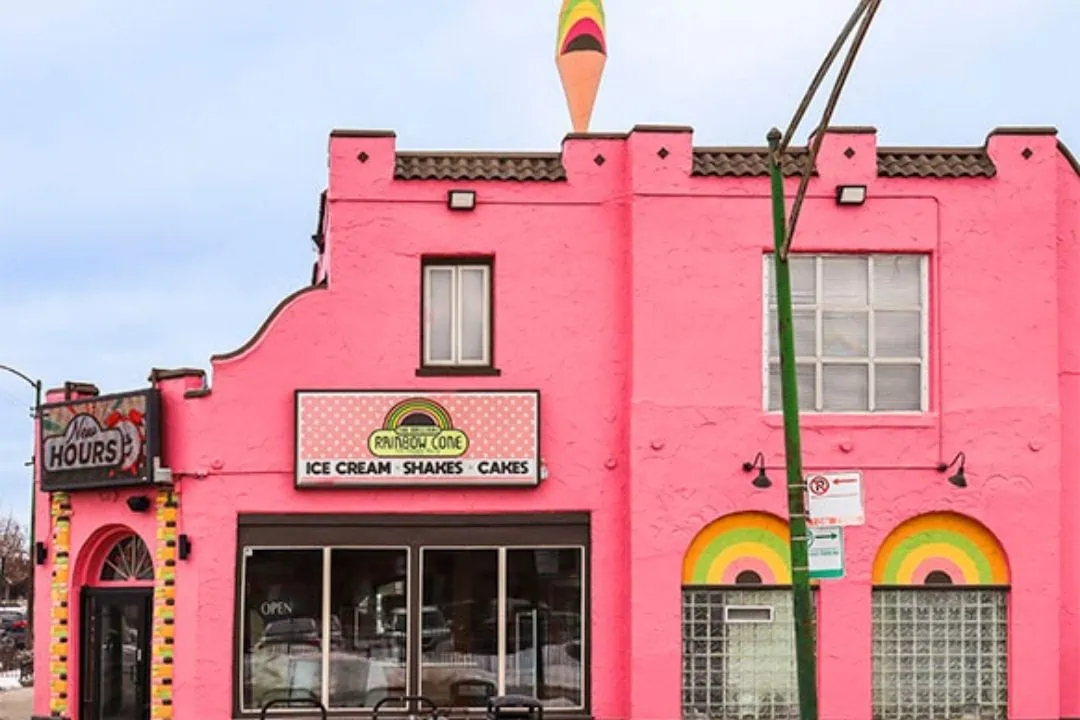 The Rainbow Cone Menu
Rainbow Cone has a small, but mighty menu. The main focus is serving up ice cream in cones, sundaes, splits, milkshakes and even in cakes and cookie sandwiches!
Menu items may vary by location, but below are some of the most popular desserts you can expect to find.
Ice Cream Cones and Cups
Their signature ice cream flavor is of course the Rainbow Cone, which consists of five layers of different flavors – Orange Sherbet, Pistachio, Palmer House, Chocolate, and Strawberry. All this yumminess is then sliced into your cone or cup so that you get to taste all the amazing flavors at once.
Other featured flavors include cookie dough, butter pecan, black walnut, cookies & cream, mint flake, New York vanilla and chocolate peanut butter.
Order up your favorite flavors in a cone, cup, quart or pint.
Shakes, Sundaes and Banana Splits
At Rainbow Cone, you can also order ice cream sundaes and hand-dipped shakes in any of the available ice cream flavors and toppings.
Their banana split is a true classic with a sliced banana topped with scoops of your favorite ice cream, chocolate syrup, whipped cream, and cherries.
Cookie Sandwiches
Rainbow Cone's cookie sandwiches consist of two cookies and a scoop of ice cream – what a convenient way to eat your favorite ice cream!
Rainbow Layer and Roll Cakes
The iconic flavors in cake form? That's right! You can get your hands on a tiered cake or a cake roll with all the amazing flavors wrapped in chocolate or vanilla cake.  
Mini Donuts
The Lombard and Beverly locations also offer hot mini donuts that are made to order. Yum! The mini donuts are also available for catering.
How To Order Rainbow Cone
Those who want to try this iconic Chicago ice cream, have a few ways to order the one and only Rainbow Cone plus their other goodies.
Option 1: Visit One Of The Rainbow Cone Shops
The most popular ones are located in Beverly/Chicago (that's the original ice cream shop) and Lombard, IL.
There are several other stores in different neighborhoods (like Navy Pier) and across the state (Darien, Skokie, Lakemoor, Mount Prospect, Harwood Heights, Bolingbrook, Flossmoor). You can check the exact address here.
The company is constantly opening new stores all over the US (like Bradenton, FL and Valparaiso, IN), so you might want to keep an eye on the locations page (there might be a new ice cream shop opening right next to you!)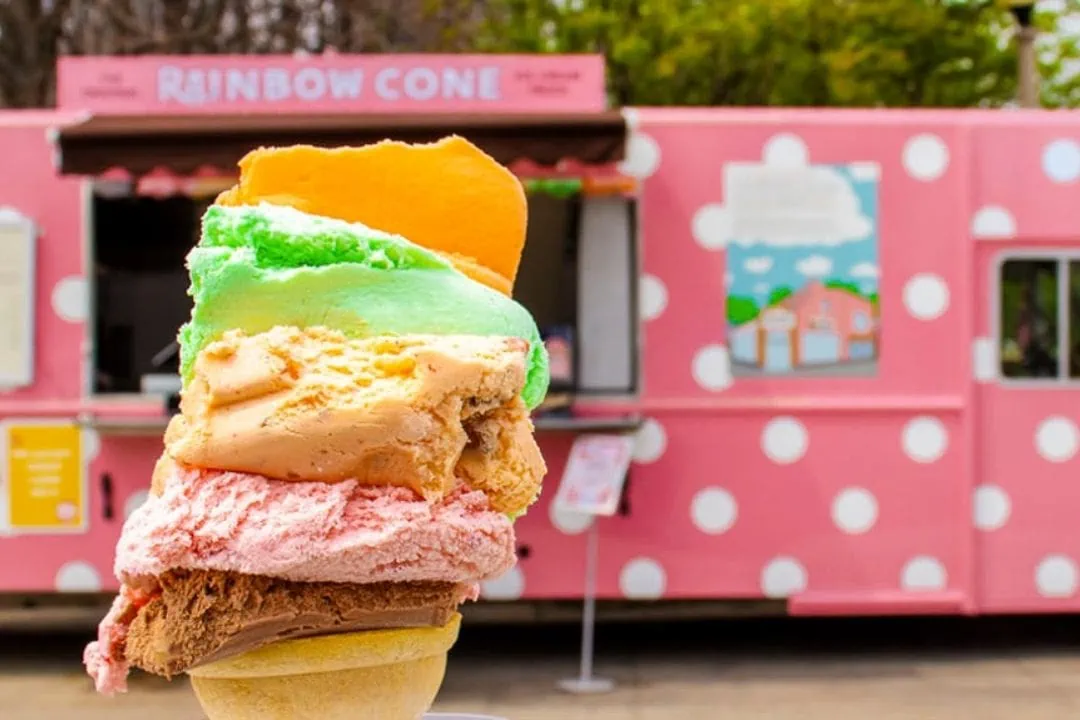 Option 2: The Rainbow Cone Ice Cream Trucks
The company has branded ice cream trucks which you might discover at various locations like Lincoln Park Zoo and Shedd Aquarium and events across Chicago. They've even been at Taste of Chicago and Lollapalooza.
If you want to know the exact locations and schedule, visit the official website or find the information on their social media pages.
Option 3: Order Rainbow Cone Online
Finally, you have an opportunity to order the Rainbow Cone online. If you don't live in a city with Rainbow Cone shops, then you can enjoy the deliciousness with the help of GoldBelly which ships the ice cream nationwide.
Simply go to the Rainbow Cone page on the Goldbelly website and place your order. Your delivery will be shipped directly to your door. How amazing is that?
Final Thoughts On Rainbow Cone
Visiting Rainbow Cone Ice Cream Shop is simply a great experience for anyone.
It has never been only about the ice cream. It's also about the people. About those who have been creating the dessert for decades and those who have loved it for just as long.
If you still haven't had a chance to give the Rainbow Cone a try, it's definitely something worth looking forward to.
And don't forget, if you're not near a Rainbow Cone location or want to send it as a delicious gift, you can order online from Goldbelly!
Next up: 11 Best Mail-Order Ice Creams For Nationwide Delivery
Micky Reed, a two-decade veteran in the food and baking industry, leverages her influential Three Snackateers food blog and Instagram presence to collaborate with industry giants like Ben & Jerry's and Crumbl Cookies. Her work has been featured on Delish, PopSugar and more. Her expertise as a product curator for one of the world's largest international snack subscription box companies solidifies her status as a key player in the field.