Crunchy and gooey, sweet and nutty Peanut Butter Rice Krispie Treats are an elevated version of traditional Rice Krispie treats that the whole family will love.
In this version, we make a few tweaks to the back-of-the-box Rice Krispie Treats recipe. The original recipe is great, but it can be made so much better with almost no effort (and a little peanut butter!)
These treats easy to make in just minutes with a handful of the usual ingredients like butter and marshmallows. Plus this rice krispie treat recipe is great to customize with your favorite extra goodies.
The Best Rice Krispie Treats Recipe You'll Ever Try
This is the perfect Rice Krispie Treat recipe. It contains just the right amount of marshmallows, rice crispy cereal, and butter. The ratio of cereal to marshmallow makes a big difference. It literally makes or breaks a rice krispie treat!
Add in a splash of vanilla extract and some of your favorite peanut butter for the fastest, no-bake rice krispie treat that never disappoints!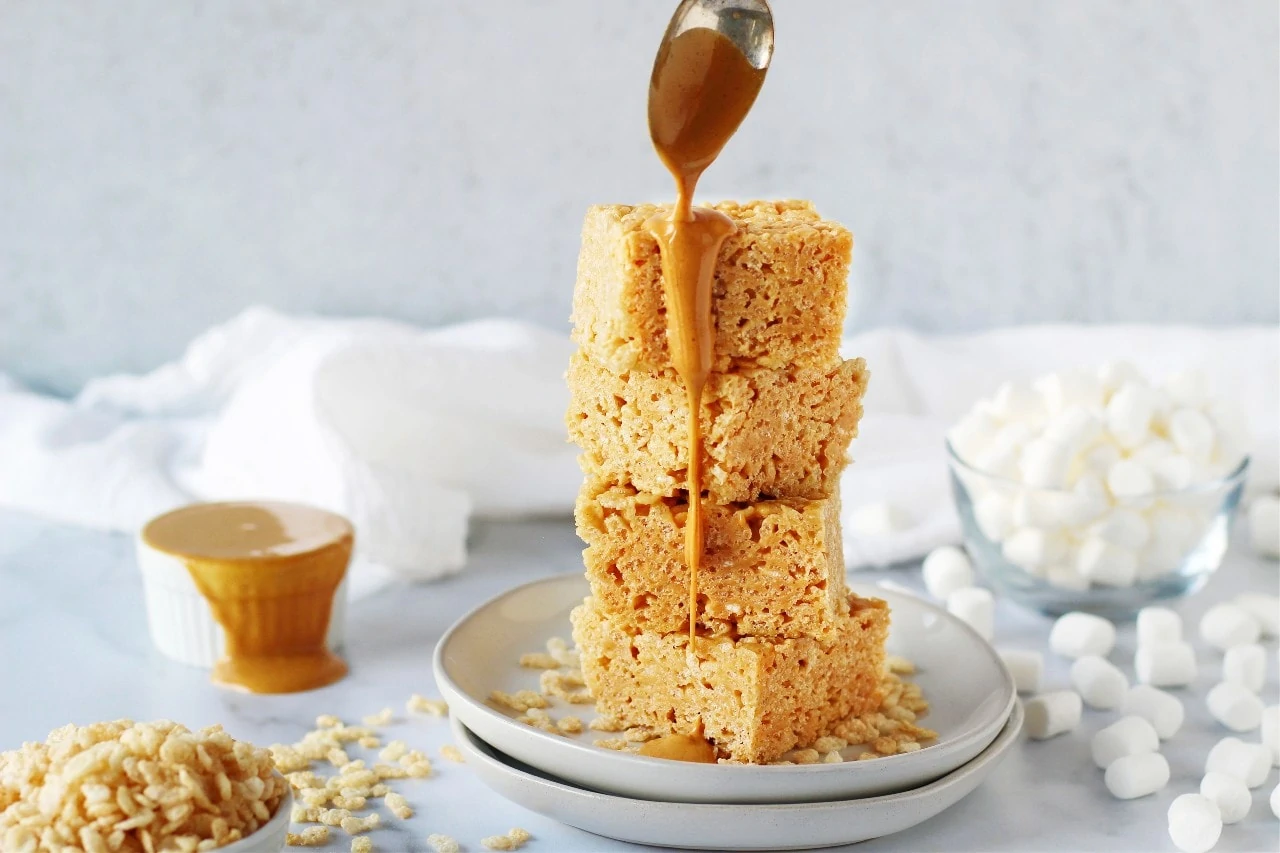 Fun and Tasty Peanut Butter Rice Krispie Treats Recipe
Loaded with crispy, crunchy Rice Krispies cereal and ooey-gooey melted marshmallows, Rice Krispie Treats have been an American snack staple for generations.
We've upgraded classic Rice Krispie treats by adding rich and creamy peanut butter to the mix. This new twist on your favorite childhood treat is just as easy to prepare, but tastes even more wonderfully indulgent than the original version.
What Ingredients Do You Need to Make Rice Krispie Treat Recipe with Peanut Butter?
There are only 4 ingredients needed to make the most fun-tastic peanut butter Rice Krispie treats recipe at home:
Butter
Mini marshmallows
Peanut butter
Rice Krispies cereal or other crispy rice cereal
Vanilla extract (optional)
That's it!
I use mini marshmallows to make my peanut butter Rice Krispie treats recipe because they are the easiest to melt. However, you can also use large marshmallows or even marshmallow cream if you like.
If you do use large marshmallows, I suggest that you first snip them in half with kitchen scissors or a knife to help them melt faster.
Use these handy marshmallow conversions when making rice krispie treats:
1 cup of mini marshmallows is equal to 8 large ones

One 7 oz jar of marshmallow cream is equal to 1 1/2 cups of mini marshmallows
Even More Rice Krispie Treat Recipes
How to Make Rice Krispie Treats With Peanut Butter
It only takes about 20 minutes and a few simple steps to make this Rice Krispie treats recipe. The kids will love to help make this recipe.
First, prepare a large 9×13 inch baking pan by spraying with nonstick spray or greasing with salted or unsalted butter. Set aside.
Next, in a large pot over medium heat melt butter and peanut butter together, stirring to mix thoroughly. Vanilla extract could be added at this time (optional).
Once combined turn down to low heat and add the mini marshmallows to the pan. Heat and stir with a rubber spatula until the marshmallows have completely melted, making sure to not overcook.
Pour in the Rice Krispies cereal and use a spatula to gently stir and fold until the rice cereal is completely coated in the melted peanut butter and marshmallow mixture.
Transfer the coated rice krispie cereal to your prepared pan, and gently press the Rice Krispies treats to make an even layer.
Let the rice krispie treats cool at room temperature before slicing with a sharp knife. Store the rice krispies treats in an airtight container at room temperature.
Variations of This Recipe For Peanut Butter Rice Krispie Treats
Add Even More Peanut Butter
There are lots of yummy ways to customize this recipe for making Rice Krispie treats with peanut butter.
For starters, use your favorite type of PB – smooth or chunky varieties both work well!
Add in Reese's Pieces, chopped peanut butter cups, or peanut butter chips along with the Rice Krispies cereal.
Add Chocolate
Chocolate and peanut butter are a perfect pairing. Check out these delicious ideas to incorporate chocolate into your treats.
Make your treats even more decadent by including chocolate chips or some chopped CBD chocolate.
You can even swap regular Rice Krispie cereal with Cocoa Krispies or other chocolate rice cereal.
Melt some chocolate chips with a bit of vegetable or coconut oil, and drizzle over the peanut butter Rice Krispie treats.
After you cut into squares and remove from the baking pan, dip them in melted chocolate. Learn how in this chocolate covered rice krispie treat recipe.
Make Them Extra Thick
For super duper thick treats try making this peanut butter Rice Krispie treats recipe using a square 9-inch pan. Just be sure to grease all the way up the sides of the baking pan so the squares will pop right out after cutting.
Tips for Making the Best Rice Krispie Treats With Peanut Butter
Wondering how to make peanut butter Rice Krispie treats that are soft, gooey, and slightly crunchy? Here are a couple of key tricks to note for creating foolproof Rice Krispie treats every time…
Why are my Rice Krispie treats hard?
For the tastiest squares be sure you use fresh marshmallows that have not gone stale, and do not overcook them when melting. Cooking them too long will cause the Rice Krispie treats with peanut butter to be extra dense and hard.
Why are my Rice Krispie treats falling apart?
If your crispy treats are falling apart, it could be for a few different reasons.
Be careful not to overcook the marshmallows. After you melt the butter and marshmallows, remove from heat or continue on very low heat.
Over-mixing is a bad thing! Don't over-stir the mixture once you've added the cereal.
Gently press the treats into the pan, but not too hard. You don't want to pack the treats down too hard.
Store in an airtight container at room temperature.
After you cut into squares, remove carefully from the baking pan. Along with greasing your pan, it helps to add a layer of parchment paper to the bottom. Then the treats can be more easily lifted out before they are cut.
How do you keep Rice Crispy Treats from sticking to your hands?
Spray your fingers lightly with nonstick spray or dip them in water before lightly smooshing the treats into the pan. This will help keep the Rice Krispie mixture from sticking to your hands.
How do you keep Rice Krispie treats fresh longer?
Rice Krispie treats taste best when eaten fresh the same day. But they can be stored in an airtight container or wrapped in plastic wrap and kept at room temperature for another 2-3 days.
Do Rice Krispie treats need to be refrigerated?
No, Rice Krispie treats should be stored at room temperature.
Why are Rice Krispie treats bad for you? Are Rice Krispies treats a healthy snack?
Most Rice Krispie treat recipes are not very healthy. They contain butter which is high in saturated fat. If you use salted butter, it will also increase your sodium content. Marshmallows are high in sugar.
However, with a few tweaks you can make a healthier version of Rice Krispie treats that still taste great.
Depending on your preferences and dietary concerns, you may want to try some of the following ideas that will really make a difference when it comes to fat, calories and nutrition per serving.
Use unsalted butter if salt or sodium is a concern
Use a gluten-free rice cereal
Use a brown rice cereal version instead of regular Rice Krispie cereal.
Substitute marshmallows for almond butter and maple syrup. Mixed together they create a sticky mixture that can serve as a substitute for marshmallows.
Yield: 12 squares
Peanut Butter Rice Krispie Treats
Crunchy and gooey, sweet and nutty Peanut Butter Rice Krispie Treats are an elevated version of traditional Rice Krispie squares that the whole family will love.
Additional Time
15 minutes
Ingredients
½ stick of butter (1/4 cup)
10-ounce bag of mini marshmallows (about 5 cups)
½ cup peanut butter
5 cups Rice Krispies cereal
Instructions
Grease the bottom of a 9x13 pan. Set aside.
In a large pot, melt the butter and peanut butter over medium-low heat until combined.
Reduce heat to low. Add the marshmallows and stir until melted. Do not overcook.
Remove from the heat. Pour the cereal into the pot. Gently stir until all of the cereal is fully coated.
Pour the mixture into the greased pan. Lightly press so you have a nice even layer throughout the pan.
Allow the treats to cool before cutting.
Notes
Peanut Butter Rice Krispie Treats have the best taste and texture when eaten the same day, but can be stored in airtight container for 2-3 days.