Did you know some of the BEST mail order cookies in the country can be ordered online from gourmet bakeries and delivered right to your door?
The cookie companies on this list are baking up gourmet cookies that will blow your mind. From classic chocolate chip cookies and sugar cookies that taste homemade to one-pound mega stuffed cookies, the perfect cookie is just a click away.
Find The Best Gourmet Cookies Online
Who doesn't love cookies with a big glass of milk? Whether you're looking to order a dozen for yourself or a box to send as a gift to a cookie lover, you'll find some fresh, bakery treats here that can ship nationwide from the best cookie companies in America.
To come up with this list, we polled our readers to get suggestions on the very best mail order cookies from bakeries coast to coast. We also did extensive research of our own on cookie delivery companies– which included lots of taste testing!
The Best Mail Order Cookies To Buy
Here are our top picks for the best cookies online and the best cookie delivery services to check out in 2022.
If you're ready to send cookies to someone as a gift or order a treat for yourself, you're sure to find the perfect gourmet cookies on this list.
Best Cookie Companies That Ship Nationwide
Best Overall Cookie Company: West Coast Confection
Most Gooey: Gooey On The Inside
Best Custom Cookie Flavors: Big Fat Cookie
Most Colorful: Baked In Color
Best Cookies In A Tin: David's Cookies
Best Cookie Fries: The Cookie Joint
Best Whoopie Pies: JL Cakes
Best Southern Cookie: Christie Cookie Co
Best Birthday Gift: Sugarwish
Best Corporate Cookie Gifts: Mrs. Field's
Best Individually Wrapped: Feed Your Soul
Best Cookie Bouquets: Cookies By Design
Best Chocolate Chip Cookie: Jacques Torres Chocolate
Best Chocolate Chip Walnut Cookie: Levain Bakery
Most New Cookie Flavors: Cravory Cookie
Best Black & White Cookies: Famous 4th Street Cookie Co.
Best Donut Cookies: Stan's Donuts
Best Bite-Size Cookies: Cookie Rich
Biggest Cookie (5 pounds!): T-Rex Cookie Company
Best Cookie Cake: Mini Melanie
Best Rainbow Cookies: Zola Bakes
Best Macarons: Macaron Queen
Best Cookie To Support Troops: Operation Cookie
Best Boozy Cookie: Moonshine Mountain
#bestcookiesever: Wunderkeks
Best OG Cookie Company: Blue Chip
Best Hand-Decorated Cookies: Sugarica
Best Organic Cookies: Bang Cookies
Best Nut-Free Cookies: Baked Cravings
Best Late Night Delivery: Insomnia Cookies
Best Designer Cookie: Duchess Cookies
Best Small Batch Cookies: Milk Jar
Best PNW Cookies: Midnight Cookie
Most Instagram-Worthy Cookies: Fat And Weird Cookie
Fastest Growing Company: Crumbl Cookies
You may also like:
– Best Scones From Seven Sisters Bakery
– Best Cookie Of The Month Clubs
---
Most Gooey Cookie
2. Gooey On The Inside
"New York City's Best Ooey Gooey Cookies"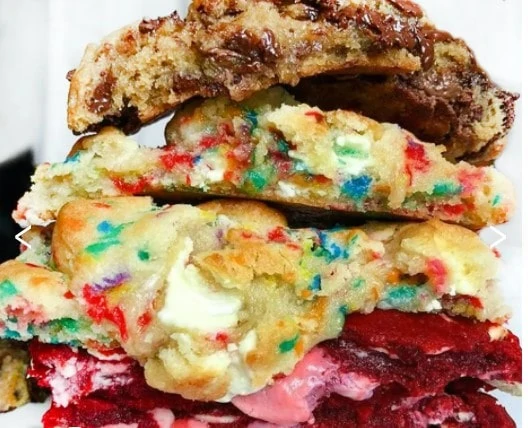 Best Cookie Flavors From Gooey On The Inside
Birthday Cake
Dunkaroo
S'mores
Cap'n Crunch
Cuppa Joe
Chocolate Chunk
Also available are Goowees (cookie bites) and All Thing Jars (molten cookie & soft-baked dough) in a jar.
INSIDER TIP! Gooey On The Inside treats should always be eaten warm for maximum enjoyment. In fact, in the FAQs on the company website, they point out that their cookies were not designed to be eaten cold.
How To Order Cookies Online
You can place an order for mail order cookies online on Goldbelly. Or check the Gooey On The Inside website for other ordering and cookie delivery options. The company is based in New York City.
---
---
---
---
---
---
---
---
---
---
---
---
---
---
---
---
---
---
---
---
Best Macarons
22. Macaron Queen
Premiere macaron delivery service offering Parisian macarons that are gluten-free and guilt-free.
These gourmet macarons are specifically designed to use less sugar but still taste amazing. They are also made with almond flour and are 100% gluten-free.
Related: What Do Macarons Taste Like?
Every macaron filling AND shell is packed with flavor and gorgeous color. Strawberry cheesecake, creme brulee, oreo, almond croissant, thin mint, champagne, blueberry citrus and passion fruit white chocolate are just a few of the amazing flavors.
They even have macarons for dogs! And for the humans in your life, they have tons of options for gift boxes and special occasions. If you're looking for macaron gifts, be sure to check out these macaron cookbooks.
How To Order Macarons Online
Place an order online at the Macaron Queen website for delivery right to your door.
You may also like:
– Why Are Macarons So Expensive?
---
---
---
---
---
---
---
---
---
---
---
---
---
---
---
---
We hope you enjoyed this list of the best cookie bakeries in America. From classic chocolate chip to gourmet macarons, the right cookie is out there for and waiting to be delivered to your door!
If you love these GOURMET COOKIES TO ORDER ONLINE,
please consider sharing to Pinterest, Instagram and Facebook!
You may also enjoy:
Best Gourmet Food Gifts To Order Online
Best Custom Cookies To Order Online
Best Gourmet Brownies To Order Online
Best Cookie Cakes To Order Online
Best Birthday Cakes To Order Online
Best Cupcakes To Order Online
Best Cakes In A Jar To Order Online
Best Cookie Dough To Order Online