Can an ice cream deliver on the promise to be low-fat and low-calorie, yet creamy and delicious? Nick's Light Ice Cream promises just that!
In this review, you'll learn all about Nick's Ice Cream and how it's different from other healthy frozen treats on the market.
And of course, we'll provide our thoughts on the products including actual photos to help you decide if Nick's is right for you.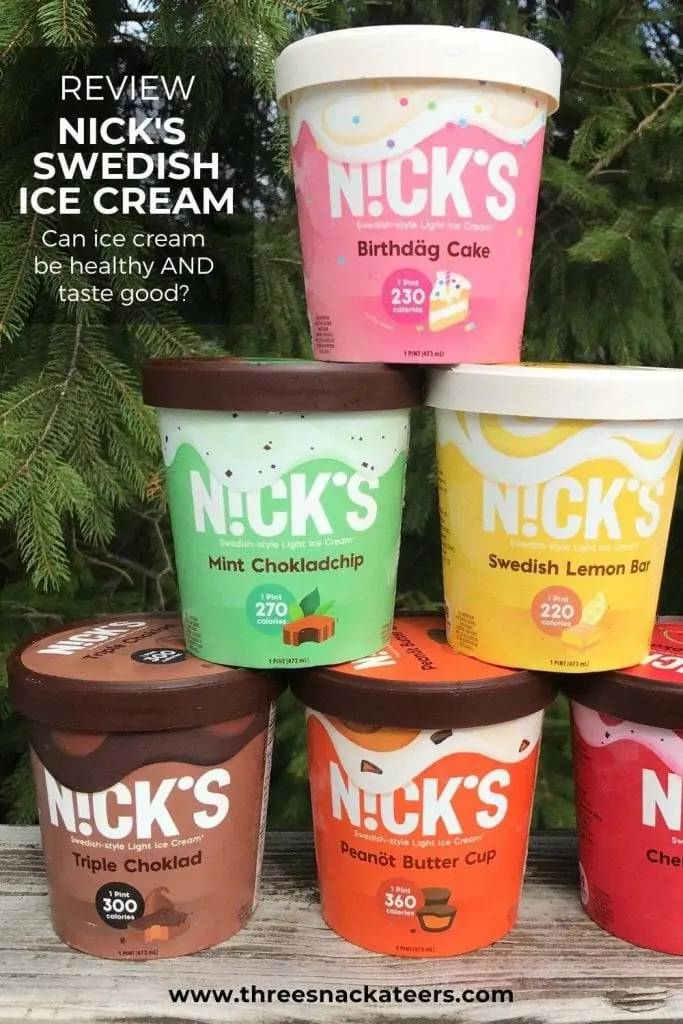 What is Nick's Ice Cream?
In 2014, Niclas "Nick" Luthman was diagnosed as a pre-diabetic. To get his health under control, he made drastic changes to his diet and lifestyle. He started on a keto diet, which was great for his health, but he missed his favorite snack foods.
Nick set out on a mission to create a healthy ice cream that still tasted great. After several years of research, testing and tasting, Nick's Ice Cream hit the market.
Today, Nick's is still going strong with a fast-growing product line that includes:
Light Ice Cream (16 flavors)
Vegan Ice Cream (7 flavors)
Keto Snack Bars
Cookie Kräms (Ice Cream Cookie Sandwiches)
Seasonal Flavors
Product Bundles like Chocolate Lover's, Best Sellers, Vegan and Keto Friendly
Is Nick's Ice Cream Good?
Short answer: Yep, it's pretty tasty.
It's a Swedish-style ice cream that is light and creamy, yet low-fat, low-calorie and keto-friendly.
Long answer: We sampled six of Nick's Ice Cream flavors. Keep scrolling to get all the details including what we liked…and what we didn't.

Samples were provided by Nick's Ice Cream. As always, all opinions are our own.
You May Also Like:
– eCreamery Ice Cream Review: Personalize Your Pints!
– Chipwich Ice Cream Sandwich Review
– Levain Bakery Cookie Review
What are the ingredients in Nick's Ice Cream?
Each Nick's flavor has different ingredients and nutrition facts. All of the product ingredients and nutrition information can be found on the product pages on Nick's website.
Photos of the nutrition labels for the six flavors we tried are included in the review section of our article below.
Is Nick's Ice Cream Keto? Gluten-Free? Sugar-Free? Nut-free? Soy? Vegan?
Keto
Ja! (That's YES! in Swedish…) Most of their pints have an average of just 4-7 net carbs per serving making this product a keto-friendly choice.
Gluten-Free
Nick's has 12 flavors that are gluten-free. These four flavors contain gluten (wheat allergens) in their crumbles and bits: Triple Choklad, Cherry Choka-Fläka, Peanöt Butter Cup and Cookies and Kräm. However, all ice creams are made in a facility that handles gluten.
Sugar-Free
All of their ice creams have no added sugar. They also do not use any synthetic ingredients or artificial sweeteners. The sweeteners they use are crafted from plants. They include allulose, birch sugar, erythritol, monk fruit, stevia and sweet fiber.
Nut-Free
Twelve of the sixteen flavors do NOT contain nuts. However, all of the products contain coconut oil and are processed in a facility that uses nuts.
Soy
No, the ice creams do not contain soy.
Vegan
Yes, Nick's has partnered with Perfect Day to offer a line of vegan ice creams. Look for the 'vegan' flag in Nick's online ice cream shop for the available vegan flavors.
Where Can I Buy Nick's Ice Cream?
You can buy Nick's in stores, on the Nick's website and on Amazon. Stores usually only offer a limited selection, but any of the dozens of flavors can be purchased directly from Nick's for 2-day delivery.
Some locations that may carry Nick's in your area are listed below. You can also check Nick's product locator for an updated store list.
Stores that carry Nick's (availability will vary)
ACME, Jewel, Shnucks, Harris Teeter, Randalls, Pricerite, Shoprite, Stop & Shop, Hannaford, Giant, Albertsons, Safeway, Market Basket, Dave's Shaw's, Big Y, Wakefern, Roche Bros, Tom Thumb, or Rouses in select locations.
Where is Nick's Ice Cream Made?
Although it's a Swedish-style ice cream, the products are manufactured in the US.
You may also like:
– 7 Keto Fat Bombs Recipes
– Legendary Foods Review: Impossibly delicious foods without the sugar
Our Nick's Ice Cream Review and Taste Test
Whether you're a hard-core premium ice cream lover or a fan of alternative ice creams, it's natural to wonder if a product that claims to be super-creamy, packed with flavor AND healthy is too good to be true.
We put six of Nick's Ice Cream flavors to the test: Birthdag Cake, Mint Chokladchip, Swedish Lemon Bar, Triple Choklad, Peanot Butter Cup and Cherry Choka-Flaka.
There are also quite a few other light ice cream flavors available that we did not try yet. They include:
Strawbar Swirl (strawberry)
Cookies and Kram (cookies and cream)
Salta Karamell (salted caramel)
Coffee Karamell (coffee caramel)
Butter Pekan (butter pecan)
Swedish Cookie Dough
Swedish Vanilj (vanilla)
Peanot Butter Karamell (peanut butter caramel)
Swedish Pistasch (pistachio)
Review Criteria
When sampling all of the different Nick's Ice Cream flavors, we kept the following questions in mind:
Does it look appealing?
Can I tell what the flavor is with my eyes closed?
Does it have a nice, creamy feel?
Is there a good ratio of mix-ins?
Is there any aftertaste from the alternative sugars?
Would I eat it again?
Keep reading for the scoop on some of Nick's most popular flavors!

1. NICK'S MINT CHOKLADCHIP (CHOCOLATE CHIP
"Cool minty ice cream mixed with flakes of chocolate"
270 calories per pint | 5 net carbs per serving
At first glance, you'll notice this ice cream is light in color, not bright green like many mint-flavored products. The mint flavor is prominent and refreshing, but not overpowering.
You do have to dig a bit to find the larger chocolate mix-ins, but this is common with light ice creams.
Fortunately, I did not detect any strange aftertaste from the sugar alternatives.
Overall, I really like this flavor. I would definitely have this again.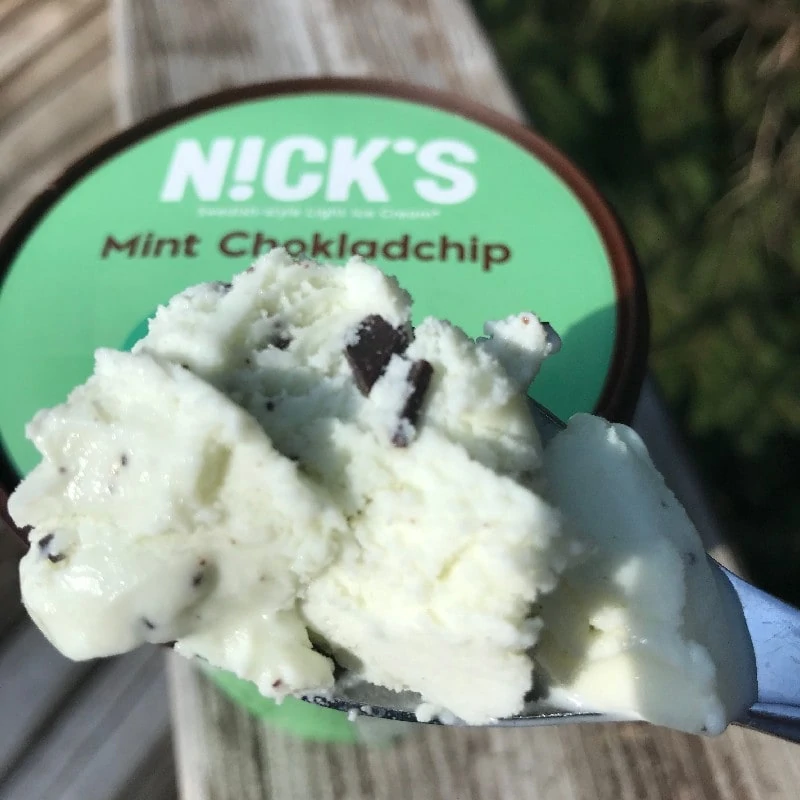 ---
2. NICK'S SWEDISH LEMON BAR
"Luscious cheesecake ice cream with a bright ribbon of lemon"
220 calories per pint | 5g net carbs per serving
I definitely got a lemon vibe from this pint. The flavor is described as cheesecake, but the ice cream base tasted like lemon to me.
There are some bright yellow lemon peel mix-ins. I would have preferred a few more mix-ins to amp up the visual appeal.
If you allow the pint to thaw slightly, then stir, the texture becomes very smooth and creamy. If I try hard, I guess I can convince myself this is the cheesecake factor at play.
Citrus flavors are usually not my first choice, but I did like this pint. If you are a lemon fan, I do think you'll enjoy this flavor.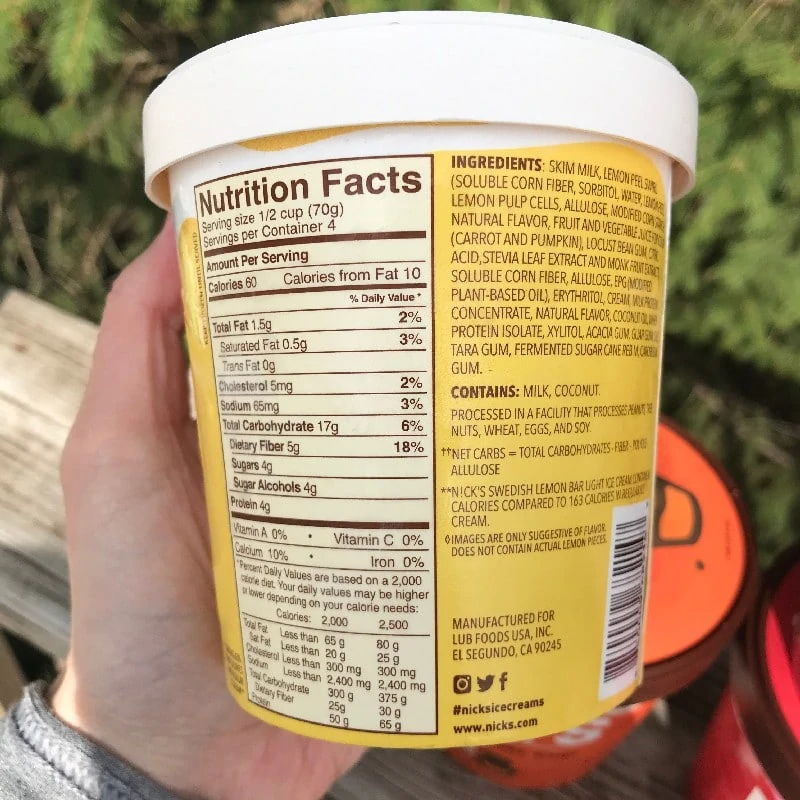 ---
3. NICK'S TRIPLE CHOKLAD (CHOCOLATE)
"Rich, chocolate ice cream with brownie bits and fudge swirl"
300 calories per pint | 6 net carbs per serving
This ice cream is a rich chocolatey color with a big swirl of dark fudge. The chocolate flavor is sufficient, but I wasn't wowed by it.
I also did not get any brownie bits in the portion I tried. Maybe the bits were too small to notice?
As with the other flavors, the texture is very creamy and no detectable aftertaste.
This was not my favorite flavor of the bunch, but I am also biased because I love getting huge brownie chunks in my ice cream.
---
4. NICK'S BIRTHDÄG CAKE (BIRTHDAY CAKE)
"Luscious cake batter ice cream filled with tons of rainbow sprinkles"
230 calories per pint | 5 net carbs per serving
I'm a big fan of this flavor. Oftentimes, cake batter or birthday ice creams are just plain vanilla with some sprinkles. Not the case here.
The creamy texture, delicious flavor and colorful sprinkles, definitely remind me of cake batter.
Vanilla is a light delicate flavor, so I was concerned about a possible aftertaste with this particular pint. However, I'm pleased to report, I had nothing to worry about.
I could easily eat this whole pint in one sitting. And for only 230 calories, why not?
---
5. NICK'S PEANÖT BUTTER CUP
"Peanut butter ice cream mixed with tiny peanut butter cups"
360 calories per pint | 5 net carbs per serving
I was happy to see that this pint has a peanut butter-flavored ice cream (instead of chocolate). This smart choice helps keep the mild peanut butter flavor the star of the show.
The description mentions tiny peanut butter cups, but the mix-ins I encountered seem more like little chocolate chunks.
As with the other flavors, there was no aftertaste and the ice cream had a creamy, pleasant mouthfeel.
While this is not the best peanut butter ice cream I've tried, it is pretty darn good for being a light ice cream.
---
6. NICK'S CHERRY CHOKA-FLÄKA (CHOCOLATE FLAKE)
"Soft vanilla ice cream mixed with bits of chewy cherry and chocolate flakes"
270 calories per pint | 4 net carbs per serving
This pint has a vanilla base, so it only gets an infusion of cherry and chocolate flavor from the mix-ins. Unfortunately, the minimal amount of cherry and chocolate flakes are not enough to carry a strong flavor throughout the pint.
I think a cherry ice cream base with chocolate flakes or a vanilla base with cherry swirl and chocolate flakes would have been more successful.
While I would not go out of my way to buy this flavor, at only 270 calories per pint, it'll definitely satisfy your sweet tooth.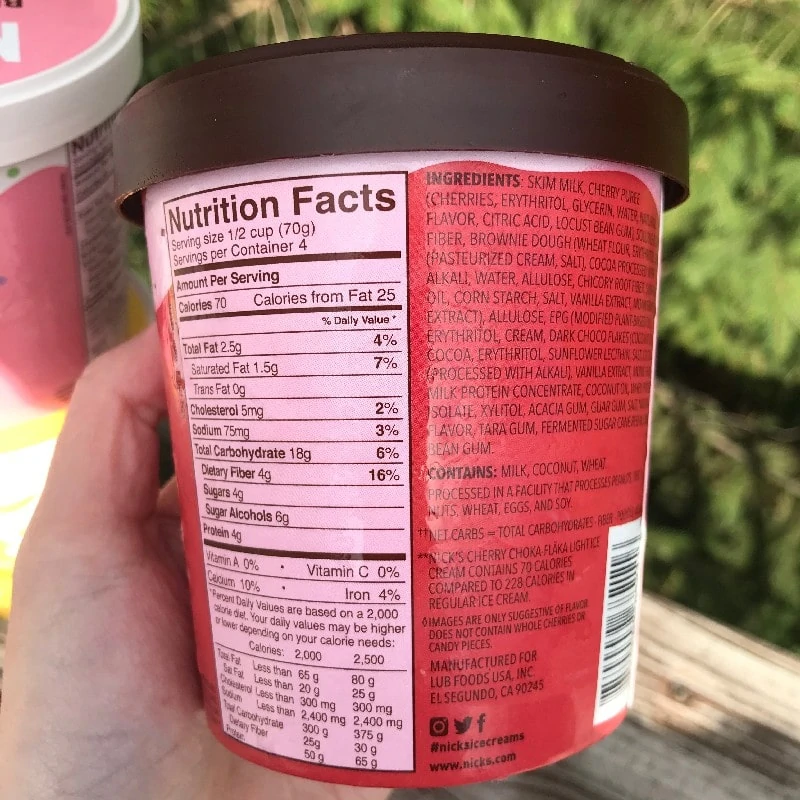 ---
Final Thoughts: Nick's Swedish Ice Cream
We set out to determine if ice cream can be both healthy and taste good.
After trying 6 flavors of Nick's Ice Cream, we feel confident in saying that this stuff is pretty darn good. Especially that Birthday Cake flavor!
It's refreshing to indulge in a pint of ice cream that tastes great, satisfies your sweet tooth and doesn't make you feel guilty.
Plus, they are always coming out with new products and flavors. We will definitely be trying out some additional flavors and products in the near future.
If Nick's sounds like something you'd like to try, head on over to their website or browse their Amazon shop to see all the sweet treats they have available!
---
Save it for later on Pinterest, Instagram and Facebook. Also join our Facebook Group for more snack fun!
Easy, No-Churn Ice Cream Recipes You'll Love
– Cookie Monster Ice Cream
– Chocolate Chip Cookie Dough Ice Cream
– Circus Animal Ice Cream
Micky Reed, a two-decade veteran in the food and baking industry, leverages her influential Three Snackateers food blog and Instagram presence to collaborate with industry giants like Ben & Jerry's and Crumbl Cookies. Her work has been featured on Delish, PopSugar and more. Her expertise as a product curator for one of the world's largest international snack subscription box companies solidifies her status as a key player in the field.